-Newsletter est. 4/15/97-
-Website est. 12/15/97-



page updated: 11/13/07
My Two Cents
(Archived Posts 11/8/07 - 10/19/07)
Back to Previous Archives
Back to Current Posts
11/8/07

Okay... as promised today, we're back with two new Blu-ray Disc reviews. First up is Sony's new 2-disc Close Encounters of the Third Kind: 30th Anniversary Ultimate Edition - the first Steven Spielberg film to be released in high-definition on disc, and a great one at that. It arrives in stores next week. The second review is Disney and Pixar's Pixar Short Films Collection: Volume 1, which streeted on Tuesday with Ratatouille and Cars. All four titles are only available in high-definition on Blu-ray Disc.

Next up review-wise, I'm going to check out Warner's new Stanley Kubrick special editions, available on DVD, Blu-ray and HD-DVD. I'm also going to give DreamWorks' Transformers HD-DVD a spin. And New Line's Hairspray Blu-ray just showed up on my doorstep as well. No rest for the weary! Rest assured, we'll have more standard DVD reviews over the next couple weeks as well, from the rest of the Bits crew, including CBS's Twin Peaks: Gold Box Edition and more.

Elsewhere around The Bits today, we've kicked off FIVE new Contests, giving each of you the chance to take home copies of 13 of great Warner and/or BBC DVDs (including the Kubrick box set, the Barbara Stanwyck box set, the Looney Tunes Golden Collection: Volume 5, Doctor Who: Series Three and MUCH more), Revolver's 3000 Miles, Warner's Roots: The Complete Collection box, 5 SIGNED Masters of Horror titles from Starz and several of our new Digital Bits T-shirts! The contests will all run until Noon (Pacific) on Sunday, November 18th. Click on the links to enter.

In terms of announcement news today, Fox has set Family Guy Presents: Blue Harvest for release on DVD on 1/15/08 (SRP $22.98). Fans of the show will recognize this as the series' Star Wars spoof. The disc will include additional footage, interviews with Seth MacFarlane and George Lucas, animatics, audio commentaries and a preview of the show's next Star Wars spoof, Something, Something, Something Dark Side. A more elaborate special edition (SRP $34.99) will come packaged with a T-shirt, trading cards and more, and will feature a 3-D fight scene you can view with 3-D glasses, also included.

Meanwhile, MGM has announced an In the Heat of the Night: 40th Anniversary Edition for release on 1/15 (SRP $19.98). The disc will include 3 featurettes (Turning Up The Heat: Movie Making in the Turbulent 60s, The Slap Heard Around the World and Quincy Jones: In the Heat of the Music), audio commentary by Norman Jewison, Lee Grant, Rod Steiger and Haskell Wexler, the film's theatrical trailer and TV spots.

Universal has set White Noise 2 for release on DVD (separate full frame and anamorphic widescreen versions - SRP $29.98 each) and the DVD/HD-DVD Combo format (SRP $39.98) on 1/8/08. Extras will include deleted scenes and 3 featurettes (Exploring Near-Death Experience, The Making of White Noise 2 and Journey Into Madness).

Finally, Warner has announced a number of new DVD releases, including Coleccion Pedro Infante: Pepe el Toro and Santos Peregrinos (Holy Pilgrims) on 1/8/08, the Battle of the Bulge Featuring Bone Crusher workout DVD on 2/12, an Easter Bunny Is Coming to Town: Deluxe Edition on 2/19, State of Play (2003) and Edge of Darkness both for the BBC on 2/26, a Horton Hears a Who: Deluxe Edition and the TCM Archives: Forbidden Hollywood Collection - Volume 2 (contains The Divorcee, A Free Soul, 3 on a Match, Female and Night Nurse) on 3/4, and Michael Palin: New Europe and One Foot in the Grave: Season 3 also both for the BBC on 3/11.

In other news from around the Net, according to this story at Video Business, Sony is claiming that its Spider-Man 3 has sold 130,000 copies on Blu-ray Disc in its first week of availability, though there's no word yet on how many additional copies of the film were sold as part of the Spider-Man: The High Definition Trilogy box set (we're hearing at least another 50K - we expect additional details soon). Home Media has a story on this as well.

Meanwhile, Toshiba and the HD-DVD camp are reporting that their $99 HD-A2 sale moved close to 100,000 units, bringing their stand-along player penetration in the U.S. to nearly 500,000. Home Media has a report on that as well.

Finally, remember that gorgeous shot of the Earth from space we posted a few weeks ago (click here and scroll down a bit)? The one that was taken by a high-def video camera on board a Japanese probe on its way to explore the Moon? Well, the Japanese Space Agency has just released the first full-motion high-def video taken by the probe of the Moon itself. You can view the video online here. I sure would love to see this in full rez on an actual HD display. Here's hoping they release this material on Blu-ray, or at least make it all available in better quality online in the months ahead.

That's all for now. Stay tuned...

11/7/07

Rest easy, Bits-ers! We haven't gone away or otherwise disappeared. We've just been INCREDIBLY busy these last couple of days. Hot on the heels of our server work on Monday, no less that FOUR major Blu-ray Disc releases showed up on our doorstep, demanding our immediate time and attention.

We talk a lot around here about the reasons why we prefer Blu-ray to HD-DVD, not the least of which is the wider catalog of great film titles available from the BD exclusive studios, but the proof is in the pudding. So here's some pudding for you: Our in-depth reviews of Disney and Pixar's Ratatouille and Cars, both in stores now and both ONLY available in high-def on the Blu-ray Disc format. Both titles, we're happy to say, deliver every last bit of the video and audio quality you're expecting and them some. They also deliver some great extras, particularly the Ratatouille disc, while Cars includes everything that was on the DVD version and more. Both are worthy of your hard-earned money, and represent definite reference-grade demo material for your home theater (not to mention a lot of fun for the whole family).

We'll have reviews of the other two Blu-ray exclusive titles tomorrow. One you'd probably (correctly) guess is the Pixar Short Films Collection: Volume 1, also now in stores. The other is no less than the first Steven Spielberg film to arrive on either high-definition format... Sony's Close Encounters of the Third Kind: 30th Anniversary Ultimate Edition. Let me tell you... CE3K is absolutely fantastic in 1080p. The 2-disc set streets next week (on 11/13), but we'll tell you everything you need to know about it tomorrow.

Also this afternoon, our own Russell Hammond has updated the Upcoming DVD Cover Art section again with tons of new DVD, Blu-ray and HD-DVD cover scans and Amazon pre-order links. As always, ordering titles (or anything from Amazon) through our links helps to support our work here at The Bits, and we very much appreciate it.

We'll be back tomorrow morning with those reviews, plus new contests and an update of all the latest announcement news. Stay tuned...

11/5/07

It's sure been an interesting weekend around here at The Bits. Any of you guys catch the Vikings/Chargers game on Sunday? Turns out this Adrian Peterson kid is pretty good. If the Vikes can ever get their passing game sorted out, they might actually be dangerous in this league. As for the site being down for most of the day today... that was Jahnke's idea. Gotta show a little solidarity for the writers. Plus, server upgrades. What are you gonna do? ;)

Well, here's what I've been doing: As it happens, a couple of the new Pixar Blu-ray titles (due in stores tomorrow) showed up this morning, so I've been watching Cars and such in 1080p all day. As it turns out, that's not a half bad way to spend an afternoon. Watch for our reviews very soon.

In the meantime, let's catch up all up on a little bit of release news...

Sony has just announced the DVD and Blu-ray Disc release of Dragon Wars on 1/8/08, which has us all a little tickled around here. This flick is about as shameless and cheesy as modern B-movies can get, but Adam told me he enjoyed it quite a lot more than he expected he would. So it should make a fun high-def release.

Sony has also announced Love Lies Bleeding (2008), Already Dead, Storm Hawks: Hawks Rise Again and Storm Hawks: Tales From the Atmos for release on DVD on 1/15.

Meanwhile, HBO has set Rocket Science for release on DVD on 1/29/08 (SRP $27.95).

Lionsgate has announced their December DVD release slate as follows: A Christmas Too Many, Will & Grace: Season 7, Tyler Perry: The Plays, House of Payne: Volume One, Werewolf: The Devil's Hound, a Steve Martin Triple Feature Set (includes L.A. Story, All of Me and Novocaine) and Midnight Clear (all 12/4), Framed for Murder and Born Killers (both 12/11), Boy Eats Girl, Invasion, The Biggest Loser: Cardio Max, The Biggest Loser: Power Sculpt, Star Trainers: Cardio, Star Trainers: Abs, Star Trainers: Strength, Denise Austin: Yoga Body Burn, Denise Austin: Burn Fat Fast Cardio Blast, Kathy Smith: Peel Off the Pounds Pilates, Kathy Smith: Tummy Trimmers, Kathy Smith: Build Muscle Shrink Fat, Caminantes... Si Hay Camino: Grandes Actrices: Volume 1 and Caminantes... Si Hay Camino: Grandes Comediantes: Volume 3 (all 12/18) and Shattered (12/25). Apparently, Lionsgate REALLY wants us all to lose weight.

Finally, Paramount has set Dragonlance for release on DVD on 1/15/08, along with PBS' Oswald's Ghost. The Odd Couple: The Third Season and Hawaii Five-0: The Third Season follow on 1/22, with JAG: The Fifth Season and PBS' Pioneers of Television rounding out January on 1/29. In February, the studio has revealed that they'll deliver Beauty and the Beast: The Third Season, The Best of Comedy Central Presents, Blackout, Brotherhood: The Complete Second Season, Go Diego Go!: Diego's Magical Missions, Soul Food - The Series: The Third Season and PBS' The Jewish Americans (all 2/5), Comedy Central Roast of Flavor Flav: Uncensored!, Family Ties: The Third Season, Girlfriends: The Third Season and Wonder Pets: Save the Dinosaur (all 2/12) and Jakers!: Treasure Hunt on Raloo Farm (2/19), among other titles still TBA.

By the way, we're hearing that Sony's sales numbers for Spider-Man 3 and Spider-Man: The High Definition Trilogy on Blu-ray are going to be pretty substantial. Watch for official details in the next few days.

Stay tuned...

(LATE UPDATE - 11/2/07 - 6 PM PDT)

We've got just a quick last update for you today, as a bit of follow-up to Toshiba's $99 HD-DVD player clearance sale today at Wal-Mart and Best Buy. While the vast majority of reader responses to my comments from yesterday were positive, as expected, a small group of overzealous HD-DVD fans have let fly with the usual profanity-laden e-mails (and posts on various online forums). These run the gamut from "How dare you sir...!" to "Hey, dumb shit..." to "@##%!!!*&%##!!" and other dribble.

You know... it never ceases to astonish me at the base level of commentary and dialogue I see from some people. I mean, seriously. Let's be clear about something, folks. This format war, as upsetting as it may be at times, is NOT a life or death matter. Kittens will not be slaughtered if either side wins, and your favorite movies will still be there on DVD when the dust eventually settles. So some of you guys need to take a deep breath. Chalk it up to the nature of the Internet, I suppose. People seem to have no problem saying the most crude things anonymously or behind the mask of electronic discourse - behavior they'd never dream of employing in person. Regardless, we can agree to disagree, and we STILL have nothing but respect for even those who seem most determined to get ugly.

I actually had a good laugh at the opening event of Blu-ray Fest on Monday morning. David Berman, director of the Home Theater Specialists of America (which recently selected Blu-ray as its preferred high-def format) spoke at length about exactly why his group made the choice it did. David wryly noted that while most of the responses he's gotten have been positive, a small group of individuals e-mailed him "with information that we must be morons." I'm guessing we've heard from some of the same folks.

Most dissenters, however, have been kind enough to respond to my post with more thoughtful commentary, which we appreciate. It does puzzle us, though, that some people continue to believe that it's our "responsibility as journalists" to remain neutral. Let's be clear: The Digital Bits is an enthusiast website, written by enthusiasts for enthusiasts. Please refer to the top of our home page, where we state quite plainly: The Bits picks Blu-ray - click here to read why. I will also... again... remind you all that the title of my daily column is: My Two Cents.

We DO prefer Blu-ray here at The Bits, and we have been very up front with our readers as to why. As an editorial website, we have every right to express an opinion and to chose a side if we believe it's in the best interests of our readers to do so. That's exactly what we have done. With the format war grinding towards its second year, and with both sides now effectively fighting a battle for PR oneupsmanship, this has just gotten silly.

The bottom line is that our many years of experience and extensive contacts within the industry tell us that Blu-ray is the format with the better chance to thrive long-term. And we just can't recommend to our readers a format that has only a single major manufacturer making HD-DVD-only stand-alone players, and the exclusive support of just three major Hollywood studios, two of which were purchased in a deal that only lasts 18 months, no matter how cheap it may be. If people want to buy a $99 HD-DVD player, they have our blessing. But we just can't recommend the HD-DVD format to our readers when the Blu-ray Disc format offers more manufacturers, more studios and (we continue to believe) is more likely to remain viable business-wise. We're not saying Blu-ray is perfect, or that it doesn't have its issues. We simply believe it offers equal A/V quality, it's got more support and has a far better chance of surviving long-term than HD-DVD. It's just that simple.

This might be a good time to remind everyone that we predicted a LONG time ago, from the very beginning of this mess, that 1) this format war was going to be a generally bad thing for the industry as a whole, that 2) it was going to deeply divide the enthusiast community and 3) that our experience told us that there were only two possible outcomes: a Blu-ray victory or a tie in which case BOTH formats and ALL consumers ultimately lose. We were proven right about those first two predictions, and nothing we've seen so far has led us to believe that we're going to be proven incorrect about the third either. People certainly can't say we didn't try to warn them.

Anyway, before I close today, there's one last bit of business I wanted to address directly. Several HD-DVD supporters have found it "very peculiar that you haven't mentioned Kmart's decision to back HD-DVD exclusively to your readers." That's because they haven't. We refer you to this official statement, the text of which is as follows:

"Kmart Not Exclusively Supporting HD-DVD Format

Statement from Jonathan Magasanik, Vice President and General Merchandise Manager, Home Electronics, Sears Holdings

HOFFMAN ESTATES, Ill., Nov. 2 /PRNewswire-FirstCall/ -- There have been numerous statements in the media today, attributed to Toshiba, indicating exclusive support for the HD-DVD format in Kmart stores. These statements are false. Kmart intends to support both the HD-DVD and Blu-ray platforms, and has no plans to support either platform exclusively.

About Kmart

Kmart, a wholly owned subsidiary of Sears Holdings Corporation (Nasdaq: SHLD), is a mass merchandising company that offers customers quality products through a portfolio of exclusive brands that include Jaclyn Smith, Joe Boxer, Martha Stewart Everyday and Route 66. For more information visit the company's website at https://www.kmart.com or the Sears Holdings Corporation website at https://www.searsholdings.com."

And with that, we bid you a good evening, and wish you all a wonderful weekend.

Even those hardy few of you who hate our guts.

Stay tuned...

(EARLY UPDATE - 11/2/07 - 3:45 PM PDT)

Well... here we are at the end of another long week. Sarah and I actually had a lovely evening last night. Our own Barrie Maxwell and his wife Susan have been in town (from Toronto) for Blu-ray Fest this week, and they've spent the last couple of days experiencing Hollywood studio tours and taking in the sights. We had the pleasure of joining them for dinner, dessert and a little bit of shopping last night, and we had a wonderful time. As it happens, before he began writing about classic Hollywood films, Barrie spent many years heading up the Canadian government's Arctic climatology program. So we had great fun discussing the cinema, science and other topics. Barrie and his wife are just lovely people, and we appreciate all his work here at The Bits tremendously.

Before we get started today, we'd like to take a moment to acknowledge the passing of singer Robert Goulet this week at the age of 73. You can read more here at CNN.

Also, we have one piece of breaking industry news: The writer's strike is officially on. The WGA has voted to lay down their pens and switch off their PCs and laptops starting on Monday at 12:01 AM. You'll find additional details here, here and here.

Now then... let's have a DVD and high-def release news update....

Lionsgate has finally revealed more details on its 3:10 to Yuma release on DVD (SRP $29.95) and Blu-ray Disc ($39.99), both due 1/8/08. The DVD will include audio commentary with director James Mangold, a behind-the-scenes documentary, deleted scenes and 2 featurettes (An Epic Explored and Outlaws, Gangs & Posses). The Blu-ray version will add the interactive Inside Yuma picture-in-picture option, a Historical Timeline of the West and 4 additional featurettes (3:10 to Score, The Guns of Yuma, Sea to Shining Sea and A Conversation with Elmore Leonard).

20th Century Fox has announced the DVD and Blu-ray Disc release of Danny Boyle's Sunshine on 1/8/08. The DVD (SRP $29.98) will include anamorphic widescreen video, audio commentary with director Boyle, 13 deleted scenes with optional commentary (including an alternate ending), 22 web production dairies and 2 short films (Dad's Dead by Chris Shepherd and Mole Hills by Dan Arnold). The Blu-ray Disc version ($39.98) will include all of the above along with DTS-HD audio, DBox compatibility, BD-Java 1.1 picture-in-picture featurettes (also available out-of-band for those with older players) and a BD-Java audio mixing demonstration.

Fox has also announced the DVD release of Joshua and Death Sentence on 1/8/08, Lake Placid 2 on 1/29/08 and Resurrecting the Champ on 2/26/08.

Meanwhile, MGM has revealed massive 30 and 90-disc box sets (distributed by Fox) intended to commemorate the 90th Anniversary of United Artists. The United Artists 90th Anniversary: Prestige Collection Gift Set is due on 12/11 (SRP $869.98) and will include 90 discs packaged in an extensive linen-wrapped coffee table book (with slipcase), featuring never-before-seen photos and text for each film arranged by decade. The United Artists 90th Anniversary: Essential Collection Gift Set is also due 12/11 (SRP $289.98) and will include 30 titles in similar packaging. The exact titles and details are TBA. Here's a look at the 90-disc set...




As part of the celebration, MGM is also planning elaborate "event" anniversary re-releases of a number of classic UA catalog titles in 2008 on DVD (and possibly Blu-ray as well), including In the Heat of the Night (40th), Last Tango in Paris (35th), Rain Man (20th), La Cage aux Folles (30th), Invasion of the Body Snatchers (30th), WarGames (25th) and The Thomas Crown Affair (40th) among others.

In other news, Universal has set The Bourne Ultimatum for release on DVD and DVD/HD-DVD Combo format on 12/11. Separate anamorphic widescreen and full frame DVD versions will be available (SRP $29.98), each including Dolby Digital 5.1 audio, audio commentary with director Paul Greengrass, deleted scenes and 5 featurettes (Man on the Move: Jason Bourne, Rooftop Pursuit, Planning the Punches, Driving School and New York Chase). The HD-DVD version will add Dolby True HD 5.1 audio, picture-in-picture options including the Blackbriar Files, Volkswagen "Get More" info and a Be Bourne Spy Training abilities test.

Also coming from Universal on 12/11 is the The Jason Bourne Collection DVD set (SRP $49.98). This is a 4-disc box set (designed to look like a safe deposit box) that will include The Bourne Identity, The Bourne Supremacy, The Bourne Ultimatum and a bonus disc of all-new extras, including 3 featurettes (The Ludlum Identity, The Ludlum Supremacy and The Ludlum Ultimatum) along with several theatrical trailers. You'll also get a collectible Jason Bourne passport.

A couple weeks later, Universal will release David Cronenberg's Eastern Promises on DVD and DVD/HD-DVD Combo format on 12/26. The DVD (SRP $29.98) is available in full frame and anamorphic widescreen versions, and will include Dolby Digital 5.1 audio and 2 featurettes (Secrets and Stories and Marked for Life). The DVD/HD-DVD Combo version (SRP $39.98) will add Dolby True HD 5.1 audio and "web enabled" features.

Meanwhile, Sony has set Boogeyman 2 for release on DVD on 1/8/08 (SRP $24.96).

And New Line has announced Mr. Woodcock for release on DVD and Blu-ray Disc on 1/15/08, with an HD-DVD version set to follow at a later date (TBA). The DVD version (SRP $28.98 - available in both full frame and anamorphic widescreen) will include a "making of" documentary, deleted scenes, the P.E. Trauma Tales featurette and the film's theatrical trailer. The Blu-ray and future HD-DVD (SRP $35.99 each) will add DTS-HD 7.1 audio. The HD-DVD will also add additional "web enabled" features.

HBO has announced a number of titles for early next year (distributed by Warner), including an Extras: Seasons 1 & 2 giftset (due 1/15/08), Rocket Science, Coma, Curb Your Enthusiasm: The Complete Sixth Season and Reza: Shooting Back (all due 1/29/08) and Tell Me You Love Me: The Complete First Season (2/12/08).

Finally, Warner has announced a few early 2008 titles as well, including a You've Got Mail: Deluxe Edition, Black August, Flogging Margaret, Americanizing Shelley and Showstoppers (2/5/08), and Coleccion Pedro Infante: !?Que te ha dado esa mujer?!, Coleccion Pedro Infante: Arriba las Mujeres, Coleccion Pedro Infante: Las mujeres de mi General, Coleccion Pedro Infante: Viva mi Desgracia, IFL Championship 2007, Dallas: The Complete Eighth Season and National Geographic's Prehistoric Predators (all due 2/12/08).

Here's a look at some new cover art, including the fan-selected cover for the BBC's Torchwood: The Complete First Season (1/22/08), Fox's Sunshine and Sony's Superbad: Unrated Extended Edition on Blu-ray Disc (12/4)...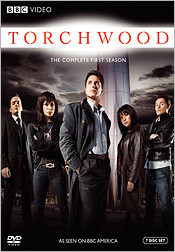 Just a quick update: Our Blu-ray Fest report is on the way. There's a chance we might post it yet this evening, but if it gets too late, we'll have it for you bright and early on Monday morning. In the meantime, we hope you all have a great weekend!

Stay tuned...

11/1/07

How in the world does Toshiba think it's ever going to make any money from the HD-DVD format? I mean, seriously.

You may have heard by now that Toshiba has made pre-Black Friday arrangements with Wal-Mart to effectively dump its HD-A2 HD-DVD player starting this Friday (this weekend only) for just $98.87. You may also have heard that Best Buy has followed suit. Supplies are limited, of course, and the offer is apparently not valid in some parts of the country that have state anti-dumping laws.

Wikipedia defines dumping as "the act of a manufacturer in one country exporting a product to another country at a price which is either below the price it charges in its home market or is below its costs of production." Toshiba's move isn't really anti-competitive, because there are no U.S. manufacturers making HD-DVD players. But it's that "below its costs of production" part that applies in this case. The HD-A2 arrived in the States with an original MSRP of $499.99. Now, Toshiba is letting it go for just $99. There's no way the player cost less than $100 to manufacturer. Just. No. Way.

You might wonder: How can Toshiba possibly have enough HD-A2s left to sell at just $99 at large, nationwide retailers? Simple. It's because they didn't sell originally, so plenty of stores still have them sitting on shelves, gathering dust. Toshiba is eager to clear them all out at this point, and Wal-Mart and Best Buy are happy to help.

Clearly, the HD-DVD camp understands that low price is really the only card they have left to play in this format war. Porn hasn't won the war for them as predicted, nor have online bells and whistles, or combo discs/players. The obvious question would be: Why in the world would any other hardware manufacturer want to join Toshiba's foolhardy strategy of driving player prices down to next to nothing? It's no accident that not a single other major manufacturer has released a stand-alone HD-DVD player (and no, the Venturer doesn't count). Given how dramatically Toshiba has slashed prices on HD-DVD players over the last year, you have to wonder how long they can keep losing money.

Forget for a moment that the HD-A2 isn't capable of delivering full 1080p video - that doesn't matter. Why? Because anyone who is so price sensitive that they wait until a high-def player price hits $99 to buy one isn't likely to have an HDTV set yet. Being super bargain shoppers, they aren't likely to want to pay $30 for an HD-DVD movie either. I'd bet many of the people who jump on this sale will either be using them primarily as upconverting DVD players, or they're already diehard HD-DVD supporters and are buying them as second players. For those regular consumers who take the bait, I wonder how they'll feel when they realize they can't play those big Disney titles in the "blu" boxes due next week.

Speaking of which... a couple weeks ago, when Disney and Sony launched the successful strategy of counter-selling their Blu-ray software titles 2 for 1 the same week Paramount and DreamWorks released Transformers on HD-DVD, we got a few e-mails from HD-DVD fans telling us how lame that was. Is it any accident that Toshiba didn't wait for Black Friday to sell their $99 players, instead carefully planning the 3-day sale for the weekend before Disney and Pixar release Cars, Ratatouille and the Pixar Short Films Collection on Blu-ray? Not a chance. So Toshiba is slashing HD-DVD hardware prices to counteract the release of blockbuster Blu-ray software. What does that tell you about the viability of HD-DVD going into a fourth quarter that, by all accounts, is make or break for the format? (Especially with Warner Home Video now hinting that they're looking at the fourth quarter to "reevaluate" their dual format support)

There's no doubt that thousands of eager consumers will get a deal on cheap hardware this weekend. But it still isn't going to be the format war winner for HD-DVD that some would like to believe. On the contrary, it means that Toshiba is getting desperate enough to adopt an all-or-nothing strategy... and is going even more deeply into the red with this format. Meanwhile, given the strength of their rhetoric this week, it's a safe bet that the Blu-ray camp will pull their gloves off too in the fourth quarter, and start getting more aggressive in the weeks and months ahead.

It boggles the mind to think that any reasonable person can still believe at this point that the HD-DVD format represents a viable long-term business. Even if Toshiba's strategy has the desired effect (which seems primarily to be garnering splashy headlines in the press), what do they ultimately win? A tie? The best case for HD-DVD, even if Warner were to be so impressed by this sale that they go HD exclusive, would be to effectively create a 50/50 split in terms of studio support. In other words, a total quagmire. High prices were the number one reason most surveyed consumers cited for staying away from high-def discs in the recent NPD Group survey, but the existence of two competing formats was not far behind. And just as many people who said that price was their chief concern also said that they're happy enough with current DVD to have no interest in upgrading to high-def discs anyway. So all this seems to be more a battle waged for the press and PR spin than the actual hearts and minds of consumers.

Keep in mind, contrary to the opinions of some online, we don't think HD-DVD is a bad format at all. If it were the only HD format around, we'd be all over it here at The Bits. But Toshiba is effectively paying studios to support it, and now they're practically giving the hardware and software away. Do you suppose we'll see free HD-DVD player offers in Cracker Jacks and cereal boxes next? $50 players? $25 players? 2 for 1 players?

Experienced fighter pilots will tell you that when you dive your aircraft at the deck, you very quickly run out of maneuvering room. It seems to me that the ground is coming up awfully fast for HD-DVD. Either way, it's looking more and more as if this fourth quarter could decide the format war... one way or another.

And to think... there was once a time when we all hoped that these two sides would work out their differences and create a single, unified high-def disc format. Those were the days, as they say.

Back with more later. Stay tuned...

10/31/07

Okay... I've just rolled back into The Bits' West Coast office from Blu-ray Fest. All our staffers who travelled to join us are on their way back home as well, and I'm now in the process of gathering all my notes, wits and whatnot. We'll be posting our full Blu-ray Fest coverage tomorrow. The key details are already out there, of course (and we've touched on most of them in yesterday's quick report), but there are definitely some impressions and conversations that are worth mentioning in a little more detail. So watch for that on Thursday (tomorrow). We're going to catching up on all the latest DVD release news too, as well as posting a few new disc reviews.

Before we forget, Russell Hammond has updated our Upcoming DVD Cover Art section for this week with all the latest DVD, Blu-ray and HD-DVD cover art and pre-order links. Don't miss it.

Speaking of reviews, we're pleased as punch to announce that Adam Jahnke has officially completed his month-long Hell Plaza Oktoberfest celebration of the horror genre on disc. The final title with which he's opted to mark the occasion is both a classic and an entirely appropriate choice... John Carpenter's original Halloween, newly-remastered and released on Blu-ray Disc from Starz/Anchor Bay.

And with that, Jahnke and all of us here at The Bits salute horror fans everywhere and bid you all a very happy and safe Halloween. We'll be back tomorrow with lots to say, so see you then!

10/30/07

Afternoon, folks. This is just a quick update to catch you up on a couple things, as there's a lot going up here at the Blu-ray Fest today.

The big news today is that Panasonic has announced its next generation Blu-ray Disc player, the DMP-BD30. Set to street on 11/12 for $499, the player features full BD-Java 1.1 compliance as well as HDMI 1.3, allowing Deep Color and HD audio codec bitstream output. We were shown a demonstration at Panasonic Hollywood Labs, and were impressed with the subtle but definite improvements in video quality over the already good BD10. Those of you who have the BD10 will be pleased to know that the "setup" button isn't under a lift-up flap anymore (the flap is gone altogether). You also have the ability to turn off the power light on the front - no small issue in a dark home theater.

Other things we've seen include the Blu-ray versions of Sunshine, I, Robot, Live Free and Die Hard and Master and Commander at the 20th Century Fox demonstration. Sunshine is tentatively due in January, and will be the studio's first title with Picture in Picture. BD-J 1.1 devices will be able to access PiP behind-the-scenes video during the film, as well as an audio mixing demonstration. However, the video portion of these extras are also available for viewing out of band, so those without 1.1 compatibility aren't going to be missing out on much.

Some other notes: We've learned that Sony's PlayStation 3 WILL be firmware updatable to BD-Java 1.1 compliance (expect news on this relatively soon) and likely (eventually) to 2.0 as well.

And in an interesting twist, when we spoke with him at the opening reception yesterday, Warner Home Video's VP of HD Media Development, Dan Silberberg, seemed to indicate that the studio was reconsidering its dual format support strategy and that they're going to be watching 4th quarter sales very closely: "We're not sure that two formats is what's going to take this to the next level."

We'll have a lot more on all this late tomorrow afternoon, after we return to the office.

Finally today, Adam's Jahnke's Hell Plaza Oktoberfest review for the day is Tartan's Apartment 1303, from their Asia Extreme label. Just one more review to go!

Okay... we're off to more demonstrations and events. Back tomorrow. Stay tuned...

10/29/07

Morning, everyone! This post is a little bit early, but I hope it find that you all had a fine weekend.

We're going to be a little short on news today, as the staff of The Bits is headed off to Hollywood (along with most of the rest of the online and print DVD/industry media - it's going to be a bit like old home week) to this week's Blu-ray Festival, being held by Disney, Sony, Fox and the Panasonic Hollywood Labs. There are two full days of events, presentations and Q&A sessions, so we're going to be pretty occupied. However, we're bringing the laptop, so if there's time in the evenings, we're going to try to give you a little bit of insight into everything we see and learn each day, with a little follow-up and news round-up planned for Wednesday when we're back in the office.

In the meantime, however, we're pleased to present the opening salvo of Adam's final three Hell Plaza Oktoberfest reviews. This one surprised Jahnke, and that's not an easy thing to do, as the dude's seen everything. It's Magnet's (a Magnolia genre label) Murder Party.

We've also got a little surprise for you today: Our own Barrie Maxwell has chimed in this morning as well with a new Classic Coming Attractions column (his fortieth here at The Bits as it happens)! Barrie couldn't resist joining in on the Halloween festivities, and as such he's turned in reviews of Fox's The Fly Collection and Fox Horror Classics, Sony's Sam Katzman: Icons of Horror Collection, and Universal's Alfred Hitchcock Presents: Season Three. As always, he also runs down the latest classic DVD release announcements. Enjoy!

Just a quick reminder: ALL FOUR of our new Digital Bits T-shirt designs are now in stock. The shirts all turned out great - every bit as good as we'd hoped. Click here to see all the designs and to order. Just be advised that the size 2XL shirts for three of the four designs are already sold out, so if you want one they're on backorder (we'll be printing more soon). For those of you who pre-ordered shirts, they should all be on the way to you now. Special thanks to Sarah, who put all this together and who is coordinating all the shipping, and also to artist (and Bits reader) Ryan Agadoni for his cool, Japanese monster-inspired take on the high-def format war.




Okay... we'll leave you with some new cover art. These titles have yet to be officially announced (we expect December street dates), but here's the DVD cover art for Universal's The Bourne Ultimatum and The Jason Bourne Collection, as well as the DVD/HD-DVD Combo version of The Kingdom...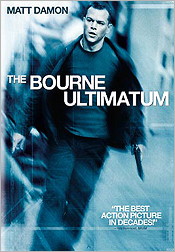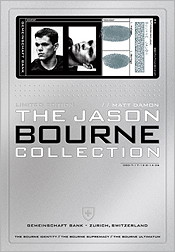 Stay tuned!

(LATE UPDATE - 10/26/07 - 7 PM PDT)

Okay, as promised, we're back to close out the week with some new disc reviews, starting with Adam's Hell Plaza Oktoberfest installment for the day... Lionsgate's Fido. And with that, Jahnke's finally in the home stretch. Just three more reviews to go!

Also today, our own Greg Suarez has checked out Sony's new Spider-Man: The High Definition Trilogy box set on Blu-ray Disc, and he's got plenty to say about it. All in all, it's a pretty nice collection, but the lack of extras for the first two films definitely hurts it a bit.

And Peter Schorn has even more to say this evening about Fox's recent That Thing You Do!: Tom Hanks' Extended Cut and B-Side Entertainment's B4MD: Before the Music Dies, both on standard DVD.

We've got a couple of more things of note for you this evening: First, Warner has issued a statement regarding the missing theatrical version on its new Eyes Wide Shut discs. Here's what they have to say...

"On October 23, 2007, WHV released the Special Edition of Eyes Wide Shut on standard definition DVD, and on HD DVD and Blu-ray Disc, and as part of the 6-Title Stanley Kubrick Collection. It may be that some members of the press were inadvertently informed that the Special Edition release of Eyes Wide Shut included both the rated and unrated versions of the film and/or only the rated version of the film. In addition, some initially shipped product also was inadvertently labeled as containing both the rated and unrated versions of the film. The Special Edition release of Eyes Wide Shut contains only the unrated version of the film. WHV has taken steps to correct any possible misunderstanding in the marketplace by affixing to the packaging stickers stating "This package contains ONLY the Unrated Version of Eyes Wide Shut." and "Not Rated: Includes Unrated Version Only.""

That's probably not what some of you really wanted to hear, but it's certainly what we expected. We've also got confirmation from Video Business today on something we reported yesterday, specifically that Warner's recent switch to a new software fulfillment/distribution system is causing delays in shipping titles to retailers and the media. A number of retailers are indeed reporting problems getting adequate stock of Warner titles, and the studio has acknowledged the issues. However, the problems are expected to be ironed out in time for the studio's release of Harry Potter and the Order of the Phoenix and Blade Runner: The Final Cut in December.

By the way, there's still no word yet about the possible special edition re-release of Kubrick's Lolita and Barry Lyndon, but we've asked the studio about the titles and hope to hear more soon.

Okay... that's it. Have a great weekend and we'll see you Monday. Stay tuned!

(EARLY UPDATE - 10/26/07 - 1:15 PM PDT)

So... you say you want a little high-def format war controversy? Well, we've got it for you. Remember how Paramount issued a press release earlier this week claiming that Transformers sold 190,000 copies of the film on HD-DVD in its first week? Maybe not so much. According to Home Media today, "Home Media Magazine market research and studio estimates puts the actual number of units that sold through to consumers closer to 115,000." Home Media also says that in its weekly measurement of high-def format market share (listed here), Blu-ray still won the week ending 10/21 (Transformers' release week) by a slim 51% to 49% edge, apparently on the strength of such blockbusters as The Reaping, Hollowman, The Invisible, Return to House on Haunted Hill and Masters of Horror: Volumes 1 & 2 which streeted the same day (a couple of them on BOTH formats), plus the various Blu-ray retailer sales that week (the various "buy one get one free" offers). Still, Transformers is the biggest blockbuster of the year, it's only on HD-DVD and the HD camp had their own retailer sales going on that week. Given all that, we were frankly expecting a much bigger split in favor of HD for the week. As you'd imagine, Nikki Finke's digging into this in her Dateline Hollywood column over at L.A. Weekly. Whichever side of this you're on (or not, as is the case with most consumers), one thing's for sure: This format war is FUBAR. Like we said before, you just can't make this stuff up. And yes, Virginia, the format war IS keeping many people on the sidelines. Just as we predicted it would. Ugh.

Anyway, the big announcement news today thankfully has nothing to do with high-def: Disney has set a 101 Dalmatians: Platinum Edition for release on 2-disc DVD on 3/4, featuring an all-new restoration of the film in its original 1.33:1 full frame aspect ratio, Dolby Digital 5.1 audio (a Disney-enhanced Home Theater Mix), deleted songs, 3 behind-the-scenes featurettes (Sincerely Yours, Walt Disney, Cruella De Vil: Drawn to Be Bad and Redefining the Line: The Making of 101 Dalmatians), an all-new Cruella De Vil music video by Selena Gomez, a subtitle "101 Pop-Up Trivia Facts for the Family & Collector" track, a "Puppy Profiler," Disney's Virtual Dalmatians game and more.

Also, Disney's Cinderella II: Dreams Come True - Special Edition returns to DVD for a limited time starting on 12/18 (it "goes back into the vault" on 1/31/08).

But wait... there's more! Here's the even more interesting announcement today for film fans... Paramount is releasing Eleanor Coppola's Hearts of Darkness: A Filmmaker's Apocalypse documentary on DVD on 11/20. No, we're not kidding. The DVD will include audio commentary by Francis and Eleanor Coppola, an additional documentary film entitled CODA: Thirty Years Later which continues the story, and an introduction to CODA by Eleanor. You'll find the cover art below. This is just GREAT news, but it's a shame that it wasn't available to include in Paramount's Apocalypse Now: The Complete Dossier release a while back - it's the one thing that would have actually made it complete. The studio would be smart to reissue it bundled with the doc ASAP, or to offer some kind of a deal to those who purchased the Dossier to get the doc at a reduced price. Still, our hats off to Paramount for realizing how badly fans wanted to see this on DVD and for finally making it happen.

By the way, Paramount also has Hot Rod set for DVD and HD-DVD release on 11/27.

Finally, Warner has set Hanna Barbera's The Smurfs: Season 1, Volume 1 for DVD release on 2/26/08. No, we're not kidding about that either. The 4-disc set will include 19 episodes, plus the Don Messick: I Am Not Papa Smurf featurette. Okay, we ARE kidding about that last bit. But you DO get Smurfs: The Music Video and the bonus episode The Smurfs: Springtime Special. By the way, we hear tell that Warner is fixing to release Hanna Barbera's The Pebbles and Bamm-Bamm Show on DVD soon as well.

Here's a little cover art: Paramount's Hearts of Darkness: A Filmmaker's Apocalypse, Fox's Rescue Dawn (11/20) and Warner's The Smurfs: Season 1, Volume 1...




We'll be back with a number of new disc reviews later this afternoon, including a look at the Spider-Man Trilogy on Blu-ray and, of course, Adam's Hell Plaza Oktoberfest review for the day.

Stay tuned...

10/25/07

Adam's Hell Plaza Oktoberfest review for yesterday is now available... BCI's Welcome to the Grindhouse Double Feature: Black Candles & Evil Eye. Don't blame Adam for its tardiness. He actually sent it yesterday evening for posting last night, but for some reason I was unable to upload it to the server as our Internet connection was down. Nevertheless, it's now available, as is Adam's review for today... Showtime's Reeker. Enjoy!

We haven't heard back from Warner yet today on those issues with the Kubrick titles (see yesterday's post). We'll update you here when we do.

Okay... it seems that we now officially know why Universal isn't releasing Battlestar Galactica: Season Three on DVD until next year (as reported in The Rumor Mill last week). According to the L.A. Times, as it turns out, Season Four of the series isn't debuting on Sci-Fi Channel until early April 2008. So we'd guess the DVDs will hit stores a few weeks before that, as has been the case with previous seasons. Thanks to Bits reader Edward G. for sending the link.

There's just a couple of announcements to report today. First, Warner has set Hotel Babylon: Season 1 for release on 2/12/08 (for the BBC). They've also got a couple of sports titles coming: NHL: Just Like Me on 1/22/08 and NFL: The Leaders on 1/29/08.

Also, not sure if I've posted this before, but MGM will be releasing Spike Lee's She's Gotta Have It on 11/7. This is apparently the first time the title has been available on DVD. Video is anamorphic widescreen with Dolby Digital 5.1 audio. There are no extras. SRP is $19.98.

Finally today, in news around the Net, Video Business is reporting that Samsung is delaying the debut of its third-generation player, the BD-P2400 (which had been set for release next month), to focus on supporting its other 2007 models. Also, word is the company's new dual format player, the BD-UP5000 (includes both HD-DVD and Blu-ray 1.1 compatibility), will street in mid-to-late December.

Stay tuned...

10/24/07

Boy, things here in Southern California are a little edgy these days, to put it mildly. A LOT of people have been directly affected by these wildfires, and even if you aren't directly involved, there's smoke everywhere. I'm looking out my office window right now, and the sun shining through all the smoke is making everything this strange reddish color. Plus, there's ash falling like snowflakes. Very strange, and obviously very sad. Again, our best wishes to all who may be affected. Those of you who want to help should consider making donations to the American Red Cross and other relief organizations, because many people will have to rebuild their lives somehow after all this.

Anyway... a quick note: Adam's Hell Plaza Oktoberfest review for the day will be posted later this evening, so be sure to watch for it.

The big news today is that Lionsgate has revealed plans for the DVD and Blu-ray Disc release of James Mangold's recent remake of 3:10 to Yuma. Retail sources are telling us to expect it on store shelves on 1/8/08. Details as to the specs and features are yet to be announced.

Now then... let's talk Warner's new Stanley Kubrick box set. There are a number of issues bring reported by readers today, and we're getting asked a lot of questions about the discs. First issue: A lot of readers are reporting shortages of the discs - both high-def versions and the DVD box set. Amazon is apparently warning customers of delays in shipping the Blu-ray versions. Our local Best Buys here in Orange County, CA had plenty of the high-def versions today, but the DVD box sets are in short supply. Other retailers have low or no stock of either or both high-def versions, etc. I just got off the phone with Warner, and they're telling me that ALL orders from distributors have shipped out, so retailers should have plenty of copies of everything soon. Warner isn't commenting yet on the reasons for the delay and street date shortages, but industry sources are telling us privately that the studio recently switched to a new software fulfillment/distribution system, and that change over is reportedly causing some delays and logistical hiccups.

Another issue: The Eyes Wide Shut discs (all formats - as originally announced back in July) were supposed to include scene specific audio commentary by Sydney Pollack and historian Peter Loewenberg. They do not, although upon checking, a revised spec list sent to us on 9/1 had already omitted the commentary. However, neither do these discs include the theatrical version as expected, so if you want that too, you need to keep your original DVD. Studio reps have suggested to us that this may have been a disc space issue, but we're expecting official word soon. The problem with this notion is that the Blu-ray Disc version should certainly have had the room to include the other cut of the film (via seamless branching as planned). Frankly, the HD-DVD version should have had room enough as well. But we're expecting to find out from the studio exactly what happened tomorrow. Unfortunately, we have been informed that (for whatever reason) the theatrical version WAS dropped from the disc and the packaging wasn't corrected to reflect this. We're told that future copies will have corrected packaging, which means that the branching feature will NOT be part of the release.

The other question a lot of people have had, is why Kubrick's Lolita and Barry Lyndon weren't included in the set. This may be due to the possibility that the films required additional remastering work... or it could have been just a bad decision made by the studio in thinking that fans wouldn't care if they were missing. Again, we've asked the studio why the films weren't included in the set (and separately on high-def) and we hope to hear back tomorrow.

Given all of the above, you might be asking still ANOTHER obvious question: Why didn't The Bits warn its readers about any of these issues before the discs came out? And believe me, we would have had we known. Unfortunately, we didn't get review copies of these discs until just yesterday... and then not all of them. We're just as frustrated as you are, believe me. As I said, we'll try to have some answers for you on all this issues as soon as possible.

While we're talking about Warner, here's a bit of good news: The studio has just informed us that the limited theatrical release of Blade Runner: The Final Cut is expanding to select markets around the country, and some of the screenings are expected to be in 2K resolution digital projection where available. Here's a list of dates and locations (look for more updates on the film's official website):

10/26 - Seattle (Cinerama, Seattle - 35mm), Washington D.C. (Uptown, D.C. - 35mm), Portland (Cinema 21, Portland - 35mm), Salt Lake (Gateway Megaplex, SLC - Digital)

11/2 - Chicago (Music Box, Chicago - 35mm), Santa Barbara (Arlington, Santa Barbara - Digital), Baltimore (Landmark Harbor East, Baltimore - Digital)

11/9 - Boston (Coolidge Corner, Brookline - 35mm)

11/16 - Detroit (Main Art, Detroit - 35mm)

11/18 - Austin (Paramount, Austin - 35mm)

11/30 - San Francisco (Embarcadero, San Francisco - 35mm), Dallas (The Inwood, Dallas - 35mm), San Diego (Ken, San Diego - 35mm), Minneapolis (Uptown, Minneapolis - 35mm)

12/7 - Denver (The Landmark @ Greenwood Village - Digital), Philadelphia (The Ritz 5, Philadelphia - 35mm)

12/25 - Boston (The Brattle, Cambridge - 35mm)

1/2/08 - Austin (The Paramount, Austin - 35mm)

1/4/08 - Nashville (The Belcourt, Nashville - 35mm)

1/18/08 - Durham (Carolina, Durham - 35mm)

2/1/08 - Columbus (Drexel Gateway, Columbus - 35mm)

2/15/08 - San Francisco (Castro, San Francisco - 35mm)

2/29/08 - Sacramento (Crest, Sacramento - 35mm)

Yes, we know... Austin is listed twice. Not sure why - this is what Warner gave us. If you're a fan of Blade Runner, we definitely recommend seeing The Final Cut on the big screen before it arrives on disc on 12/18. You can read our review of the film here.

By the way, speaking of Warner and delays... the studio has also informed us that the street dates for the high-definition versions of its forthcoming That's Entertainment: The Complete Collection have been changed to 12/18 (from 11/13). Revise your plans accordingly.

One other bit of high-def news today... Home Media Research is reporting that Blu-ray software has outsold HD-DVD by a factor of 2 to 1 so far in 2007, though some analysts expect the margins to close going into the 4th quarter, as both camps roll out their biggest titles for the holidays (and as the shift by Paramount and DreamWorks towards HD-DVD takes full effect). We'll see. It's certainly going to be an interesting release season. You can read more here at The Hollywood Reporter.

Okay, that's it for now. Stay tuned...

(LATE UPDATE - 10/23/07 - 2:45 PM PDT)

I've just had the chance to look at Warner's 2001: A Space Odyssey on Blu-ray Disc, and I've got to tell you... WOW. The film just looks amazing. I haven't sampled the extras yet, and I haven't watched the whole film yet, but what I've seen is pretty spectacular. All of these Kubrick titles street today on DVD, Blu-ray and HD-DVD, and I suspect you're not going to be disappointed if you buy them.

By the way, we've just kicked off FIVE new Contests today, giving each of you the chance to take home copies of Warner's Studio 60, Veronica Mars: Season 3, Tom & Jerry: Nutcracker Tale, Squidbillies: Volume 1, Whose Line Is It Anyway?: Season 1, Blue Planet, The Jazz Singer, Homie Spumoni, Selena and Believers: Unrated, Manga's Karas: The Revelation and New Line's Normal Adolescent Behavior: Havoc 2, along with the continuing contest for Anchor Bay/Starz' Rosanne: Season 9. Entries will be accepted until Noon (Pacific) on Sunday, October 28th. Click on the links to get started and good luck!

Stay tuned...

(EARLY UPDATE - 10/23/07 - 9:30 AM PDT)

Adam's Hell Plaza Oktoberfest review for today comes From Beyond the Grave thanks to the folk from Warner Home Video. Hope you enjoy it.

Also today, Russell Hammond has updated the Upcoming DVD Cover Art section with all the latest DVD, Blu-ray and HD-DVD cover art and Amazon pre-order links. There's tons of new titles to see, as always, so don't miss it.

One last note before we get to the news: We now have all four Digital Bits T-shirts available, including the new 10th Anniversary design. We've just gotten the first batch of shirts in stock here, and we're very pleased with how they came out. In fact, Sarah's already started shipping them out to readers. Remember, most of them are just $14.99 plus shipping, so be sure to check them out. Just click on the link to see them.

Okay... the big news today, of course, is that Paramount and DreamWorks are reporting that Michael Bay's Transformers has become the fastest selling DVD this year, with over 4.5 million DVD copies sold on its first day and some 8.3 million sold by the end of the first week. And it seems as if the HD-DVD format finally has its Casino Royale: The studios claim that 100,000 copies were sold last Tuesday with another 90,000 by the end of the week. Those are very good numbers. It makes you wonder, however, just how many more copies the studios would have sold on Blu-ray, had they not ditched the format. If you figure Warner's 300 sold two-thirds more copies on Blu-ray, that's what... 380,000 more high-definition copies? By staying format neutral, they could have sold half a million high-def copies (both formats combined) of a single title in a single week. Ah well. I'm just saying. You can read more on all this here at Video Business and here at Home Media Retailing. Speaking of which, director Bay apparently commented to the USA Today yesterday that he thinks the DVD could have been better, that he still leans Blu-ray and that he thinks the format war was a bad idea: "It's short-sighted and it has delayed consumers' moving to HD (home video). As a director, my critical eye is that Blu-ray is where my money is. Consumers are smart, and they are going to wait it out." Dude. Seriously. I'll say this for Bay: The guy definitely knows how to stir up controversy. I mean... come on. You can't make this stuff up, folks.

By the way, I actually passed on Transformers in theaters, but enough people are telling me that it's entertaining that I'm probably going to have to give it a shot on HD-DVD. Will wonders never cease?

In other news today, Sony has announced the DVD release of September Dawn on 1/2/08. They've also set Resident Evil (SRP $28.95) and a Resident Evil Trilogy box set (containing Resident Evil, Resident Evil: Apocalypse and Resident Evil: Extinction) for release on Blu-ray Disc that same day (MAP $58.95). That presumably means that Resident Evil: Extinction will street on DVD on 1/2/08 as well.

MGM has also just confirmed Mr. Brooks (10/23), Home of the Brave (10/23) and Rescue Dawn (11/20) for release on Blu-ray.

Also, Universal has set Desires of a Housewife, an Imitation of Life: Two-Movie Special Edition (containing both the 1934 and 1959 versions of the film) and The Wiz: 30th Anniversary Edition for DVD release on 2/5/08.

Finally, Samsung has apparently lowered the price for its 3rd generation BD-P1400 Blu-ray player to $499, making it the cheapest stand-alone Blu-ray player (along with Sony's $499 BD-S300) now available. You can read more here at Video Business.

Stay tuned...

10/22/07

Well... what an interesting weekend this has been. You've probably heard about all the wildfires we're having in Southern California. Down here in the O.C., one of them got a little too close for comfort. I was sitting in my office last night, talking to Todd on the phone, when suddenly I started smelling smoke. In just a few minutes, it got so thick you could barely see across the street. Fortunately, the fire was still a couple miles away in the mountains to the East of us, but it was a little creepy there for a while. Sarah took this shot last night...




Luckily for those houses down at the bottom of the hill, the fire seems to be under control now, but such is not the case up in parts of L.A. county and down in the San Diego area, so our best wishes to any of you who live in the affected areas. Everybody stay safe.

Anyway, Adam kicks off his last full week of the Hell Plaza Oktoberfest this morning with a review of Warner's The Reaping on DVD. Do check it out.

In announcement news today, New Line has set The King of Kong: A Fistful of Quarters for DVD release on 1/29/08. You'll get audio commentary from director Seth Gordon, producer Ed Cunningham, associate producer Clay Tweel and associate producer Luis Lopez, a second commentary with from the editor of IGN.com and the founder of i am 8-bit, a number of featurettes with bonus footage, and the animated A Really, Really Brief History of Donkey Kong short.

Meanwhile, Sony has set Bob Odenkirk's The Brothers Solomon for release on DVD on 12/26 (SRP $26.96). Also coming to DVD from the studio on 1/2/08 is September Dawn (SRP also $26.96).

Warner has set Perfect Strangers: The Complete First & Second Seasons for release on 2/5/08.

20th Century Fox has announced 2 Days in Paris for DVD release on 2/5/08.

And Universal has Mr. Bean's Holiday coming to DVD and the DVD/HD-DVD Combo format on 11/27. Illegal Tender follows on DVD only on 12/18.

Around the Net today, you Battlestar fans who missed it during Friday night's Flash Gordon episode on the Sci-Fi Channel will definitely want to check out the latest Razor "flashback" clip. It features a nice look at space combat from the first Cylon war, including a look at classic Raiders and Baseships. November 24th can't come fast enough.

Finally this morning, those of you who are interested have until 10/26 to pick your favorites in Home Media's fourth annual TV DVD Awards. Click on the link below to make your picks!




Stay tuned...

10/19/07

Afternoon, folks! Week Three of Adam's Hell Plaza Oktoberfest concludes today with a review of Magnolia's Severance: Special Edition. By the way, Adam would like you all to know that if you live in the L.A. area, Burbank's ever-popular Dark Delicacies is going to be hosting a big DVD signing event tomorrow (Saturday) starting at 2 PM. Cerina Vincent will be signing Return to House on Haunted Hill, Kelli Maroney will be signing Night of the Comet, and Scott W. McKinlay, Amy Wehrell and Gerald Emerick will be signing Gag. Click here for all the details.

In announcement news today, 20th Century Fox has set The Simple Life: Goes to Camp for release on 1/22/08. I know you guys were all waiting on pins and needles for news about that show, so now you can rest easy.

Meanwhile, on a more high-brow level, Criterion has revealed that its January DVD titles will include Cornel Wilde's The Naked Prey (#415 - due on 1/15), Alf Sjöberg's Miss Julie (#416 - 1/22), Lindsay Anderson's This Sporting Life (#417 - 1/22) and a 4 x Agnès Varda box set (#418 - 1/22). This Sporting Life will be a 2-disc set. The 4 x Agnès Varda set will include Le bonheur (#420), Cléo from 5 to 7 (#73), La Pointe Courte (#419) and Vagabond (#74). Both of the reissued titles will feature new transfers supervised by Varda and new extras.

But here's my favorite bit of news from Criterion today: They're gearing up to release Eclipse Series 7: Postwar Kurosawa on 1/15 (SRP $69.95), which will be a 5-disc box set containing I Live in Fear, The Idiot, No Regrets for Our Youth, One Wonderful Sunday and Scandal! So many of Kurosawa's older films have been unavailable in good quality on DVD here in the States, making this about the best news we've heard since Warner announced Blade Runner: The Final Cut. Let's hope for another Eclipse box down the road with the remainder of the director's older films (Sanshiro Sugata, The Most Beautiful, They Who Step on the Tiger's Tail, Sanshiro Sugata, Part II and Those Who Make Tomorrow - we also believe Criterion is working on a regular collection release of Dodes Kaden for release in 2008, which would complete the release of the Kurosawa catalog on DVD in R1).

Also today, Warner has set A Dennis the Menace Christmas for DVD release on 11/6.

Staying in the Time Warner family for a moment, Warner Bros. Records is releasing Live Earth: The Concerts for a Climate in Crisis as a 3-disc set (1 CD/2 DVD) on 11/20. The DVD portion will include basically one track from every major artist or band involved, while the CD will contain a sampling of the same. You'll find the complete details and track listing here at The Police.com (The Police, of course, being one of the bands involved).

In other release news, Buena Vista has announced that Eagle vs. Shark and Golden Door will debut on DVD on 1/8. Long before that, however, Talespin: Volume 2 will street on 11/13, with Wish Gone Amiss will following on 11/27. The studio also wants you all to know that the following animated titles will "go back into the vault" on 1/31/08: Cinderella: Platinum Edition, Cinderella II: Dreams Come True - Special Edition, Cinderella III: A Twist in Time, Aladdin: Special Edition and the Aladdin II and III Two Pack. So you know... plan accordingly.

Moving on, Universal has set Balls of Fury for release on 12/18, on full frame and anamorphic widescreen DVD (SRP $29.98 each) as well as DVD/HD-DVD Combo format (SRP $39.98).

Paramount will release Beauty and the Beast: The Third Season on 2/5/08.

Finally, Lionsgate has Cloma: The Musical due on 11/20.

Elsewhere around the Net today, Genre Online's Mark Rivera has posted a review of the forthcoming Battlestar Galactica: Razor, which debuts on the Sci-Fi Channel here in the U.S. on 11/24 (and arrives on DVD as an extended version from Universal on 12/4). By the way, on a related note, Bits reader Boris S. e-mailed last night to say that the version of Battlestar Galactica: Season Three that's now available in Europe is almost completely extras free. He particularly noted that the Battlestar Galactica: The Resistance "webisodes" were missing from the set (they're missing from all international versions apparently)... which could actually be one of the reasons for the delay in releasing the DVDs here in the States. You might recall that there was some controversy with the Writer's Guild over the webisodes when they were first available online. The Hollywood studios generally feel that Internet content (like webisodes) should be considered strictly promotional material, and are thus reluctant to pay writers for it, much to the WGA's chagrin. As you might also know, there's a major writer's strike looming in Hollywood, so it COULD be that Universal wants to wait and see how the situation resolves itself, in the hopes of including the webisodes on the eventual R1 DVD release. There have been rumors that the studio wants to splice all the webisodes together with extended footage to effectively create a near-full "3x00" episode of the season for the DVD release. We'll see...

Also this afternoon, Bits reader James M. has informed us that Paramount's Jack Ryan Collection HD-DVD box set will apparently be released in Canada next week as planned, with the correct art (not mentioning any extras). Just FYI.

There's word that Sony has officially dropped the price of its Blu-ray equipped 80GB PlayStation 3 to $500 (down $100). The company is also launching a 40GB PS3 for just $400 on 11/2, packed with Spider-Man 3 on Blu-ray (note that the 40GB model will not be backwards compatible with PS2 software, and will have only 2 USB ports). You can read more here at Home Media.

One other quick note: We'd like take a moment this afternoon to acknowledge the recent passing of comedian Joey Bishop and actress Deborah Kerr. Kerr appeared in many films, including such classics as The King and I, An Affair to Remember and From Here to Eternity. She was 86. Bishop, of course, was a member of Frank Sinatra's Rat Pack and appeared as such in the original Ocean's Eleven. He was 89. Both will be missed.

Around the site today, we've updated some of the DVD and high-def format stats we track (above).

Finally, we'll close out the week with a look at more new DVD cover art. Here's Criterion's Drunken Angel (11/27), Postwar Kurosawa, The Naked Prey and This Sporting Life, along with the final cover art for Sony's Superbad: Theatrical Edition and Superbad: 2-Disc Unrated Extended Edition (both due 12/4)...




Have a great weekend, everyone! Peace out.


More Archived Posts
Back to Current Posts