-Newsletter est. 4/15/97-
-Website est. 12/15/97-



page updated: 1/15/08
My Two Cents
(Archived Posts 1/10/08 - 12/20/07)
Back to Previous Archives
Back to Current Posts
(LATE UPDATE - 1/10/08 - NOON PST)

Universal Studios Home Entertainment has just released a brief statement with regards to its HD-DVD support. EVP of HD strategic marketing Ken Graffeo says the following: "Contrary to unsubstantiated rumors from unnamed sources, Universal's current plan is to continue to support the HD DVD format."

It's worth noting that nothing in this statement negates the possibility of Universal announcing Blu-ray support (in addition to HD-DVD) in the future. This is similar to Paramount's recent official comments that they intend to continue supporting HD-DVD as well, which does not preclude possible future Blu-ray Disc support. One would expect a similar statement out of Toshiba and/or the HD-DVD Promotions Group soon as well. Regardless, it shouldn't take a rocket scientist to realize that they're being careful about their phrasing so as to keep their options open. We'd frankly expect both studios to continue releasing HD-DVD product for some time, regardless of any Blu-ray plans they might announce in the future.

By the way, we contacted The Weinstein Company and Genius Products today. A spokesperson told us that the company hadn't firmed up their HD plans yet.

Meanwhile, the bad mainstream press for HD-DVD keeps mounting. The New York Times' technology section features a report entitled "HD DVDs Fall Like Dominoes" today. And The Wall Street Journal's Digital Digital column goes a step further with "Mistah HD DVD - He Dead..." It will be interesting to see how all these press reports out of CES, in the wake of Warner's Blu-ray move, will impact the high-def hardware and software sales numbers over the next few weeks.

One other completely unrelated note this afternoon: We wanted to take a moment to acknowledge the passing of legendary explorer Sir Edmund Hillary today. He was 88. Hillary became famous midway through the 20th Century, when he and Tenzing Norgay conquered the summit of Everest in 1953. Now that took some balls. MSNBC also has a piece up on Hillary this afternoon. We doff our caps in his honor.

Stay tuned...

(LATE UPDATE - 1/10/08 - NOON PST)

Okay... our very own Adam Jahnke has just updated his Electric Theatre column with a look back at the best and worst films of 2007. It's well worth a read, so do check it out.

Also this afternoon, BCI has just announced the 2002 animated revival of He-Man and the Masters of the Universe as a 3-disc DVD release due on 2/19 (SRP $26.98). You'll get the first 13 episodes of the series, along with the original Morals segments for each episode, the World of He-Man documentary, a Heroes sketch gallery, audio commentary on 5 episodes (with director Gary Hartle, story editor Dean Sefan and writer Larry Ditillo, moderated by Ian Richter) with extended video discussion after the episode ends, 3 episode animatics, scripts for all the episodes, video of the Comic-Con panel and much more.

Meanwhile, more retailers are weighing in on the high-def format war this afternoon. Trans World Entertainment is pleased with Warner's decision to go Blu-ray according to Home Media. President/COO Jim Litwak had this to say today: "Finally, the customer has an understanding of where this business is going to go and will not be confused. Blu-ray becomes the new DVD format, which is particularly exciting. We like that a lot." Trans World owns and operates the retail chains fye, Suncoast, Wherehouse and Second Spin.

And one more major German distributor just went Blu-ray only... Highlight Video. The details are here at CineFacts.de (in German of course - here's a rough English translation).

The news is coming fast and furious, but our CES stuff is on the way. Stay tuned...

(EARLY UPDATE - 1/10/08 - 10:30 AM PST)

The big high-def news so far this morning is that Daily Variety has confirmed that Paramount has an escape clause on their contract with HD-DVD, and that Universal's contractual period for exclusivity has ended. This means both studios are free to decide to go neutral or Blu-ray only at any time. The piece says that while these studios aren't quite ready to throw in the towel yet, and neither is Toshiba, retailers are likely to force their hand based on sales.

On that note, Reuters spoke with a number of retailers at CES who, contrary to Toshiba's claims of being supportive, seem afraid of the format war continuing to drag on. Says Wal-Mart's senior vice president in charge of electronics, Gary Severson: "It would be our hope that by this Christmas there would be a clearer choice for the customer, instead of battling back and forth." Best Buy CEO Brad Anderson adds that Warner's decision makes it "a lot easier to see the likelihood that we get to one format, and it makes it easier for us as retailers to help push it to that one format." None of these retailers are likely to immediately remove HD-DVD from their store shelves, for fear of angering those consumers who just purchased the format over the holidays. However, you can be certain that they'll be watching sales figures and will react accordingly.

In order to better assess retailers' possible next moves, we contacted a variety of local Orange County, CA retail locations yesterday (including Best Buy and Circuit City stores, as well as Frys Electronics and a couple of specialty retailers) for an informal poll, and have learned that since Warner's decision on Friday, Blu-ray Disc hardware has begun outselling HD-DVD hardware dramatically, jumping from 3 to 1 early last week to a factor of roughly 20 to 1 (on average) over the weekend. Sales people are now more confidently recommending Blu-ray to their customers as the preferred of the two formats, and there have apparently been returns of HD-DVD decks. Said one Best Buy employee yesterday of HD-DVD: "We'll keep it around until it goes on clearance, but in a couple months, it probably won't be there anymore."

The number of HD-DVD players available for sale on eBay appears to have spiked over the weekend as well.

It gets worse for HD-DVD today. Constantin Film AG (one of Germany's top indie film companies) has announced that it too will go all Blu-ray in the wake of Warner's move, according to the Hollywood Reporter.

Finally, research firm Understanding and Solutions is now predicting that Blu-ray will win the high-def format war by the end of 2008. We suspect it won't take nearly that long.

Back with more in a bit. Stay tuned...

(LATE UPDATE - 1/9/08 - 5:30 PM PST)

So this is interesting. I'm sitting here working on our CES coverage, when a reader e-mails this over: USA Today's Ed Baig spoke with Microsoft CEO Bill Gates this week, and asked him about the format war in light of Warner's decision to go Blu-ray only. Here's the relevant part of the exchange...

"Q: Warner's announcement backing Blu-ray high-definition DVDs suggests the death of the HD DVD format, which Microsoft has supported. What's your reaction?

A: There has been a lot of back and forth. The announcement before that was Paramount putting exclusive support behind HD DVD. HD DVD did well over the holidays. The other trend we're seeing is that direct download over broadband — I think the greatest example of that is XBox Live — (is) becoming an important choice. Over time, that will be the dominant way that people get their movies."

I've got no particular comment on this, other than that I think it's interesting that Gates is already trying to shift the focus off HD-DVD and toward downloading via Xbox Live in light of Warner's decision. Make of that what you will.

On a related note, based on conversations with Microsoft officials at CES this week Next Generation is now reporting the following:

"The fate of HD-DVD is not critical to the success of the Xbox 360, according to senior Microsoft officials, who have noted that the company would consider supporting rival technology Blu-ray if it were victorious in the high-definition format war."

Meanwhile, TWICE is reporting that some members of the BDA are now shifting their marketing focus away from fighting the format war against HD-DVD, to instead focus on promoting Blu-ray's advantages over standard DVD.

Stay tuned...

(LATE UPDATE - 1/9/08 - 4:30 PM PST)

Just a quick update... the L.A. Times is now reporting that Warner's switch did in fact trigger Paramount's out clause with HD-DVD. Here's the relevant text from the story:

"Warner Bros.' decision last week to start making movies exclusively for Blu-ray players, rather than HD DVD, triggered an "out" clause in Paramount Pictures' contract with the HD DVD camp. An industry source said there was a significant possibility that Paramount would exercise that clause. It plans to decide within a month.

Paramount officials said they would continue to support HD DVD, a format for displaying videos in higher quality whose backers include Toshiba Corp. and Microsoft Corp. Universal Pictures, which has been a strong supporter from the beginning, issued no public statement on the matter here."

Meanwhile, the same story reveals that Toshiba has been in meetings with its retail partners about their continued support of HD-DVD:

"Toshiba said Tuesday that retailers have expressed their commitment to HD DVD during private meetings at the show, which is the world's largest consumer tech gathering."

As to whether or not retailers would abandon HD-DVD immediately, the story offer this comment:

"Industry executives said it would be unusual for retailers to abandon any format so soon after Christmas, for fear of sparking a flood of returns."

The plot thickens. The key thing to note is that it seems as if the remaining HD-DVD supporting studios plan to take their time making any major decisions, which is smart. It gives them time to develop their own plans, to see what the fall out from CES is, etc. So don't expect any more major announcements in the next couple of weeks at least. As we said earlier, everyone take a deep breath, and let's just have patience while we all wait to see how things play out in the next month or two.

Meanwhile, there's plenty of other CES coverage coming, so stay tuned...

(LATE UPDATE - 1/9/08 - 3:30 PM PST)

Before we start with the CES stuff, let's have a quick round-up of the latest DVD, Blu-ray and HD-DVD announcements that have happened while we've been away...

First up, 20th Century Fox has set a Walk the Line: Extended Cut DVD for release on 3/25. The film will feature 17 minutes of additional footage. The 2-disc set will also include audio commentary with co-writer and director James Mangold, the Johnny Cash Jukebox feature (8 extended musical sequences from the film with new introductions, including Lewis Boogie, Get Rhythm, You're My Baby, Jukebox Blues, Rock and Roll Ruby, That's Alright Mama, Jackson and Cocaine Blues), 2 more deleted scenes with optional commentary, the film's theatrical trailer and 7 behind-the-scenes featurettes (Becoming Cash/Becoming Carter, Sun Records and the Johnny Cash Sound, The Cash Legacy, Folsom: Cash and the Comeback, Ring of Fire: The Passion of Johnny and June, Cash and His Faith and Celebrating the Man in Black: The Making of Walk the Line).

Meanwhile, Fox will release Ice Age: The Meltdown - Special Edition on 3/2, followed by a trio of film noir classics on 3/11, including Dangerous Crossing, Daisy Kenyon and Black Widow.

On the Blu-ray front, while at CES Fox was previewing an Alien vs. Predator vs. You BD-Live interactive game (more on that later). We hear that the original Predator is due to street on Blu-ray around the time that Alien vs. Predator: Requiem hits DVD and Blu-ray this spring.

As far as Sony, the studio has revealed the DVD release of My Kid Could Paint That on 3/4, with Conspiracy, Revolver, Southland Tales and Married... with Children: The Complete Eighth Season all following on 3/18.

At their booth on the show floor at CES on Monday, Sony heavily promoted the forthcoming (and TBA) release of Men in Black and Godzilla on Blu-ray Disc. Godzilla producer Dean Devlin was on hand to talk about how much he liked the format, in a demonstration hosted by film critic Leonard Maltin (again, we'll have more on that later).

In other news, Universal has announced the standard DVD release of a series of Universal Cinema Classics: Screwball Comedies titles on 4/22 (SRP $14.98 each), including Easy Living, The Major and the Minor, Midnight and She Done Him Wrong. Trailer Park Boys: The Movie has also been announced for DVD release on 4/22.

Buena Vista has set its Tinker Bell CG animated movie for release on DVD and Blu-ray on 10/26. Soap fans will be pleased to learn that General Hospital: Night Shift - The Complete First Season is being released on DVD on 2/22. Twitches Too arrives on DVD on 1/29. And Dan in Real Life will reach DVD and Blu-ray Disc on 3/11. Meanwhile, in case you weren't already aware, Michael Bay's The Rock and ConAir arrived on Blu-ray Disc yesterday, and Tony Scott's Crimson Tide is set to follow on 2/5.

DreamWorks (via Paramount) will release Bee Movie on DVD and HD-DVD on on 3/11. There will be a single-disc DVD (SRP $29.99) a 2-disc collector's edition ($39.99) and the HD-DVD version (also $39.99).

Also coming from Paramount on 4/1 is Becker: The First Season, followed by Matlock: Season One and a Perry Mason: 50th Anniversary Edition on 4/8, College Hill: Interns and Melrose Place: The Fourth Season on 4/15, Laverne & Shirley: The Complete Fourth Season on 4/22, and Beverly Hills 90210: The Fourth Season, Cheers: The Ninth Season and The Adventures of Young Indiana Jones: Volume Three - Years of Change on 4/29.

Finally, Warner has announced the 2-disc DVD, Blu-ray and HD-DVD release of Twister on 5/6. Tom and Jerry: Shiver Me Whiskers and Tom and Jerry: Tales - Volume 1 will street on 2/19. NFL Super Bowl XLII follows on 2/26. Def Comedy Jam: Hughley arrives on 3/11 from Warner for HBO. Also on tap for HBO is Autopsy: Postmortem with Dr. Michael Baden on 3/18. Warner's Bette Davis Collection: Volume Three box set streets on 4/1 (SRP $59.92), featuring In This Our Life, The Old Maid, All This and Heaven Too, The Great Lie, Deception and Watch on the Rhine. HBO's Martin: The Complete Fourth Season streets from Warner on 4/1, with Russell Simmons Presents Def Poetry 6 following on 4/8. And finally, Macon County Line and The Bridges of Madison County: Deluxe Edition street on DVD on 5/6.

Here's cover art for Fox's I, Robot and Independence Day on Blu-ray (3/11), Warner's Twister (5/6 - on DVD and Blu-ray), Buena Vista's The Rock, Crimson Tide and Con Air on Blu-ray, and on DVD Paramount's The Adventures of Young Indiana Jones: Volume Three - Years of Change and Fox's Walk the Line: Extended Cut...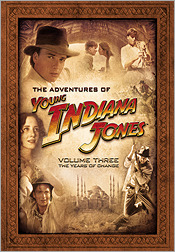 Stay tuned...

(EARLY UPDATE - 1/9/08 - 11:30 AM PST)

Okay... first things first. I've gotten literally thousands of e-mails from readers these past few days, and it's going to take me a while to sort through them all. So if you're trying to get a hold of me, please be patient. As you can imagine, the work load is pretty huge at the moment.

Now then... I'm finally back from CES, I've got a good strong cup of coffee in hand, and I'm settling back into the home office here in Orange County. I got in late yesterday afternoon, but found that I needed to take some time to get back into a head-space conducive to work. I actually hate flying to and from Vegas. It's quick and convenient, sure, but there's just no time to shift gears mentally. It's rush, rush, rush to get ready, then you're on a plane and by the time you've gotten your drink and taken a deep breath, you've landed and it's time to hit the ground running. Driving from L.A. to Vegas is so much more civilized. You can listen to a little music, watch the passing desert scenery. By the time you get there, you're ready to go.

So anyway, needing a little personal time, I spent the evening up in Hollywood last night at Amoeba Music on Sunset, where I got the chance to meet guitarist Andy Summers from The Police, which some of you may know is a band of which I'm fond. I shook his hand, chatted for a few minutes, and he signed a copy of his book and the band's tour program for me. He seems like a very nice guy. It's always a pleasure when you meet people you've admired and respected for a long time and actually find them to be decent human beings, as opposed to egomaniacal jerks, you know? Doing what we do here at The Bits, you meet a lot of well known people, and I can tell you that it's surprisingly rare when you're not disappointed in that kind of situation. As a cool little bonus, I learned that while a new Police album isn't certain, it is an actual possibility now - more so than when they started this reunion - so that was just icing on the cake. A good time was had by all, as they say. Or at least by me, which was the idea.

Alright... that's naturally not what any of you want to hear from The Bits this morning, so let's get a little update on the high-def situation. Home Media has confirmed that HBO is following Warner and New Line to Blu-ray exclusivity, as we expected. Things are still moving internally at Paramount and Universal. But at least for the moment, Paramount is denying that they're giving up on HD-DVD, and of course, sites like Ain't it Cool are latching on to that. So naturally, enthusiasts all over the Net are confused today. First, you'll notice neither studio is denying that they plan to go Blu - just that they're not giving up on HD-DVD at the moment. Second, look... we love the guys at AICN, including Harry. I mean that straight up, no bullshit. He's a good guy and he does a lot for movie fans online. But with all due respect, he's been a little bit behind the curve with regard to this high-def format war all along. So we'll leave it at that. I needn't remind any of you that before the holidays, Warner was still officially claiming that they were going to continue to support both high-def formats, and we all know how that turned out now.

We remain convinced that both Paramount and Universal are moving towards announcing Blu-ray Disc support soon, and we have real reason for that belief, not the least of which is that our sources in this situation are second to none - a fact which should be readily obvious by now. Announcements could happen tomorrow, they could happen next week, they could happen next month. We'd be surprised if it took longer than a month or two. We're hearing that Universal may not announce until February at the earliest, as we're given to understand that their contract period with the HD-DVD camp expires at the end of January. So everyone needs to just take a deep breath and relax. We know that's hard, given how fast things have been moving this past week. Rest assured, sources continue to tell us that Paramount and Universal are going Blu, but sorting out all the legal details and organizing the logistics takes time. The Warner move was apparently well planned, but Paramount and Universal have only just started that process. They may or may not continue releasing HD-DVDs for a time - we'll have to wait and see. But retailers are now seriously pressuring these studios to go Blu, and we'd be surprised if many mainstream stores still have HD-DVD hardware and software on their shelves come next Christmas. I suspect that Paramount especially wants to be able to announce a few actual titles when they announce their Blu-ray support, and it takes time to get all that ready. Keep in mind that things have been extremely chaotic within the home video industry this week. So everyone just take a deep breath and try to calm down, while we wait for things to play out.

One other quick note: We've gotten a number of e-mails over the last couple of days in regards to our idea of the BDA offering HD-DVD fans some kind of incentive to go Blu. The reactions from HD-DVD fans ranged from, "What a good idea..." to "Thank you for suggesting it..." to "Screw YOU and the horse you road in on!" Conversely, some Blu-ray fans welcomed the idea, while others felt HD-DVD fans had rolled the dice and now they have to deal with it. It's all just another indication of how unfortunate this format war really has been, and how badly it's damaged the online enthusiast community. All you need to do is read any of the various online home theater discussion forums this morning to see just how much healing needs to happen right now. Fortunately, this format war is now virtually over... and not a moment too soon. The real shame is that it was prolonged by the HD-DVD camp six months longer than it should have been, the result of which is that thousands of people picked up HD-DVD players over the holidays and many of them are now pretty unhappy with that decision, and feel like they've been duped. You can bet there are a lot of HD-DVD players being returned to stores right now, and eBay is suddenly flush with them. No surprise.

Finally this morning, we wanted to let you know that our very own Russell Hammond has updated the Upcoming DVD Cover Artwork section as usual, with lots of great DVD and Blu-ray artwork (and yes, HD-DVD too) as well as Amazon pre-order links. Enjoy!

We're going to start posting a bunch of stuff from CES later this afternoon and throughout the rest of the week, so be sure to check back. Stay tuned...

1/8/08

Well... we've had SOME confirmation this morning of the details of the Financial Times story from last night. While the studio isn't yet commenting, reliable industry sources are telling us that Paramount is indeed preparing to end their HD-DVD support and announce a return to the Blu-ray fold. Details are currently being finalized, and an announcement is expected as soon as they're complete. Paramount's first new Blu-rays will almost certainly include many of those titles that were cancelled last year, but that were already packaged and ready for shipping, so you could see them in stores very quickly once the studio announces.

Meanwhile, sources are telling us that Universal has also been talking with the BDA, and is looking to follow Paramount and Warner's lead as soon as possible.

On a related note, Times Online in the U.K. is now reporting that as many as 20 additional firms currently backing HD-DVD are also considering defection in the wake of Warner's Friday announcement, including Fujitsu, Lenovo, Kenwood and Pony Canyon (which is a major Japanese film and music studio).

What's more, word is starting to circulate at CES that major big box retailers will begin winding down in-store support for HD-DVD as soon as these studios go public with their decisions. We're told that the industry's major retail partners are already pressuring Paramount, DreamWorks and Universal to go Blu following Warner's decision.

Rumors are also beginning to circulate here (see this piece at the New York Times) that Apple's Steve Jobs may announce the addition of Blu-ray Disc drives to their Mac desktop lineup at next week's Macworld Expo in San Francisco.

We would caution you to keep in mind that all of this should be considered unofficial until the studios make their actual announcements. Things are moving very fast, and the situation is highly fluid. Still, it really looks like this is the end for HD-DVD, and the end of the format war overall. We'll keep you up to date with new developments as they break.

Stay tuned...

1/7/08

Okay... we're going to have a lot more on all the high-def format developments at CES tomorrow, and over the next couple days. I'm working on my reports now, but it's going to take a while to cover it all. I conducted interviews with a number of studio and industry executives today, the text of which we'll be posting here. But first, I've got two pieces of VERY major news to report this evening.

First, at the BDA press conference a short time ago, I asked Warner's Ron Sanders if his studio's decision to go Blu-ray only extended to New Line and HBO as well (as there's been some lingering uncertainty online). He once again diplomatically suggested that each affiliate company will be making their own decisions and announcements. So at the Digital Entertainment Group reception afterwards, I spoke directly with a senior New Line Home Entertainment executive, who confirmed that not only is New Line following Warner's lead, Pan's Labyrinth is the studio's last HD-DVD release. Their next major title will likely be The Golden Compass, on DVD and Blu-ray only later this year.

But there's more. Get this: The Financial Times of London is now reporting that Paramount DOES indeed have an out clause in their contract with the HD-DVD camp - one that would allow them to switch sides in the event that Warner were to abandon HD-DVD. Now that this has occurred, the FT says that the studio intends to exercise that option, meaning that Paramount is about to go Blu-ray only as well. It's unknown whether DreamWorks has a similar clause, but it seems unlikely that they wouldn't. Keep in mind, we have yet to confirm this officially with either studio. But if it's true, this would leave Universal the sole remaining major studio supporter of HD-DVD. On that note, when Universal reps were asked today by the Wall Street Journal about their high-def format plans in the wake of Warner's decision, they had no comment (note that in the same WSJ piece, a Paramount spokesperson yesterday said the studio still planned to support HD-DVD). Our guess is that if the FT report IS accurate, you'll see some kind of official statement from Paramount imminently - possibly as early as tomorrow. We'd also guess that if this does pan out, there's a better than outside chance Universal could quickly announce Blu-ray support too. We'll see.

Quite a day! Not only has this situation just gotten a whole lot more interesting, this format war may TRULY be about to end, once and for all. Stay tuned, folks...

1/6/08

Well... the Microsoft counterstrike for HD-DVD never materialized this evening. I spent a couple hours waiting in line to get into Bill Gates' big CES opening keynote presentation, and it ended up as much ado about nothing with respect to the format war at least. The house was packed as you'd expect, but not a single time in the entire hour did Gates or his associates mention the HD-DVD format, which is interesting, because VERY reliable sources had informed us that, prior to Warner's Friday announcement, as much as 30 percent of the presentation was originally devoted to HD-DVD developments connected to the Xbox, Xbox Live, etc. Neither did Gates announce any kind of ultimate Xbox 360 with a built-in HD-DVD drive, though he did reveal that British Telecom and other CE companies will be partnering with Microsoft on Xbox-based media devices.

Instead, the focus of the presentation was on Microsoft's plans for "the next digital decade" in which Microsoft devices and software will allow consumers to access their media (photos, music, movies, etc) over a variety of devices and in any location, from the home, to cell phones, to your car and so forth. Software was demonstrated that, for example, can assemble a series of separate digital images into a single extrapolated panorama. Other software was teased that can recognize faces and locations, so your cell phone will one day identify where you are, show you where you want to go using Virtual Earth and 3D maps, help you find nearby services (like restaurants and stores) and even let you buy movie tickets over your Windows enabled portable device, all via highly intuitive, more natural interfaces. These same devices will recognize your voice commands, touch, gestures and even your facial expressions. The overall concept is that you're always connected, your devices always recognize you, and your media goes whereever you do. You can share your media with friends online, and everywhere you go you'll find hot-links to contextual online content.

I hadn't been to one of Gates' keynotes before, and this was apparently his last (as he's stepping down from his role at Microsoft to get more involved with his foundation), but it was largely geared toward hard-selling Microsoft products and services with the help of various celebrity appearances, video clips, etc. Bill is nothing if not the ultimate software guy - a 21st century Barnum. But again, there was not a single mention of HD-DVD.

One last note this evening: That idea I floated yesterday, that the BDA should offer an olive branch to HD-DVD consumers? I mentioned it to senior BDA executives this evening, and I think you can safely say that they're going to move forward with something along these very lines in the weeks ahead. We'll post more when we can, but the idea was definitely warmly received. In fact, plans are already in the works. We'll post more on this as things develop.

We'll be back tomorrow night with more on the BDA's press conference tomorrow evening, and any other interesting news that comes out of the show tomorrow. Stay tuned...

(LATE UPDATE - 1/5/08 - 7 PM PST)

I actually posted this earlier today, as part of my original comments this afternoon, but we've gotten such a strong positive response to the idea, that I felt it was important to break it out into its own post this evening for emphasis.

I was thinking last night about how HD-DVD fans must be feeling right now, in the wake of Warner's announcement of their intent to go Blu-ray only later this year. We've gotten more than a few e-mails from them over the last 24 hours, as you might imagine, and they're understandably feeling a bit down right now. I have to say, however, that with just a few exceptions, they've been very classy today in accepting what most of them acknowledge is the defeat of their preferred format with good grace.

Given that, I think it would be wise at this point for the Blu-ray Disc Association and its member studios and manufacturers to make a peace offering of sorts to HD-DVD supporters. Warner and the rest of the BDA should make some kind of offer to HD-DVD enthusiasts that would allow them to exchange a few of their HD-DVD discs for Blu-ray versions of the same titles, or to provide some kind of additional discount on Blu-ray players to those who have purchased HD-DVD players prior to December 31st 2007, to help them migrate to Blu-ray more easily and painlessly. It would be a nice gesture. It's not like both camps aren't giving tons of free discs away already in "buy one get one free" offers. It might cost the BDA a little up front, but the goodwill it would generate among enthusiasts would be worth the expense, I think. It would be a nice way to welcome HD-DVD consumers into the Blu-ray fold, and it's a way to help put this format war foolishness - and the acrimony that it's inspired online - behind us. It's worth considering.

Our next post will be tomorrow, with a little luck, from CES. Stay tuned...

(EARLY UPDATE - 1/5/08 - 1 PM PST)

Okay... first things first today. Disney has issued a pre-CES press release with details of a few of the Blu-ray titles they're planing to release around the world in early 2008. Here's the text (we've highlighted the individual titles):

"WALT DISNEY STUDIOS HOME ENTERTAINMENT ROLLS INTO 2008 WITH BLU-RAY

WDSHE Expands Blu-ray Line-Up with First Platinum Blu-ray Release, BD-Live and Full Motion Picture-in-Picture

Also Announces the Extension of Disney's Magical Blu-ray Tour

Burbank, CA, January 4, 2008 - Walt Disney Studios Home Entertainment (WDSHE) announces an exciting new line-up of Blu-ray initiatives in 2008, an ever-expanding Blu-ray slate and new technological-advancements in bonus feature materials, all which guarantee a superior high-definition home entertainment experience.

"This is an exciting time for Disney as we not only announce the release of our first Platinum Disney animated classic on Blu-ray with Sleeping Beauty, but also allow consumers to create an entirely new home entertainment experience with stunning new bonus features and amazing interactive capabilities like never before seen," stated Bob Chapek, President of Walt Disney Studios Home Entertainment.

For the first time ever, WDSHE will begin releasing its treasured animated classics on Platinum Edition Blu-ray Disc™ launching with Sleeping Beauty in the fall of 2008. Taking advantage of the numerous technological advancements of the Blu-ray format, these all time favorites have been revitalized to include exceptional high-definition picture and sound quality and compelling interactive content such as virtual games, full motion picture-in-picture and online shopping capabilities via BD-Live broadband connection.

Sleeping Beauty will be WDSHE's first Platinum Edition Blu-ray Disc and will feature a Virtual Castle, utilizing the new BD-Live technology, as well as the interactive game Maleficent's Challenge which puts viewers face-to-face with one of Disney's greatest villains. Sleeping Beauty Blu-ray Disc will also feature an all-new enhanced home theater mix in 7.1 surround sound.

Disney/Pixar's Finding Nemo Blu-ray Disc will debut the first Cine-Explore featuring full motion picture-in-picture (BonusView). This interactive visual commentary with director Andrew Stanton, co-writer Bob Peterson and co-director Lee Unkrich allows the viewer to dive deeper into the making of Finding Nemo without ever leaving the film. For kids and families, there is the all-new BD-Java enabled learning mode "Mr. Ray's Ed-venture." Hosted by Dory, Marlin and of course Mr. Ray, viewers will learn all about sea life and have the opportunity to earn stickers for their virtual sticker book by answering "quizlettes" while watching the movie. Viewers can also go to their sticker book at any time and create their own scene. Finding Nemo will also feature an all-new enhanced home theater mix in 7.1 surround sound.

As part of its continued worldwide Blu-ray release strategy, WDSHE will be announcing the addition of many exciting movie titles to their 2008 Blu-ray line-up in North America, Europe and Asia.

In North America, WDSHE will be releasing new theatrical titles to Blu-ray Disc day-and-date with DVD including The Game Plan (Walt Disney Pictures) on January 22; Gone Baby Gone and Becoming Jane (both Miramax) on February 12; and Dan In Real Life (Touchstone Pictures) on March 11. WDSHE will expand its catalogue titles on Blu-ray Disc with the releases of The Rock (Hollywood Pictures) and Con Air (Touchstone Pictures) on January 8; Crimson Tide (Hollywood Pictures) on February 5; The Rookie (Walt Disney Pictures) on March 4; Hidalgo (Touchstone Pictures), Coyote Ugly: The Double Shot Edition (Touchstone Pictures), Unbreakable (Touchstone Pictures), The Chronicles of Narnia: The Lion, The Witch and The Wardrobe (Walt Disney Pictures) and National Treasure: Collector's Edition (Walt Disney Pictures) in spring 2008.

In Europe/Australia, WDSHE will roll out Blu-ray Discs in 2008 beginning with The Recruit (Touchstone Pictures) in January; and Dark Water (Touchstone Pictures) in February; Underdog (Walt Disney Pictures) and Starsky & Hutch (Buena Vista) in February; Coyote Ugly (Touchstone Pictures) and The Rookie (Walt Disney Pictures) in March; Hidalgo (Touchstone Pictures) and Gone Baby Gone (Miramax) in April; Signs (Touchstone Pictures), There Will Be Blood (Miramax), Shall We Dance (Miramax), Ladder 49 (Touchstone Pictures), The Chronicles of Narnia: The Lion, The Witch and The Wardrobe (Walt Disney Pictures) and National Treasure: Collector's Edition (Walt Disney Pictures) in May; and The Game Plan (Walt Disney Pictures) and Unbreakable (Touchstone Pictures) in summer 2008.

Japan will see WDSHE release Blu-ray titles starting with Hollywoodland (Miramax) in February; The Rookie (Walt Disney Pictures), Hidalgo (Touchstone Pictures), Meet The Robinsons (Walt Disney Pictures), and Starsky & Hutch (Buena Vista) in April; The Chronicles of Narnia: The Lion, The Witch and The Wardrobe (Walt Disney Pictures), Coyote Ugly (Touchstone Pictures) and National Treasure: Collector's Edition (Walt Disney Pictures) in May; and Unbreakable (Touchstone Pictures) and Signs (Touchstone Pictures) in summer 2008.

Following overwhelming consumer response WDSHE is also announcing the extension of Disney's Magical Blu-ray Tour, sponsored by Panasonic, to eight additional North American cities. The first stop will be to Toronto, Canada the weekend of January 25th and continue on to Nashville, Denver, Dallas, Raleigh-Durham, Hartford and conclude with Chicago at Unity 2008 in July.

The results of the 2007 tour not only reaffirmed consumers continued desires for high-definition picture without compromise but reaffirmed the need to be educated on how to achieve the ultimate high-definition home entertainment experience beyond just owning an HDTV."

----

Okay... so that's that. Now let's get down to business...

I woke up this morning to a series of e-mails, from a few people reporting to us some "very disturbing news" in the hopes of summoning our outrage. It appears that reports are starting to leak online today that Warner was offered as much as $500 million for their move to Blu-ray exclusivity. Now, I believe we told you all last week that money was being waved around (in our 12/31 post - click here and scroll down a bit). What the HD-DVD camp wants to sweep under the carpet today is how much THEY offered. The HD-DVD camp's strategy in the wake of their failure is to discredit Warner by leaking details of the deal to the HD-DVD friendly online media. The idea is to make Warner feel as much heat as Paramount and DreamWorks felt after THEY took money to flip HD-DVD exclusive last year. I checked out a couple of these sites this morning, and saw a bunch of this sort of thing: "If this is true, we are shocked and outraged to learn that Warner took as much as $500 million from the BDA!" This is no small amount of hypocrisy. You see the HD-DVD camp offered Warner (and Fox as well) a very similar sum of up-front money these past few weeks to flip to THEIR side. In other words, the HD-DVD camp got beat at their own game. Now they're embarrassed and angry, so they're leaking information to try to dust up outrage among the faithful online. It should surprise no one that format wars are a dirty, messy business. But we'd like to remind people today that this format war was FORCED on the industry, on enthusiasts and on consumers, by the very same high-level power mongers who are now pointing fingers, and using online enthusiasts to play their spin games. The fact that their reaction today is to circle the wagons and wage a P.R. war online tells you everything you need to know about the egos involved, and how little they actually care about doing what's right for consumers.

On that note, here's another difference between what Warner has done and what Paramount and DreamWorks did last year: Warner actually intends to release all the HD-DVD titles they've announced and that consumers have already pre-ordered. Further, they intend to keep releasing new HD-DVD titles until the end of May. Anyone out there remember what Paramount and DreamWorks did? They pulled out of Blu-ray suddenly, with no warning to retailers or consumers, and simply cancelled several titles - some that were already pressed and shipped to stores. Anyone remember these?




So do all the people that pre-ordered them. The HD-DVD camp can spin all it wants. In the meantime, Warner knows they've made the right decision. And if the senior home video leadership at Universal, Paramount and DreamWorks has ANY concern for their customers as a whole, they'll set their egos aside and close the book on this stupid format war by announcing Blu-ray support. It's time to move on, folks.

Finally today, what would one of these format war posts be without another mention of Michael Bay. Here's what he had to say on his website yesterday about the Warner news:

"Well another studio down. Maybe I was right? Blu ray is just better. HD will die a slow death. It's what I predicted a year ago. Now with Warner's down for the count with Blu Ray. That makes it easier for Wal-Mart to push Blu Ray. And whatever Wal-Mart pushes - wins. Hd better start giving out those $120 million dollars checks to stay alive. Maybe they can give me some so I can give it to my Make-A-Wish charity, just to shut me up. Have faith people Transformers will come out in Blu-ray one day!

Bay"

Oh my. Stay tuned...

(LATE UPDATE - 1/4/08 - 8 PM PST)

I guess with news this big, you just can't stop reporting it until it all plays itself out.

Variety has posted an in-depth piece on Warner's decision to go Blu-ray exclusive, complete with two new key pieces of information. The first is no surprise: New Line has confirmed that it's going Blu-ray only along with Warner. The second perhaps shouldn't be surprising either, but here it is: The North American HD-DVD Promotions Group has officially cancelled its Sunday press event at CES. Also in the piece, Warner Home Video president Ron Sanders says that his studio will continue to release HD-DVD titles until May 31st, to honor its previous agreements with the HD-DVD camp. The article ends with the following, also no surprise: "Warner's shift toward Blu-ray is expected to hasten the demise of HD DVD." Indeed.

Meanwhile, industry observer "Media Wonk" (aka Paul Sweeting) has also posted an interesting feature over at Content Agenda, in which a couple of points that we've been making lately here at The Bits are confirmed by Warner's Sanders. First, Blu-ray stand alone players outsold HD-DVD in December. Here's the quote:

"One of the things you see in the NPD data for this fourth quarter was that even with a $100 [price] premium, Blu-ray set tops outsold HD set tops in December. Even with Toshiba having the lowest-cost player in the market, software sales remained 2 to 1 in favor of Blu-ray."

Second, many avid movie buyers have stopped purchasing DVDs while they've been waiting for the format war to end...

"We're seeing research now that shows that consumers are starting to delay purchases because of the format war, not just on high-def but standard-def purchases as well. That's very alarming."

As to the talk of being motivated by financial inducements, Sanders says this:

"There is absolutely no incentive from either side that would have changed the decision we made based on what we were seeing in the consumer data. The worldwide DVD business is about $40 billion. Any incentives we might have been offered would have paled next to the lost profits from that business if we get this one wrong."

For the second time this post, indeeeed.

Also on the Blu-ray front this evening, 20th Century Fox has released street dates for several new catalog titles, some of which had been delayed from last year. Included are Man on Fire (due next week on 1/8), Wall Street and Me, Myself and Irene (2/5), Ice Age (3/4) and ID4 and I, Robot (3/11). Additional titles and dates are expected to be announced on Monday at CES.

Stay tuned...

(LATE UPDATE - 1/4/08 - 4:30 PM PST)

Well, I suppose it's time for a little editorializing this afternoon. It's funny... I'd actually been working on this whole elaborate pre-CES argument as to why Blu-ray was going to win the format war in 2008, when the Warner news finally broke this morning. We knew it was coming, of course, but we'd expected that Warner would wait until after CES to announce it, to allow their partners at Toshiba to save face. The fact that they decided to drop the news instead on the eve of CES tells you everything you need to know about how confident the studio feels about their decision. In the meantime, here's Toshiba's official response:

"TOKYO, Jan. 4 /PRNewswire/ -- Toshiba is quite surprised by Warner Bros.' decision to abandon HD DVD in favor of Blu-ray, despite the fact that there are various contracts in place between our companies concerning the support of HD DVD. As central members of the DVD Forum, we have long maintained a close partnership with Warner Bros. We worked closely together to help standardize the first-generation DVD format as well as to define and shape HD DVD as its next-generation successor.

We were particularly disappointed that this decision was made in spite of the significant momentum HD DVD has gained in the US market as well as other regions in 2007. HD DVD players and PCs have outsold Blu-ray in the US market in 2007.

We will assess the potential impact of this announcement with the other HD DVD partner companies and evaluate potential next steps. We remain firm in our belief that HD DVD is the format best suited to the wants and needs of the consumer."

Toshiba must now be the last company in this industry to seriously believe that.

Let's call a spade a spade: What Warner has done today is to effectively pull the plug on this format war. Think about it. Their decision to go Blu-ray exclusive is the only change they could have made that makes any kind of business sense. It's become clear now to nearly everyone in this industry that the continuation of this format war - while it's certainly helped to drive hardware prices lower - has now become the sole major roadblock to high-def discs moving past the early adopter market and into more widespread consumer acceptance.

Warner could have done one of three things: Go Blu-ray exclusive, go HD-DVD exclusive, or stay neutral. It's apparent from their statement this morning that Warner knows as well as we do that this format war is confusing consumers and hurting the chances for high-def packaged media in the long run. While early adopters online have been happily back-biting each other these past two years, most folks elsewhere on planet Earth have just issued a collective yawn. Meanwhile, those non-early adopter consumers who are actually interested in high-def discs have sat on the sidelines waiting for the axe to fall on one of these formats. So for Warner, staying neutral just wasn't an option anymore. The question then becomes, if you're going to make a change in strategy, you want to make one that's going to impart genuine forward momentum on the situation. Warner going HD-DVD exclusive would have effectively created a 50/50 split in Hollywood studio support for these formats, resulting in an even bigger stalemate than already exists, and probably closing the door completely on either of these formats ever gaining widespread acceptance. On the other hand, Warner going Blu-ray only makes that studio split 70/30. It effectively gives Blu-ray exclusive access to 70% of Hollywood studio content. And that's not only a game changer, it's a game ender.

Of course, there's already finger-pointing in some quarters, including comments that "large sums of money were obviously involved" to get Warner to switch. If anyone thinks payoffs were the sole reason for Warner's decision, they don't know as much about this business as they'd like to think. It's well worth nothing that BOTH camps these past few weeks were offering extraordinary up-front payments and other incentives to Warner to go exclusive to their format - sums that make the Paramount/DreamWorks deal to go HD-DVD exclusive look like unsalted peanuts. Warner clearly took the deal that offered them not just short-term gain, but also the best potential long-term benefit as well.

You can bet that Universal, Paramount and DreamWorks aren't going to want to be left holding the bag. Now that the industry momentum towards Blu-ray is clear, sales of Blu-ray hardware and software are surely going to increase, and none of these studios are going to want to be left out. Their shareholders simply won't allow it. Paramount and DreamWorks almost certainly have have out-clauses in their deals with the HD-DVD camp. Steven Spielberg has repeatedly made his desire to move DreamWorks back to Universal clear, and he's also a committed Blu-ray Disc backer - Universal going Blu is almost certainly going to be a sticking point in the negotiations, especially when you consider that Spielberg has TWICE now required the HD-DVD camp to retract statements claiming that his Universal films were coming soon to that format. And our sources are now telling us that Universal - knowing Warner was about to go Blu-exclusive - has already begin taking steps to prepare for their own future Blu-ray efforts. Our guess is that Universal in particular will go format neutral, to put the best P.R. spin on their situation. But we'd be VERY surprised if all three studios don't announce their own Blu-ray Disc support by mid-2008 at the latest, so as benefit from 4th quarter holiday sales. In fact, we're betting those announcements happen much sooner.

Even before the Warner news, Blu-ray Disc software was outselling HD-DVD here in the States by nearly a 3 to 1 margin, and it's an even greater margin around the world. Despite the HD-DVD camp's claims that low priced hardware was the key to winning this format war, stand-alone Blu-ray Disc hardware has now begun to outsell HD-DVD hardware here in the States, despite its average higher price. The overwhelming majority of consumer electronics manufacturers back Blu-ray over HD-DVD. A huge portion of the computer industry backs Blu-ray as well. And now Blu-ray has 70% of the Hollywood studios, a percentage that will certainly increase by year's end. As Blu-ray sales increase, economies of scale will kick in, meaning that hardware and software prices will continue to drop. Blu-ray hardware prices are already lower than ever - now under $300. Every Blu-ray supporting company is going to want to prime the pump for sales in the weeks and months ahead, so there will be plenty of deals and sales to be found. And you can bet that retailers will very soon start to seriously favor Blu-ray in their stores and with their customers, if they aren't already - retailers have wanted an end to this format war more than anyone. And all those technical details that have been sticking points with a few early adopters - like audio specs, online interactivity and region coding - will work themselves out with Blu-ray just like they did with DVD over time.

We've been telling you all for two years now, here at The Digital Bits, that the smart thing to do as consumers was to sit this format war out. But we've also been saying - much to the irritation of some online - that our many years of experience in this industry suggested to us that, if you WERE going to take a risk on high-def discs, Blu-ray Disc was the better bet. It was, and it is.

The bottom line has finally become obvious to all: Blu-ray Disc is now the clear choice for mainstream consumers.

So when you head out to buy your new flat-panel HDTV in the weeks ahead, go check out those spiffy new Blu-ray Disc displays too. We're confident that you'll be glad you did.

One other thing is abundantly clear today as well: CES is going to be absolutely fascinating this year. We'll probably post something on Sunday night from the show itself, so be sure to check back then.

In the meantime, have a great weekend, everyone. Peace out.

(LATE UPDATE - 1/4/08 - 12:45 PM PST)

It's no bullshit, folks. We've confirmed it. Warner IS going Blu-ray Disc exclusive. Here is their official press release:

WARNER BROS. ENTERTAINMENT TO RELEASE ITS HIGH-DEFINITION DVD TITLES EXCLUSIVELY IN THE BLU-RAY DISC FORMAT BEGINNING LATER THIS YEAR

Decision Made in Response to Strong Consumer Preference for Format

(January 4, 2008 - Burbank, CA) - In response to consumer demand, Warner Bros. Entertainment will release its high-definition DVD titles exclusively in the Blu-ray disc format beginning later this year, it was announced today by Barry Meyer, Chairman & CEO, Warner Bros. and Kevin Tsujihara, President, Warner Bros. Home Entertainment Group.

"Warner Bros.' move to exclusively release in the Blu-ray disc format is a strategic decision focused on the long term and the most direct way to give consumers what they want," said Meyer. "The window of opportunity for high-definition DVD could be missed if format confusion continues to linger. We believe that exclusively distributing in Blu-ray will further the potential for mass market success and ultimately benefit retailers, producers, and most importantly, consumers."

Warner Home Video will continue to release its titles in standard DVD format and Blu-ray. After a short window following their standard DVD and Blu-ray releases, all new titles will continue to be released in HD DVD until the end of May 2008.

"Warner Bros. has produced in both high-definition formats in an effort to provide consumer choice, foster mainstream adoption and drive down hardware prices," said Jeff Bewkes, President and Chief Executive Officer, Time Warner Inc., the parent company of Warner Bros. Entertainment. "Today's decision by Warner Bros. to distribute in a single format comes at the right time and is the best decision both for consumers and Time Warner."

"A two-format landscape has led to consumer confusion and indifference toward high definition, which has kept the technology from reaching mass adoption and becoming the important revenue stream that it can be for the industry," said Tsujihara. "Consumers have clearly chosen Blu-ray, and we believe that recognizing this preference is the right step in making this great home entertainment experience accessible to the widest possible audience. Warner Bros. has worked very closely with the Toshiba Corporation in promoting high definition media and we have enormous respect for their efforts. We look forward to working with them on other projects in the future."

# # #

Blu-ray now has 70% exclusive access to Hollywood studio content. Didn't we say this format war would finally end in 2008? Not a moment too soon as far as we're concerned. Our bet is that Universal and Paramount announce Blu-ray support by mid 2008, if not sooner. No studio is going to want to be the last one holding the bag now.

You sure can't say we didn't tell you this was coming, folks.

Stay tuned...

(LATE UPDATE - 1/4/08 - 12:15 PM PST)

Well... here could be your big story out of CES on the format war front: Reuters is now reporting something that we've heard was in the works for a few weeks now, specifically that Warner is soon to announce that they're going Blu-ray Disc exclusive. You can read the report here at USA Today. More on this soon as we have it...

(EARLY UPDATE - 1/4/08 - 11:45 AM PST)

There's a bit more news on Universal's Battlestar Galactica: Season Three today. Our friends over at TV Show on DVD have learned (and again, we've confirmed) that the 6-disc set due on 3/25 WILL include all of The Resistance webisodes. That's definitely great news for fans. The set will also include deleted scenes from the various episodes, all of Ron Moore's podcast commentaries, 2 new commentaries (one for Hero and one for the extended cut of Unfinished Business) and David Eick's video blogs.

In other news today, our industry sources are telling us that for the 52nd week in a row, Blu-ray Disc software has outsold HD-DVD software. For the last week of 2007, the margin was reportedly 61 to 39 according to Neilsen/VideoScan. This means Blu-ray software sales have outpaced those of HD-DVD for the entire calendar year of 2007, with no signs of slowing down.

We're also hearing today that stand-alone Blu-ray Disc hardware is now outselling stand-alone HD-DVD players, on the strength of the recent price drops by Sony and Samsung, as well as the introduction of Panasonic's new BD-30 profile 1.1 player. You can expect to hear more on all this, as well as word of strong sales of Sony's PS3 in November and December, at CES on Sunday and Monday.

Also at CES, word is that Microsoft's Bill Gates may use his keynote address on Sunday to announce some kind of new open architecture plan for the Xbox 360, that would allow other manufacturers to produce 360s like PCs. First up may be a new joint venture with Toshiba to produce an "ultimate" version of the Xbox 360 featuring a DVR and built-in HD-DVD drive, designed to go after Sony's PS3.

CES is certainly going to be interesting, and we'll be there on Sunday and Monday to cover all the details. So be sure to check back over the news few days for late-breaking updates.

We'll be back with more later this afternoon, so stay tuned...

1/3/08

Bet you folks in Iowa are probably glad to finally get all this raucous caucusing over and done with today, yes? Well, more power to you. There's nothing quite like democracy in action. After you turn out for your candidates of choice, eat a slice of rhubarb pie for me. And if you're looking for a warm meal while you're out, Sarah recommends the cheeseburger chowder at the Smokey Row in Pella (also in Oskaloosa and some other places in Iowa too). Mmmmmm.

Meanwhile, as you might expect, we've got a couple more title announcements for you this afternoon.

First, Warner has announced Color of the Cross 2: Resurrection for release on DVD on 3/11 (SRP $19.97).

Also, THINKFilm has set Gregory Nava's Bordertown for release on 1/29.

And Koch Lorber has revealed the DVD release of 9 Star Hotel on 2/5, followed by The Monastery: Mr. Vig and the Nun on 2/12 (SRP is $26.98 each).

Here at the site today, we've got THREE new Giveaways for you. The first offers copies of Fox and MGM's 24: Season Six, Waitress, Erik the Viking and Wedding Daze. Next up, we have Universal's American Pie: Beta House, The Kingdom and Eastern Promises. And finally, you've got a chance to take home copies of City Light's The Ten. All of these will run until Noon (Pacific) on Sunday, January 13th. Click on the links to enter and good luck!

Around the Net today, there are a couple interesting stories to check out. First, Home Media is reporting that CyberLink's PowerDVD Ultra PC software has been certified for Blu-ray profile 1.1 compatibility. The software was already compatible with Blu-ray profile 1.0, as well as the latest HD-DVD interactive specifications. It retails for $99.

Meanwhile, CNN is reporting that Intel, Sony and Toshiba are teaming up to develop the chips and technology required to wirelessly "beam" high-definition video signals to flat panel displays from as far away as 50 feet, presumably from future videodisc players and other HD devices. Actual products using this capability, which will be on display at CES starting on Monday, could find their way to stores in time for Christmas 2008.

And the New York Times ran a feature story in its Business section over the weekend on how most consumers are sitting on the sidelines in the high-def format war. It's a pretty general piece and seems a little behind-the-curve in terms of the latest developments, but interesting is this bit of information from the text: "As an indication of their owners' enthusiasm, Blu-ray users are buying twice as many discs as their HD DVD counterparts, according to Tom Adams, president of Adams Media Research." I don't think we'd actually heard independent confirmation of this before.

Speaking of Blu-ray, Amazon is currently running a 2 for 1 deal on over 90 different Blu-ray Disc titles from Warner, Fox, MGM and New Line. Be sure to take advantage of it if you've already gone Blu.

Stay tuned...

(LATE UPDATE - 1/2/08 - 5:30 PM PST)

Okay... we've got a couple more quick announcements for you from Warner Home Video. The studio has just set The Waltons: The Complete Seventh Season for DVD release on 4/29 (SRP $39.98), including 24 episodes. They've also set a double feature of The Canine Conspiracy and The Cat Connection for release on 4/15 (SRP $9.98 - for the BBC), and they've announced Coleccion Pedro Infante: No desearas la mujer de tu hijo for DVD release on 4/22 (SRP $14.97).

Also, our own Jeff Kleist has written a new editorial piece on the high-definition format war this evening, offering some thoughts on the retail perspective of things, as well as the notion of "letting the consumer decide" which format will win. It's something a little different that the usual take on the high-def war, so it's worth a read.

We'll be back tomorrow with more, so stay tuned...

(EARLY UPDATE - 1/2/08 - 11:45 AM PST)

We'll be back with more later this afternoon, but we wanted to jump in here this morning with a couple of quick reports for you.

First up, several of the major Hollywood studio CEOs, in Home Media's annual Hollywood Goes High-Def pre-CES supplement this week (available online here - it's at the end of the regular issue), have offered a hint at the titles they expect to bring to the high-def formats this coming year. Think of it as a preview of some of the announcements to be made at CES. On the Blu-ray side, Fox's Mike Dunn noted that his studio will offer an aggressive slate of both new release and catalog titles, and offered Aliens vs. Predator: Requiem, 27 Dresses, Horton Hears a Who, The List, The Happening, Babylon A.D. and What Happens in Vegas as examples. Sony's David Bishop also hinted at a broad slate of new and catalog titles, including forthcoming films like Hancock and Angels & Demons. On the HD-DVD side, Paramount's Kelly Avery suggested that her studio and DreamWorks would offer a diverse slate, including Bee Movie, Beowulf and Into the Wild. And somewhere in between, Warner's Ron Sanders highlighted his studio's strong line-up of theatrical titles, including I Am Legend, The Bucket List, Speed Racer, Get Smart and The Dark Knight.

Also this morning, our friends over at TV Shows on DVD have learned (and we've confirmed) that Universal will release Battlestar Galactica: Season Three on DVD on 3/25. The 6-disc set (SRP $59.98) will include all 20 episodes, plus deleted scenes, audio commentaries, behind-the-scenes featurettes and an extended version of the episode Unfinished Business. Here's a look at the cover art...




As you can see, we've also posted early temp art for Universal's American Gangster on 2-disc DVD and HD-DVD (a 3-disc DVD version is also expected be available, with both the 158-minute theatrical edition and Ridley Scott's unrated 176-minute extended edition, as well as a booklet). The street date hasn't been announced yet, but it's expected to hit stores in February. Watch for more details soon.

Elsewhere around the site today, we've updated most of the DVD and high-def format stats we track (above). We've also got a new Upcoming DVD Cover Artwork update from our own Russell Hammond, featuring lots of new DVD, Blu-ray and HD-DVD cover scans and Amazon links.

Back later with more. Stay tuned...

12/31/07

Happy New Year everyone! It's hard to believe that we're almost into 2008, isn't it? As always, time does fly.

We hope you've all had a great holiday season with family and friends. Things here have been good. We've had some of Sarah's family in for the last week or so. We've eaten a lot of good food, seen some sights. We spent yesterday exploring Joshua Tree National Park. We've also been watching a lot of movies here, as you might expect.

In terms of release news today, I'm pleased to say that Warner has revealed that they'll release The Assassination of Jesse James on both Blu-ray Disc and DVD/HD-DVD Combo format on 2/26, the same day as the standard DVD version. The SRP for both high-def versions is $24.99. The only extra is the "making of" documentary The Assassination of Jesse James: Death of an Outlaw.

Warner has also set Michael Clayton, starring George Clooney, for release on DVD, Blu-ray Disc and DVD/HD-DVD Combo format on 2/19. Extras will include audio commentary by director Tony Gilroy and editor John Gilroy, along with deleted scenes. SRP is $28.98 for the DVD and $35.99 for the high-def versions.

Also today, HBO has revealed the DVD release of Five Days as a 2-disc set on 3/11 (SRP $29.98).

Meanwhile, Sony has set Pistol Whipped, a 2-disc Storm Hawks Collector's Set: Heroes of the Sky and Blood+: Volume One for DVD release on 3/4, followed by an And Justice for All: Deluxe Edition, Bats: Human Harvest, Saawariya, Bobby Deerfield, Outpost and My Boys: The Complete First Season on 3/11. Saawariya, Kevin Smith's Dogma and Gattaca have been announced for Blu-ray Disc release on 3/11 as well.

Finally, Universal has set The Woody Woodpecker and Friends Classic Cartoon Collection: Volume 2 for DVD release on 4/15 (SRP $39.98). The 3-disc set will feature some 75 remastered shorts plus "rare vintage bonus features from the Walter Lantz archive." These will include 12 behind-the-scenes featurettes (Creating Woody Woodpecker, Timing a Cartoon, Character Movement, Photographing Animation Cels, The Animator's Job, Using Backgrounds, The Inking Department, The Painting Department, Drawing with Walter Lantz, Sound Effects in Cartoons, Storyboarding Woody Woodpecker and Creating New Characters), 2 TV pilot episodes (The Secret Weapon and Jungle Medics), and episode 47 of The Woody Woodpecker Show.

In other news today, there are ongoing preparations for next week's Consumer Electronics Show in Las Vegas (which starts on Monday, January 7th) happening around the industry. As always, we'll be there to cover the details. You can bet there will be plenty of format war news. Both sides will be trumpeting their holiday sales and spinning the numbers to their advantage. The rumor mill is buzzing wildly on the Net this week, with high-def enthusiasts claiming on the various discussion boards that Warner is about to go exclusive with one format or the other at the show. Most of it is FUD as usual, but it is true that both camps are courting Warner like the belle of the ball right now. We've heard word from our own (and highly reliable) industry sources that insanely large financial incentives are being waved in front of the studio by both sides. The reason is simple: Both the Blu-ray and HD-DVD camps know that as Warner goes, so (almost certainly) goes the format war. Could Warner decide go exclusive to one of these high-def formats? Yes, it's absolutely possible. In fact, we think it WILL happen sooner or later in 2008. Warner knows that continuing to support both formats is not what's going to grow high-def packaged media beyond the early adopter market. Still, we don't believe this is likely to happen at CES. If and when it happens, our guess is it will happen at least a few weeks later. But it's going to be very interesting to see what kind of presence Warner has at CES in the booths and presentations of both camps.

On that note, early adopters sometimes e-mail us to ask: "Why do you guys at The Bits insist on supporting just one format? You should be pushing for all the studios to support BOTH formats, and let consumers decide the fate of this format war." What's ironic is that the very people who say this to us often aren't actually choosing between these two formats themselves! Most of them have purchased players and discs in both formats, treating the format war like a bounty of high-def riches. And since early adopters form the majority of the high-def disc market at the moment, and most mainstream consumers aren't buying in yet because they DO want a clear choice (and a continued format war doesn't give them one), the result has been exactly the stalemate you'd expect. Meanwhile, the disadvantages of studios supporting multiple formats should be obvious to all by now. Consider Warner's recent troubles these last few months: replication delays, shipping delays, packaging errors, discs for one format included in releases of the other format, technical glitches, title shortages, retailers that have copies of a title on one format but not the other (or neither). Supporting three formats (DVD, Blu-ray and HD-DVD) has just not turned out to be very practical. When you get right down to it, it's not good business either (even though it might seem smart at first glance). The bottom line is simple: When you try to please everyone, you often end up pleasing nobody very well. Give Warner credit for trying, but we think they're going to choose sides sooner or later... and they'd be wise to do so. We'll have more on all this later this week.

We'll leave you on this last day of 2007 with new cover art. Here's Warner's The Assassination of Jesse James and Michael Clayton, along with Sony's Gattaca, on Blu-ray Disc, as well as Warner's In the Valley of Elah (2/19) and New Line's The Martian Child (2/12) on DVD, and finally Paramount's Into the Wild on HD-DVD (also 2/12)...




Okay, everyone have a happy and safe New Year! We'll see you back here on Wednesday to resume our regular daily news coverage. Peace out!

12/24/07

We're checking in here on this Christmas Eve Day with a special update... and a bit of a holiday gift to all of you from our very own Barrie Maxwell: a special holiday two-for-one column featuring new installments of Classic Coming Attractions and High-Definition Classics and Beyond. We hope you enjoy them!

Also today, just one quick note: It seems that Warner's new Terminator 3: Rise of the Machines Blu-ray Disc (just released on 12/18) was mastered with 1080i video instead of the correct 1080p. Warner is already working to correct the discs and you'll be able to arrange a replacement by calling 800-553-6937. You can read more here at Home Media.

Okay... NOW we're closing out our posts for this week. We'll see you back here on Monday, 12/31. Merry Christmas and Happy Holidays to all of you!

(LATE UPDATE - 12/21/07 - 2:30 PM PST)

Well... now that today's format war hijinks are out of the way (and we're still shaking our heads in disbelief), we wanted to wish all of you a Happy Holidays. We're going to be dark next week so that all our hard-working staffers can spend a nice, relaxing and well-earned break with their families. Rest assured, I'll pop in with updates if there's any major breaking news to report. That aside, we'll return with our regular daily posts on Monday, December 31st. In the meantime, we have a pair of Digital Bits Holiday Cards for you: one for all you regular folks who could care less about the high-def format war, and one those of you who share our take on where all this is going. We offer each in the full and sincere spirit of the season. Enjoy. ;)

A quick note before we go: Sony's The Adventures of Baron Munchausen: 20th Anniversary Edition is coming out on DVD as well as Blu-ray Disc on 4/8, just in case we weren't clear about that yesterday. I think we've mentioned the DVD release previously, but we only mentioned the Blu-ray version yesterday, so we wanted to clear up any confusion.

Okay, with that... we bid ALL of you very Merry Christmas, a Happy Holidays and what have you. May you all eat lots of great food, watch lots of great movies and have a wonderful time with all your family and friends. Safe travels to those of you hitting the road this weekend, and a special shout out to all you folks serving overseas, who are away from your families. We're really grateful here at The Bits to have such terrific readers as each and every one of you. So from all of us, our very best wishes to you and yours.

See you on 12/31. Peace out!

(EARLY UPDATE - 12/21/07 - 1:30 PM PST)

Well, folks... it seems that the format war follies have officially sunk to a new low. Unable to actually win on the strength of their preferred format itself... now certain HD-DVD "enthusiasts" have taken to hacking. And for a time this afternoon, they hacked the official Blu-ray Disc.com website so that it redirected instead to the official HD-DVD promotion site. Can you believe that? We doubt that this was endorsed by the HD-DVD camp in any way, but someone certainly thought they were being terribly clever. You've got to wonder about a format with supporters who resort to petty stunts like this one. If that's all HD-DVD has left, stick a fork it. It's done. Ugh.

I'm telling you... free HD-DVD players in cereal boxes. The day is coming.

Fingers crossed, this format war is going END in 2008, folks. And not a moment too soon as far as we're concerned.

12/20/07

Industry news seems to have slowed down predictably in anticipation of the Christmas holiday next week, but we do have just a few more quick announcements for you today.

First, Warner has set In the Valley of Elah for release on DVD, Blu-ray Disc and HD-DVD on 2/19. Features are TBA.

Fox has announced That 70s Show: Season Eight for release on DVD on 4/1. The 4-disc set (SRP $49.98) will contain all 25 episodes of the series' final season along with a retrospective featurette (shot during the last week of filming), a behind-the-scenes set tour with director David Trainer, episode promos and more.

MGM has revealed the direct-to-video Stargate: The Ark of Truth for DVD release on 3/11 (SRP $26.98), which concludes the series' storylines from Seasons Nine and Ten. Bonus features will include audio commentary with writer, director and producer Robert C. Cooper, actor Christopher Judge and director of photography Peter Woeste, as well as the Stargate SG-1: The Road Taken - Prelude to The Ark of Truth featurette.

Meanwhile, Anchor Bay has set He Was a Quiet Man for DVD release on 1/15 (SRP $29.97). Extras will include audio commentary by director Frank A. Cappello, deleted scenes, the First Look: He Was a Quiet Man featurette and the theatrical trailer.

TLA Releasing has set Frankenstein's Bloody Nightmare, Rock & Rule (single-disc version) and Red Room for release on 2/19.

Universal has set Murder, She Wrote: The Complete Eighth Season and Law & Order: Special Victims Unit - The Sixth Year for release on DVD on 4/1.

Paramount and CBS have set Love American Style: Season One, Volume Two and The Mod Squad: The First Season, Volume Two for release on 3/11, with The Untouchables: Season Two, Volume One and The Wild Wild West: The Fourth Season following on 3/18, and Wings: The Sixth Season due on 3/25. Things We Lost in the Fire has also been set for DVD and HD-DVD release on 2/12. In addition, Melrose Place: The Fourth Season, Nick Jr. Favorites: Lullaby Time and SpongeBob SquarePants: Pest of the West are all due on 4/15.

And Sony has revealed that The Adventures of Baron Munchausen: 20th Anniversary Edition will debut on Blu-ray Disc on 4/8. Special features will include a BD Java "graphics and picture track," audio commentary with director Terry Gilliam & co-writer/actor Charles McKeown, The Madness and Misadventures of Munchausen 3-part documentary, 3 featurettes (As We Once Dreamed It, A Voyage to the Moon and The Baron & Bucephalos Charge the Turkish Gates) and deleted scenes.

Finally, several readers are e-mailing us today to say that they're already getting their Pirates Blu-ray replacement discs, so if you've called Buena Vista's customer service number, you should be seeing your discs shortly.

Stay tuned...
More Archived Posts
Back to Current Posts