-Newsletter est. 4/15/97-
-Website est. 12/15/97-



page updated: 1/4/08
My Two Cents
(Archived Posts 12/19/07 - 12/3/07)
Back to Previous Archives
Back to Current Posts
12/19/07

We've got just a few quick announcements for you today...

First up, Warner has announced the 1/9 release of a 4 Film Favorites: Classic Comedy box set (includes Spies Like Us, National Lampoon's Vegas Vacation, The Man with Two Brains and The Man Who Knew Too Little) and a 4 Film Favorites: Romantic Comedy box set (includes Summer Catch, Rock Star, Home Fries and Addicted to Love). SRP for each is $19.94. Also newly announced by the studio are a 28-disc All Creatures Great & Small Complete Collection (1/15 - for the BBC - SRP $399.92), as well as Innocent Voices (4/8) and Ganges (4/22 - also for the BBC - available on DVD, Blu-ray and HD-DVD).

While we're talking Warner, be aware that a few readers are reporting that some copies of the 5-disc Blade Runner set mistakenly include two copies of Disc One instead of a Disc One and a Disc Five (the Workprint version). Be sure to check your copies after you purchase them. Readers are also reporting difficulty locating copies of the Blade Runner set in various versions at different retailers, we suspect due to Warner's recent distribution system issues. If you're having trouble finding, be patient. The discs are coming, and they're worth the wait.

Meanwhile, Universal has announced the 3/11 HD-DVD release of Fletch, along with non-combo HD-DVD reissues of Dazed and Confused and George Romero's Land of the Dead. What's up with these non-combo reissues anyway?

Also today, Universal has moved the street date for The Kingdom, American Pie Presents: Beta House, Intimate Affairs, Eastern Promises, Galactica 1980: The Complete Series and the HD-DVD releases of TimeCop and Cat People from 12/26 to 12/23. The studio has also temporarily postponed its planned 1/22 release of Reservation Road. A new street date will be announced as soon as possible.

Around the Net today, Video Business has a story up on the roll-out of Sony's latest PS3 firmware, which adds Blu-ray PiP functionality, DivX video codec compatibility and voice-changing for online chats.

And Variety has a piece today on media research firm Screen Digest's predictions of more 3-D in 2008, along with an end to the high-def format war. We'll drink to that. Fingers crossed.

Stay tuned...

(LATE UPDATE - 12/18/07 - 11:30 AM PST)

Yes... you read that right, folks! And no, I'm not kidding. MGM sent over this official press release just this morning:

ACADEMY AWARD WINNER PETER JACKSON AND NEW LINE CINEMA JOIN WITH MGM TO PRODUCE "THE HOBBIT," EAGERLY-ANTICIPATED FANTASY ADVENTURE EPIC

NEW LINE AND MGM TO CO-PRODUCE AND SHARE WORLDWIDE DISTRIBUTION RIGHTS

PETER JACKSON AND FRAN WALSH TO EXECUTIVE PRODUCE TWO FILMS BASED ON "THE HOBBIT"

Los Angeles, CA (Tuesday, December 18, 2007) Academy Award®-winning filmmaker Peter Jackson; Harry Sloan, Chairman and CEO, Metro-Goldwyn-Mayer Studios Inc. (MGM); Bob Shaye and Michael Lynne, Co-Chairmen and Co-CEOs of New Line Cinema have jointly announced today that they have entered into the following series of agreements:

* MGM and New Line will co-finance and co-distribute two films, "The Hobbit" and a sequel to "The Hobbit." New Line will distribute in North America and MGM will distribute internationally.

* Peter Jackson and Fran Walsh will serve as Executive Producers of two films based on "The Hobbit." New Line will manage the production of the films, which will be shot simultaneously.

* Peter Jackson and New Line have settled all litigation relating to the "Lord of the Rings" (LOTR) Trilogy.

Said Peter Jackson, "I'm very pleased that we've been able to put our differences behind us, so that we may begin a new chapter with our old friends at New Line. 'The Lord of the Rings' is a legacy we proudly share with Bob and Michael, and together, we share that legacy with millions of loyal fans all over the world. We are delighted to continue our journey through Middle Earth. I also want to thank Harry Sloan and our new friends at MGM for helping us find the common ground necessary to continue that journey."

"Peter Jackson has proven himself as the filmmaker who can bring the extraordinary imagination of Tolkien to life and we full heartedly agree with the fans worldwide who know he should be making 'The Hobbit,'" said Sloan, MGM's Chairman and CEO. "Now that we are all in agreement on 'The Hobbit,' we can focus on assembling the production team that will capture this phenomenal tale on film."

Bob Shaye, New Line Co-Chairman and Co-CEO comments, "We are very pleased we have been able to resolve our differences, and that Peter and Fran will be actively and creatively involved with 'The Hobbit' movies. We know they will bring the same passion, care and talent to these films that they so ably accomplished with 'The Lord of the Rings' Trilogy."

"Peter is a visionary filmmaker, and he broke new ground with 'The Lord of the Rings,'" notes Michael Lynne, New Line Co-Chairman and Co-CEO. "We're delighted he's back for 'The Hobbit' films and that the Tolkien saga will continue with his imprint. We greatly appreciate the efforts of Harry Sloan, who has been instrumental in helping us reach our new accord."

The two "Hobbit" films – "The Hobbit" and its sequel – are scheduled to be shot simultaneously, with pre-production beginning as soon as possible. Principal photography is tentatively set for a 2009 start, with the intention of "The Hobbit" release slated for 2010 and its sequel the following year, in 2011.

The Oscar®-winning, critically-acclaimed LOTR Trilogy grossed nearly $3 billion worldwide at the box-office. In 2003, "Return of the King" swept the Academy Awards®, winning all of the eleven categories in which it was nominated, including Best Picture – the first ever Best Picture win for a fantasy film. The Trilogy's production was also unprecedented at the time.

For more information about "The Hobbit" films, please visit www.TheHobbitBlog.com.

---END---

How do you like them apples, folks? How hot is that? Very, that's how. Currently Jackson is just set to produce, but let's hope he decides to direct too, because the films just wouldn't be the same without him.

I can't think of a better way to start the day than with news like that. Enjoy!

By the way... Russell Hammond has also updated the Upcoming DVD Cover Art section with tons of new DVD, Blu-ray and HD-DVD cover scans today.

Not bad for one morning. Stay tuned...

(EARLY UPDATE - 12/18/07 - 12:01 AM PST)

Okay... so you PlayStation 3 owners are going to want to update your firmware today, because Sony's Blu-ray Disc profile 1.1 update for the PS3 is now live. Version 2.1 of the firmware adds full 1.1 compatibility (including picture-in-picture). That instantly gives Blu-ray the largest installed base of Net-connected, PiP capable devices of either high-def format (over 2.5 million in North America alone), with a reported upturn in sales since November of some 200,000 units a week. The first profile 1.1 software titles are due in the next few weeks from Lionsgate and Fox (including War and Sunshine).

Also this morning, we wanted to let you all know that Disney has kicked off their replacement program for those original copies of Pirates of the Caribbean: Curse of the Black Pearl on Blu-ray, which had an image framing problem on a few shots. Call their customer service hotline at 1-800-723-4763 to arrange shipment of a fixed copy (or 1-888-877-2843 for you folks up in Canada).

Finally, it seems that Best Buy is offering buy-one-get-one-free deals for great movie titles on both Blu-ray and HD-DVD through Saturday (12/22). You can read more here at Home Media.

Back later... stay tuned...

(LATE UPDATE - 12/17/07 - 12:30 PM PST)

This is just a quick update to let you all know that our industry sources are reporting that Sony's Blu-ray profile 1.1 update for their PlayStation 3 game system is expected to be released sometime this week. The update is also expected to add playback support for the DivX video codec and additional features. We'll let you know when it goes live.

Stay tuned...

(EARLY UPDATE - 12/17/07 - 11:15 AM PST)

Morning, folks! Hope all's well in your world today.

A number of readers have e-mailed us over the weekend to confirm something we suggested was coming last week - specifically, Sony has officially lowered the retail price of their BDP-S300 Blu-ray Disc player to just $299. Both Circuit City and Best Buy are offering the player at that price as well (Best Buy's price is listed at $399, but you get $100 in "instant savings"), and other retailers are likely to follow.

In announcement news today, Universal has revealed a pair of new TV series titles. The Invisible Man: The Complete First Season and Sliders: The Fourth Season are both set for DVD release on 3/25.

Buena Vista has set Johnny and the Sprites: Meet the Sprites for release on DVD on 3/18. My Friends Tigger & Pooh: Friendly Tails arrives on 3/4.

Sony has set Jesse Stone: Sea Change for 2/26 (SRP $24.96). Tom Selleck fans everywhere (including my mom) will no doubt be thrilled.

Also, we have word on the extras that will be found on Sony's DVD and Blu-ray version of 30 Days of Night (due on 2/26). You'll get audio commentary with Josh Hartnett, Melissa George and producer Rob Tapert, 8 behind-the-scenes featurettes (all in high-def on the Blu-ray, including Pre-Production, Building Barrow, The Look, Blood, Guts and the Nasty #@$&!, Stunts, The Vampire, Night Shoots and Casting) as well as Blood + Episode 1.

Meanwhile, Criterion has announced three new DVD releases for March, including Alberto's Mafioso (cat #424), Hiroshi Teshigahara's Antonio Gaudí (#425, a 2-disc set) and Ang Lee's The Ice Storm (#426, also a 2-disc set). Criterion has also revealed the release of Eclipse 9: The Delirious Fictions of William Klein, which will include Klein's The Model Couple, Mr. Freedom and Who Are You, Polly Magoo?. Street dates are TBA.

Finally, New Line has set The Sickhouse for DVD release on 3/18 (SRP $19.97).

Around the Net this morning, we wanted to direct your attention to a couple of interesting articles related to the format war. The first is a piece at Variety on the concerning situation facing the home video industry going into 2008, including the erosion of DVD sales, the stagnant debut of high-def thanks to the format war and the uncertain future of digital delivery. The piece creates a good context for some things that we believe are likely to happen in 2008, not the least of which is the resolution of the format war itself. We'll have more to say on that subject very soon.

Interestingly, some additional context on how this format war got started in the first place can be found in an old Business Week piece (from October '05) that our readers seem to have rediscovered over the weekend. If anyone doubts just how involved Microsoft has been, the piece should put those doubts to rest once and for all. Egos have been involved in this thing from the very beginning on BOTH sides, and continue to be involved to this day. It's certainly fascinating to read this now, knowing what's happened in the two years since the story was originally filed.

Stay tuned...

(LATE UPDATE - 12/14/07 - 6:30 PM PST)

Well... we're back from I Am Legend. Matt and I caught a late afternoon matinee here in Orange County, and Doogan did the same in Atlanta. And after some discussion, I felt compelled to post a quick review. I will say first that I Am Legend is generally enjoyable as a visceral experience. The CG effects are a little stock here and there, but the production value is high. Will Smith is very likable and solid in his role as the last survivor of a viral apocalypse that's turned the rest of humanity into zombies-slash-vampires. Yet I haven't felt so let down intellectually by a movie all year.

I Am Legend is based on the 1954 novel of the same name by Richard Matheson, as were two previous films: The Last Man on Earth staring Vincent Price and The Omega Man staring Charlton Heston. The odd thing about I Am Legend, is that it nails the tone and spirit of the book... at least up to a point. The first half of the film - other than the convenience of Will Smith being a virologist attempting to save the world from the plague (and Smith is about as convincing a virologist as Denise Richards was a nuclear physicist) - is near perfect. Smith convincingly presents a gradual descent into madness caused by his isolation, loss and despair, and the production supports him beautifully.

But then the film shifts gears in the second half, and abandons all of the interesting intellectual twists and payoffs that made the novel so good in favor of delivering cheap action that's right out of the script for 28 Days Later. The zombies here are the characteristic lightning-fast-yet-mindless variety that have become the new norm in Hollywood. As you'd expect, we see them being convincingly fast and mindless. And then all of a sudden we're supposed to believe they're capable of doing smart things, like learning how to spring an elaborate trap. Yet when we see them again, they're still pretty dumb, bloodthirsty and mindless. What's worse, the zombies getting smarter thing never pays off anyway. Their sudden intelligence is just a plot device to make Smith's situation progressively more desperate. Sadly, the conclusion of I Am Legend is as predictable and pedestrian as they come, and that's a shame because for a while there this film really had something going. I Am Legend is entertaining in a basic, creepy-things-jumping-out-of the-dark kind of way. But don't go in expecting a worthy adaptation of the novel, or anything thought-provoking, 'cause it ain't there.

Ah well. At least you have a chance of seeing the trailer for The Dark Knight. And if you're really observant during the film itself, you might catch an interesting Easter egg - the teaser poster for a supposed Batman/Superman feature film arriving on 5/15/09 (which just so happens to be a Friday). Warner's little hint of things to come perhaps?

See you Monday...

(EARLY UPDATE - 12/14/07 - 12:45 PM PST)

We're pleased as punch today to offer you our very own Dr. Adam Jahnke's latest edition of The Bottom Shelf, in which he dives in-depth into CBS's awesome new 10-disc Twin Peaks: The Definitive Gold Box Edition. The Doctor says he'd definitely like slice of cherry pie with that. Don't miss it!

In announcement news today, New Line has revealed that Love in the Time of Cholera will street on 3/18 (SRP $27.95). Extra are TBA.

The big announcement today, at least from our perspective, is that Fox has set Wes Anderson's The Darjeeling Limited for release on 2/26 (SRP $29.98). Extras will include the Hotel Chevalier short and featurettes. It's too bad there's no Blu-ray version slated.

Fox has also set The Secret Things of God for DVD release on 3/11.

Meanwhile, MGM will release a 12 Angry Men: 50th Anniversary Edition on 3/4. Extras will include a pair of featurettes - Beyond a Reasonable Doubt: The Making of 12 Angry Men and Inside the Jury Room.

Also coming from MGM on DVD on 3/25 are the classic epics Kings of the Sun, Solomon and Sheba and Taras Bulba (SRP $19.98 each).

Elsewhere here at the site today, we've updated some of the DVD and high-def format stats we track (above), including the High-Def Market Share numbers. For the week ending 12/9, Blu-ray dominated by a fully 3 to 1 margin. The more things change, the more they stay the same.

Here's a look at the cover art for Sony's We Own the Night (2/12), Fox's The Darjeeling Limited and MGM's 12 Angry Men: 50th Anniversary Edition...




Okay... Matt and I are off to see I Am Legend. Everyone have a great weekend and we'll see you Monday!

12/13/07

It's been a little quiet around here these last couple days. There's not a lot of major breaking news, so we've been working on a number of disc reviews. Watch for them soon.

In the meantime, let's have some new announcement news today, shall we?

First up today, Buena Vista has announced the DVD and Blu-ray Disc release of The Game Plan for 1/22/08.

CBS and Paramount have set Baldwin Hills: The Complete First Season for release on 3/25.

Universal has revealed the first-ever Region 1 DVD release of David Lynch's Lost Highway on 3/25 (SRP $19.98). Video will be anamorphic widescreen. Extras will include a 10-part Multi-Angle Interview with David Lynch. Universal will release Skid Row on 3/25 as well.

Lionsgate has just announced their February release slate, set to include Killer Pad, Fierce People, an Ice-T Triple Feature (Stealth Fighter, Body Count and Mean Guns), the Harlequin Collection: 3-Disc Triple Feature - Volume 1 (This Matter of Marriage, At the Midnight Hour and Another Woman), the Harlequin Collection: 3-Disc Triple Feature - Volume 2 (Recipe for Revenge, Hard to Forget and Treacherous Beauties), The Director's Series: Jean-Luc Godard box set (Prenom Carmen, Passion, Detective and Helas pour moi, plus the Jean-Luc Godard: A Riddle Wrapped in an Enigma documentary), The Legend of Butch & Sundance, Bobby Jones Comedy All-Stars: Volume 1, Jerry Springer: Undressed, Unleashed & Uncensored 1, Jerry Springer: Undressed, Unleashed & Uncensored 2 and Jerry Springer: Undressed, Unleashed & Uncensored 3 (all 2/5), Tyler Perry's Why Did I Get Married, Tyler Perry's What's Done in the Dark and Primal (all 2/12), Chaos and Catacombs (both 2/19), and Highlander: The Source and Bratz Kidz Fairy Tales (both 2/26).

For you music fans, Sony BMG Music Entertainment has announced that Shakira: Oral Fixation Tour will street on Blu-ray Disc on 12/18.

Finally, Warner has revealed a few new titles today as well, including IFL Championship 2007 (2/12), National Geographic's Extreme Alaska: Denali National Park (3/18), The Greatest NBA Rivalries: Volume 1 and Frisky Dingo: Season 1 (3/25), and My Boy Jack (2007 - 4/22).

Around the Net today, Video Business is reporting that Disney's Pirates of the Caribbean: At World's End sold a whopping 8 million copies on DVD in its first week of release, along with another 160,000 copies on Blu-ray Disc.

And we'll leave you with cover art for Universal's Lost Highway and Elizabeth: The Golden Age (2/5) on DVD, along with Paramount's Into the Wild: Two-Disc Collector's Edition (2/12) also on DVD...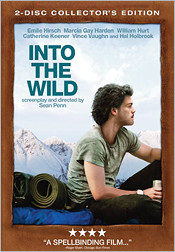 Okay, back tomorrow. Stay tuned...

12/12/07

You know... some days I really love my job. I was fortunate enough yesterday to get my hands on the 5-disc Blu-ray edition of Blade Runner: The Final Cut, so you can probably guess how I spent my evening. It's extraordinary after all these years as a fan to hold in my hand no less than five high-def versions of one of my all-time favorite films. Very cool indeed. As you'd guess, I've updated my review with all the details. Rest assured, we'll add the HD-DVD comments as soon as we get the discs, although we expect it to be identical in quality to the Blu-ray versions, as the encodes are the same.

One last quick note today - some readers who have purchased Warner's Harry Potter: Years 1-5 - Limited Edition Gift Set on Blu-ray Disc are reporting an unwelcome surprise in the case. Films 1-3 and 5 are the Blu-rays as ordered, but The Goblet of Fire is the HD-DVD version. D'oh! Make sure you check your case before you leave the store. Wonder if the same is happening in reverse. As Bits reader Stanton Z. so sagely noted via e-mail this morning: "Isn't this the poster child for why there shouldn't be TWO hi-def formats?" Yep.

Back tomorrow with more. Stay tuned...

(LATE UPDATE - 12/11/07 - 5 PM PST)

This is just a quick update to let you all know that we've kicked off FIVE new Giveaways here at The Bits today, giving each of you the chance to take home Warner's Harry Potter and the Order of the Phoenix and Noble Collection items, plus The Batman: Season 4, Teen Titans: Season 4 and One Tree Hill: Season 4, Anchor Bay's Silent Night, Deadly Night, The Evil Dead: Ultimate Edition and Hatchet: Unrated Director's Cut, Universal's Balls of Fury and Bring It On: In It to Win It, and finally a signed copy Time Life's Richard Simmons: Sweatin' to the Oldies. No kidding! Each of the giveaways will run until Noon (Pacific) on Sunday, December 23rd. Click on the links to get started and good luck!

We've also updated the Upcoming DVD Cover Art section today with all the latest DVD, Blu-ray and HD-DVD cover scans, thanks to the efforts of our own Russell Hammond. Remember that a small portion of anything you order through our Amazon links goes to support our work here at The Bits, and we appreciate it. There's lots of new art, as usual, so be sure to check it out.

Stay tuned!

(EARLY UPDATE - 12/11/07 - 12:01 AM PST)

Okay... we've heard back from Warner Home Video. That Best Buy version of Blade Runner: The Final Cut isn't an exclusive after all. Turns out it's the exact same Five-Disc Ultimate Edition on DVD that's available everywhere else in the briefcase... and yes, it does include the briefcase. Best Buy basically just posted the artwork for the Digipack that's in the case, rather than the briefcase itself. Go figure. So there's no exclusive, and the 5-disc DVD version (that includes the workprint) isn't available in Region 1 without the briefcase. We've revised our in-depth review of the set accordingly.

Stay tuned...

12/10/07

We're still trying to confirm that Best Buy 5-disc version of Blade Runner. There's some reason to believe it may actually the briefcase version after all. As soon as we've determined it one way or another with Warner, we'll let you know and revise the review.

Just FYI, file this in the Rumor Mill category, but we're now hearing that a second Blu-ray player may soon be selling for under $300 - Sony's S300. Again, as soon as we hear anything for sure, we'll let you know. This offer however is confirmed: At Best Buy, if you buy one of two models of Panasonic plasma HDTV plus the BD-30 Blu-ray player, you get a credit for $499 - effectively making the Blu-ray player free. Click here for the details. You're likely to see a lot of manufacturers bundling their players with HD displays in the weeks ahead.

Okay... let's have some announcement news. Fox has just set The Final Inquiry for release on DVD on 2/28. The Comebacks: Unrated Edition is due on 1/29, along with a Drumline: Special Edition. The animated Fantastic Four: World's Greatest Heroes - Volume 3 streets on 3/11, along with the eighth wave of film noir titles, including Black Widow, Daisy Kenyon and Dangerous Crossing. And look for Dr. Dolittle: Tail to the Chief on DVD on 3/4.

Sony has officially announced the Blu-ray Disc release of Run Lola Run on 2/19. The American Gangster (1992) and Gabriel street on DVD the same day, along with Black Water and The Wubbulous World of Dr. Seuss 3-Pack: Back to Back 1, 2 and 3. Slipstream and Goya's Ghosts follow on DVD on 2/26. Also, we've now learned that Kevin Smith's Dogma will street on Blu-ray in March (we'll post the exact date shortly).

Buena Vista has announced that Dan in Real Live will arrive on DVD on 3/11. Gone Baby Gone is also on tap for 2/12, on both DVD and Blu-ray Disc.

Universal has set Magnum P.I.: The Complete Eighth Season for DVD release on 3/4. Also, they have Elizabeth: The Golden Age due on DVD and DVD/HD-DVD Combo format on 2/5. Extras will include audio commentary with director Shekhar Kapur, deleted scenes and 4 featurettes (The Reign Continues: Making Elizabeth: The Golden Age, Inside Elizabeth's World, Commanding the Winds: Creating the Armada and Towers, Courts and Cathedrals).

New Line has announced Martian Child for DVD on 2/12. Look for audio commentary with producers Corey Sienega and David Kirschner as well as writers Seth Bass and Jonathan Tolins, the Handle with Care: Working with The Martian Child documentary, The Real Martian Child featurette, deleted scenes and the film's theatrical trailer.

Finally, Warner has announced a Classic Musicals from the Dream Factory: Volume 3 box set for release on 4/8 (SRP $69.92). The nine titles included will be Hit the Deck, Deep in My Heart, Kismet, Nancy Goes to Rio, Two Weeks with Love, Broadway Melody of 1936, Broadway Melody of 1938, Born to Dance and Lady Be Good. Other newly announced titles coming from Warner include a Riverdance: Live from Radio City Music Hall - Collector's Edition and the BBC's 1995 version of Les Miserables (2/19), The UCLA Dynasty (3/4), Wiggles: Pop Go the Wiggles (3/11), HBO's Pu-239 (3/25) and The Return of Swamp Thing 4/1.

By the way, a quick personal request: Did any of you Brazilian readers happen to get a good, off-air DVD recording of the Police Live in Rio concert broadcast last week? There's a video stream online, but I'm dying to see it in higher quality. Let me know. ;)

Stay tuned!

12/9/07

Since we posted on Saturday, why not post on Sunday too? Here's some big news worth checking in for: Remember that rumor we mentioned last week about how a sub-$300 Blu-ray player was due imminently? Well, it's here. Several major retail chains have just dropped the price of Samsung's BD-P1400 to just $299. It's now available at Amazon.com, Best Buy and Circuit City (and possibly other retailers too). And if you buy the BD-P1400, a quick firmware update will allow you to access full resolution DTS HD Master Audio sound as well as Dolby TrueHD. A lot of retailers are offering several free Blu-ray Discs with the purchase of a player too. So if you've been looking at Blu-ray and you've been hovering on the edge, the price has never been better. Try the Samsung for $299 or even Sony's PS3 for $399 (keep in mind the PS3 will soon be firmware updated to profile 1.1). Trust us... Blade Runner: The Final Cut's gonna look awfully good in Blu.

By the way... for those of you thinking maybe it makes sense to buy BOTH Blu-ray and HD-DVD to cover your bases, it would frankly be smarter just to buy neither. I know it's tempting for enthusiasts to buy both, but keep this in mind: Supporting both is only going to continue prolonging this format war, when what we all really need is for this thing to end as soon as possible.

One other quick Blade Runner note today - we've updated our review to include one more DVD version of the release. Best Buy apparently has available for pre-order what looks to be a retailer exclusive: A special Blade Runner: The Final Cut - Five-Disc Ultimate Collection on DVD for just $54.99. In other words, it's ALL FIVE DVDs of content, just without the briefcase. To our knowledge, this is the only place in Region 1 you can get this version. Thanks to Bits reader Michael Jr. for the heads-up.

[Editor's Note: It looks like this may be the briefcase version of the 5-disc DVD after all. We're checking with Warner now to confirm and we'll post an update as soon as we have it.]

See you in the morning. Stay tuned...

12/8/07

Well... we haven't made a post on a Saturday in a while. But boyo, this is a good 'un. Yes, we've finally gotten our hands on what we think is the DVD and high-def release of the year: Warner's awesome new Blade Runner: The Final Cut! We only have the DVD versions at the moment, but we've got ALL FIVE DISCS of content... and man is it cool. We predicted early on that this release was going to drive Blade Runner fans crazy - in a good way, of course - and it'll sure do that. What a blast we've had watching all this stuff. Anyway, click on the link for our extended-length review of all five discs - what we believe is the first in-depth review ANYWHERE - complete with screen shots and all kinds of goodness. And be sure to check back, because as soon as we get our hands on the high-definition versions, we'll update this review with the details on their quality as well. Enjoy!

Stay tuned...

12/7/07

Okay... I may be back later with another update, but in the meantime, here's the latest today.

First up, the Pirates 3 Blu-ray... Disney now believes that the problem is related to viewing the disc in 1080p/24 mode via certain monitors (using the PS3 and some Samsung models). They're suggesting viewing in 1080i mode as a short-term solution, and say that firmware updates available shortly will correct the problem.

Second, I finally got the Battlestar Galactica: Season One HD-DVD today. The good news is that the discs all showed up unscratched. The bad news is that this is quite possibly the worst packaging I've ever seen. It's a flimsy fold-out cardboard disc holder, that slips into an equally flimsy plastic outer case. Mine showed up having been utterly crushed as flat as it could be in shipping, though miraculously the discs seem to have survived unscathed. Haven't looked at the content yet, but I can't wait. I'll try to post a review early next week.

One other Battlestar note today - there's also a problem being reported with the Best Buy version of Razor, which includes that exclusive bonus disc we mentioned earlier this week. The problem is, a lot of copies apparently don't have the disc inside, even though the packaging is marked with a sticker. The copy I purchased DID have the bonus disc on one of those plastic swing trays inside the case. So try shaking the case to see if you can hear it inside before you purchase, then make sure you open the disc to confirm that the bonus disc is in there before you leave the parking lot. Like I've been saying, it's always something.

Let's see... what else? Business Week has a new story up on the format war today that HD-DVD fans aren't going to like much, because it basically says the same thing we've been saying for a while now: That Sony has the advantage. The piece notes that the key to the format war - which should come as no surprise to any of you - is what Warner decides to do next. A shift by Warner to Blu-ray exclusivity would effectively give the BD camp sole access to 70% of all major Hollywood studio content, while a shift by the studio to HD-DVD only would create an almost 50/50 split and result in an indefinite quagmire. Sources are telling us that hints by both sides that Warner is warming to their camp (including some in the Business Week piece) are premature - the studio is watching sales closely and isn't likely to make any changes in their dual-format support strategy until early 2008 at the earliest. Meanwhile, top executives from both camps have been making personal appeals to senior Warner management to plead their case. Lower price has long been the key advantage the HD-DVD has used to leverage their argument, but industry sources are also hinting to us something that's noted in the BW story - that a sub-$300 Blu-ray player may be soon to hit store shelves.

The Financial Times also has a story up on the format war today that's worth a quick read. Among other things, it reveals that 18 of the top 20 bestselling high-def titles sold this year are available on Blu-ray. Universal's Ken Graffeo is also quoted in the story, saying that "most PS3 owners do not use the Blu-ray function and will not buy as many discs." However, this is contrary to Sony's claims in recent weeks that their research shows as many as 80% of PS3 owners have used the machine to watch at least one Blu-ray movie, and that Blu-ray's continued 3 to 1 software sales advantage in the U.S. (despite having slightly fewer stand-alone players) is proof of this.

Fascinating. Just another day in the format war.

In other news today, Sound and Vision magazine has a cool new feature story up on the restoration work involved in creating Blade Runner: The Final Cut, which streets on all three formats on 12/18 (rest assured, our in-depth review will be posted as soon as the discs arrive).

Meanwhile, there are reports that the world's first BD profile 1.1 disc is expected to street in Germany next week from Imagion AG. It's a comedy called Neues vom Wixxer, which will apparently feature true PiP commentary. Our friends over at the excellent Cinefacts GmbH website have more on this today (click here for the original German text, and here for a sketchy English translation via Google).

Finally today, this has nothing to do with the format war, but we think it's cool nonetheless: Warner has just released the first teaser trailer for the forthcoming Speed Racer live-action film from the brothers Wachowski. You can see it here in Quicktime format (in your choice of 480, 720 and 1080 resolution). I'll tell you what, I don't know what exactly I was expecting from this film, but it sure as hell wasn't this. This film is either going to be perfect... or awful. Either way, you've never seen anything like it before. This trailer actually has me more interested than ever, and it certainly seems to be creating a buzz online. It plays like a live-action cartoon, just as campy and colorful as the original animated series, right down to the moment where Speed discovers Spritle and Chim-Chim stowed away in the trunk of the Mach 5. Count me in. Boy, 2008 is going to be HUGE for blockbuster films. There's Speed Racer, Star Trek, Indiana Jones and the Something or Others, Cloverfield, Iron Man, Get Smart, another Potter film, another Narnia film, another Bond film, The Dark Knight, Wall-E and I'm sure lots more I'm forgetting. It'll be like 1982 all over again. Movie geeks, unite!

Have a great weekend, everyone! See you Monday.

(LATE UPDATE - 12/6/07 - 6:30 PM PST)

I just got off the phone with a technical staffer at Disney regarding the Pirates 3 Blu-ray issue. As I mentioned earlier, the problem of the disc freezing up after the trailers (and before menus load) is only happening for small percentage of users and it's not happening consistently, so Disney is having a hard time replicating the problem. The belief is that it might be related to the interaction between the player and the display device people are using. So Disney is asking anyone who is having a playback problem with the disc to call their Customer Service number (1-800-723-4763) and be sure to tell them not only the brand and model of player you're using, but also the brand and model of your display. They're working hard to get to the bottom of this, and the more information people can provide them, the faster they can resolve the issue for everyone. We'll keep you up to date.

Stay tuned...

(LATE UPDATE - 12/6/07 - 2 PM PST)

Okay, so we've been getting a lot of e-mails from readers today regarding the Pirates 3 Blu-ray and the PS3. Turns out the disc is working just fine for most people, which is good news indeed. It seems the problems are fairly hit or miss, and I suspect firmware updates will take care of it for most people. As I said yesterday, if you are having trouble, give Disney Customer Service a call (1-800-723-4763) and check with your player manufacturer to see if an update is available. I actually watched a bunch of the content on the disc last night, and it's pretty damn great. It's a gorgeous transfer, and the Inside the Maelstrom behind-the-scenes set tour really surprised me. It's a sort of 'hypertext' concept of navigating bonus content, where you get to drive how you explore the set and the production. I think you guys will really enjoy the disc.

[Editor's Note: Bits reader Davey R. has just e-mailed to say that if your copy gets stuck after the trailers on the PS3, if you push the 'triangle' button on your controller and select 'top menu', it'll take to the movie menu. Give it a shot.]

As for the Battlestar HD-DVD thing we mentioned yesterday, reports we're hearing from readers now suggest that it's not the packaging itself that's causing damage to the discs, but perhaps something that's happening between the time the discs are pressed and packaged. The good news is, like the Pirates 3 issue, it doesn't seem to be a widespread thing. I'm hoping to have my hands on the set by early next week. I have to confess, all format preferences aside, I'm seriously ready to geek out over the chance to watch a whole season of Battlestar in high-def. This prolonged wait for Season Three (on disc) and Season Four (on Sci-Fi) is killing me.

Speaking of geek... I wanted to take a moment to send a shout out to our old friend Simon Brew over at the U.K. website Den of Geek. Simon had some nice things to say today about us in his latest column. He was too generous by far, of course, but it was very kind of him and we appreciate it. Simon's a good egg, as they say. More to the point though, I'm glad to see others speaking out on how poisonous this format war has turned the tenor of the debate in the online enthusiast community. And how certain parties in both corporate camps are intentionally exploiting that soured climate in the various discussion groups, to muckrake and spin and get other people to fight their battles for them. When movie fans are actually threatening each other online over this format war - and big media corporations are deliberately taking advantage of that - it's simply disgusting. To their credit, not every enthusiast is participating. In fact, I suspect most are just laying low and staying out of the fray. But no matter how differently we may each feel about which high-def format is the better choice, there is absolutely no reason we can't agree to disagree in a civil tone, and focus on the things we do all have in common more often... like the love of great movies. As Dr. Adam Jahnke is always saying to the rest of us here at The Bits: You gotta keep it level, people. Just keep it level. Anyway... thank you, Simon.

Elsewhere around the Net today, Home Media Retailing apparently has a story up on some of the panels at High-Def 2.0 the other day, including the blogger panel I was on with Pete Bracke from High-Def Digest and Guido Henkel from DVD Review. I found this out, because I had a bunch of people e-mailing me in the wee hours of last night telling me they'd seen my picture over there. And then I actually saw the picture and got stuck thinking: "Boy, that guy needs to lose like 30 pounds and stop wearing brown." Yeah, I'll get right on that. I'm actually told that HMR videotaped all the panels and may be putting them up for viewing online in the next week or two. I'd love for our readers to be able to hear the discussion - which at our blogger panel was very interesting, I think - but there's no way I'm going to be able to sit there an watch myself for 45 minutes. Ugh. They should have used Pete's picture for the article. Or Guido's. Dashing fellows, both. What's that they say: You're always your own toughest critic? It's true.

We've got just a few more announcements to report today...

First, Fox and MGM have revealed that the film noir classic Black Widow will street on DVD on 3/11. And on 2/12, they'll deliver The Charlie Chan Collection: Volume 4, set to include Charlie Chan in Honolulu, Charlie Chan in Reno, Charlie Chan at Treasure Island and Charlie Chan in the City of Darkness. Personally, I'm waiting for Charlie Chan in Fargo. Naw, I'm just kidding. I checked with Barrie - apparently ol' Charlie never made it to Fargo. Shame.

Meanwhile, Paramount has announced The Heartbreak Kid for DVD and HD-DVD release on 12/26. The DVD will be available in both full frame and anamorphic widescreen. Extras on all three versions are set to include audio commentary by the Farrelly Brothers, 4 featurettes (The Farrelly Brothers in: The French Tradition, Ben & Jerry, Heartbreak Halloween and The Egg Toss), bloopers and outtakes, 6 deleted scenes, the film's trailer and Easter eggs.

Finally, Disney has set Snow Buddies for release on DVD on 2/5.

One last note - Bits reader Gary H. reports that if you buy a copy of the newly-released Omega Man on Blu-ray or HD-DVD, you'll find a free ticket to see I Am Legend in theaters inside. Now that's not a half bad deal right there. Beats a kick in the pants, that's for sure.

We'll leave you today with a look at the packaging for all the different versions of Warner's forthcoming Bonnie and Clyde: Special Edition (due on 3/25), as well as Paramount's The Heartbreak Kid and CBS's The Love Boat: Season 1, Volume 1 on DVD (due 3/4). I love that book packaging for the HD versions of Bonnie and Clyde...




Stay tuned!

(EARLY UPDATE - 12/6/07 - 2:30 AM PST)

Morning, folks!

Hope all you vintage movie fans have your coffee at the ready, because we're pleased this morning to offer you Barrie Maxwell's latest edition of Classic Coming Attractions. In this installment, Barrie reviews 19 new and recent classic titles on DVD, including VCI's The Glass Mountain and A Christmas Carol: Ultimate Collector's Edition, MGM's The Stranger, The Graduate: 40th Anniversary Edition and The Return of Dracula/The Vampire, Sony's 20 Million Miles from Earth: 50th Anniversary Edition and Golden Boy, Fox's Blueprint for Murder/Man in the Attic, The Girl Next Door and With a Song in My Heart, Universal's Anne of the Thousand Days/Mary Queen of Scots and The Great Northfield Minnesota Raid, Paramount's Funny Face: 50th Anniversary Edition and Perry Mason: Season Two, Volume Two, Image Entertainment's Treasures from American Film Archives III, Warner's The Jazz Singer: 80th Anniversary Edition, Burt Lancaster: The Signature Collection and Barbara Stanwyck: The Signature Collection, and finally Questar's Body and Soul. There's something in that batch for just about every taste. As always, Barrie also runs down the latest classic release news. Enjoy!

We also have a quick title announcement for you this morning: Warner has just released The Omega Man on Blu-ray and HD-DVD (it came out on 11/27 - SRP $28.99 each) as part of an effort to promote their upcoming theatrical release of I Am Legend. Not sure how we missed that, but there you go. A rare offering in 1080 for you classic film fans.

Finally this morning, here's just about the most fascinating film-related story I've seen in a long time: Director Morgan Spurlock's latest documentary, Where in the World is Osama bin Laden?, has just been snatched up by the brothers Weinstein for theatrical and home video release in 2008, after a private screening of just 15 minutes of footage from the film at the Berlin Film Festival. You can read why here at MSNBC. Either this is the ballsiest indie film PR stunt ever, or it's going to end a lot of careers in Washington. Or maybe both. Either way, Morgan... dude, you are one clever bastard. We doff our caps in your general direction. Color us intrigued.

Stay tuned...

(LATE UPDATE - 12/5/07 - 7:30 PM PST)

Boy... if it's not one thing with this high-def stuff, it's another.

A few readers have e-mailed us this evening to report having trouble getting Disney's new Pirates of the Caribbean: At World's End Blu-ray Disc disc to work on Sony's PlayStation 3. Apparently, it sometimes hangs after the trailers as it's trying to load the menus. The disc works just fine on the Panasonic BD-10A here in the office, but we've reported the issue to Buena Vista. If you're having trouble, we suggest you call their tech support number at 1-800-723-4763 (it's also printed on the disc label).

Also today, we're hearing reports that the packaging on Universal's new Battlestar Galactica: Season One HD-DVD doesn't hold the discs very securely, so the discs are coming loose in shipping. As a result, a few of our readers have reported problems with badly scratched discs. If you're encountering this problem yourself, visit Universal's HD-DVD website to contact them for help or replacements (look in the Support section).

If we hear anything more on either of these issues, we'll let you know.

Stay tuned...

(LATE UPDATE - 12/5/07 - 4:15 PM PST)

Well... as you might expect, we've got a bit of follow-up this afternoon regarding director Michael Bay. After commenting yesterday on his website that he prefers Blu-ray (as reported earlier), a number of HD-DVD fans took issue and decided to take him to task in the forum area of his website. So Michael has followed up his original comments with this:

"Does anyone out here want to challenge what I feel suits my films better in terms of look. I see every frame of my films over a hundred times before it is ever released. I know the lighting conditions I shot it and the result on the DI. I know the range. I know what the final product should look like - Blu Ray suits my films better. But that said - I don't a care about this format war because I have both formats in my screening room - I'm just filling you in on what people deep in the film industry feel ultimately is going on -

Transformers looks great even in DVD!!"

D'oh! This format war would be amusing if it weren't so foolish and unnecessary.

In other news today, Sony has confirmed that it will release 30 Days of Night on DVD and Blu-ray Disc on 2/19.

Also, you Battlestar Galactica fans might want to head on over to your local Best Buy today. It seems that the Best Buy version of Razor includes an exclusive bonus DVD. On that disc (which comes inside the packaging), you'll find a 20-minute featurette entitled The Making of Battlestar Galactica: Razor. It features new interviews with many of the show's cast and crew (including most of the principals as well as Stephanie Jacobsen and Nico Cortez, who play Kendra Shaw and Young Bill Adama). You also get on-set production footage, glimpses of additional unused material, a look at the creation of the show's effects and even previz video of the ejection sequence. It's all pretty great stuff and, if you're a fan, it's well worth having. Yeah, I know. It's frustrating to us too. Sorry we didn't hear about this sooner, or we would have warned you ahead of street date.

Finally, while we're talking sci-fi, you Trek fans might want to check this out: Star Trek: The Tour. It's 50,000 square feet of props, costumes, displays, sets you can be photographed in and other interactive experiences. The touring exhibit kicks off on 1/18 in Long Beach, CA and will hit 40 cities in 2008, so prepare to get your geek on. You can read more here, thanks to our friends at The Trek Movie Report.

We're busy formatting Barrie Maxwell's latest Classic Coming Attractions column, so watch for it late this evening or first thing in the AM. Stay tuned...

(STILL SORT OF EARLY UPDATE - 12/5/07 - 10:45 AM PST)

We've got a few more news items for you this morning.

First up, Home Media is reporting that a high percentage of HD-DVD fans are accessing the web-enabled online features being offered on titles like Transformers and Heroes: Season One. Paramount reports some 80,000 unique users have logged on from Transformers, with a 31% percent returning to download new features online.

Meanwhile, the Blu-ray Disc Association is now reporting that their hardware numbers have passed the 2.7 million mark in North America (through 11/24), in the wake of strong Black Friday sales. The number includes both the BD-capable PlayStation 3 as well as dedicated set-top players (more detailed breakdowns are expected to be released at CES). This comes on the heals of the HD-DVD Promotion Group's announcement last week of having achieved a North American installed hardware base of 750,000 players following Black Friday promotions, a number that includes both dedicated set-top players as well as Xbox 360 add-on drives. Video Business has more on all this.

One other Blu-ray note: Disney's packaging for Pirates of the Caribbean: At World's End on Blu-ray mistakenly lists the video as 1080i in the features grid on the back. That's just a typo - it's actually full 1080p, as expected.

In standard-def software release news today, Universal has set Sydney White for release on 1/22, followed by Barbie Mariposa on 2/26 and The Sasquatch Gang on 3/18.

Fox has revealed that The Comebacks is due on DVD on 1/29, followed by Bachelor Party 2: The Last Temptation on 3/11.

Finally, Warner has announced John from Cincinnati: The Complete First Season for release on DVD on 3/25 (3 discs, SRP $59.99 - for HBO). Also newly announced are I Am an Animal: The Story of Ingrid Newkirk and Peta (1/8 - HBO), Sand and Sorrow (1/29 - also HBO), Stompin (3/11 - Polychrome) and Doctor Who: Episode 70 - The Time Warrior (4/1 - BBC).

By the way, there's been some confusion regarding Warner's recent announcement of the DVD release of the Warner Bros. Pictures Gangsters Collection: Volume 3 on 3/25. Several readers have asked when Volume 2 came out. As it turns out, Warner's done some re-naming of previous DVD box sets. Their original Warner Bros. Pictures Gangsters Collection is obviously Volume 1. However, their previous Warner Bros. Pictures Tough Guys Collection is now called the Warner Bros. Pictures Gangsters Collection: Volume 2. Hope that explains it.

Back this afternoon. Stay tuned...

(EARLY UPDATE - 12/5/07 - 9:30 AM PST)

Well... we're back from High-Def 2.0, which was actually quite a lot of fun. Perhaps the biggest surprise of the Home Media-sponsored conference (and something that was a definite topic of discussion among the attendees over the course of the day) is that the HD-DVD format was a total no-show. Not a single representative of the format was in attendance, despite the fact that they were invited and genuine efforts were made to keep the conference panels and events balanced. What's more, a number of HD-DVD titles won honors at the High-Def Awards last evening (click here for the details), and only Warner and Paramount sent representatives to accept. Universal was represented by no one.

Earlier in the day, Pete, Guido and I all had a great time during the Blogger panel, where we offered a decidedly frank and pessimistic assessment of the current state of the high-def format war, and what we each see as future of the home video business. Attendees seemed to appreciate the candid and lively discussion, which is unusual for an industry event of this type. Once we got going, there was certainly no problem filling up the entire 45 minutes allotted. Perhaps not surprisingly, none of saw much hope of HD-DVD winning the format war at this point, given Blu-ray's growing sales edge around the world and the HD-DVD camp's dramatic hardware price-slashing strategy. But we all agreed that the longer the perception of a format war persists, the less likely it is that high-definition packaged media will ever become a substantial market. Guido made an interesting point that Hollywood runs the danger of devaluing its films the same way the record industry has devalued their album catalogs, by making them available too often and in too many different formats. None of us saw downloading as a viable near or mid-term revenue stream for the studios, due to technical limitations and the lesser perceived value in the minds of consumers of a downloaded file compared to a physical product. Pete further suggested that the only way high-def packaged media will ever really take off is if the studios eventually begin phasing out DVD (the way the record industry phased out LPs back in the 1980s), or at least start releasing certain titles and content only in high-definition. The events of 2008 are likely going to determine the future of the home video industry, and the Hollywood studios all need to ask themselves some very tough questions in the next few months as to exactly what they want that future to be. All in all, it was a good discussion.

Here's some interesting stats revealed at the conference: By the end of 2007, industry analysts predict that over 1/3rd of all TV households in the U.S. - some 50 million out of an estimated 120 million - will have HDTVs. That's a surprising number, suggesting that HDTV has finally become mainstream. Manufacturing reps noted that HDTV screen sizes here in North America will trend larger, while a representative of Phillips revealed that smaller flat panel sizes dominate in Europe, as house sizes there tend to be smaller. Meanwhile, a Sony rep cited internal research suggesting that over 80% of all PlayStation 3 owners had watched at least one Blu-ray movie on their systems. It was also revealed that the Blu-ray profile 1.1 firmware update for the PS3 is expected to be made available for download later this month.

Some new information as to high-def title plans for 2008 - all Blu-ray due to the other camp taking a pass - was offered at the event as well, during a studio panel late in the day. First, Sony revealed that Kevin Smith's Dogma is due to arrive on Blu-ray on 2/12, with Run Lola Run following on 2/19. In addition to the release of Resident Evil: Extinction on 1/1, Sony will street a Resident Evil: The High-Definition Trilogy set on Blu-ray the same day. The Guns of Navarone and A Passage to India are apparently on the way in early 2008, with Bridge on the River Kwai and Lawrence of Arabia expected to follow later in the year. Sony also hinted that they're going to experiment with more advanced BD-Java features in 2008. Further down the line, Disney, Fox, Sony and Lionsgate all confirmed that they're going to be expanding their Blu-ray release slate in 2008. Fox revealed that new theatrical titles like Juno, Hitman, Horton Hears a Who and Mr. Magorium's Wonder Emporium will all be released, as well as many new catalog titles. Lionsgate expects to deliver Saw IV in January, while Disney confirmed that Finding Nemo and The Chronicles of Narnia: The Lion, the Witch and the Wardrobe will both feature PiP video.

Director Michael Bay was also the topic of discussion at the event. He's apparently spoken out once more on the subject of the format war on his website. Here's the text of his latest post from his discussion forum:

"What you don't understand is corporate politics. Microsoft wants both formats to fail so they can be heroes and make the world move to digital downloads. That is the dirty secret no one is talking about. That is why Microsoft is handing out $100 million dollar checks to studios just embrace the HD DVD and not the leading, and superior Blu Ray. They want confusion in the market until they perfect the digital downloads. Time will tell and you will see the truth.

Bay"

Technically, Toshiba paid Paramount and DreamWorks, but it's hard to argue with Michael's overall point about Microsoft's involvement in the format war. We've made this argument ourselves.

One last note this morning - a bit of follow-up from last week: The Italian AV Magazine site has learned from the distributor that the Onkyo DV-HD805 HD-DVD player has NOT been discontinued. Rather, the unit is simply in short supply in Europe until the end of the year. It's expected to be fully launched in European stores in January or February. Here's the translated version via Google. Thanks to Bits reader Vladimir I. for the heads-up.

Back later with a new column from Barrie Maxwell. Stay tuned...

12/4/07

Morning, folks. Just a couple quick update for you, before we head on up to High-Def 2.0...

First up, Sony has just announced the DVD release of The Stanley Kramer Film Collection box set on 2/12 (SRP $59.95). Included will be Guess Who's Coming to Dinner, Ship of Fools, The Wild Ones, The 5000 Fingers of Dr. T and The Member of the Wedding, each featuring plenty of bonus material.

Also newly announced for DVD release on 3/25 is the Warner Bros. Pictures Gangsters Collection: Volume 3 (SRP $59.92), which is set to include Picture Snatcher, Lady Killer, Smart Money, Black Legion, Mayor of Hell and Brother Orchid. Each film is also available separately for $19.97.

Finally this morning, our own Russell Hammond has once again updated the Upcoming DVD Cover Art section with all the latest DVD, Blu-ray and HD-DVD cover scans and Amazon pre-order links. Enjoy!

We've got new Contests coming later this evening, so be sure to check back.

Stay tuned...

(LATE UPDATE - 12/3/07 - 3 PM PST)

We've gotten our first look at a trio of big new DVD box sets recently. Given the fact that many of you are probably considering these sets for purchase this holiday season, we wanted to give you all a peek inside each of them today.

The first is Fox's The X-Files: The Ultimate Collection. The 61-disc set includes all 9 seasons as you'd expect, along with the feature film, The X-Files: Fight the Future. The DVD versions of the episodes are the original releases (not the slim sets), which is good because it means that this set DOES include the bonus discs of extras for each season. And the film disc includes all of the extras that were on the original release as well. There's an additional bonus disc included too that adds all four of the Threads of Mythology documentaries that were in the Mythology DVD sets. You also get a booklet guide to all the episodes, a comic book, art cards and a Fight the Future poster. So the good news is that if you buy this box set, you can sell your original full season DVDs and gain a LOT of shelf space. The only real bad news, aside from the high cost of the set (SRP $329.98, but just $230 on Amazon), is that it doesn't include the new audio commentaries that were on many of the episodes in the Mythology DVD sets. So if you want ALL the available DVD content, you still can't get rid of those discs (but it's easy enough to put those discs in paper sleeves and tuck them into the box). One last note on the packaging - the discs all slip into tiny books (one for each season and one for the movie and bonus disc), which then are contained in the top compartment of the box set. There's also a second drawer-like compartment that slides out of the bottom on one side - that's where you'll find the booklet, the cards, poster, etc. This thing is surprisingly heavy, so when you get the set, check to make sure that the bottom of the top compartment hasn't been crushed out (due to the weight of the discs and improper shipping) so that the drawer beneath it won't slide open as it should. The X-Files: The Ultimate Collection is WAY too expensive for casual fans of the series, but you diehards will no doubt appreciate it.




The second box set we wanted to talk about today is the spiffy new 41-disc The Man From U.N.C.L.E. The Complete Collection, which is currently only available online from TimeLife (SRP $249.95 - produced in conjunction with Warner). The case is made of sturdy cardboard, complete with a handle and latches. When you open it, the inside of the lid features an image of the front of Del Floria's Tailor Shop in NYC, which fans will know as the secret entrance to U.N.C.L.E.'s headquarters. The bottom portion of the case contains four Digipacks, one for each season. Underneath the Season 4 Digipack, you'll also find a compartment containing a pair of additional DVD discs, each including more bonus content that's exclusive to this box set (scores of interviews with the cast and crew, photo and image galleries, 6 original featurettes, and tons of promos, trailers, TV spots and appearance footage). The Digipacks each offer a booklet with liner notes and a guide to the season's episodes. Each season also includes its own extras, such as behind-the-scenes and retrospective featurettes, the original pilot episode, the 1966 One Spy Too Many feature film, home movies from the set and even a new reunion interview with stars David McCallum and Robert Vaughn. This set is produced by the same crew that brought you Get Smart on DVD (voted Best of Show at the recent TV DVD Awards and a Digital Bits Bitsy Award winner last year for Best DVD - TV Series Presentation), so that should more than assure you as to the high calibre of the content and extras. I haven't done more than sample the first few episodes yet, but the A/V quality seems quite good. Given how long fans have been waiting for this series to hit DVD, I think they're in for a real treat.




Finally, we've also gotten our hands on the final packaging for Warner's Blade Runner: The Final Cut - Five-Disc Ultimate Collector's Edition DVD (SRP $78.92, but just $54.99 on Amazon - also available on Blu-ray Disc and HD-DVD - SRP $99.98 each but just $66.95 on Amazon). The plastic case is, of course, a replica of Deckard's Voight-Kampf machine case from the film. When you trip the two latches and open it, you'll find that the top presents a black file folder containing 8 large cards featuring production artwork from the film (Syd Mead pre-production sketches, storyboard artwork, etc). Beneath that, contained in its own plastic pouch, are two pieces of clear Lucite (attached magnetically) containing a lenticular-motion image from the film. It's a shot of Deckard raising his gun as he's about to enter his apartment at the end of the film. You can view the clip either inside the Lucite or removed, but the Lucite stands, allowing you to display the image nicely on your desktop of shelf. Beneath this, the bottom half of the case is covered with a clear plastic sheet. Printed on the sheet is a signed letter from Ridley Scott, explaining how and why the final cut was created, along with one of his own 'Ridleygram' drawings of Deckard in his apartment. You then lift this up to find a padded foam enclosure underneath, containing the Digipack for the actual movie discs (complete with an insert booklet), as well as a pair of cool swag items. The first of these is a silvery plastic replica of Gaff's unicorn origami (from the end of the film - it stands about 2½ inches tall). The other is a 4-inch long plastic replica of the Police Spinner vehicle, complete with accurate markings and doors that swing open vertically. Each briefcase is individually numbered via a sticker on the bottom of the case. All in all, it's an incredibly cool presentation. And all this is before you even watch a single frame of video on the discs (which we'll review separately for you in full detail as soon as they arrive).




Again, keep in mind that these box sets really are intended for the more serious fans out there, especially given the SRPs, but each set in its way is extremely cool. The best value (and slickest presentation) is definitely the Blade Runner set. In any case, if you're in the fan base for whom price is little or no deterrent, each set is well worth a look this holiday season.

One quick note: Tomorrow's post may be a little light. The reason is that we'll be attending the High-Def 2.0 conference up in Hollywood, where I'll be participating in the A View from the Blogsphere panel discussion along with our old friends Guido Henkel of DVD Review and Pete Bracke from High-Def Digest (moderated by T.K. Arnold of Home Media magazine - 1:30 to 2:15 PM). It should be fun, and interesting too. We'll give you a full report when we get back.

Until then... stay tuned!

(EARLY UPDATE - 12/3/07 - 11:45 AM PST)

Morning folks! Hope your weekend was swell... or at least passably tolerable.

So as it turns out, The Golden Compass is pretty good. Certainly it's much better than either Matt or I was expecting. Fans of the book will be very happy to learn that the basic themes of Philip Pullman's original text are not only there, they're stronger than ever. Only a little bit of the terminology has been changed for consumption by a wider commercial audience. The basic ideas are intact. The cast is pitch perfect. The young actor playing Lyra is terrific, and Sam Elliot steals the show as Lee Scoresby. The CG effects, particularly the animal daemons, are mostly well done too. The film ends a bit earlier - and on a more optimistic note - than the book, but we thought it worked well enough. There was even a bit of an unexpected surprise over the end credits: Kate Bush sings the closing song.

The biggest complaint that Matt and I had was that the story has been condensed to run under two hours (113 minutes to be exact) and, as a result, a lot of things seem to happen conveniently of necessity to the plot rather than being more obviously motivated by character. It's a little like watching some kind of Cliff's Notes version of the story. Still, it's easy to understand why this was done. The fate of New Line as a studio - and obviously the fate of the sequels as well - depends on the success of this film. A shorter run time is not only family-friendly, it presumably will allow more screenings per day.

But New Line, not to mention fans hoping for the sequels, needn't worry. The sneak peek screening we attended was packed with parents and their children, and leaving the theater it was clear that they thoroughly enjoyed themselves. The story is faithful enough to please most fans, and there are wonders a plenty to dazzle young audiences - even those who have never read the books. I suspect this film will do big business over the holidays. Meanwhile, Matt and I are hoping that New Line's plan is to eventually deliver an extended cut of the film on DVD - a la Lord of the Rings - that will flesh out the story and characters a bit more, and make the film's narrative a little more satisfying. I'm betting The Subtle Knife will be green-lit before the end of the month. Tell you what though... I don't know how the hell they're going to adapt The Amber Spyglass to the screen. Now THAT I want to see.

The Golden Compass is a bit glossy to be sure. It's not as satisfyingly textured, nuanced or REAL a world as it might have been in the hands of a genuine visualist like Ridley Scott, or Peter Jackson, or Guillermo Del Toro. But director Chris Weitz has turned in a better film than we expected from him and it's worth seeing. I'd give it a B-.

Okay, we've got a bit of announcement news for you today.

First up, Sony has announced a number of new and catalog titles for release in February. They've confirmed that Across the Universe will street on Blu-ray on 2/5, the same day as the DVD. The Jane Austen Book Club will also street on DVD and Blu-ray on 2/5. Following on 2/12 are DVD re-issues of all three Stuart Little films (each packed with a toy) along with a pair of Stuart Little Animated Series DVDs. Also streeting on that day are a 2-disc Guess Who's Coming to Dinner: 40th Anniversary Edition and Romance and Cigarettes on DVD, along with We Own the Night on DVD and Blu-ray.

Meanwhile, Fox has set Newhart: Season One for release on DVD on 2/26. The Riches: Season One is due on 1/8. Look also for a Mrs. Doubtfire: Behind-the-Seams Special Edition on 3/4.

New Line has set Blade: The Series - Season 1 for release on DVD on 2/12 (SRP $39.98).

Best of all today, Warner has revealed that they'll deliver a Bonnie and Clyde: Two-Disc Special Edition on DVD (SRP $20.97), Blu-ray Disc and HD-DVD on 3/25 (SRP $28.99 each), with extras set to include a History Channel documentary, deleted scenes, screen test footage and more. An Ultimate Edition will also be available that will include a 36-page book and a reproduction of the original press book (SRP $39.92).

Finally, CBS and Paramount will release The Wild Wild West: The Fourth Season on 3/18.

That's all for now. Stay tuned...
More Archived Posts
Back to Current Posts