-Newsletter est. 4/15/97-
-Website est. 12/15/97-



page updated: 9/11/07
My Two Cents
(Archived Posts 9/7/07 - 8/21/07)
Back to Previous Archives
Back to Current Posts
9/7/01

Okay... we're going to save most of the high-def format war discussion for Monday, as we've got a few more release announcements to post this afternoon. We do have a LITTLE bit for you below, but back to that in a minute.

First up, Fox has sent over the final cover art for the Blu-ray versions of 28 Weeks Later (10/9), The Day After Tomorrow (10/2), The Fly (1986 - 10/9), From Hell (10/9) and Edward Scissorhands (also 10/9 - you can find specs for these titles here at Hollywood in High-Def)...




As you can see, we also included temp art for Paramount and DreamWorks' HD-DVD of the Transformers: Two-Disc Special Edition (10/16).

By the way, while we're talking about Fox titles, we've got an update for you on the studio's forthcoming Live Free and Die Hard Blu-ray (due on 11/20). We've confirmed that the disc will include only the PG-13 theatrical cut of the film. This has upset some fans, who are aware that the studio is releasing an uncut version of the film on DVD the same day. The reason for the decision is that the uncut version was finished by the director only AFTER completing all the theatrical press junkets and promotional appearances for the film. Unfortunately, this was too late to complete compression and authoring for the Blu-ray version in time to meet street date. So the studio was basically faced with the choice of delaying the title or releasing the theatrical cut only day and date with the DVD. So that's the reason it's PG-13 only.

Meanwhile, MGM has set a Stargate SG-1: The Complete Series box set for release on 10/9 (availabl at the budget busting SRP of $329.98). All 10 seasons - 214 episodes - will be presented on disc in anamorphic widescreen with all the previously released extras. The discs will be contained in a metal slipcase with a commemorative booklet. The set contains 54 discs in all, including 4 discs of all-new bonus content. Here's what the bonus discs will contain:

Disc 51 (Bonus Disc 1) - Ark of Truth promo, Continuum promo and 3 featurettes (Stargate SG-1: The Lowdown, From Stargate to Atlantis: The Lowdown and Behind the Stargate: Secrets Revealed)

Disc 52 (Bonus Disc 2) - 3 featurettes (Sci Fi Inside: Stargate SG-1's 200th Episode, Behind the Mythology of Stargate SG-1 and Stargate SG-1: True Science)

Disc 53 (Bonus Disc 3) - 3 Timeline to the Future featurettes (Part 1: Legacy of the Gate, Part 2: Secrets of the Gate and Part 3: Beyond the Gate), 3 SG-1 Video Diary featurettes (Teryl Rothery, Don S. Davis and Richard Dean Anderson: Paradise Lost), 4 SG-1 Directors Series featurettes (Smoke and Mirrors, The Changeling, Memento and Prophecy) and 2 additional featurettes (Stargate SG-1 Season 5: Gateway to Adventure and Stargate SG-1: The 100th Episode)

Disc 54 (Bonus Disc 4) - 5 SG-1 Directors Series featurettes (Revisions, Heroes, Resurrection, Threads and Moebius), 2 Beyond the Gate featurettes (A Convention Experience with Amanda Tapping and A Convention Experience with Michael Shanks) and 8 additional featurettes (Behind the Scenes: Journey Inside Lost City, The Storyboard Process, Bra'tac vs. Ronan: Designing the Fight, Stargate Magic: Inside the Lab, Richard Dean Anderson: My Life as a Mime, Profile On: Joseph Mallozzi and Paul Mullie, The Last Day of Teal'C and Stargate SG-1 Alliance: The Making of the Video Game)

Here's a look at the packaging for the box...




And speaking of MGM, we've been advised that anyone (U.S. or Canadian readers) who may have obtained defective or mislabeled copies of the recent RoboCop: 20th Anniversary Edition DVD should exchange them at the retailer where they were purchased. According to a representative of distributor 20th Century Fox, the issues have been resolved and corrected versions should now be available. We don't know how you're expected to recognize the corrected versions, but give the exchange a try and let us know if you have any luck getting a corrected copy.

Lionsgate has announced their October release slate, which will include Betsy Bubblegum's Journey Through Yummi-Land (10/2), Holla, Crossed Swords, Night of the Living Dead 3D (comes with 4 pairs of 3D glasses), Emmanuelle and Bratz Super Babyz (all 10/9), an Amityville Collection Triple Feature (contains Amityville Dollhouse, Amityville 1992: It's About Time and Amityville: A New Generation) and Experiment in Torture (both 10/16), a Saw III: Director's Cut, a Saw Trilogy box set (contains Saw: Uncut, Saw II: Special Edition and the Saw III: Director's Cut), Fido, Dark Storm, Cutting Class and a King of New York Blu-ray (all 10/23), and Captivity, Hardrock, Asi del Precipicio, Caminantes... Si Hay Camino Grandes Directores and Caminantes... Si Hay Camino Comediantes: Volume 2 (all 10/30).

And Warner will release HBO's Living and Dying documentary on DVD on 12/25.

Also, just a reminder: Disney's Magical Blu-ray Tour of shopping malls is at the Westfield San Francisco in San Francisco, California this weekend, from today through Sunday. Be sure to drop on by and check it out if you're in the area. Sarah took a few pictures of the presentation during Disney's stop at South Coast Plaza over in Costa Mesa, CA a couple of weeks ago, so click here to see a little of what's in store for you.

Finally today, here's that little bit of high-def talk we promised earlier, and it's sure to get a select few riled up (so HD-DVD fans be warned): Both the Blu-ray and HD-DVD camps have been claiming this week at CEDIA that their respective formats are leading in standalone hardware sales, but it's a classic case of selectively spinning the numbers.

Sony struck first by citing the latest numbers from the NPD Group, which reveal that standalone BD players now exceed 50% of all high-definition players sold. When you consider that HD-DVD players are generally priced $100-200 cheaper that Blu-ray players, that's a rather dramatic turnaround. Not surprisingly, Toshiba quickly fired back by announcing that year-to-date through July, HD-DVD players still held a 55% market share over Blu-ray's 42% (dual-format players accounted for the remaining 3%). Said Toshiba in their press statement: "While the competition may claim leadership based on one month of data, Toshiba has had continued sales leadership in every month since the original HD-DVD players launched 17 months ago." That's certainly true, but the more recent sampling of numbers reveals a shift in sales towards Blu-ray that is hard to deny or ignore - again this despite a distinct price advantage for HD-DVD. And if that trend continues into the 4th quarter, HD-DVD's price advantage may be the only talking point Toshiba has left, custom Star Trek phaser remotes not withstanding.

What's interesting is that Toshiba's long-term perspective on the hardware numbers runs contrary to their usual take on the software sales numbers: Year to date according to the latest Neilsen/VideoScan numbers, Blu-ray software is outselling HD-DVD software by a margin of 67% to 33%. And for those of you who would counter by claiming that the most recent week's numbers show a shift of 56% to 44% (still in favor of Blu-ray but an improvement from previous weeks for HD-DVD), let me remind you that for the week ending 9/2, pretty much the ONLY new high-def titles you could get were all HD-DVD (Heroes: Season 1, Blades of Glory and a select few Universal catalog titles). Why? Simple... because Paramount had cancelled their Blu-ray version of Blades of Glory. And even for that week, up until the time Paramount cancelled it, the Blu-ray version of Blades of Glory was strongly outselling the HD-DVD version at Amazon.com and other retailers. Like it or not, when you look past the spin on both the hardware AND software sales numbers, a picture is beginning to emerge that does not bode well for HD-DVD. You can read more on all this here and here at Video Business.

Okay, enough hot topics for this week. We'll be back on Monday to stir up the high-def pot even more. ;)

Have a great weekend and stay tuned!

9/6/07

Afternoon, folks! We're back as expected today, and I'll tell you, was it EVER nice to get away from all this format war silliness for a week or so. Sarah and I spent time with family, and not once did I bother to check e-mail or even read the trades. And I'm glad of it, because there's certainly been plenty of PR spin and consumer FUD being spread this week out of CEDIA. Both the Blu-ray and HD-DVD camps are working overtime, determined to kick this format war into high gear for the holidays. And having spent the morning catching up with phone calls and talking to our industry sources... if you guys even knew HALF of what was going on behind the scenes this week, you'd be picking your jaws up off the floor. You'd better believe it when we say that the visible public and media relations portion of this format skirmish is only a small part of the full story. It's getting ugly out there, folks.

Anyway, we're going to save our commentary and analysis of this week's high-def news for tomorrow or Monday. In the meantime, we're going to spend the afternoon today catching up on all the major title announcement news from the last few days.

First though, just a reminder that Russell Hammond has updated our Upcoming DVD Cover Art section with all the latest DVD, Blu-ray and HD-DVD cover scans and Amazon preorder links. There's lots of new covers to see, so sure to check it out.

Okay, let's get started...

20th Century Fox has announced the DVD and Blu-ray Disc release of Live Free and Die Hard on 11/20. There will be THREE versions on DVD, including single-disc PG-13 and Unrated editions (SRP $29.98 each), as well as an Unrated Two-Disc Edition (SRP $34.98). Strangely, it seems that the Blu-ray Disc version will contain only the PG-13 version (SRP $39.98) - a revelation that has many Blu-ray fans up in arms (it's basic common sense that anyone who's going to pay extra for the Blu-ray wants the unrated cut too). The single-disc DVDs will contain Dolby Digital 5.1 audio, audio commentary by Bruce Willis, director Len Wiseman and editor Nicolas De Toth, the Guyz Nite' Die Hard music video and a behind-the-scenes featurette on the video. The two-disc set will add the 10-part Analog Hero in a Digital World: Making of Live Free or Die Hard documentary, the Yippee-Ki-Yay Mother F*****! featurette, the Fox Movie Channel Presents Fox Legacy video and the film's theatrical trailer. The Blu-ray version will feature AVC encoded 1080p video, DTS HD Lossless 5.1 and Dolby Digital 5.1 audio, the Black Hat Intercept! BD-Java game, D-Box compatibility, several high-def trailers and all the standard-definition DVD extras (save again for the uncut version of the film - we'll confirm that with the studio).

Fox has also announced the Ford at Fox Collection box set for release on 12/4 (SRP $299.98). The set will contain a whopping 24 films, 18 of which are new to DVD (including Just Pals, The Iron Horse, 3 Bad Men, Four Sons, Hangman's House, Born Reckless, Up the River, Seas Beneath, Doctor Bull, Pilgrimage, Judge Priest, The World Moves On, Steamboat Round the Bend, The Prisoner of Shark Island, Wee Willie Winkie, Four Men and a Prayer, Drums Along the Mohawk, Young Mr. Lincoln, The Grapes of Wrath, Tobacco Road, How Green Was My Valley, My Darling Clementine, When Willie Comes Marching Home and What Price Glory), and the Becoming John Ford documentary disc. Many of the discs will feature additional extras, some extensive. You'll also get a hardcover book featuring unpublished photographs, lobby card reproductions, production stills and a look at Ford's films and career. Select films will also be available separately on DVD (SRP $19.98 each) and a trio of mini-collections will also be available including The Essential John Ford, John Ford's American Comedies and John Ford's Silent Epics (SRP $49.98 each).

Not done with Fox yet... the studio has just set 24: Season Six for DVD release on 12/4 (SRP $59.98). The 7-disc set includes all the episodes in anamorphic widescreen video with Dolby Digital 5.1 audio, along with branching deleted scenes for several episodes, 12 episode audio commentaries with members of the cast and crew, an alternate ending to the final episode, a Season Seven preview, 3 featurettes (Master Illusionist: 24's Special Effects Make-up, 24 Season 6: Inside the Writer's Room and 24 Season 6: Opening with a Bang), a deleted cameo scene with Ricky Gervais, 21 Webcast Diaries videos, the Day Six Debrief Mobisodes, a PSA with Kiefer Sutherland, the DVD-ROM only The Technology of 24 featurette and a very special Easter egg: 24 Minutes: Jack Bauer on The Simpsons.

Also today, MGM has revealed their massive James Bond Ultimate Collector's Set box for DVD release on 11/6. This 42-disc set will contain all 20 original Bond films (complete with all extras from the recent James Bond Ultimate Edition: Volumes 1-4 sets) plus the recent Casino Royale (2006). SRP is $239.98.

Meanwhile, Universal has set Law & Order: Special Victims Unit - The Fourth Year for release on 12/4.

Warner has announced the DVD and high-def release of Ocean's Thirteen on 11/13. The film will be available in single-disc widescreen and full frame versions on DVD (SRP $28.98 each) as well as Blu-ray Disc and a DVD/HD-DVD Combo version (SRP $35.99 each). The DVDs will include additional scenes, the Jerry Weintraub: Walk and Talk featurette and the Vegas: An Opulent Illusion documentary. Both high-def versions will contain all of the DVD extras, as well as the Masters of the Heist documentary. Also on 11/13, you'll be able to buy box sets of all three Ocean's films on DVD (SRP $51.82), as well as both Blu-ray and HD-DVD (SRP $79.98 each).

The studio has also set Studio 60 on the Sunset Strip: The Complete Series for DVD release on 10/16 (SRP $59.98). The 6-disc set will contain all 22 episodes of the series in anamorphic widescreen with Dolby Digital 5.1 audio. Extras will include audio commentary on the pilot episode with creator Aaron Sorkin and executive producer Thomas Schlamme and the In Depth: The Evolution of Studio 60 documentary.

In addition, Warner has announced Wayans Family Presents: A Boo Crew Christmas Special for 10/9, HBO's Flight of the Conchords: The Complete First Season, The Best of Blu-Ray: Action (includes Alexander Revisited: The Unrated Final Cut, Blood Diamond, Troy: The Unrated Director's Cut and Wyatt Earp), The Best of Blu-Ray: Family (includes The Ant Bully, Happy Feet, Scooby-Doo: The Movie and Tim Burton's Corpse Bride), The Best of HD-DVD: Action (same as the BD) and The Best of HD-DVD: Family (same as the BD) all for 11/6, HBO's Bill Maher: The Decider for 11/20, HBO's The Wire: The Complete Fourth Season for 12/4, National Geographic's Inside the Living Body and HBO's Big Love: The Complete Second Season for 12/11, Adult Swim's Aqua Teen Hunger Force: Volume 5 for 12/18, and both the BBC's Lovejoy: The Complete Season Two and MI-5: Volume 5 for 1/8/08.

Not to be outdone, Paramount and DreamWorks have announced the DVD and HD-DVD release of Michael Bay's Transformers on 10/16. The DVD will be available in single-disc and Two-Disc Special Edition versions. The single disc edition (SRP ($29.99) will include the film in anamorphic widescreen video and Dolby Digital 5.1 audio, along with audio commentary by Bay. The Two-Disc Special Edition (SRP $36.99) will add 4 Our World featurettes (The Story Sparks, Human Allies, I Fight Giant Robots and Battleground), 4 Their War featurettes (Rise of the Robots, Autobots Roll Out, Decepticons Strike and Inside the AllSpark), 1 More Than Meets the Eye featurette (From Script to Sand: The SKORPONOK Desert Attack), a gallery of concept sketches and theatrical trailers. The 2-disc HD-DVD version (SRP $39.99) will include 1080p video, Dolby Digital Plus 5.1 audio (strangely, there's no lossless audio option - perhaps due to disc space issues?), an HDi Heads-Up Display viewing mode (offering trivia and PiP video during the film), a number of other HDi web-enabled features (including Transformation Mode, Health Meter, Weapon Mode, Robot Bio, In Scene Indicator, Text Ticker and GPS), and a Transformers Tech Inspector that gives you a closer look at ILM's 3-D models of the robots.

Paramount has also announced a 2-disc Titanic: 10th Anniversary Edition DVD for 11/20 (details TBA) and The Mod Squad: The First Season, Volume One for release on 12/18.

Finally, here's something for you Beatles fans... Apple Corps Ltd. has just announced that EMI will be releasing Help! on DVD as a 2-disc set on 10/30. The film has been restored and will feature a newly-created Dolby Digital 5.1 soundtrack. Extras will include the 30-minute The Beatles in Help! documentary, a missing scene featuring Wendy Richard, the The Restoration of Help! and Memories of Help! featurettes, 3 trailers for the film and 1965 U.S. radio spots for the film hidden as Easter eggs in the menus. This 2-disc set will be released in TWO different versions - a standard Digipack version and a special deluxe boxed set. From the press release, the deluxe box will contain: "a reproduction of Richard Lester's original annotated script, 8 lobby cards and a poster, plus a 60-page book with rarely seen photographs and production notes from the movie. Both the deluxe book and the standard booklet feature an introduction by Richard Lester and an appreciation by Martin Scorsese."

We'll leave you today with more new cover art. Here's Fox's Live Free and Die Hard on both DVD and Blu-ray as well as 24: Season Six on DVD, EMI's Help!, Paramount and DreamWorks' 2-disc Transformers: Special Edition and Buena Vista's Lost: The Complete Third Season - The Unexplored Experience on Blu-ray (12/11)...




We'll be back tomorrow to run down all the high-def format and hardware news from CEDIA (and more). Stay tuned...

9/1/07

Okay... how about a rare Saturday post to wrap up all the end of the week news, and kick off the Labor Day holiday weekend right?

First, 20th Century Fox has announced the DVD release of Boston Legal: Season Three on 9/18 and My Name Is Earl: Season Two on 9/25, as well as Civic Duty on 10/2.

Also coming from the studio on 10/2 is the DVD and Blu-ray Disc release of Fantastic Four: Rise of the Silver Surfer. A single-disc DVD edition will be available for SRP $29.98. A 2-disc Power Cosmic Edition will street for $34.98. The single-disc DVD will feature both anamorphic widescreen and full frame video, Dolby Digital 5.1 audio, audio commentary by director Tim Story and a second commentary by producer Avi Arad, writer Don Payne and film editors Peter S. Elliot and William Hoy. The 2-disc edition will add deleted and extended scenes with optional commentary, the Family Bonds: The Making of Fantastic Four: Rise of the Silver Surfer documentary, 5 featurettes (Sentinel of the Spaceways: Comic Book Origins of The Silver Surfer, The FantastiCar: State of the Art, The Power Cosmic, Character Design with Spectral Motion and Scoring the Fantastic), an interactive FantastiCar concept images gallery, additional image galleries and theatrical trailers. A DVD 2-pack of both Fantastic Four films will also be available for $34.98. Finally, the 50GB Blu-ray edition (SRP $39.98) will feature AVC coded video, DTS 5.1 HD Lossless and Dolby Digital 5.1 audio, the BD-Java Saving the World One Question at a Time trivia game and Who Dares Defy Galactus? multi-player strategy game, D-Box compatibility, several high-definition trailers and all the standard DVD features (listed above) as well.

We've confirmed that Warner's Eyes Wide Shut: Two-Disc Special Edition (10/23) will include BOTH the R and Unrated version of the film via seamless branching. You'll also get the 3-part Channel Four documentary The Last Movie: Stanley Kubrick and Eyes Wide Shut, the Lost Kubrick: The Unfinished Films of Stanley Kubrick featurette, an interview gallery featuring Steven Spielberg, Nicole Kidman and Tom Cruise, theatrical trailers and TV spots, and Kubrick's 1998 D.G.A. D.W. Griffith Award acceptance speech. You'll find the newly-released cover art below.

Sony will release Jackie Chan's The Myth on DVD on 10/30. A 27-disc The King of Queens: The Complete Series box set will follow on 11/6 (SRP $232.95).

Buena Vista has announced the features you'll find on the Lost: The Complete Third Season - The Unexplored Experience on Blu-ray Disc (due 12/11). You'll get 26 episodes on 6 discs, 5 featurettes (The World of the Others, Lost Flashbacks, Lost in a Day, Lost on Location and The Lost Book Club), deleted scenes, bloopers, episode audio commentaries and exclusive BD-Java features that promise to "change the way viewers watch the show." The studio has also set The Invisible for release on DVD and Blu-ray Disc on 10/16.

Universal has announced the DVD and DVD/HD-DVD Combo release of Talk to Me on 10/30. The 2-disc Amazing Journey: The Story of The Who has been set for 11/6, and will contain 2 hours of bonus footage, 5.1 audio, all-new interviews with Roger Daltrey, Pete Townshend, U2's The Edge, Sting and Eddie Vedder, a booklet and tons of rare concert footage. The studio has announced a Hot Fuzz: 3-Disc Collector's Edition for 11/27 (SRP $34.98), containing over 5 hours of bonus material including commentary, documentaries and more. Finally, you TV fans will be pleased to learn that the studio has set the 8-disc Saturday Night Live: The Complete Second Season for release on 12/4 (SRP $69.98). All 24 episodes will be included complete with all musical performances.

And at the IFA conference this last week, it was apparently revealed that Showtime's The Tudors will be released on Blu-ray later this year.

Also at IFA, Acer announced that it's joining the Blu-ray Disc Association, potentially bringing with it PC manufacturer Gateway (Acer is planning to purchase the company).

A number of Blu-ray Disc manufacturers announced new players coming later this year, including Philips, Sharp, Samsung and Sony. You can read more about all of these BD-related announcements from IFA here at Twice, and also from our friends over at Blu-ray.com.

The HD-DVD camp was busy at IFA too, promoting their format's lower cost and advanced interactive features. You can read more here at Twice.

Around the Net today, Home Media Retailing has a good story coming in next week's issue (click here for the digital version), in which it's revealed that a Warner Home Video study of 1,000 consumers shows that 48% are indifferent to both high-def formats. 31% said that high price was keeping them away and a further 27% said that they would wait for an end to the format war before adopting either format.

Also today, according to Video Business, retailers like Wal-Mart, Ultimate Electronics and Bjorn's have little or no plans to carry that recently-announced $199 Chinese HD-DVD player, set to be sold in North America this 4th quarter by Venturer Electronics. Wal-Mart's decision is especially surprising. From the story:

"We have no plans to have Venturer in our stores this holiday," Wal-Mart merchandise spokeswoman Melissa O'Brien said. "We will continue to offer the best values on popular HD DVD and Blu-ray products from leading consumer brands like Sony, Samsung, Philips, Toshiba and RCA."

Finally today, around the site we've updated some of the DVD and high-def format stats we track (above).

We'll leave you with more new cover art. Here's Warner's Eyes Wide Shut: Two-Disc Special Edition, Fox's Amazing Grace (11/13) and Fantastic Four: Rise of the Silver Surfer, Sony's Seinfeld: The Complete Series (11/6), Universal's Battlestar Galactica: Season One on HD-DVD (12/4) and Paramount's Star Trek: The Original Series - Season One on HD-DVD (11/20)...




We're going to take a couple extras days off to spend the holiday with family and friends, so we'll be back on Thursday with all the latest DVD and high-def news from next week's CEDIA expo and more. So until then, have a great and safe Labor Day holiday, and stay tuned!

8/31/07

Boy, has it ever been crazy around here these last few days. Sorry about the lack of an update yesterday, but we've been taking meetings this week, the phone's been ringing off the hook, the IFA conference is in full swing and with the holiday coming up on Monday, there's just no end to the amount of stuff happening behind-the-scenes here at The Bits right now.

Anyway, we'll be back later this evening to catch you all up on the latest news and announcements and round out the week, but first we've got a number of new high-def reviews for you today.

Our own Greg Suarez has checked in with reviews of Sony's Ghost Rider: Extended Cut and Ultraviolet on Blu-ray Disc. And we've just begun a new partnership with our friends over a The Home Theater Forum, in which we'll be carrying a number high-def reviews by HTF staffers here at The Bits. Today you'll find reviews of 300 on both Blu-ray and HD-DVD, as well as Heroes: Season 1 and TMNT on HD-DVD. At the end of each review you'll find a link to the official discussion thread for the title at The HTF. We hope you enjoy them!

Back more later, so stay tuned...

8/29/07

Okay, we've got a few things for you today. First, here's a look at the three options you can choose from for the cover art of Universal's forthcoming Battlestar Galactica: Razor DVD (due 12/4). Click on the covers (or here) to find the Sci-Fi.com page where you can pick the art you prefer.




Also today, our friends over at TV Shows on DVD have posted detailed specs for Lucasfilm and Paramount's forthcoming The Young Indiana Jones Chronicles: Volume One DVD box set (due 10/23). It looks as if Volume Two will be released on 12/18, with Volume Three set to follow next Spring. Each set will feature scores of historical featurettes and additional extras. The DVDs have been in production since at least 2002 - Lucasfilm producer Rick McCallum first mentioned that DVD work was underway on the series way back during (if memory serves) the press junket for the release of the Episode II DVD.

In other news, we're looking into a couple of disc issues that readers are reporting today. The first involve MGM's new RoboCop: 20th Anniversary Edition DVD. The Canadian version apparently includes two Disc Ones, even though one of the discs is labeled Disc Two. The U.S. version apparently isn't letting people select the DTS, audio commentary or French language audio. The other issue we're looking into today are reports of misframing problems on Buena Vista's Blu-ray version of Pirates of the Caribbean: The Curse of the Black Pearl (compared to the DVD version). We've got inquiries into both studios, and anything we learn we'll post here at The Bits.

And on the high-def front today, there's a couple things to report as well. First, Video Business is reporting that the first cheap Chinese HD-DVD player will street sometime in the 4th quarter of this year under the "Venturer Electronics" brand. The SHD7000 is expected to retail for $199. You can visit Venturer's actual product page here. The low price is certainly going to be attractive to some, but one wonders how people who purchase this player will react later upon realizing that only a handful of studios support the format and that Disney (among other studios) isn't one of them. Other questions remain, including what kind of quality and reliability the SHD7000 will deliver at that price, which is almost certainly at or below cost of manufacturing, as well as what kind of customer support will be offered.

Also this afternoon, it seems that Studio Canal may be going format neutral. At the very least, it seems that there's at least one forthcoming exception to their previous HD-DVD only stance. According to the French DVD website DVDRama, the studio has announced Les Bronzés L'integrale for release on both HD-DVD and Blu-ray Disc. You can use the Bablefish site to translate the original page from French to English.

Meanwhile, 20th Century Fox has forwarded us details on the specs for their forthcoming Master and Commander: The Far Side of the World Blu-ray Disc (due 10/2 - SRP $39.98 - see the cover art we posted yesterday). The 50GB release will feature AVC compression and English DTS HD 5.1 Lossless Master Audio, as well as French and Spanish Dolby Digital 5.1 (with subtitles in English, Spanish, French, Cantonese and Korean). Extras will include a historical and geographic trivia track as well as a pop-up geographic map (via BD-Java - that lets you pinpoint the HMS Surprise's location throughout the film), personal scene selections, a search content option, the film's theatrical trailer (in 1080), 5 deleted scenes (standard def) and D-Box compatibility.

Finally today, Kevin and Amir... this one's for you: We've been doing a lot of digging into the events of last week, and have learned from reliable sources some of what went on behind the scenes. And our friends up in Microsoft's HD-DVD Evangelism office will be pleased to know that we believe we've corrborated some of what they've been saying in recent days: The $150 million payment to Paramount and DreamWorks didn't come from Microsoft. It apparently came from Toshiba and/or the HD-DVD camp collectively. We've been told that Microsoft was involved in the process, but they didn't cut the checks. We've also learned from sources inside the studio and elsewhere around the industry that, despite Paramount and DreamWorks' decision, Warner remains committed to retaining their format neutral stance, and will continue to support BOTH Blu-ray and HD-DVD for the foreseeable future. So we wanted to post this, as we believe it's reliable (the most reliable information we've been able to obtain so far from independent sources) and it clarifies the situation a little bit. 'Nuff said.

Stay tuned...

8/28/07

So did anyone else join me in staying up until the wee hours to watch last night's lunar eclipse? What can I say... that's just the way I roll. It was pretty cool and it was a clear night so the view was spectacular. Sarah offered to let me use her new telephoto lens, so though I'm no photographer, I gave it the old college try. Here's the best I came up with. Not bad, all things considered...




Anyway, we've got a little bit more announcement news for you today, along with some very cool new cover art.

First up though, our own Adam Jahnke has posted a new installment of Jahnke's Electric Theatre in which he waxes philosophic on Once, The King of Kong: A Fistful of Quarters, Poultrygeist: Night of the Chicken Dead and... yes... The Nanny Diaries. And if that eclectic bouillabaisse of cinematic styles doesn't pretty much exactly sum up why we love Jahnke's work here at The Bits, I don't know what does. Enjoy!

Also, we have a new Rumor Mill post that you fans of the classic The Man from U.N.C.L.E. TV series are gonna get excited over. Don't miss it.

And we've kicked off THREE new Contests today, giving each of you the chance to win Universal's Friday Night Lights: The First Season, MGM's Red Dawn: Collector's Edition and Warner's Elvis: The Hollywood Collection box set and Elvis: That's the Way It Is - Special Edition on DVD. The contests will run until Noon (Pacific) on Sunday, September 9th. Click on the links to get started and good luck!

Now then... that release news: Fox and MGM have set Irwin Allen's The Lost World, MGM Midnight Movies: Witchfinder General (aka Conqueror Worm), Scarecrows, The Burning, The Fly: Classic Collection (includes The Fly [1958], The Return of the Fly [1959], The Curse of the Fly [1965] and a bonus disc) and a 3-disc Vincent Price Gift Set: Volume One (includes Abominable Dr. Phibes, Dr. Phibes Rides Again, Tales of Terror, Twice Told Tales, Theater of Blood and Madhouse) for release on 9/11. A Misery: Collector's Edition is due on 10/2, followed by That 70s Show: Season 7 on 10/16 and Home of the Brave on 10/23.

In terms of new releases, Fox will debut Amazing Grace on 11/13 (SRP $29.98) in anamorphic widescreen with Dolby Digital 5.1 audio. Extras will include audio commentary with director Michael Apted and Ioan Grufudd, the How Sweet the Sound: The Story of Amazing Grace documentary, the Finding Freedom featurette, interactive discussion tools and study guides, and Chris Tomlin's Amazing Grace music video.

And on the Blu-ray front, Fox has set 28 Weeks Later for release on 10/9. The 50GB disc will feature AVC compression and DTS HD Lossless audio. Extras will include audio commentary by director/co-writer Juan Carlos Fresnadillo and co-writer Rowan Joffe, 2 deleted scenes with optional commentary, the Code Red: The Making of 28 Weeks Later documentary, 3 featurettes (Blood of the Infected, A Bloody Battlefield: Designing and Destroying District One and 28 Days Later: The Aftermath) and the film's teaser and theatrical trailers. In addition, Fox will release The Hills Have Eyes 2 on 10/23. The 25GB disc will feature MPEG-2 compression and DTS HD Lossless audio. Extras will include an alternate ending, 4 deleted scenes, a gag reel, the Fox Movie Channel Presents: Life After Film School with Wes Craven program, 3 featurettes (Mutant Attacks, Birth of a Graphic Novel and Exploring the Hills: The Making of The Hills Have Eyes 2) and the film's teaser and theatrical trailers.

Meanwhile, Universal has set Tremors for release on HD-DVD on 11/20.

Speaking of Universal, and this is frustrating because we'd CONFIRMED it with the studio yesterday, but today they retracted it: Battlestar Galactica: Razor will NOT be released on HD-DVD on 12/4. The release is DVD only. The studio's press release had indicated HD-DVD and DVD, and we called the studio to confirm that for yesterday's post, but today they're saying DVD only. Sorry about that, folks.

We have details on the extras you can expect to find on Disney and Pixar's Ratatouille (due 11/6). Look for deleted scenes with introduction by director Brad Bird, the Your Friend the Rat and Lifted animated short films, the Fine Food and Film: A Conversation with Brad Bird and Thomas Keller featurette and more. The Blu-ray Disc will add the BD-Java Gusteau's Gourmet Game and the Cine-Explore interactive feature that lets you customize your behind-the-scenes experience complete with animation briefings, deletes shots and more.

Finally, here's a story we're posting just for the hell of it. It seems that when the next space shuttle blasts off to deliver a new module to the International Space Station, they'll be carrying a little piece of the Star Wars universe as well... the original prop lightsaber used by Mark Hamill in the 1977 film. Lucasfilm has apparently paid NASA to fly it as part of a commemoration of the 30th Anniversary of the original film. It's apparently being flown to the Johnson Space Center in Houston today amid much fanfare. Sure, that doesn't really have anything to do with DVD, but geek news like that you just can't ignore. You can read more here at Space.com.

We'll leave you with more newly-released cover art today. Here's a look at Sony's Monty Python's Life of Brian: The Immaculate Edition (11/6), and Fox's The Lost World and The Fly: Classic Collection on DVD, along with Disney's Pixar Short Film Collection (11/6) and Fox's 28 Days Later (10/9) and Master and Commander: The Far Side of the World (10/2) on Blu-ray. Everything with a link is now available for preorder on Amazon.com...




We've also got a look at the packaging for Fox's The X-Files: The Complete Collector's Edition box set (due 11/6)...




We've got some new reviews coming for tomorrow, including a couple from our own Greg Suarez. So stay tuned...

8/27/07

Okay, we've got some announcement news for you, and then some more format war follow-up...

First, Sony has set Monty Python's Life of Brian: The Immaculate Edition for release on DVD and Blu-ray on 11/6. The 2-disc DVD (SLP $24.96) will include digitally remastered anamorphic widescreen video, The Readthrough - a newly-discovered feature-length recording of the first full-length read through of the film's script, a newly-created hour-long documentary entitled The Story of Brian, 5 digitally-enhanced deleted scenes, newly-illustrated radio spots promoting the theatrical release and two audio commentaries, one with Terry Gilliam, Eric Idle and Terry Jones, and another with John Cleese and Michael Palin. The Blu-ray will include all of the above on a single disc (SLP $28.95). Good news indeed. "No one... is to stone ANYONE... until I blow this whistle!"

Also today, our friends over at TV Shows on DVD have posted some early details about Fox's upcoming release of The Simpsons: The Movie (though keep in mind the title has not officially been announced yet). Full frame and widescreen versions will reportedly be available on DVD on 12/18 (SRP $29.98), with both Dolby Digital 5.1 and DTS ES audio. Extras are expected to include an animators commentary with David Silverman, Mike B. Anderson, Steven Dean Moore and Rich Moore, a producers commentary with James L. Brooks, Matt Groening, Richard Sakai, Al Jean, Mike Scully, David Silverman, Dan Castellaneta and Yeardley Smith, 5 deleted scenes and 5 promos for the film. A Blu-ray Disc version is expected to be announced in the weeks ahead as well.

Speaking of Fox, the studio has informed us that its Pathfinder: Unrated Edition will street on Blu-ray on 11/20 (the DVD version is already available). The 50GB release will include 5.1 DTS HD Lossless Master Audio, audio commentary by director Marcus Nispel, The Path Revealed trivia track, 7 deleted scenes with optional director's commentary and 5 featurettes (The Beginning, The Design, The Build, The Shoot, The Stunts and Clancy Brown: Cult Hero).

Meanwhile, Genius Products has announced Mikael Håfström's 1408 for release on 10/2 in 3 versions... a single-disc theatrical version of the film in anamorphic widescreen and full frame, and a 2-disc Extended Director's Cut.

DreamWorks and Paramount have set a Casshern: Director's Cut for release on DVD on 10/16.

Allumination has set Michael Moore Hates America for release on 10/16.

Also, Buena Vista has set High School Musical 2 for release on Blu-ray on 12/11.

And Universal has finally announced the extras that you'll find on their DVD release of the Battlestar Galactica: Razor - Unrated Extended Edition on 12/4. You'll get deleted scenes, audio commentary with series creators David Eick and Ron Moore, 2 featurettes (The Look of Battlestar Galactica and My Favorite Episode So Far), and an exclusive preview of Season Four, which starts on Sci-Fi in January. The good news for you HD-DVD fans is that Razor will be released on that format as well on 12/4 (no details on extras are available yet, but it's reasonable to assume that at least all of the DVD extras will be included). Also, for ALL you Battlestar fans, if you visit this link at Sci-Fi.com starting tomorrow, you'll be able to vote for your favorite of three different DVD covers for the release. The one selected by the majority of fans will be used on 12/4. [Editor's Note: We mistakenly posted the street date for Razor as 11/4 earlier - it's actually 12/4. Just FYI.]

Around the site today, we've updated a lot of the format data we track (above). We've also posted another major update of the Upcoming DVD Cover Art section, with lots of new DVD, Blu-ray and HD-DVD cover scans and Amazon purchase links. Do check it out (and thanks for your continued support of our Amazon links - we appreciate it).

Now for that dreaded format war follow-up. There's more news and commentary from around the Net...

First, Warner Home Video has announced that Dorinda Marticorena will be replacing Steve Nickerson as Senior Vice President, Worldwide High Definition for the studio. You'll find that news here at Business Wire. In a story over at Video Business, there was this comment which should reassure fans of both Blu-ray Disc and HD-DVD: "WHV spokesman Jim Noonan said that Nickerson's leaving doesn't suggest an upcoming shift in the studio's high-def operations."

If anyone doubted our argument that the news last week about Paramount and DreamWorks would confuse consumers even further, have a look at this: In a poll over at IMDB, fully 63% of the 16,000+ people who responded chose: "I have neither system and this makes [me] want to enter HD media even less. I'll stick with DVD for the time being." The next largest group, 10%, said they had no opinion and another 9% didn't know what HD-DVD and Blu-ray Disc were. So that's 82% of people who either just don't care, don't know about the formats or are turned off by the format war. Nice.

Next up, Scott Hettrick has posted another column over at Hollywood in High-Def, in which he reveals that Amir Majidimehr, the head of Microsoft's consumer media technology group, is categorically denying that Microsoft had anything to do with the $150 million Paramount and DreamWorks accepted to go HD-DVD exclusive. The only problem with that claim is: Where did the money come from? If not Microsoft, then who? There are few observers who believe Toshiba's pockets are that deep, or that they'd be willing to throw that much money at the studios, especially given that the company has had to scale down their sales expectations for HD-DVD hardware for 2007. Keep in mind, this is on top of the compensation Universal has received from the HD-DVD camp in exchange for releasing titles on the format. The prevailing wisdom that we're hearing from around the industry, though Amir and Microsoft's Kevin Collins would likely deny it, is that Microsoft is contributing funds either to Toshiba or to an HD-DVD war chest, from which Universal, Paramount and DreamWorks have benefitted. Even Home Media editor T.K. Arnold has posted a column recently in which he wonders if Microsoft isn't deliberately funding a continuation of the format war for its own reasons. The point of all is, is that whether you're an HD-DVD fan, a Blu-ray fan or you just don't care, questions about Microsoft's involvement in recent developments are definitely being asked by many of those who actually work in the industry.

Also today, Robert Smith has posted a column over at TV Predictions in which he suggests that Paramount's decision to abandon Blu-ray after taking a format neutral position for so long is anti-consumer. I don't know that I completely agree with him, but his argument is that BECAUSE the studio had already taken a format neutral position, their switch represents a betrayal of all those consumers who may have purchased Blu-ray for the promise of Paramount titles. Here is what I DO know: A LOT of people are really pissed off about Paramount's decision. I was up at a private industry event on Friday night, and I got an earful from a well-known DVD producer friend who shall, for the moment, remain unnamed. He'd already preordered Paramount's Tom Clancy Collection and other titles on Blu-ray, and was eagerly looking forward to the Star Trek films being released on the format at some point. Then last week he gets an e-mail from Amazon saying that all his Paramount Blu-rays have been cancelled, and he was livid. So he vented to me. And boy, I'll tell you... he's not alone.

Anyway, here's a bit of new cover art for you... Fox's Day Watch: Unrated (10/30) DVD and Pathfinder: Unrated Blu-ray and Sony's The Three Stooges Collection: Volume One - 1934-1936 (also due 10/30)...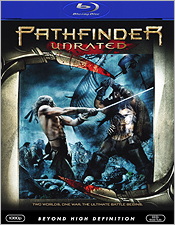 Stay tuned...

8/24/07

There's some breaking news this morning. According to T.K. Arnold over at The Hollywood Reporter, Warner Home Video's Steve Nickerson is stepping down from his post as Senior VP of Worldwide High-Definition. Steve's been with Warner for a long time. He came to the studio from Toshiba, where he was a big part of the launch of the DVD format back in the day. As such, he was also a strong backer of HD-DVD. His replacement has yet to be announced, and it remains to be seen whether his departure will have any affect on Warner's format neutral stance in the format war. We actually just saw Steve a few weeks ago at our EMA event in Vegas (you can see pictures here). He's a good guy and we wish him well in his future endeavors.

In other news today, Disney has issued the final cover art for the newly announced Ratatouille Blu-ray (street date 11/6). We've also got a look for you at the inside of the packaging for Sony's Close Encounters of the Third Kind: 30th Anniversary Edition on Blu-ray (due 10/2)...




In other high-definition news today, Universal has removed Cat People from its September - Wave 2 slate of HD-DVD releases (due to street on 9/25). We assume the title will be re-announced at a later date.

On the standard DVD front, Sony has set the 4-disc Seinfield: Season Nine for release on 11/6 (SRP $49.95). This is the final season of the show to be released on DVD. Given that, Sony has also announced Seinfield: The Complete Series, a massive 32-disc whopper that clocks in at SRP $283.95, for release that same day. In a very cool touch, however, you don't just get the DVDs in the box set. The Complete Series release also comes with a special souvenir - the 226-page The Official Coffee Table Book - which was originally a gift to the cast and crew when the show wrapped. It's been recreated for fans just for this box set. You can read more on the set here at Video Business.

Also, there seems to be a problem with copies of MGM's new 2-disc RoboCop: 20th Anniversary Edition released in Canada - the one that comes in steelbook packaging. Many readers there are reporting that their packages contain two copies of Disc One of the set, even though one of them is labeled Disc One and the other Disc Two. Clearly, it's some kind of replication error. We'll look into it and try to see what's up.

Finally today, don't forget that Disney's Magical Blu-ray Tour comes to The O.C. this weekend, with a 3-day stop at South Coast Plaza in Costa Mesa, CA. The tour will be on hand tomorrow through Sunday. Since it's right in our backyard, we'll probably stop in at some point over the weekend to check it all out. If you're of the mind to drop by, maybe we'll see you there.

Barring any other breaking news (or follow-up), that's it for another crazy week. Hope you all have a great weekend. And we'd like to send our best wishes out to all those of you in the Midwest who are attempting to dry out after all the storms, rain and flooding. Keep safe.

Stay tuned...

8/23/07

And the answer is... today's Daily Double!

Oops... hang on. Before we get started on the regular topic du jour, our own Adam Jahnke has posted a new edition of Jahnke's Electric Theatre, featuring reviews of Superbad and Rocket Science (both now playing on the big screen), as well as several other titles on DVD. I have to say, Superbad is pretty funny. Matt and I caught it a couple nights ago. If the trailers make you chuckle, it's worth your time.

Okay... as expected, there's still more reaction around the Net today to Monday's high-def news. Here's a sampling:

First, Ars Technica has posted a story on the reasons, both financial and technical, for Paramount's decision to back HD-DVD exclusively. The piece features more comments by Paramount tech chief Alan Bell. It'd be a lot easier to take Bell's argument (which, whether you agree with it or not, is reasonable) on face value if you didn't know that the studio had also gotten $50 mil in inducements for their switch.

Let's see... there's a story at the Wall Street Journal on the situation today.

Also, Video Business and Home Media have both posted pieces in which Jim Bottoms, CEO of the media research firm Understanding & Solutions, said his firm still believes that Blu-ray Disc is the better bet in this format war, in spite of the Paramount and DreamWorks move. Here's a quote from Bottoms:

"The Paramount announcement has weakened the Blu-ray offerings. Having said that, it hasn't strengthened HD DVD. The weight of the industry is still very much behind Blu-ray. We do not believe, overall, it's going to change the outcome of the battle."

The argument is this: While Paramount and DreamWorks' move took some titles away from the Blu-ray Disc camp, it didn't really add many titles to the HD-DVD camp - Paramount was already releasing HD-DVD titles and it remains to be seen how many DreamWorks titles will be released. The aggressive new slate announced by Fox and MGM, neither of which had yet really released many titles on Blu-ray, changes the equation even further. And when you consider market share, a look at total consumer spending through mid 2007 reveals a similar picture (click here for the data). Broken down by studio, and even splitting Warner's market share between the two camps, Blu-ray still commands roughly 70% of both the sales and rental markets. Scott Hettrick examines the business side of all this even further here at Hollywood in High-Def today.

These factors, among others, make us comfortable in continuing to recommend Blu-ray as the best choice to those of you who might be interested in getting into high-def before Christmas. Again, our primary reason for doing so isn't because we like Blu-ray better. We've been pretty consistent about our reasoning since the beginning of all this mess. It's simply because we believe one format is better for everyone than two. So we're going to back the format we feel has the best chance of winning in the long term. If the numbers strongly favored HD-DVD, we'd be backing HD-DVD. As it stands, Blu-ray is still our choice.

Speaking of which... we had a few people yesterday e-mail us to say, "How dare you encourage people to e-mail the studios! Well, I guess you got what you wanted: I'm an HD-DVD supporter and I e-mailed them all to say so!" As if that's some kind of in-you-face thing. Actually, it's exactly what we wanted to happen. We WANT supporters of both sides to weigh in - to let the studios know what they think. And you know what? We've quietly polled some of our contacts at the studios, and have learned that the feedback they've been hearing from consumers seems to be about 50/50 in support of each format. And that's pretty much our point.

Think about that for a moment. Isn't that exactly the worst situation the industry could have? A 50/50 split of enthusiasts? I can think of one word that describes that: FUBAR. And as we've said before, those that haven't already taken sides are even more unsure of what to do now than they were before. We've been getting a LOT of e-mails from people who feel like throwing their hands up, and giving up on high-def discs altogether. This e-mail from Bits reader Troy T. is pretty typical of them:

"Just thought I'd throw in my own two cents...

When the Close Encounters announcement came down the pike a while back, I finally decided to take the plunge and get myself a Blu-Ray player. I went out and did enough research to figure out what I wanted. I specifically didn't buy several high-profile DVDs (300, Planet Earth, Disturbia) because I didn't want to turn around and re-buy them on Blu-Ray in a few weeks. The only thing I was waiting for was a bonus check from work so that I could pay cash for the new player and a nice stack of discs to get started with. Thank goodness that bonus check came a couple of weeks later than it was supposed to!

Because honestly, now I'm sort of just done with both formats. It's ludicrous that we've had to endure this format war in the first place, and it's even more ludicrous that it's now going to continue on even longer.

The funny thing is, the format war had already made me slow down in my standard DVD purchases from 2-3 per week every Tuesday to maybe 2 per month in a really exciting release month. And now that I'm sort of out of the rhythm of that steady buying, I doubt I'll ever go back. So not only have the studios lost a potentially great customer for one of their hi-def formats, they've effectively pushed that same customer out of the standard DVD marketplace.

I wonder how many others out there feel the same way?"

The answer, Troy, is a LOT of people. You're not alone. But Blu-ray is definitely still the smarter bet, in our opinion.

Moving on, you'll also find a couple interesting stories on the Paramount news at Variety, including this one on the initial announcement and this one on director Michael Bay's curious reaction and... well, re-reaction.

Speaking of Bay, Scott Hettrick, on another post over at Hollywood in High-Def hints at the possibility that Bay may have gotten spiffed by Paramount to change his tune. It's not exactly Hollywood's best kept secret that Bay's been similarly gifted by the studios in the past to smooth ruffled feathers. No matter what happened, his public comments have certainly been interesting. So too has been the reaction online. One of the more amusing (and *ahem* irreverent) takes on Bay's comments appears here at FilmDrunk. As for our us, well... we think Michael says it best: "I drank the Kool-Aid hook, line and sinker." First the grape... and then the cherry.




You know, with all the money flying around Hollywood this week, it's getting hard to avoid the paper cuts. Ironically, given the prevailing opinion of some of the online HD-DVD fans these days, we seem to be the only guys NOT taking money for our opinions. Hell, maybe we're missing out.

Speaking of which, Todd just called. He'd like it known that if someone pays him a cool million, he'll flip like a cheap throw rug. I wouldn't thumb my nose at a trip to the space station. And Adam wants a pony.

Stay tuned... ;)

8/22/07

What a strange business, Hollywood.

We've been reading more e-mails over the last couple of days, and checking out the discussions on various newsgroups around the Net. And I'll tell you... we've never seen the home theater community so divided, nor the discussion so venomous. Blu-ray fans are pissed about Paramount and DreamWorks' decision to drop Blu-ray, HD-DVD fans are pissed that Blu-ray fans are pissed. Industry insiders are pissed that they have to deal with this mess at all. And the vast majority of people - if they even care (and most have issued a collective yawn over this) - are pissed off that there's a format war at all. The common thread in all this, in case you hadn't noticed, is that most of the people who actually care about high-def discs are pissed.

Plenty of folks, including (but certainly not limited to) those us here at The Bits, saw this coming. Before this format war began, a lot of people spoke out and tried to prevent it. But egos and money speak far louder than words these days in Hollywood. Perhaps that should come as no surprise. What does come as a surprise is that ANYONE in Hollywood actually still thinks that continuing this format war into 2008 and beyond is good for either consumers or the industry as a whole. We've seen all the arguments. Arguments like: "The sales numbers for both formats are so low that this is anyone's game." Except one wonders if those numbers would still be so low if the industry had offered just one format instead of two. "The format war has been great for consumers. Look how it's driving player prices down." It has. But a player at ANY price is only as good as the movies you can play on it. And the movies are now firmly split between two camps. "Both formats can coexist just fine." Except that in the entire history of the home video market, that has NEVER happened before. Experience has shown that when there are two nearly identical formats, which try to offer basically the same thing, either one wins or both languish and die.

Did no one in positions of power in Hollywood learn what was arguably the most important lesson from the success of DVD? If you offer consumers a SINGLE format, and give them significant improvements in quality, value and convenience in the process, they'll buy it. It's pretty simple stuff. DVD was a no-brainer for people. It was an easy sell. The proof of all this, of course, is that DVD went on to become the most successful packaged media format of all time. Now... here we are, ten years later, on the advent of a future that is almost certainly going to be dominated - whether it happens sooner or later - by some form of downloading. The Hollywood studios have basically one last opportunity to sell their products on a disc-based, packaged media video format. And they're blowing it. 18 months? Seriously? If this format war drags on a defacto stalemate for another 18 months, this thing is over and there isn't going to be a winner. At least not one that comes on a disc.

A lot of people have asked us if we still believe Blu-ray is the better choice, with the better chance to win, and for the most part we do. But there's no doubt that some of Blu-ray's building momentum was lost yesterday. On the other hand, Blu-ray still has an edge in market share in terms of the Hollywood studios. But if Warner goes exclusive for HD-DVD too, Hollywood will basically be evenly split. In that event, while it's certainly a coup for HD-DVD, there's little chance of either format winning. Those who think these formats can coexist will get the chance to learn whether that's true or not. But retailers know - and many of them have been telling us - that you basically get two holiday shopping seasons to sell consumers on a media format. Maybe three. After that, it's yesterday's news. And 18 months takes us well beyond that for both Blu-ray and HD-DVD.

So what do you guys think? Holographic multi-media cubes or downloads?

Here's an interesting twist in this mess today. After some fast and amazing damage control by Paramount, Michael Bay has recanted yesterday's comments on his website. Here's what he's now posted according to Video Business:

"Last night at dinner I was having dinner with three Blu-ray owners, they were pissed about no Transformers Blu-ray and I drank the Kool-Aid hook, line and sinker. So at 1:30 in the morning I posted -- nothing good ever comes out of early a.m. posts mind you -- I overreacted. I heard where Paramount is coming from and the future of HD and players that will be close to the $200 mark which is the magic number. I like what I heard. "As a director, I'm all about people seeing films in the best quality possible, and I saw and heard first-hand people upset about a corporate decision. "So today I saw 300 on HD, it rocks! "So I think I might be back on to do Transformers 2!"

By the way, we've heard back from both Warner and New Line this morning. Warner says their format neutral stance remains in place... at least for now ("We haven't announced anything otherwise," was the basic quote). And New Line said they still plan to support both high-def formats, and will contact us when they have news about titles and dates.

The last 48 hours have certainly been tumultuous. What the next 48 hours might bring is anyone's guess.

Alright, let's talk standard DVD for a while, 'cause there's some major release news to report today.

First up, Paramount has revealed the cover art (see below) for Lucasfilm's The Adventures of Young Indiana Jones: Volume One, a 12-disc set that's set to street on 10/23. Additional details will follow. Paramount has also announced the DVD release of A Mighty Heart on 10/16, as well as a number new TVD titles for December, including 7th Heaven: The Fifth Season, Diagnosis Murder: The Third Season, The Best of Crank Yankers and Touched by an Angel: The Fourth Season, Volume Two on 12/4, and Beverly Hills: 90210 - The Third Season, Frasier: The Tenth Season, Gomer Pyle U.S.M.C.: The Third Season on 12/11.

Meanwhile, Fox has announced an 18-disc Family Guy: Freakin' Party Pack on 10/30 (SRP $149.98), which includes the Volume 1-5 collections, the Stewie Griffin: The Untold Story DVD and a bonus disc containing deleted scenes, interviews and featurettes not available anywhere else. You'll also get a ping-pong set including paddles, a net and balls and 100 themed poker chips with two sets of playing cards. All of it comes in a carrying case. Fox has also announced Fraggle Rock: The Complete Third Season for release on 9/11 (SRP $49.98), complete with 24 episodes, a look behind the scenes at the puppet design process and over 50 original sketches from co-creator Michael Frith.

Shout! Factory will be releasing a 6-disc My So-Called Life: The Complete Series box set on 10/30 (SRP $69.99). You'll get all 19 episodes, a bonus disc of extras and a 40-page book.

Sony has announced Kaw, a Hostel: Special Edition and Hostel: Part II on 10/23.

And Universal has set a Pride & Prejudice: 2-Disc Deluxe Gift Set for release on 11/13.

Finally, Criterion has revealed their November DVD slate, and it's an exciting one. Watch for a 7-disc box set of Werner Fassbinder's 15-hour Berlin Alexanderplatz (Cat #411), Ingmar Bergman's Sawdust and Tinsel (#412), Akira Kurosawa's Drunken Angel (#413) and a new 2-disc reissue of Alfred Hitchcock's The Lady Vanishes (#3). Currently, they're all set for release on 11/20.

We'll leave you with new cover art, including Paramount's The Adventures of Young Indiana Jones: Volume One, the four Criterion titles we just mentioned and MGM's Species: Collector's Edition (10/2)...




Stay tuned...

(LATE UPDATE - 8/21/07 - 2:30 PM PDT)

We've got a couple of interesting updates for you this afternoon...

First, in the aftermath of yesterday's DreamWorks news, our old friend Pete Bracke over at High-Def Digest contacted longtime Spielberg spokesman and DreamWorks marketing exec Marvin Levy, who had this to say:

"It was important to Steven that if any of his films were to be released [first] on high-definition, that it would be a classic," said Levy. "Steven is big supporter of Blu-ray, and chose 'Close Encounters' to be the first of his films on either format."

Levy further confirmed that none of Spielberg's films are included in the deal Paramount and DreamWorks made with Microsoft. This means that Spielberg is reserving the right to release his films on either high-def format, at his choosing. The fact remains, however, that the only release he has thus far authorized is CE3K, a Sony Blu-ray exclusive. Click on the link (above) for the complete story.

Columnist Nikki Finke over at the L.A. Weekly has also posted a new piece today following up on Steven Spielberg and Michael Bay's position in all this. This is just getting more and more interesting. One begins to wonder if Paramount and DreamWorks have unwittingly grabbed a tiger by the tail...

You know, we're always hearing "Let the consumer decide!" when it comes to this format war. So once again, we'd like to suggest that all you consumers out there weigh in with your opinions, whatever they may be. Make your thoughts on Paramount and DreamWorks' decision yesterday known to them. Tell the studios that you think this format war is ridiculous. While you're at it, some of you might want to express to Warner your desire for them to stay format neutral in the face of pressure (and money) from Microsoft, which we hear is definitely being applied today at the studio. You can find contact information for all these studios on our Links page. Remember, though, that whether you call or send postcards and letters (the latter is always much more effective than e-mail), we would STRONGLY suggest that you be polite and professional at all times. Let the consumer decide indeed.

Stay tuned...

(LATE UPDATE - 8/21/07 - 12:45 PM PDT)

So... wow. Where to begin? As we figured it might, the craziness continues today with more new announcements and reaction to yesterday's Paramount/DreamWorks news.

First up, Buena Vista has fired back with another new Blu-ray Disc exclusive announcement. As expected, Disney and Pixar's Ratatouille will be released on DVD and Blu-ray Disc on 11/6, the same day as the already announced Cars. It also publicly confirmed that Lost: Season Three would be coming to Blu-ray Disc on 12/11. You can read more here at Video Business.

Now for a fascinating bit of reaction. It seems that Transformers director Michael Bay was none to pleased about the announcement that his film would only be released on the HD-DVD format. In fact, he went so far as to make this comment on his website's forums (requires registration):

"I want people to see my movies in the best formats possible. For them to deny people who have Blu-ray sucks! They were progressive by having two formats. No Transformers 2 for me!

Bay"

We'd heard heard that Michael was a Blu-ray supporter and that he wasn't happy when he found out about Paramount's decision, but we didn't expect that he'd make that displeasure public so quickly. But there you go. FYI, his site has been understandably getting a lot of traffic this morning, so if you're trying to log in, you might want to be patient. Something tells me you're going to start seeing Michael Bay movies on Blu-ray from OTHER studios announced soon...

Speaking of Bay's reaction and Paramount's decision, it seems Michael wasn't alone. A lot of people have been e-mailing the studio in the last 24 hours as you can imagine. Some of the replies to those e-mails have been posted on various discussion forums around the Net. We don't want to get anyone in trouble over there, so we're not going to post the full text of any of them. But among the factoids that have been gleaned from these replies are:

1) All of the previously announced Blu-ray titles that had been completed and were being prepared for release have been cancelled. This includes Blades of Glory, NEXT, Face/Off, Top Gun and the Tom Clancy Collection. Indeed, we've checked the studio's press site and discovered that all of these titles, which had still been listed there for Blu-ray release as late as yesterday, have been removed from the site.

2) The terms of the deal with Microsoft SEEMS to be 18 months, however the deal contains "a lot of clauses which would allow us to release certain films on Blu-ray during this time period." In other words, the studio seems to be leaving itself plenty of wiggle room.

And here's the most interesting bit. This is taken from one of the actual e-mails...

3) "Actually we were as surprised as everyone else today when we found out about the agreement with HD-DVD. We found out when we arrived to work today and there had been no rumors at all circulating. I think it surprised us all because we have been working on Blu-ray versions of films such Blades, Face/Off, Top Gun, etc. through the end of last week. I can tell you we have received many calls today from various talent and certain directors voicing their displeasure with this decision. We even had VP's of other studios calling in from what I hear. I have never seen this type of atmosphere in the office."

In other words, Michael Bay probably wasn't alone among filmmakers that work with Paramount in being pissed off about this news. And it seems that the whole decision was concocted without telling ANYONE actually working on the discs. It was as much a surprise to the studio's employees as it was to the rest of the industry.

Here's another interesting story I've heard through the grapevine. People at Paramount who were working on the HD-DVD and Blu-ray Disc versions of Blades of Glory had actually been planning to do some kind of elaborate interactive feature on both versions... except that they discovered the 30GB HD-DVD disc didn't have enough space to do what they'd wanted to do. So they were planning to include this feature exclusively on the Blu-ray version. Now, of course, that's all changed. But this casts some doubt on comments made by Paramount's chief technology officer, Alan Bell, in the media since yesterday, to the effect that the studio considered HD-DVD the superior format from a technical standpoint. Apparently someone didn't tell that to the guys actually WORKING with these formats at the studio.

Speaking of the media, there's another new story on all this over at the New York Times today that's worth a read. It CONFIRMS that Paramount and DreamWorks are being paid $150 million in cash and incentives to go HD-DVD exclusive.

Also today, reaction from the Blu-ray camp is as you'd expect. Here's what Pioneer's Andy Parsons (also the Chairman of the Blu-ray Disc Association's U.S. Promotions Committee) had to say late yesterday:

"The decision seems oddly timed given Blu-ray's tremendous momentum both with consumers and with retail.  Blu-ray title sales continue to outpace HD-DVD sales by nearly a 2 to 1 margin, and major retailers have expressed a strong preference for Blu-ray.  Moreover, the price delta between HD DVD and Blu-ray players has been greatly reduced in the past few months, a trend that is on its way to eliminating any perceived cost advantage the HD DVD format has claimed to have.  Under these circumstances, we can only imagine what could have enticed Paramount to walk away from a format that is clearly selling significantly more software than the HD-DVD format."

And Scott Hettrick has weighed in with an editorial over at Hollywood in High-Def as well.

Finally this morning, Paul Sweeting has posted an editorial of his own over at Content Agenda that I wanted to comment on. Paul's a good guy, and he's been doing this a long time, but he and I disagree on the format war. And I think his editorial focuses too much on the business side of the equation, and not nearly enough on the consumers who are actually the point of all this. All too often, Hollywood makes decisions like these in a vacuum, having little contact with (and real world knowledge of - I'm not talking about focus groups and spreadsheets) their actual consumers. That was never more clear than in the comments of Paramount Home Entertainment president Kelly Avery in Paul's piece:

"Our real focus is on, how do we jump start this thing? This is still a very small market and we need to start moving some movies and some players. Ultimately, we don't want this to become a niche business. We need to get consumers to step up to high-def DVD players and we think this fourth quarter presents an opportunity to do that."

Ironically, Paramount's actions will almost certainly have the OPPOSITE effect going into the holiday season. Why? Because just at a time when it started to appear as if the outcome of this format war was getting clearer, Paramount and DreamWorks' decision has just made the choice even more confusing for all those consumers who were paying attention but were still sitting on the sidelines. It's certainly pissed off all those consumers who had already chosen Blu-ray, and who were already purchasing Paramount Blu-ray titles (not to mention those looking forward to announced titles like Top Gun). Furthermore, anyone who hasn't been paying attention, but starts considering high-def over the next 18 months, is going to be even MORE confused. They're going to see Hollywood studio support for high-def split between two camps. They're going to be bombarded by ads for two formats. They're going to see Cars and Pirates 3 in one color case, and Shrek 3 and Transformers in another, and they're going to ask themselves, "WTF should I do?!" And what they're going to do is stick with DVD. This format war isn't just about cost deltas. It's about public perception. And when it comes to public perception of high-def discs, this industry has just screwed itself but good.

One last note today: We've been getting a LOT of readers asking us how they can weigh in with their opinions on Paramount and DreamWorks' decision yesterday, and also express their desire for Warner to stay format neutral in the face of pressure (and money) from Microsoft. You can find contact information for all these studios on our Links page. Whether you call or send postcards and letters (the latter is always much more effective than e-mail, which can easily be ignored), we would strongly suggest that you be polite and professional at all times. Enough said.

Stay tuned...

(EARLY UPDATE - 8/21/07 - 12:01 AM PDT)

Morning, folks. We've got Barrie Maxwell's latest edition of Classic Coming Attractions for you today, in which Barrie runs down all the latest classic film announcement news. The delay in getting this column posted was mine, not Barrie's (despite his big move), so my apologies to Barrie and all those of you who have been waiting for it. Now that my computer situation is resolved, I'm finally getting back up to speed around here. If only the high-def situation would settle down just a little bit...

On that front, as you might expect, there are lots of media reports this morning on yesterday's Paramount and DreamWorks news, including one at MSNBC, one here at the USA Today and another here at the L.A. Times. More reports will no doubt follow. The general concensus so far seems to be that the choice for consumers watching this format war just got a LOT more confusing.

Also this morning, Russell Hammond has once again updated the Upcoming DVD Cover Art section with lots more new DVD, Blu-ray and HD-DVD cover scans. So do check them out if you're of the mind.

We'd be shocked if there wasn't more breaking news of SOME kind today so, as always, stay tuned...
More Archived Posts
Back to Current Posts