-Newsletter est. 4/15/97-
-Website est. 12/15/97-



page updated: 8/22/07
My Two Cents
(Archived Posts 8/20/07 - 8/9/07)
Back to Previous Archives
Back to Current Posts
(LATE UPDATE - 8/20/07 - 4:15 PM PDT)

Boy... crazy day today, huh? As you may have noticed, the site's been up and down today because of all the traffic, but it should level out again soon. Nothing like a format war to liven things up around here.

"A house divided against itself cannot stand," goes the quote. Abraham Lincoln, of course, was talking about the fledgling United States back in 1858, but his words apply surprisingly well today, when reflecting upon the current state of the high-definition format war.

On that note, we've got tons of follow-up e-mails and phone calls out this afternoon to the all various studios and industry observers associated with said format war. And I'll tell you, based on some of the conversations we've had today (both on and off-the-record) with insiders in both camps and in between, when it comes to this morning's high-def news, there's a LOT more going on behind-the-scenes than meets the eye. You have NO idea. If you think the situation is as cut and dried as the press releases (or Harry's entertaining latest post over at AICN, not to mention the 'talk backs' that follow it) would make it seem, you're kidding yourself. Hollywood's on fire right now - at least the studio home video portion of it. And the retailers... and the manufacturers...

Like it or not, things are going to get VERY interesting in the next few days and in the weeks ahead. You're going to see a lot of reports on all this in the media, like this one at the Wall Street Journal, in which DreamWorks chief Jeffrey Katzenberg basically acknowledges that his company received financial incentives to go HD-DVD exclusive - incentives which included "both cash payments and soft incentives such as marketing promotions" according to the story.

By the way, a quick side comment here. A number of HD-DVD fans have e-mailed us to cry fowl over our issue with Microsoft offering financial incentives to studios to go HD-DVD only, when (they say) Sony must surely be doing the same thing on the Blu-ray Disc side. Here's the difference, and it's why we continue to flag it: Sony pumping money to various studios and parties to promote Blu-ray Disc make logical sense to us. Toshiba doing the same thing to promote HD-DVD, that makes logical sense too. Sony was involved in creating Blu-ray and has a financial stake in it. Likewise, Toshiba created HD-DVD and has a financial stake there. Where does Microsoft's interests lie? Microsoft did not create HD-DVD. Until not so very long ago (prior to these formats coming to market), as they themselves acknowledge, they actually supported both formats. So why are they putting so much money into HD-DVD now? Not only are they putting money into HD-DVD, they're basically the only party that's keeping the format alive. Left to their own financial means, we find it hard to believe that Toshiba would be able to keep pricing its hardware so low - especially given the fact that they've had to adjust their sales projections for the format downward in recent months. And without the "financial incentives" offered by Microsoft, would ANY of the HD-DVD exclusive studios still be HD-DVD exclusive? We doubt it. So what does Microsoft have to gain from all this? That's the question that keeps sticking in our minds. By making these deals with the studios, aren't they getting exclusive access to new high-def transfers that they'll be able to turn around and offer on Xbox Live - transfers that they themselves are encoding in VC-1 for the studios at a discounted rate or even for free? And as we've said many times now, doesn't Microsoft's download service stand to gain if this format war continues long enough to discourage most consumers from adopting high-def discs at all? That's the difference between Sony and Microsoft - Sony is heavily supporting their own format for obvious reasons. Microsoft is heavily supporting someone else's format for their own reasons, some of which are obvious (VC-1, HDi) and some not so much.

Anyway, there are going to be lots of quotes from studio suits about all this high-def news in the next few days and weeks. Some of it will true and some will be bullshit, and much of it will be a combination both. Yeah, I know... a lot of you guys are as sick of reading about this format war as we are of writing about it. But you can bet there will be reaction to (and even fallout from) today's announcements, and lots more testy exchanges in the media between the two camps, and we're right in the thick of it. So watch this space, folks.

In the meantime, we'll be back with Barrie's latest Classic Coming Attractions column in time for your morning coffee. So stay tuned...

(LATE UPDATE - 8/20/07 - 1:45 PM PDT)

Well... we told you this was coming. No doubt "encouraged" by today's HD-DVD news, Fox and MGM have just officially announced their return to the Blu-ray game with 29 exclusive titles, including MAJOR catalog films, all of which are reportedly coming before the end of 2007. These include Live Free of Die Hard, Fantastic Four: Rise of the Silver Surfer, Independence Day, Master and Commander: The Far Side of the World, The Day After Tomorrow and the TV show Prison Break. Here's the press release:

FOX AND MGM UNVEIL BLU-RAY EXCLUSIVE WORLDWIDE RELEASES FOR 2007

29 Titles To Debut Packed With Soon-to-Be-Announced BD Industry 'Firsts' - PLUS – Fox's First TV Title 'PRISON BREAK'

FANTASTIC FOUR: RISE OF THE SILVER SURFER And LIVE FREE OR DIE HARD and Other Titles To Debut Day-and-Date on BD/DVD

-- Blu-ray Out-Performing HD DVD 2-to-1 At Retail in 2007 --

LOS ANGELES – August 20, 2007 -- Twentieth Century Fox Home Entertainment (TCFHE) today unveiled an aggressive global Blu-ray Disc release strategy including 29 new release and "must-have" catalog titles that runs through the end of the 2007 calendar year. Among the many highlights of the impressive worldwide slate are six day & date BD/DVD new theatrical releases from Fox including the $241 million box-office family favorite FANTASTIC FOUR: RISE OF THE SILVER SURFER and the $335 million box-office action powerhouse LIVE FREE OR DIE HARD, four day & date BD/DVD (U.S. only) new theatrical releases from MGM, 19 'must-have on BD' films from the two studios' libraries, Fox's first-ever TV release on BD – PRISON BREAK -- and Fox's intention to release at least one state-of-the-art title per month featuring numerous BD 'firsts.'

The only high-definition packaged media universally supported by the film, music, gaming and computer industries, BD is the #1 selling high-definition packaged media. In fact, on a worldwide basis, BD is averaging nearly 70% market-share per week of all high definition titles sold this year and, in the U.S., it is out-performing HD DVD by a margin of 115%.

"Given that Blu-ray has consistently outsold HD DVD all year, and this is the case for any titles released by any studio in both formats, we believe that the time is right for us to accelerate our activities and help convert the nearly 60 million high definition households worldwide into Blu-ray households," noted Mike Dunn, President Worldwide, Twentieth Century Fox Home Entertainment. "By the end of this calendar year there will be expansive availability of technically vibrant releases featuring never-before-seen, advanced BD-J interactivity as well as a broad offering of playback devices at attractive prices that will prove to any doubting consumers once and for all that Blu-ray is the only way."

"And as Blu-ray continues to grows stronger, it has become survival of the fittest which is most apparent in the retail landscape where our eager and growing global Blu-ray consumer base has caused a shift that is forcing the allocation of more space to the format that is selling the best. And, in many recent instances of note, top retailers in North America are choosing to promote the Blu-ray format exclusively in their stores," continued Dunn.

Among the BD industry 'firsts' from the Studios' upcoming global release slate are picture in picture capability, enhanced viewing and surround sound modes with the ability to mix and match picture and sound, direct access to in-movie features through one of the four colored buttons on the BD remote and the most technically vibrant BD-Java interactive multi-player challenge and trivia games to date. The Studios' slate also takes full advantage of BD-Live functionality this fourth quarter. Internet-connected consumers will enjoy unique, title specific "web-enabled" interactive features and games and "web-exclusive" downloadable content with the ability to connect and interact with other broadband BD users worldwide.

Cementing its leadership position within the industry - previous BD releases NIGHT AT THE MUSEUM and X-MEN THE LAST STAND rank in the Top 20 best-sellers - the vast majority of the Studios' upcoming global slate will be presented on 50 GB dual-layer discs with advanced BD-J interactivity and feature numerous Blu-ray exclusive high-definition bonus materials that further realizes BD's incredible potential. Consumers will enjoy the superior video and audio elements of AVC encoding and Lossless HD audio on many of the coming titles as well as enhanced and integrated menus, personal scene selections, search indexing, trivia and other title specific games and high-definition bonus materials.

Upcoming BD-J features exclusive to priority catalogue titles from Fox and MGM include an "Alien Scavenger Hunt" (INDEPENDENCE DAY) that challenges players to earn points by identifying the correct number of aliens in select scenes to unlock additional bonus features; a "Global Warming Trivia Track" (THE DAY AFTER TOMORROW) where users must correctly answer questions about global warming to keep the Earth's temperature from rising and being destroyed; and a historical and geographical pop-up map (MASTER & COMMANDER) that tracks the location of Captain "Lucky" Jack Aubrey and his enemies.

Listed below are the upcoming Blu-ray Disc releases from Fox and MGM excluding new theatrical day & date BD/DVD releases. EXACT TITLE CONFIGURATIONS TO FOLLOW IN THE COMING WEEKS.

Master and Commander - 10/2 (U.S. release) - October (International)
The Day After Tomorrow - 10/2 (U.S. release) - November (International)
From Hell - 10/9 (U.S. release) - October (International)
The Fly (1986) - 10/9 (U.S. release) - Q1 2008 (International)
Edward Scissorhands - 10/9 (U.S. release) - November (International)
28 Days Later - 10/9 (U.S. release) - North America Only
RoboCop (MGM) - 10/9 (U.S. release) - December (International)
Amityville Horror (1979 - MGM) - 10/2 (U.S. release) - North America Only
Battle of Britain (MGM) - 11/6 (U.S. release) - Q1 2008 (International)
A Bridge Too Far (MGM) - 11/6 (U.S. release) - Q1 2008 (International)
I, Robot - 11/13 (U.S. release) - Q1 2008 (International)
Die Hard - November (U.S. release) - November (International)
Die Hard 2: Die Harder - November (U.S. release) - November (International)
Die Hard with a Vengeance - November (U.S. release) - November (International)
Red Dawn (MGM) - November (U.S. release) - Q1 2008 (International)
Mr. and Mrs. Smith - 12/4 (U.S. release) - December (International)
Independence Day - 12/4 (U.S. release) - December (International)
Cast Away - 12/4 (U.S. release) - North America Only
Ronin (MGM) - 12/4 (U.S. release) - December (International)

Holey moley... is this format war heating up or what!? By the way, be sure to read the editorial we just posted on all this, and what the likely outcome of this format may be if things continue as they are now.

Stay tuned...

(LATE UPDATE - 8/20/07 - 1:30 PM PDT)

Predictably, home theater discussion forums around the Net are ablaze today with anger, glee, frustration and confusion in light of the high-def news this morning. You'll probably see some of that spill over into mainstream media reports in the days ahead. Also predictably, we've gotten a flurry of e-mails today in response to the news about Paramount and DreamWorks going HD-DVD exclusive. As in thousands of them. They fall into four basic categories: 1) Industry insiders and observers who can't seem to figure out what the studios are smoking by continuing to fuel this format war, 2) Blu-ray Disc supporters who are notably pissed about this news, 3) HD-DVD supporters whose communications can be best summed up with the words "Nanner nanner nanner!", and 4) People who haven't made a choice yet, who have been considering getting into high-def but who are now more confused than ever.

The vast majority of the e-mails fall into categories 1, 2 and 4, not surprisingly. As for the guys in camp 3, while a few of them have been civil this morning, most of them still refuse to believe that we're not "getting paid by Sony to shill for Blu-ray!" We're not, as we've said before, and anyone who tells you otherwise is lying. But that doesn't seem to convince them otherwise. By the way, for those few who keep e-mailing to accuse us of biased reporting, we counter with this: The Digital Bits is ENTIRELY an editorial website. Every review, every column including THIS one, is our opinion. We report the DVD and high-def news, offer all the key details, and then we give our opinion on them. That's what we've done for TEN YEARS now. Seriously, my daily column - the one you're reading right now - is called MY TWO CENTS. Has been since 1997. How hard is that to understand? When we aggressively supported DVD over Circuit City's pay-per-view Divx format back in 1998, it was because in our opinion that format war was bad and DVD was the better choice for the majority of consumers. When we fought to lobby all the studios to support DVD's anamorphic widescreen capabilities, it was because because we knew that it would benefit both consumers and the video quality of DVDs in the long term (and it has). And now, we've picked Blu-ray over HD-DVD because again, we believe this format war is bad and that Blu-ray is the better choice for a majority of consumers. But that doesn't sit well for those who prefer HD-DVD, so NOW they're calling us biased. Hey pot? This is the kettle. You're black.

All well. What can you do except continue to say what you believe? There's never a dull moment around here, I'll tell you that much.

You know, here at The Bits, we've been operating over the last couple of years with one guiding principal, and that is this: We believe this format war is a TERRIBLE thing for consumers and for this industry. And we believe that if it continues much longer, consumers will turn away from high-def discs in droves. Something similar has happened before, and recently too, in the form of the high-definition audio format war between DVD-Audio and SACD. The comparison is a fair one, because like high-resolution audio discs, which faced stiff competition from the traditional CD and emerging downloading services, high-definition video discs must cope with the dominance of existing DVD and also new video downloading services like iTunes and Xbox Live. Like Blu-ray and HD-DVD, both DVD-Audio and SACD were great formats, which delivered basically the same thing: a much-higher quality A/V experience for enthusiasts. But because they basically only appealed to enthusiasts... and because there were two formats to choose from for at least three years... neither format gained much traction with average consumers, who preferred the lower price and convenience of downloads to higher priced discs, or who were simply happy enough with the existing CD. Both formats have since gone silently into that good night. Believe us when we say this if nothing else: The same fate awaits both HD-DVD and Blu-ray Disc if this format war goes on for another year or more.

We chose Blu-ray Disc recently because we believed, and we continue to believe, that of the two formats, Blu-ray Disc was the only one that really stood any chance of outright winning this format war. And that's really the only reason for our decision. If the shoes were reversed, and HD-DVD had the same advantages of support Blu-ray had, we've be arguing in favor of HD-DVD. But all of our years of experience covering this business tell us that offering a single format is the ONLY way high-def discs will ever stand a chance of competing with DVD in the minds and hearts of the vast majority of consumers. The ONLY way.

Microsoft, on the other hand, has told me point blank that they believe both Blu-ray and HD-DVD can live together happily. "Look at the videogame industry," I've been told by Microsoft reps, "You've got three platforms all of which do just fine. Why can't Blu-ray and HD-DVD coexist? Combo players are the answer!" We get a number of high-end home theater enthusiasts who say the same thing: "All the studios should just go format neutral, and people should all buy combo players! That's the answer!"

The problem with this thinking is that the home video industry isn't like the videogame industry. For all the money the videogame industry makes, and it makes a lot, only a small percentage of people out there are gamers. Only a VERY small percentage of all consumers are interested in (and go to the effort of) buying multiple game platforms and lots of games titles on each platform. However, when it comes to the home video industry, people DO NOT WANT MULTIPLE PLATFORMS. They just don't. People want to just be able buy a movie on disc, bring it home and know that it's going to work on their player. That's what DVD game them. They don't want to have to choose between multiple formats, especially when making that choice involves significantly more money and spending time that they don't have to research their decision. People don't want to risk money on maybe buying the wrong format. They want a single obvious choice, that offers great quality, value and ease of use. And with so many titles being released, retailers don't want to have to stock the same title in multiple formats either. That's why some retailers have begun to favor Blu-ray in recent weeks. They want to offer a single choice for their customers, because that's what their customers want.

So what Paramount and DreamWorks have just done, with Microsoft's financial urging, is to confuse consumers and retailers even more than they already are. The reality is, whether you like what they've done or not, you can't really blame Microsoft. All's fair in love and war... especially in a format war. Just like Sony, they want to keep their format going. But with Blu-ray Disc software since the start of the year outselling HD-DVD by a 2 or 3 to 1 margin, and with Blu-ray hardware sales pulling even with much cheaper HD-DVD hardware in recent weeks, the outcome of this thing was just starting to become clear to a lot of people. And aside from countering some of that momentum for Blu-ray, what this news today does is make the situation a lot more cloudy for consumers. All so that Paramount and DreamWorks can bank a few extras millions in the short term. But if this situation continues much longer, ALL of the studios will lose a lot more than that in the long term. High-def discs will do well within a tiny niche market of enthusiasts who can afford to buy two different pieces of hardware or combo players, but everyone else will shrug and stop caring. And that will be a terrible shame, because if that's the outcome, even the enthusiasts will ultimately lose.

Who really wins in that situation? Certainly not consumers or retailers. Not the Hollywood studios. But anyone who's trying to sell their movie download service will be smiling all the way to the bank, you can bet on that.

You know what really disturbs us? The possibility of the situation getting even more muddy than it already is now. Here's how it could happen: Spurred by this Paramount and DreamWorks news, Fox and MGM will almost certainly get back into the Blu-ray Disc business fast and in a big way. So the Blu-ray camp will come back with all guns blazing. And then there's this: I'd be shocked if Microsoft wasn't trying to use their money and influence (not to mention the momentum gained by the Paramount and DreamWorks move) to try and convince Warner (along with New Line and HBO) to go HD-DVD exclusive as well. So it's not inconceivable that we could find ourselves in a position in which Disney, MGM, Fox, Sony and Lionsgate are in one camp, and Universal, Paramount, DreamWorks and Warner (plus maybe New Line) are in the other. You know what that would mean? Quagmire. And disaster for the home video industry... and high-def movie fans everywhere.

You think it can't happen? You think the industry can't possibly be THAT shortsighted? Uh-huh. Would anyone other than Microsoft care to wager on that?

Stay tuned...

(EARLY UPDATE - 8/20/07 - 11 AM PDT)

Well... the high-definition format war just got more confusing for consumers, and you can thank the hubris of the folks at Microsoft for it. Their HD-DVD format (because I'm sorry, can anyone really say it still belongs to Toshiba at this point?) badly needed a shot in the arm going into the holiday season, and just got it thanks to suitcases full of cash from the Microsoft camp. You ready for this? Here it is:

Microsoft has paid DreamWorks and Paramount so much money that they've decided to join Universal in the HD-DVD exclusive camp. No kidding.

None of the participants in this deal are willing to openly disclose just how MUCH money was exchanged, but the L.A. Weekly is reporting (based in part on a confidential report from media analysis firm Pali Research) that it was in the neighborhood of $50 million in "promotional considerations" for Paramount and $100 million for DreamWorks. I'm sure they're also getting lots of free or discounted VC-1 compression and HDi authoring services, along with prime placement on Xbox Live too. Is anyone else just disgusted by Microsoft's naked, shameless financial influence in this thing? That Hollywood is a greedy place should be obvious to all by now, if it wasn't already. The HD-DVD format can't win any other way than for Microsoft to PAY studios off to stay exclusive. And then they have the balls to claim the Blu-ray Disc camp is involved in antitrust violations. Wow.

I'll tell you, this doesn't change our opinion of the eventual outcome of the format war too much. HD-DVD is never going to win this thing. The best it can hope for at this rate, even with the paid involvment of Paramount and DreamWorks, is to stay in the game. But let's face it... if money has to be involved for HD-DVD to stay in the game, that says a lot right there. And while Paramount and DreamWorks will no doubt earn lots of scorn from the rest of the industry, and they'll each make a couple extra movies with Microsoft's money while their stockholders giggle with glee, eventually business realities will dictate that they'll change their tune again. Unless Microsoft pays them more money still. One wonders if Universal just got another paycheck too.

By the way, if anyone doubts that Microsoft's real reason for involving itself in all this is to slow the adoption of next-generation discs by confusing consumers with a continuing format war so their own Xbox Live service can continue to grow and dominate the movie and TV downloading market, you'd better think twice. Because you can bet that while they'll continue to play at supporting HD-DVD, lots of those brand, spanking new high-def transfers will end up on Xbox Live too and for a lot cheaper than the discs.

Anyway, here's the official press release from Paramount and DreamWorks. And I'd like to call your attention to the final sentence in this press release, because I think it tells you EVERYTHING you need to know about this announcement:

Paramount and DreamWorks Animation Each Declare Exclusive Support for HD DVD

Movies Distributed by Paramount Home Entertainment Including Paramount Pictures, DreamWorks Animation SKG, DreamWorks Pictures, Paramount Vantage, Nickelodeon Movies and MTV Films to be Released Exclusively in HD DVD Exclusive Program To Begin with Release of "Blades of Glory," Followed by "Transformers" and "Shrek the Third," Films Representing More Than $1.5 Billion in Combined Worldwide Box Office

LOS ANGELES, Aug. 20 /PRNewswire-FirstCall/ -- Paramount Pictures, a unit of Viacom Inc. (NYSE: VIA and VIA.B) and DreamWorks Animation SKG (NYSE: DWA), each announced today that they will exclusively support the next-generation HD DVD format on a worldwide basis. The exclusive HD DVD commitment will include all movies distributed by Paramount Pictures, DreamWorks Pictures, Paramount Vantage, Nickelodeon Movies and MTV Films, as well as movies from DreamWorks Animation, which are distributed exclusively by Paramount Home Entertainment.

The companies each said that the decision to distribute exclusively in the HD DVD format resulted from an extensive evaluation of current market offerings, which confirmed the clear benefits of HD DVD, particularly its market-ready technology and lower manufacturing costs Paramount Home Entertainment will launch its exclusive HD DVD program with the release of the blockbuster comedy hit "Blades of Glory" on August 28th and follow with two of the biggest grossing movies of the year "Transformers" and "Shrek the Third". These three titles alone represent more than $1.5 billion in box office ticket sales worldwide.

"The combination of Paramount and DreamWorks Animation brings a critical mass of current box office hits to consumers with a line-up of live action and animated films that are perfect for HD DVD," stated Brad Grey, Chairman and CEO of Paramount Pictures, which is currently the leading studio in domestic box office. "Part of our vision is to aggressively extend our movies beyond the theater, and deliver the quality and features that appeal to our audience. I believe HD DVD is not only the affordable high quality choice for consumers, but also the smart choice for Paramount."

"We decided to release "Shrek the Third" and other DreamWorks Animation titles exclusively on HD DVD because we believe it is the best format to bring high quality home entertainment to a key segment of our audience -- families," stated DreamWorks Animation CEO, Jeffrey Katzenberg. "We believe the combination of this year's low-priced HD DVD players and the commitment to release a significant number of hit titles in the fall makes HD DVD the best way to view movies at home."

With the rapid increase of HD TV screens in households, and audiences wanting to enjoy the total entertainment experience, HD DVD has emerged as the most affordable way for consumers to watch their movies in high definition. In addition to pristine quality, HD DVD also offers consumers the chance to personalize the movie-watching experience, to interact with their movies and even to connect with a community of other fans.

Paramount Home Entertainment will issue new releases day and date as well as catalog titles exclusively on HD DVD. Today's announcement does not include films directed by Steven Spielberg as his films are not exclusive to either format.

How do you like THEM apples? Not exclusive to either format? Spielberg's decided his first film on high-def disc is coming out on Blu-ray Disc only. So what do Paramount and DreamWorks do? They bury that little factoid at the tail end of their press release. Nice. Okay, Spielberg hasn't made any kind of public statements to that effect that he supports only Blu-ray. But why then isn't Universal able to release any of his films on HD-DVD? Why then does this deal with Paramount and DreamWorks NOT include Spielberg titles? Because Spielberg wouldn't allow it is the only thing that makes any sense.

I'll tell you what... I'm betting Fox and MGM start making Blu-ray Disc exclusive announcements and soon. You just watch. The reaction will be swift...

Stay tuned...

(LATE UPDATE - 8/17/07 - 1:45 PM PDT)

We've got a little bit more news today and some follow-ups...

First, Universal has announced the DVD release of the 2-hour The Munsters' Scary Little Christmas movie on 11/6.

Also, we have more details on Warner's Poltergeist: 25th Anniversary Edition. It's a single disc (SRP $19.97) with anamorphic widescreen video and audio in Dolby Digital 1.0 mono, 2.0 stereo and 5.1 surround. Extras will include the They Are Here: The Real World of Poltergeist Revealed documentary in 2 parts (Science of the Spirits and Communing with the Dead) as well as the theatrical trailer. That's a shame - we'd have expected a lot more from this disc in terms of special features. And again, there is no high-def version currently planned.

There have been reports around the Net in the last few days that Disney's The Jungle Book was being released on Blu-ray Disc later this year, day and date with the DVD. This is NOT the case, and I've confirmed that with senior BVHE personnel. As was announced early this morning, Sleeping Beauty will be the first Platinum animated title on Blu-ray in 2008. Just FYI.

Those of you waiting for Sony's The Company to arrive on DVD and Blu-ray Disc on 10/23 should know that this is the TNT miniseries (based on the novel by Robert Littell) produced by Ridley and Tony Scott, and starring Michael Keaton, Chris O'Donnell and Alfred Molina... not the dancing film. We're just saying. By the way, we hear the high-def cinematography on this thing is pretty spectacular (the miniseries was shot in HD).

Publisher T.K. Arnold has a great editorial column coming in the new issue of Home Media magazine. It's not up yet on their website, but you can find it on page 2 of the digital version (which is online now). The title: Is Microsoft Fueling the Format War? It's recommended reading. We've been saying the same thing for months now.

Finally, there's a major milestone passing today and it seems to be flying almost completely under the radar. But it changed all our lives and it's worth remembering. 25 years ago today, on August 17th, 1982, the very first Compact Discs rolled off a production line in Germany. The CD format was jointly developed by Royal Philips Electronics and Sony. And what did those first discs contain? For the record, Richard Strauss' Alpine Symphony. The discs would be primitive sounding by today's standards, but they changed everything. And the vast majority of music fans still get their music on CD even now, all these years later in 2007. Not too bad for a little 5" disc. You can read more on this here at Live Science. I can vividly remember buying my first CDs back in the day... Dire Straits: Brothers in Arms and The Police: Greatest Hits. Nice.

Now I'm off to get this new computer up to speed. For the record, I've chosen an HP Pavilion Media Center m8150n... complete with Intel Core 2 Quad (Q6600) processor, 3GB of PC2-5300 DDR2 SD RAM memory, TONS of hard drive space and more. And the first order of business is to yank the HD-DVD drive out of this thing and replace it either with an LG combo format drive, or just drop in a Blu-ray drive. Well, okay... that's the SECOND order of business after getting it up and running so I can start getting more work done with it.

We'll leave you today with new cover art. Here's your first look at the just-approved art for Disney's Pirates of the Caribbean: At World's End on Blu-ray (12/4), along with Warner's Poltergeist: 25th Anniversary Edition DVD and revised art for Sony's Close Encounters of the Third Kind: 30th Anniversary Ultimate Edition on Blu-ray (11/13)...




And here's a better look at that Pirates cover...




Don't forget to check out Disney's Blu-ray mall tour this weekend at the Westfield Topanga if you're in the area. Tell 'em The Bits sent you!

Have a great weekend and we'll see you back here on Monday. Stay tuned...

(EARLY UPDATE - 8/17/07 - 12:01 AM PDT)

If you're a fan of Disney films, and you're considering upgrading to Blu-ray Disc, here's some news that's going to make it easier for you to pull the trigger. On the eve of the launch of their nationwide Blu-ray mall tour (which kicks off later today at the Westfield Topanga shopping center in Canoga Park, CA), Buena Vista has just announced that they're planning to release Sleeping Beauty, Finding Nemo, The Chronicles of Narnia: The Lion, The Witch and The Wardrobe and National Treasure on Blu-ray in 2008. The Chronicles of Narnia will arrive first in the spring, followed by National Treasure next summer. Disney and Pixar's Finding Nemo and the Platinum animated Sleeping Beauty will debut in the fall. Both Narnia and Nemo will offer full motion picture-in-picture bonus features, and National Treasure will be the studio's first BD-Live title. Sleeping Beauty will reportedly include a virtual castle and multi-player activities, also via BD-Live. Here's the official press release:

"FOR IMMEDIATE RELEASE

WALT DISNEY STUDIOS HOME ENTERTAINMENT
ANNOUNCES THE DISNEY BLU-RAY TITLE WAVE COMING 2008

Burbank, CA, August 17, 2007 - Walt Disney Studios Home Entertainment (WDSHE) announced today more innovations in the Blu-ray format with the Studio's first ever Platinum Blu-ray release, the Studio's first BD-Live title, and full motion picture-in-picture Blu-ray bonus features.

The Studio announced the first animated Platinum coming to Blu-ray will be the timeless treasure Sleeping Beauty. Releasing Sleeping Beauty on Blu-ray marks a milestone for the format as these titles are not released until a format has been proven both technologically and in terms of consumer acceptance - and Disney's animated releases in the past have been a major catalysis for any format's growth. Pinocchio's release on VHS and Snow White's release on DVD marked major growth milestones for both of those formats. The Sleeping Beauty Blu-ray Disc release will also include a virtual castle and multi-player activities - both utilizing the BD-Live technology.

"The Platinum titles are the crown jewels of the Disney Studios and we do not take releasing them lightly on any format. The proven Blu-ray technology has allowed us to take our films to new heights, fully utilizing the larger capacity and interactive capabilities for an incredible all-new consumer experience," commented Bob Chapek, President of Walt Disney Studios Home Entertainment.

In addition, WDSHE announced the special edition release of the action-adventure blockbuster National Treasure, which will become the Studio's first BD-Live Blu-ray Disc title. In addition, the Studio will bring two of its treasured family classics to Blu-ray Disc, Disney/Pixar's Finding Nemo and The Chronicles of Narnia: The Lion, The Witch and The Wardrobe, both of which will feature full motion picture-in-picture bonus features.

"The strides that we've made with this format are just the tip of the iceberg and we are confident that consumers will be astounded by the level of entertainment that can only be achieved by using the maximum capacity of the Blu-ray Disc format. All of these wonderful titles will appeal to the ever growing Blu-ray market and we are extremely proud to offer these in the most pristine and robust presentations ever for Disney fans around the globe," continued Chapek.

This exciting slate of Blu-ray Disc releases will begin with The Chronicles of Narnia: The Lion, The Witch and The Wardrobe in spring 2008, followed by National Treasure in summer of 2008 and culminating with Disney/Pixar's Finding Nemo and Sleeping Beauty in fall 2008."

From what we've learned, this is just the start of a terrific slate of Blu-ray titles that Buena Vista has planned for release next year. We'll have more news on all this in the weeks ahead.

There's one other bit of Blu-ray news this morning as well: Warner has set the Blu-ray version of Robert Zemeckis' The Polar Express for release on 10/30. The title is already available on HD-DVD.

Back later this morning. Stay tuned!

8/16/07

Here's a couple of new announcements, and a little bit of other news as well...

Warner has announced a new Poltergeist: 25th Anniversary Edition DVD for release on 10/9 (SRP $19.97), which features a remastered anamorphic widescreen transfer, along with the They Are Here: The Real World of Poltergeists Revealed documentary. Unfortunately, according to Warner, no high-def versions are currently planned.

Warner has also launched its official Blade Runner: The Final Cut website. You can preview the Dangerous Days trailer, see all the various cover art and disc specs, download wallpapers and AIM icons, and more. Additional content and news will be added to the site as we approach the film's 10/5 theatrical release and the 12/18 DVD, Blu-ray and HD-DVD release, so keep checking back. "A new life awaits you in the Offworld Colonies..."

Also today, 20th Century Fox has announced the DVD release of How I Met Your Mother: Season Two on 10/2. Additional details will follow.

And for those of you who have been thinking about jumping on the Blu-ray bandwagon, but haven't had the chance to see the format up close yet, Disney's Magical Blu-ray Tour of shopping malls around the country kicks off this weekend here in the L.A. area. The first stop will begin tomorrow (8/17) at the Westfield Topanga shopping center in Canoga Park, CA and will run through Sunday. You'll find an information area, plasma displays with interactive demo stations and even a mini theater environment, so you can interact with the players and discs and see what Blu-ray has to offer firsthand. Disney staffers will also be on hand to answer all your questions. And as the tour continues, we're told that Disney will begin previewing the forthcoming Cars, Pirates 3 and Meet the Robinsons Blu-ray releases. Here's a look at a couple views of the booth you'll see if you drop by...




As we did with Toshiba's HD-DVD launch tour last year, we'll keep you updated each week as to where this Blu-ray tour, which runs through the end of December, is headed next. For the record, here's the complete list of stops and dates: South Coast Plaza in Costa Mesa, CA (8/24-26), Westfield North County in Escondido, CA (8/31-9/2), Westfield San Francisco in San Francisco, CA (9/7-9), Washington Square in Portland, OR (9/14-16), Westfield South Center in Seattle, WA (9/21-23), the Mall of America in Bloomington, MN (9/28-30), Orland Square in Orland Park, IL (10/5-7), Westfield West County in St. Louis, MO (10/12-14), Tyson Corner Center in McLean, VA (10/19-21), Roosevelt Field in Garden City, NY (10/26-28), Burlington Mall in Burlington, MA (11/9-11), King of Prussia in King of Prussia, PA (11/16-18), Circle Centre in Indianapolis, IN (11/23-25), Lennox Square in Atlanta, GA (11/30-12/2), The Galleria in Houston, TX (12/7-9), Barton Creek Square in Austin, TX (12/14-16) and finally Chandler Fashion Center in Chandler, AZ (12/21-23). You can read more on all this here at USA Today.

Stay tuned!

8/15/07

Hey folks! So, I'm sitting here at my computer yesterday, working to finish formatting the EMA Day Three report and Barrie's new column... when suddenly it occurs to me that I haven't upgraded my computer in about five years. I don't know why I thought about that, but the thought just popped into my head. Now, I'm a SERIOUS computer user. My PC is typically on for about 14-18 hours a day, and more often than not, I'm sitting there in front of it that whole time. So anyway, thinking that it had been a while since the last upgrade was apparently some kind of jinx, because a few hours later, I heard a loud snapping sound from the back of the case, followed shortly thereafter by the pungent scent of ozone. It seems my PC's power supply is dying. Everything still works (and I back-up all my files pretty well), but with the writing on the wall, I found myself over at MicroCenter last night looking at new PCs. Sorry, Mac users... I just can't make myself go that route yet. Someday it will happen, but for now I'm still more John Hodgman than Justin Long. I like to tinker under the hood, and I like games, and both are a lot more fun for me on a PC. Anyhow, it seems like computer troubles are going around these last couple of days. I spoke with our friend Ron Epstein over at The Home Theater Forum this morning, and he reported to me that they had a major server crash a couple days ago that they're working to recover from. What can you do? So the long and the short of it is that we really appreciate your patience while we work to get back up to 100%. And the moment I am, EMA Day 3 and Barrie's column will be the first things posted.

In the meantime, I've got a little bit of news for you. Warner has announced a Christmas Comedy Collection (10/2 - contains Elf, A Christmas Story and National Lampoon's Christmas Vacation), NFL America's Game 1-XL: Collector's Edition (10/23), Miss B's Hair Salon, NFL Complete Game Set: 1985 Chicago Bears and NFL Games Archives: Buffalo Bills vs. Houston Oilers 1993 AFC Playoffs (all 11/6 - hey, NFL, just once time can we Viking fans get thrown a bone on DVD?), Clint Eastwood Presents Tony Bennett: The Music Never Ends, History of Indiana Basketball and History of Kentucky Basketball (11/13), Africa's Wildlife Collection Giftset 6-Pack (for National Geographic - 11/20 - contains Elephants, Gorillas & Apes, Lions, Predators & Hunters, River & Ocean Dwellers and Zebras & Rhinos) and NBA Player Profile: Dwyane Wade (12/4).

And Universal has announced the DVD and DVD/HD-DVD Combo format release of Evening on 9/25, followed by an Animated Family Favorites 3-Movie Collection (SRP $26.98 - containing An American Tail, Balto and The Land Before Time) on 11/6 and a 26-disc, 6-season Northern Exposure: The Complete Series Giftset on 11/13 (SRP $199.98 - packed in 14 Thin Packs inside a faux suede messenger bag with fleece lining).

Finally, on the high-def front today, LG is apparently cutting $200 from the price of its BH100 dual-format player, bringing the price down to $999. This is in anticipation of the release of its new BDP-UP5000 (expected to be priced at around $1049) later this year, which will also be a dual format player and will be fully compatible with both BD-Java and HDi as well. You can read more here at Home Media.

Stay tuned...

8/14/07

We've got more interesting new DVD and high-def announcements for you all today.

First though, our own Adam Jahnke has turned in a new installment of his Electric Theatre, featuring his reviews of Sunshine, The Bourne Ultimatum, Stardust and Rush Hour 3, all of which are now in theatres. He also reviews a few films available newly on DVD (or soon to be) as well, including Sony's The Lives of Others, and even mourns the loss of the infamous Weekly World News. No kidding. Check it out.

Okay... let's get to those announcements. 20th Century Fox has revealed the DVD release of Timur Bekmambetov's Day Watch: Unrated Extended Edition on 10/30 (SRP $27.98). The disc will include the original theatrical Russian language version of the film in anamorphic widescreen (which includes footage not seen in theaters in the U.S.), an English dubbed audio option, The Making of Day Watch featurette, audio commentary with Bekmambetov, a U.S. theatrical trailer, and original Russian trailers and TV spots.

Fox has also revealed The X-Files: The Complete Collector's Edition, which is a 61-disc box set due on 11/6 (SRP $329.98). The set will include all 198 episodes of the series along with The X-Files: Fight the Future feature film, plus a Season One comic book, art cards, a poster for the theatrical film and an additional bonus disc of extras. It appears that each of the episode discs will include all of the bonus material that was on the original DVD releases (deleted scenes, audio commentaries and more), including the extras disc for each season (that featured TV spots, deleted scenes, DVD-ROM interactive features and often a documentary featurette on the season). The movie disc contains all the bonus features on that release as well (including the DTS audio track and director's commentary). Finally, the exclusive bonus disc gathers all of the Threads of Mythology featurettes from the more recent Mythology DVD collections, including Abduction, Colonization, Black Oil and Super Soldiers. All of it comes packaged in a custom slipcase. It's a lot of money to be sure, but if you're an X-Files fan, this thing includes everything you'd ever want. We're hoping that Fox will eventually release this series on Blu-ray as well.

In addition, Fox will be releasing (for MGM) a number of new catalog DVDs, including Mr. Brooks on 10/23, and Return of the Living Dead and a From Beyond: Unrated Director's Cut on 9/11.

Speaking of TV series in high-def, Buena Vista has again confirmed with us that Lost: Season Three will be released on Blu-ray Disc on 12/11. Watch for an announcement soon.

You Pixar animation fans will also be interested to know that the studio has also posted an exclusive preview of the Blu-ray version of Cars (due 11/6) on the Disney.com website. It features a look at some of the BD-Java interactive features that have been created for the release.

Meanwhile, we might have missed this during all the EMA and Comic-Con hubub, but Buena Vista has also announced the DVD release of Grey's Anatomy: The Complete Third Season and October Road: The Complete First Season. Grey's Anatomy: The Complete Third Season, Seriously Extended hits DVD on 9/11 (SRP $59.99), two weeks before the start of the show's fourth season on ABC. The 7-disc set will include all 25 episodes in anamorphic widescreen video, four of them extended versions. Extras will include 4 featurettes (Making Rounds with Patrick Dempsey, Shades of Grey: One on One with Ellen Pompeo, Good Medicine and Prescription for Success), audio commentary on select episodes, unaired scenes and bloopers. October Road: The Complete First Season follows on 10/30 (SRP $29.99). You'll get all the episodes in anamorphic widescreen video, the On the Road and Road Tour featurettes, audio commentary on the pilot and season finale, deleted scenes, bloopers and a preview of the upcoming Season Two.

While we're on the subject on TV, not much gets us excited anymore in terms of TVD announcements... much less on HD-DVD. But we will confess, this one does have us pretty interested: Universal has just announced the HD-DVD format release of Battlestar Galactica: Season One on 12/4 (SRP $99.98). The 6-disc set will include the complete original miniseries and every Season One episode, along with all of the extras from the original DVDs (including the miniseries deleted scenes that were part of the separate miniseries DVD, but not part of the previous Season One release). New extras for HD-DVD include an interactive Encyclopedia Galactica guide to ships, characters and colonies and a flight training manual (Carl Sagan, we feel your pain), as well as Picture in Picture behind-the-scenes footage. Video is 1080p 1.78:1 with Dolby Digital TrueHD and Dolby Digital Plus 5.1 audio.

Not only that, but Universal has also announced the Battlestar Galactica: Razor - Unrated Director's Cut DVD, also due on 12/4 (SRP $26.98). This will include an uncut version of the 2-part "bonus" episode slated to run on Sci-Fi in November (11/24 to be exact). It's partly a flashback, telling the story of what happened to Admiral Cain and her crew aboard the Battlestar Pegasus during the initial Cylon attack on the colonies. It also features the Galactica's crew (in the present) and it apparently sets up a few story elements that will become important in the show's fourth and final season, due to start airing on Sci-fi in January. We hear that Razor even holds a few surprises for fans of the original Battlestar show, including a look at the original Cylon Centurions and Raiders from the 70s series. With any luck, Universal will announce the standard DVD release of Battlestar Galactica: Season Three soon as well (they usually release the DVDs about a month before the new season starts). We'll see...

Finally today, Warner has announced the DVD release of Trap (for Lightyear) on 10/23.

We'll leave you with more new cover artwork... Lionsgate's Bug: Special Edition (9/25), Warner's Stanley Kubrick: Warner Director's Series box set (10/23), Sony's Bram Stoker's Dracula (10/2) and A Few Good Men (9/18) on Blu-ray, and Universal's Evan Almighty (10/9) and Knocked Up (9/25) on HD-DVD....




Stay tuned...

8/13/07

Okay... hope you guys all had a fine weekend. We've got lots of new column goodness for you this afternoon.

But first, we'd like to take a moment to acknowledge the passing of TV legend Merv Griffin (click here to read more on CNN). Not only was Griffin an acclaimed talk show host, whose Merv Griffin Show was a fixture in American households for more than 20 years, he was also a TV game show mogul, having created such popular hits as Jeopardy and Wheel of Fortune. Griffin was 82.

And there's a bit of release news to report this afternoon: 20th Century Fox and MGM have set The Addams Family: Volume Three for release on 9/11 (SRP $29.98). The 3-disc set features 21 episodes, along with "Tombstone" trivia on 1 episode, audio commentary by author Stephen Cox on 1 episode, and select scene commentary by Thing and Cousin Itt on 4 episodes. This is apparently the final volume of DVDs that Fox is currently planning to release. Fox and MGM have also announced a 9-disc complete series box set of The Addams Family for release on 11/13 (SRP $69.98).

Okay... around the site today, we've got a couple of new columns for you. First up, our own Adam Jahnke has turned in a new edition of The Bottom Shelf, featuring a look at a pair of recent George Clooney films on DVD from Warner... Fail Safe and The Good German.

Also today, we've got the first of two new columns from Barrie Maxwell, starting with a new installment of his High-Definition Classics and Beyond. Barrie reviews 15 titles this time around including 9 on Blu-ray Disc - Warner's Rio Bravo, The Cowboys and Battle of the Bulge, Sony's The Holiday and Premonition, the BBC's Planet Earth: The Complete Series, DreamWorks' Flags of Our Fathers and Paramount's Freedom Writers and Trading Places - as well as 6 on HD-DVD - Warner's Rio Bravo, Battle of the Bulge and Blood Diamond, DreamWorks' Flags of Our Fathers and Paramount's Freedom Writers and Trading Places. He'll be back in the next day or two with his latest Classic Coming Attractions as well.

And around the site this afternoon, Russell Hammond uploaded his usual weekly update of the Upcoming DVD Cover Artwork section, including lots of new DVD, Blu-ray Disc and HD-DVD cover scans (and Amazon pre-order/purchase links). Remember... every purchase you make though our links helps support our work here at The Bits, and we thank you for it.

Also today, we've kicked off FIVE new Contests here at The Bits, giving you each the chance to take home copies of Warner's TMNT, Aqua Teen Hunger Force: Colon Movie Film for Theaters for DVD, Unaccompanied Minors and Super Friends: The Legendary Super Powers Show - The Complete Series, Starz!' Elvis: The Miniseries, Paramount's South Park: The Complete Tenth Season, Fox's The Simpsons: The Complete Tenth Season and New Line's Fracture. These contests will all run for TWO WEEKS, until Noon (Pacific) on Sunday, August 26th. Click on the links to get started and good luck!

Stay tuned...

(LATE UPDATE - 8/10/07 - 4 PM PDT)

We've got a little more cool new cover art for you this afternoon... here's a look at the final art for Warner's Blade Runner: Five-Disc Ultimate Collector's Edition on both Blu-ray Disc and HD-DVD (due 12/18). Don't forget, both of the Blu-ray and HD-DVD 5-disc sets will also be available in the limited edition briefcase packaging as well (pictured below right) complete with all the cool swag items. All of these (plus the various DVD versions) are now available for pre-order now at Amazon.com. Whichever version you choose, we expect this to be THE major contender for the best special edition of 2007. It's going to be a helluva great release...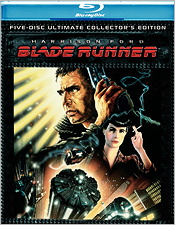 Also this afternoon, we've confirmed with the studio that Disney has set the DVD and Blu-ray Disc release of Pixar's animated Ratatouille for 11/6. The DVD is expected to include a "making of" documentary, deleted scenes and more. The Blu-ray will add to this a BD-Java interactive game as well as other features. We should have additional details and cover art next week.

And around the Net this afternoon, here's one more bit of evidence of the increasing shift in overall momentum in the high-def format war towards Blu-ray Disc: According to this story at Video Business, electronics retailers are starting to report that, as Blu-ray player prices have dropped over the summer and more models have become available, Blu-ray players are now selling more strongly than HD-DVD players, despite the fact that HD-DVD hardware prices are still lower. The retailers say that no single Blu-ray player outsells Toshiba's HD-DVD players yet, but collectively, Blu-ray players have begin to outsell HD-DVD in recent weeks. It will be interesting to see if this trend continues going into the holidays, especially given all of the recent Blu-ray exclusive software announcements. We'd be surprised if both formats didn't cut hardware prices even further over the next few months to spur holiday sales.

By the way, one last bit of news: Microsoft is officially lowering the price of its Xbox 360 game system by $50 starting this week. You can read more on that here at Home Media Retailing.

Stay tuned...

(EARLY UPDATE - 8/10/07 - 12:45 PM PDT)

Okay... let's get some new announcement news out of the way today...

Let's do Universal first, after their tough day yesterday. The studio has just announced the DVD release of Opus n' Bill in A Wish for Wings That Work on 11/6. And if that isn't enough for you, the studio has set Knocked Up for release on 9/25, with Evan Almightly due to follow on 10/9.

Knocked-Up will be available in no less than four DVD versions - R-rated widescreen, Unrated (and Unprotected) widescreen and Full Frame (SRP $29.98 each) and a 2-disc special edition in Unrated (and Unprotected) widescreen (SRP $30.98), as well as an DVD/HD-DVD Combo version of the Unrated edition (SRP $39.98). Extras will include audio commentary with writer/director Judd Apatow, executive producer/star Seth Rogen and actor Bill Hader, deleted scenes, extended and alternate scenes, a gag reel, 4 featurettes (Line-O-Rama, Roller Coaster Doc, Directing the Director and Topless Scene: Wed Design Company), and Loudon Wainwright III's Live at McCabe's: You Can't Fail Me Now music video. The HD version will add Picture in Picture video during the film.

By comparison, Evan Almighty will be available in a relatively meager three different versions, including full frame and anamorphic widescreen DVDs (SRP $29.98 each) and a DVD/HD-DVD Combo version (SRP $39.98). Extras will include deleted scenes, outtakes and 11 featurettes (Get on Board, The Ark-itects of Noah's Ark, Becoming Noah, Steve Carell Unscripted, Animals on Set Two by Two, Animal Roundup Game, The Almighty Green Set, It's Easy Being Green, Acts of Random Kindness, A Flood of Visual Effects and The Almighty Forest). The HD version will add Picture in Picture video, Ark Building for Dummies pop-up 3D graphics, and an Animal Wrangler trivia track.

Meanwhile, 20th Century Fox has set Deck the Halls for release on DVD on 11/6. A Jingle All the Way: Family Fun Edition is due on 10/16. A Commando: Director's Cut and a Wall Street: 20th Anniversary Edition are due on 9/18. And from the MGM catalog, look for The Initiation of Sarah on 10/20, a Species: Collector's Edition and Species IV: The Awakening on 10/2, and an 8-film, 4-disc Roger Corman Collection box set on 9/18 (SRP $39.98 - includes The Wild Angels, A Bucket of Blood, Gas-s-s-s, Premature Burial, X: The Man with X-Ray Eyes, The Trip, Bloody Mama and The Young Racers).

Speaking of Corman, we may have mentioned this before, but Buena Vista has set the cult director's Intruder: Special Edition and an Eat My Dust: Supercharged Edition for release on 9/25.

Sony has confirmed the 10/23 release of The Company on 2-disc DVD and 2-disc Blu-ray. Sony has also added Christmas Do-Over, Kings of South Beach and Ice Spiders to its 10/16 slate, along with a 2-disc Icons of Horror Collection: Sam Katzman release (which includes The Giant Claw, Creature with the Atom Brain, Zombies of Mora Tau and The Werewolf).

And Warner has set Elizabeth I and Empire Falls (both for HBO) for release on 8/28, along with numerous TV DVD "Emmy" repromotes including seasons of Dallas, The West Wing, The Waltons and Murphy Brown. Rich in Spirit is expected on 10/9 and Junior Defenders will follow on 10/23. Also coming on 11/6 (for HBO) is Tom Hanks' Magnificent Desolation: Walking on the Moon documentary.

Around the site today, we've updated a lot of the DVD and high-def format stats we track (above), including the full CEA DVD Player Sales numbers (at long last) through the third week of July. The total number of DVD players shipped to retailers since the format launched is now past the 130 million mark.

And we've got a bit of new cover for you to check out today as well. Here's DreamWorks' Shrek the Third (11/13), Universal's Evan Almighty and Knocked-up: Unrated and Unprotected, Paramount's Jack Ryan Collection on Blu-ray and HD-DVD (9/25) and preliminary art for Sony's Close Encounters of the Third Kind on Blu-ray (10/2)...




Back with more soon. Stay tuned...

8/9/07

All right... I've been working on our EMA Day Three coverage for three days now, because there's a lot to talk about. I'd planned to post it last night, but a question cropped up related to something that happened during the HD-DVD panel discussion with Universal. Specifically, I wanted to be sure of an answer that Universal EVP for Marketing, Ken Graffeo, had given in response to a question from the audience. Now our friends over at Home Theater Forum videotaped the panel and have posted the videos online... except during that key moment of the panel, Ron was changing tapes on his camera, and so he missed Graffeo's response (it would have occurred at the start of video #6 had it been recorded). Luckily, several audience members made audio recordings, so I was able to confirm that he'd said what I remembered he'd said. That's even more important today, in light of a story that's been posted by Scott Hettrick over at Hollywood in Hi-Def.com.

Before I get into this, I want to be really clear about something. Because the moment I get into this, there's going to be a small group of guys who will start posting rumors on various discussion forums online. Other than regular advertising payments, which we accept from any and all studios who may wish to advertise on the site, The Digital Bits has never, and will never, accept money from anyone related to the Blu-ray Disc camp for an endorsement of that format. PERIOD. I'm not getting paid to endorse Blu-ray, none of our staffers are getting paid to do so. I do not get paid by anyone connected to Hollywood in Hi-Def.com. I contribute reviews there for free. Our decision to select Blu-ray as our high-def format of choice here at The Bits is our own - a decision we arrived at based on long and careful deliberations related to which format we thought had the best chance to win the format war, and our belief that a quick end to the format war is in the best interests of our readers and the industry as a whole. Anyone who tells you otherwise, anyone who says we're paid shills for the BD camp, is... flat-out... lying. Got that? Good.

Now then... as I said, Scott Hettrick's posted an article over at Hollywood in Hi-Def.com that I think is well worth reading, because it speaks directly to something we've suspected for a long time now: Specifically, that Universal is getting financial incentives to create exclusive HD-DVD content - something that Universal president Craig Kornblau does not deny. "I'm not going to tell you that we don't cut financial deals with people every day," he's quoted as saying in the piece. Now, there's nothing wrong with that. A lot of studios have similar arrangements. But it does speak to Universal's motivations in prolonging this format war. And make no mistake about it, Universal is prolonging this format war to keep HD-DVD alive, in the face of mounting evidence that the majority of consumers interested in high-def discs are choosing Blu-ray instead.

Kornblau further claims (according to the article) that Universal's position in the format war is driven by a long-term and consumer-focused strategy that is supported by Universal parent NBC and corporate owner GE. And that's interesting, because Universal's Ken Graffeo gave a different impression about GE's support of Universal's position in the format war at our HD-DVD panel discussion at EMA. Here's the relevant exchange. It starts with a statement by an audience member, one of our group who attended EMA, which soon becomes a question...

Audience member: My question is, from the studio perspective, are you feeling the pressure of being the only HD-DVD sole studio?

Graffeo: Don't forget about Weinstein.

Another audience member: Major studio.

Audience member: Major studio. Can you talk to that?

[unintelligible comment from a panelist or audience member]

Graffeo: I feel it every day. [audience laughter] And I will also say that we're owned by GE, so we do hear about it a lot. [more audience laughter]

Graffeo then goes on to comment in further detail about the format war, and the European market, etc. You can listen to an MP3 clip of this specific exchange here, and we've posted a 27MB zip file containing a much longer recording of the panel discussion here, in addition to the videos available on HTF (between the videos and these MP3s, you should have a near complete record of the panel discussion).

Now, when I heard this answer, I was pretty surprised. Graffeo seems to be implying that GE has concerns about Universal's stance in this format war. If you watch the videos of the panel, you'll know that I asked a number of direct questions of the panelists related to the format war (I'm the guy in beige in the audience), and I was prepared to continue doing so. But when Graffeo answered this question, in the way he did, I actually felt bad for the guy. It was clear to me, and to others who were on hand to witness the exchange (and I've confirmed today that many others who were there shared the same impression), that Ken (and Universal as a whole) is under a LOT of pressure related to his studio's exclusive support of HD-DVD. Variety has even reported on this in recent weeks. So at that point, I throttled back in my questioning. But his comments would seem to be contradictory to those of Kornblau from Scott Hettrick's piece.

There's another issue here that's worth mentioning as well. Just a few minutes before the exchange above, Graffeo was asked by an audience member about the possibility of Steven Spielberg's films appearing on HD-DVD. I believe it happens at the end of video clip #4 on the HTF. Now... you may recall that earlier this year (on 1/29 to be exact), the HD-DVD Promotional Group had listed a number of Spielberg films on their website with the suggestion that they were "Coming Soon" to HD-DVD, including Jaws, E.T. and Jurassic Park. But shortly after they were posted, which caused an understandable stir, the Group removed the titles from the site and posted a retraction. To my knowledge, nothing more on the subject of Spielberg on high-def came to light until Graffeo was asked by an audience member (at the EMA panel two weeks ago) about the possibility of Spielberg films on HD-DVD. Here's his answer:

Graffeo: In regards to the Spielberg, um... it wasn't... Steven wanted to wait for DVD til there was a higher penetration for that. Um... right now, with 100... 200,000 players and 150,000... he wants to wait til there's more penetration. Because, um... you know when you do release... and Jaws was the first Steven Spielberg that we came out with, and at that time we released we sold a million units. More than we'd ever sold on VHS. But you have to have, sort of like... I don't want to say critical mass, because you had close to 3 or 4 million households that had players... but it's too early now. And I think we have to work very close with our filmmakers because they have a very big part in what we do.

Okay... I bought that argument and I think so did everyone else at the panel. And that would have been the last word on the subject... EXCEPT that just a week later, Sony announced at Comic-Con the first Steven Spielberg film to be released on high-definition, Close Encounters of the Third Kind, EXCLUSIVELY on the Blu-ray Disc format (on 10/2). Huh? Something doesn't jive here. Given his position within the industry, and Universal's close ties with Spielberg over the years, how did Graffeo not know this was coming just a week later? And for those of you who would say that Sony controls CE3K and not Spielberg, I was told directly by Sony reps at Comic-Con that Spielberg personally approved the high-def transfer of the film. Not only that, he's recorded a new interview for the release. So he HAD to have approved this. How does Universal not know that was coming? In what light does that cast Graffeo's comments at EMA from just a week earlier? And, maybe even more to the point, what does it say about Spielberg's opinion of, and position on, this high-def format war, when his first high-def disc release is a Blu-ray Disc exclusive? Add to that Lucasfilm producer Rick McCallum's comments from a few weeks ago at the Star Wars Celebration convention in Europe, to the effect that if Hollywood doesn't get its you-know-what together and end this format war soon, Lucas might bypass high-def discs altogether and release the Star Wars films in high-def via download only. What does all that say about how good this format war REALLY is for consumers, regardless of Universal's belief that having helped to drive hardware prices down so quickly justifies their position? Who, at this point, does continuing this format war really benefit?

I have to tell you, folks... after our experience at EMA, and after the many revelations and announcements at Comic-Con in the week following, we remain more convinced than ever here at The Digital Bits that Blu-ray Disc is going to win this format war. It's clear to us that Universal is under significant pressure to go format neutral, even from their own parent company, and this pressure is only likely to increase as we approach the holidays. Universal's position as the sole major HD-DVD exclusive Hollywood studio is growing ever more precarious.

The fact is, high-def software sales continue to favor Blu-ray by a 2 or 3 to 1 margin, and the announcements of BD exclusive titles like Spider-Man 1-3, Pirates: Dead Man's Chest and CE3K are only likely to increase consumer and retailer interest in Blu-ray. That director Steven Spielberg would allow his first high-definition title to be Blu-ray exclusive is a significant development. The biggest HD-DVD announcement at Comic-Con was CBS's Star Trek: Remastered, which has priced itself right into the stratosphere. And the news that Target stores and BJ's Wholesale are going Blu-ray exclusive in time for the holidays would seem to us a rather strong indication of the overall retail industry's desire for this format war to be over.

What's more, with sales of Warner's 300 now selling 65/35 in favor of Blu-ray, despite the effort by the studio to create genuinely interesting HD-DVD exclusive interactive content (see this piece at USA Today), it seems all too apparent that consumers are making their format choice known to Hollywood. Indeed, we're receiving more inquiries than ever before from readers who have decided to get into high-definition, and want our advice on purchasing the right Blu-ray player - a trend that reminds us strongly of a similar surge of interest in DVD in the final days of Circuit City's DIVX pay-per-view format. And after all of this, we remain firmly convinced that the moment Universal announces that it's going to start supporting both Blu-ray Disc as well as HD-DVD - a move we see as inevitable at this point given continuing software sales trends - the mainstream press will declare the format war over and Blu-ray the winner. Retailers will quickly reorganize their sales efforts towards Blu-ray and away from HD-DVD, if they haven't already, and this thing will be done.

That's not to say that HD-DVD will disappear. Studios that currently support the format will probably continue to do so. But most retailers will likely not be as friendly. And as Blu-ray hardware prices continue to drop moving into 2008 and beyond... the choice for the vast majority of consumers interested in high-def on disc will be even more obvious than it already is. Keep in mind, all of this is playing out without a SINGLE new Blu-ray title announcement from Fox or MGM... and Fox continues to tell me that new announcements ARE coming.

It seems to us as if the writing is starting to appear on the wall. Completely setting aside personal feelings about Sony or Toshiba or Microsoft, how anyone can continue arguing at this point that HD-DVD is going to win this format war is hard to comprehend. At this rate, it's our belief that the best HD-DVD can hope for is to survive. This is nothing personal, folks... it's just the way we see it.

By the way, for those of you interested in reading our EMA Day Three report, it WILL be up soon.

Stay tuned...
More Archived Posts
Back to Current Posts