-Newsletter est. 4/15/97-
-Website est. 12/15/97-



page updated: 6/18/09
My Two Cents
(Archived Posts 6/10/09 - 5/13/09)
Back to Previous Archives
Back to Current Posts
(LATE UPDATE - 6/10/09 - 7 PM PDT)

Just a heads-up guys... Amazon is running a number of deals on Blu-ray titles this week (the 8th through the 12th). Tonight's deal, good for just a couple of hours, is 58% off both of Fox's X-Files feature film Blu-rays. You can get both The X-Files: Fight the Future and The X-Files: I Want to Believe for just $25. Act fast if you're interested, and watch Amazon for additional deals this week. (You can track these HD deals all week via the banner to the left of this column.)

Stay tuned...

(LATE UPDATE - 6/10/09 - 1:30 PM PDT)

We've got a couple more Blu-ray Disc reviews for you this afternoon... MGM's Valkyrie (now available, distributed by Fox) and Disney's Miracle (due on 6/16). Both deliver very nice quality as far as Blu-rays go, though Miracle would be my recommendation in terms of the films themselves. Either way, you can't go wrong.

In announcement news today, Disney has set the direct-to-video Tinkerbell and the Lost Treasure for release on DVD and Blu-ray Disc on 10/27 (SRP $29.99 and $39.99).

Also today, MGM has set John Boorman's The Tiger's Tale for release on DVD on 8/11.

Fox has set Lie to Me: Season One for release on DVD and Blu-ray on 8/25, followed by How I Met Your Mother: Season Four on both formats on 9/29.

And Lionsgate has announced a Bad Lieutenant: Special Edition for DVD release on 7/28.

Finally, Bits reader Markus B. e-mailed to note that legendary German actor Karl-Michael Vogler passed away yesterday at the age of 80. He appeared in hundreds of films and TV series, including Those Magnificent Men in Their Flying Machines, How I Won the War, Downhill Racer, Shout at the Devil or The Blue Max. American audiences will likely remember him best for playing Rommel opposite George C. Scott in Patton. He'll no doubt be missed.

We'll leave you today with more Blu-ray Disc cover art. Here's a look at Sony's The Class (8/11), Warner's Contact (10/6) and 17 Again (8/11), MGM's Misery (9/15) and The Hannibal Lector Blu-ray Anthology (also 9/15) and New Line's Friday (10/6). All are now available for pre-order on Amazon.com by clicking on the covers...




Stay tuned...

(EARLY UPDATE - 6/10/09 - 12:01 AM PDT)

Okay... this was too important not to post right away...

Tonight, Warner Home Video announced the DVD and Blu-ray Disc release of The Wizard of Oz: 70th Anniversary Ultimate Collector's Edition for release on 9/29. We've known the release was coming for many months, but now it's finally official. Available will be a 2-disc DVD version, as well as DVD and Blu-ray UCE box sets.

As for the contents, let's start with the 2-disc DVD (SRP $24.98). Disc One will to include the film with Dolby Digital 5.1 audio (NEW), the original mono track and a music and effects track, a sing-along track (NEW), audio commentary (by Oz historian John Fricke with Barbara Freed-Saltzman - daughter of Arthur Freed, Margaret Hamilton, Ray Bolger, Jack Haley, John Lahr - son of Bert Lahr, Jane Lahr - daughter of Bert Lahr, Hamilton Meserve - son of Margaret Hamilton, Dona Massin - MGM choreographer, William Tuttle - make-up artist, Buddy Ebsen, Mervyn LeRoy and Jerry Maren). Disc Two will include the 1990 TV special The Wonderful Wizard of Oz: The Making of a Movie Classic, the 2001 TCM documentary Memories of Oz, 5 featurettes (The Art of Imagination: A Tribute to Oz, Because of the Wonderful Things it Does: The Legacy of Oz, Harold Arlen's Home Movies, It's a Twister! It's a Twister! The Tornado Tests and Odd to See the Wizard), outtakes and deleted scenes, 3 vintage shorts, 3 Audio Jukebox selections (Leo Is on the Air Radio Promo, Good News of 1939 Radio Show and 12/25/1950 Lux Radio Theater Broadcast), still galleries and 6 theatrical trailers.

Next up are DVD and Blu-ray Ultimate Collector's Edition box sets (SRP $69.92 and $84.99) which include all of the above, along with additional material as follows (note that the DVD UCE is 4 discs total, while the Blu-ray has everything combined onto 2 Blu-rays): Disc Three will include the Victor Fleming, Master Craftsman feature-length documentary (NEW - on the film's director who directed Oz and Gone With the Wind in the same year), the L. Frank Baum: The Man Behind the Curtain featurette, the Hollywood Celebrates Its Biggest Little Stars featurette (NEW - on seven of the original "Munchkins" who received their own star on the Hollywood Walk of Fame in 2007), the 1990 The Dreamer of Oz NBC TV special (NEW - on the backstory of author L. Frank Baum, played by John Ritter) and 2 previous film versions (1910's The Wonderful Wizard of Oz and 1933's The Wizard of Oz). Disc Four will include His Majesty, The Scarecrow of Oz, a pair of 1914 silent short films (The Magic Cloak of Oz and The Patchwork Girl of Oz - both NEW) and the 1925 The Wizard of Oz feature. You'll also get a Digital Copy version of the film for use on your computer and portable media players.

In summary, virtually all of the previous DVD features are included, along with more than 4 hours worth of new material.

In addition, the box sets will contain additional items, including reproductions of the original 1939 Oz campaign, exploitation and press books, the 52-page Behind the Curtain mini coffee table book by Oz historian John Fricke (includes much previously unpublished material such as behind-the-scenes photographs, studio memos and script pages for abandoned scenes and musical numbers) and an exclusive Wizard of Oz watch.

The film itself has been given an all-new high-definition remastering. Per the studio's press release...

"In order to bring all the visual splendor of The Wizard of Oz to the Hi-Def world of Blu-ray Disc, the film has been entirely remastered, with each of the original Technicolor camera negatives scanned using 8K resolution. From this scan, a final 'capture' master was created in 4K, yielding twice the resolution seen in the master utilized for the film's previous DVD release.

Working in 'full film Resolution', extreme care was taken to ensure that all of the image fidelity contained in the original negatives was properly captured for this new presentation. The sounds of Oz will come alive on Blu-ray disc utilizing the full audio spectrum capabilities available through Dolby TrueHD audio. The net result is one of unprecedented quality that is sure to make The Wizard of Oz: 70th Anniversary Edition a benchmark in the history of the Blu-ray format."

In addition, for the Blu-ray version, the original extended version of If I Only Had a Brain, performed by Ray Bolger, has also been remastered in full hi-definition. Here's a look at the official final packaging for the box set versions..




Looks pretty nice. To our knowledge, the only other feature-length film to ever have been scanned at 8K resolution and offered on Blu-ray is MPI's reference-grade Baraka, which is simply a must-own for any serious Blu-ray fan. So one can only imagine how good Oz will look on Blu-ray - can't wait to see it!

Warner has also just officially announced that Terminator: The Sarah Connor Chronicles - The Complete Second Season will street on DVD and Blu-ray on 9/22 (SRP $59.98 and $79.98). Extras will include 8 Continuing Chronicles featurettes (Write the Future, Conceptualization, Blood and Metal, Designing Destruction, Choreographing Chaos, War Stories, Setting the Tempo and Motivations), 2 additional featurettes (Cameron vs. Rosie: Fight Rehearsal and The Storyboard Process: Cameron Goes Bad), a gag reel, deleted scenes and audio commentary on various episodes with Lena Headey, Thomas Dekker, Summer Glau and Shirley Manson and executive producers Josh Friedman, James Middleton and John Wirth. To all this, the Blu-ray will add the exclusive Collision with the Future: Deconstructing the Hunter Killer Attack interactive exploration.

Warner has more catalog Blu-ray product coming as well, including 17 Again on 8/11 and Contact, Ghost Ship and The Number 23 (for New Line) on 10/6.

Meanwhile, Sony has announced a number of new DVD and Blu-ray titles, including The Class (DVD & Blu-ray) on 8/11, The Swan Princess: The Secret of the Castle, These Old Broads, Go (Blu-ray), Husbands: Extended Cut, Icons of Science Fiction: Toho Collection (includes Mothra, H-Man and Battle in Outer Space) and Astro Boy: Volume 1, Astro Boy: Volume 2, Astro Boy: Volume 3, Astro Boy: Volume 4 and Astro Boy: Volume 5 on 8/18. Astro Boy: Complete Collection is already available on DVD.

Paramount has set How to Lose a Guy in 10 Days for release on DVD and Blu-ray on 8/18, followed by NCIS: The Sixth Season and The Untouchables: Season Three, Volume One on 8/25 (for CBS). CSI: Crime Scene Investigation: The Ninth Season and The Game: The First Season are also due on DVD on 9/1 (also for CBS).

This is pretty cool for you TV fans: A&E is releasing The Prisoner: The Complete Series on Blu-ray Disc on 10/27! It looks like you'll get everything that was in the DVD Megaset on 5 discs. We'll post more details and art as they become available.

By the way, for you French Battlestar fans, a number of readers have reported that Amazon.fr has Battlestar Galactica: Season One available on Blu-ray Disc on 8/25. One wonders if earlier seasons will be released individually in HD elsewhere too, in addition to The Complete Series on Blu-ray.

Speaking of Amazon, is anyone interested in getting a copy of Ghostbusters on Blu-ray Disc for just $15? The advertised price on Amazon for the disc is $19.99. But when you get to the payment screen, use this coupon code to get $5 off: SONYPIC5. You can also try this coupon code: GHOSTBLU. (One or the other should work for you.) The discount will apply to multiple copies in the same order. Don't know how long it will last, but thanks to Bits reader Dan C. for the heads-up!

Finally, Amazon has listed Howard's End for Blu-ray Disc release from Criterion. No street date is yet available.

Back later this morning with reviews of Fox's Valkyrie and Disney's Miracle on Blu-ray. Stay tuned!

6/9/09

Hey guys... I had my annual physical today, so I'm a little behind in news. I'll check the wires, so to speak, and be back in an hour or so with all the latest. Clean bill of health, by the way, so I'm loving that.

We do, however, have a new Golden Hollywood column from our own Rob Siegel for you now, featuring a look back at the making of The Helen Morgan Story and Pete Kelly's Blues. As always, there's lots of great vintage promotional artwork for you to check out, so enjoy!

Also this afternoon, our own Russell Hammond has finished his weekly update of the Release Dates & Artwork section, which lets you check out all the great DVD and Blu-ray titles coming in the weeks and months ahead. You can see the cover scans, sort them in a variety of ways using the drop-down selections, and you can pre-order them all from Amazon.com by clicking on the cover links. As always, a portion of anything you order from Amazon after clicking to them through our links helps to support our work here at The Bits and we really appreciate it.

Back later with more. Stay tuned!

6/8/09

Morning, everyone! Hope your weekend was terrific.

Okay... first things first today. I must have gotten 100 e-mails over the weekend from people asking how "Operation Bandit Reunion" went. And the answer is: Mission Successful! It took longer than expected, but sure enough... the mother raccoon returned to our backyard and when she did, we were ready. We had the little guy in a cat carrier by the back door, and the moment momma appeared, we opened it up and faced it towards her. It took about 30 seconds or so - momma had to get close enough for the little guy to see her and recognize her, but then he bumbled out and ran right up to her. She immediately started nuzzling him (I'm assuming it's a him - we of course have no idea) and giving him a bath. The two stayed in our yard for about 30 minutes, and then she took him back to their den. The surprise was, about an hour later she returned with ALL THREE of her babies. Very cute. Anyway, here's a picture of our temporary little house guest in the carrier, and baby and momma immediately after being reunited...




Okay, let's get to business...

We're very pleased this morning to offer you a number of new Blu-ray Disc reviews, including HBO's long-awaited John Adams miniseries (due 6/16), Fox's Taken: Extended Cut and The Wrestler (both now available), and Warner's Gran Torino (due in stores tomorrow). All are worth your time, so enjoy.

We'll check in with release news (if any) later today, and we expect to return tomorrow with a new Golden Hollywood column from our own Rob Siegel - the first of a few this week.

In the meantime, a quick reminder: The final switch to all-Digital television broadcasting here in the States happens on THIS coming Friday, June 12th. So if you've been getting your TV signals with old fashioned "rabbit ears," you need to go pick up a new Digital converter box. Your old antenna SHOULD work fine, but if not you can pick up a specially designed DTV antenna for $20-30. Those of you with cable or satellite service are fine already, and obviously if you're currently watching your television in high-def you're all set. More details are available here. Most of you have probably already dealt with this months ago, but be good kids and help out grandma, will you? She'll appreciate it. Might even make you a rhubarb pie for your trouble.

Stay tuned!

6/5/09

Afternoon, folks! Hope all's well with you and yours.

It's a mighty slow news day today... and that's for the best around here. I've been spending the day working to prepare new columns from Rob and Barrie which will be posted early next week. And I just got my hands on HBO's new John Adams Blu-ray set, which looks fantastic. I'll be reviewing that in the next few days, you can be sure. But the bigger reason I'm glad it's a slow day has to do with something totally unrelated to DVD or Blu-ray... and totally unexpected.

Every since Sarah and I moved into our house here in Orange County some 10 years ago, we've had almost nightly visits from a number of raccoons that live in the neighborhood. It's almost like they came with the house when we bought it and we don't mind a bit - they actually cause little trouble and they're entertaining to watch. Anyway, this is the time of year when female raccoons start showing up with their new little babies, and such was the case last night. A mother and her three little kits (as I've learned they're called) appeared in our yard shortly before midnight. At some point however, we noticed that the mother was spooked by a sound and, as you'd expect, she quickly swept her young out of the yard to safety. Except that when I went out into the backyard this morning... I discovered one of the little guys hiding in the bushes! It seems she'd left one of her babies behind. Poor thing was shivering and scared, and he'd obviously been out there all night. So I put on some gloves and scooped him into a cat carrier, and he's been sleeping in our garage all night in a pile of old towels. The mother comes back almost every night as part of her routine, so we're hoping to reunite them later this evening.

Yeah, I know... pretty crazy. But what are you gonna do? Can't let the poor little guy come to harm, you know? We've got coyotes and s--t around these parts. That's just how we roll.

Anyway, the only real news today is that Warner Home Video has announced some new DVD and Blu-ray titles, including Brave New Voices and The No. 1 Ladies' Detective Agency on 9/1 (for HBO), Friday, Menace II Society and Set It Off on Blu-ray and "deluxe edition" DVD on 9/8 (for New Line) and Get Smart: Season 4 also on 9/8 (on DVD, for HBO).

Also, Paramount has released details and art for the forthcoming DVD and Blu-ray release (for DreamWorks) of I Love You Man on 8/11. Both versions will include audio commentary by director John Hamburg and actors Paul Rudd and Jason Segel, deleted and extended scenes, a gag reel, Easter eggs, The Making of I Love You Man featurette and the film's "red band" trailer. Video extras on the Blu-ray will be in HD. Here's what the covers look like...




As you can see, I've also included art for Showtime's Dexter: The Third Season on Blu-ray (due 8/18, from Paramount).

Okay, that's all for this week. Wish us luck with Operation Bandit Reunion tonight! We'll see you back here on Monday with some columns and new Blu-ray reviews.

Stay tuned...

(LATE UPDATE - 6/4/09 - 3:45 PM PDT)

We've got a pretty great update in The Rumor Mill today, with word on a terrific slate of catalog Blu-ray titles from Paramount and DreamWorks that are currently planned for release later this year, including the latest word on street dates. Looks like it's going to be an expensive 3rd and 4th Quarter! Don't miss it.

Also today, Universal has officially announced the DVD and Blu-ray Disc release of Fast & Furious on 7/28. Available will be a single-disc DVD (SRP $29.98), a 2-disc DVD special edition ($34.98) and a Blu-ray ($39.98). The 2-disc DVD will include audio commentary with director Justin Lin, a gag reel, 9 featurettes (Under the Hood: Muscle Cars, Under the Hood: Imports, Getting the Gang Back Together, Driving School with Vin Diesel, Shooting the Big Rig Heist, Races and Chases, High Octane Action: The Stunts, South of the Border: Filming in Mexico and Los Bandoleros), the Pitbull (featuring Pharrell) Blanco music video and theatrical trailers. The Blu-ray will add U-Control (Take Control and a Virtual Garage with Tech Specs), BD-Live (a Video Mash-Up, My Scenes Sharing, My Commentary and My Chat) and D-Box motion control. Both the Blu-ray and 2-disc DVD will also include a Digital Copy version of the film. A Fast & Furious: 4-Movie Collection DVD box set will also be available (SRP $69.98). Here what the cover art looks like...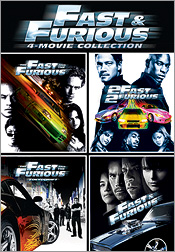 As you can see, we've also included a look at MGM's forthcoming Stargate Atlantis: Fans' Choice on Blu-ray (8/4), and Warner's Star Wars: The Clone Wars - Clone Commandos (9/15) and Universal's Kings: The Complete Series (9/8) on DVD. ALL of the above titles are now available for pre-order from Amazon.com by clicking on the covers.

Speaking of Universal, the studio has also officially announced the complete slate of extras that will be included on the forthcoming Battlestar Galactica: The Complete Series Blu-ray Disc box set (due 7/28 - SRP $349.98). Rather than listing everything (you can see the full list here), let me run down what's new on Blu-ray and what's not included from the previous DVDs...

Nearly everything that was on the previous DVD sets will be included on the Blu-ray with a few exceptions (so you may want to keep the previous DVDs as follows):

The Battlestar Galactica: The Lowdown featurette (40 mins), which was on the original stand-alone DVD release of the miniseries, is not included in its original form. Parts of it, however, have been incorporated into the PIP feature on the Miniseries portion of the Blu-ray (as was the case with the HD-DVD release).

The Battlestar Galactica: The Series - The Lowdown featurette (20 mins), which was on the original Season 1 DVD release, is not included. (This was originally seen as a Sci-Fi Channel special.)

The Making of Battlestar Galactica: Razor featurette from the Best Buy-exclusive DVD bonus disc (sold with Razor at Best Buy stores) is not included.

Those things aside, the DVD and Blu-ray versions of The Complete Series both include some cool new extras:

Three of the Season 4.5 episodes will be extended versions, including A Disquiet Follows My Soul (10 minutes longer), Islanded in a Stream of Stars (almost 20 minutes longer) and Daybreak (about 17 minutes longer).

You also get an exclusive Cylon Centurion figurine with the set's packaging.

Note that the Resistance "webisode" series and Razor "minisodes" will be included in SD on the Blu-ray. The more recent Face of the Enemy webisodes don't seem to be included, though they MAY be included on the future DVD/Blu-ray release of The Plan. More on that in a minute.

The Blu-ray version also adds a number of EXCLUSIVE new options, as follows (in addition to U-Control and My Scenes):

The Miniseries features a Picture-in-Picture behind-the-scenes video viewing option. (This was also available on the Season 1 HD-DVD set.)

Many of the episodes throughout the series (all four seasons) feature a new BD-Java option called The Oracle, which is an interactive Picture-in-Picture guide to ships and characters.

All four seasons feature BD-Live Download Center access.

Season 1 adds the Are You a Cylon? personality quiz.

Season 2 adds the Battlestar Galactica Career Assignment Quiz.

Season 2 adds the Battlestar Blips onscreen trivia viewing option and the Colonial Military Assignment Quiz.

Season 4 adds the Galactica Actual glossary of unique terms from the series, the Battlestar Galactica: Ultimate Battle BD-Live Card Game, Blu-ray exclusive deleted scenes (in addition to those that were on the DVDs, for the episodes Six of One, Guess What's Coming to Dinner, The Hub and Revelations), the What the Frak Happened to You? viewing option and the BD-exclusive The Musicians Behind Daybreak featurette. In addition, several of the featurettes on the Season 4 Blu-ray will be in full HD.

Finally, a lot of people have been asking about the Battlestar Galactica: The Plan feature film that's set to be released this fall. It's NOT included in this box set on either DVD or Blu-ray, but there IS talk about releasing it earlier on stand-alone DVD and Blu-ray, prior to the planned SciFi Channel broadcast this fall, as was done with the Caprica pilot. This is still up in the air. As I said, there's no word yet about The Face of the Enemy webisodes, but hopefully they'll be included on The Plan. It's also unknown whether there will be room for the future The Plan release in the Complete Series box. So there you go - that's the latest. You can see the Complete Series packaging here. (Just scroll down a bit.)

Finally today, our friends at Synapse Films have set Rosarigasinos and Animalada for DVD only release on 7/28 (SRP $19.95 each).

Stay tuned...

(EARLY UPDATE - 6/4/09 - 1 PM PDT)

We'll be back in a while with our regular post, but first we wanted to check in this afternoon with a sad note: It seems that actor David Carradine has died today at the age of 72. Caine from the TV classic Kung Fu. Bill from Kill Bill. Carradine, who appeared in more than 200 films or TV series over the years. That news would be terrible enough, but what's worse is that early word seems to be that he took his own life. It's hard to know what to say, except Rest in Peace, David. You'll be missed.

Back later. Stay tuned...

6/3/09

We've got a couple more release announcements for you today...

First though, Sarah's kicked off a pair of new Giveaways, offering each of you the chance to take home copies of Warner's Gran Torino, Falling Down, Spring Breakdown and Catlow on DVD. Also available are Eagle Rock's Blood Ties: The Complete Season 1 on DVD and a Blood Ties book. Entries will be accepted until Noon (Pacific) on Sunday, June 21st. Good luck!

Now then... Paramount has set I Love You Man for release on DVD and Blu-ray Disc on 8/11.

Meanwhile, Universal has set Kings: The Complete Series for DVD only release on 9/8. Also coming to DVD on that day is Worst Week: The Complete Series. And due on DVD on 8/18 is Wedding Bros.

Finally, Warner Home Video has announced NFL Run for the Championship: The 2008 NFL Season in Review for DVD release on 8/4, followed by Smallville: The Complete Eighth Season on DVD and Blu-ray on 8/25, Supernatural: The Complete Fourth Season on both formats on 9/1, and Two and Half Men: The Complete Sixth Season on DVD only on 9/1.

And in other news today, LG has just revealed that its two new profile 2.0 Blu-ray players... the BD370 and BD390... will feature access to online content from CinemaNow, Netflix and YouTube. You can read more here at Twice.

Panasonic has also just announced that its first portable Blu-ray player, the DMP-B15, will arrive in stores later this month. That's the good news. The bad news is that it'll set you back a whopping $799.95 if you pay full retail price. It does at least have full BD-Live and VieraCast functionality, along with the same PHL Reference Chroma Plus processing that the company's set top decks have, so that's something.

Stay tuned...

(LATE UPDATE - 6/2/09 - 3 PM PDT)

Okay, we've got a new DVD review for you today... Jeff's taken a good long look at Shout! Factory's forthcoming Transformers: The Complete First Season - 25th Anniversary Edition, which streets on 6/16. Sounds like someone's finally give the classic animated show just the right polishing. Enjoy the review... and the discs.

Speaking of Transformers... Shout! Factory has also just officially announced the long awaited The Transformers: 25th Anniversary Matrix of Leadership Edition Collector's Set! The set will be available later this year in stores, and you'll be able to buy it at San Diego Comic-Con in July. In the meantime, however, you can pre-order the set now directly from Shout! Factory (SRP $140) for delivery on 7/13. The 16-disc set will includes all 98 fully-restored episodes of the classic animated series, along with new retrospective featurettes featuring interviews with many of the show's creative talent, concept artwork, a voice cast reunion featurette, vintage Hasbro toy commercials, printable episode scripts via DVD-ROM, rare PSAs, a fan art gallery, an animated fan film, From the Files of Teletraan-2, a 60-page book and collectible Autobot and Decepticon magnets. Here's what the packaging looks like. Click on the covers to visit the official pre-order website...




In other announcement news today, 20th Century Fox has set Wrong Turn and Wrong Turn 2: Dead End for Blu-ray release on 9/15.

Warner Home Video has announced The Mentalist: The Complete First Season for DVD release on 9/22 (SRP $59.98). Also newly announced by Warner (for the Cartoon Network) is The Marvelous Misadventures of Flapjack: Volume 1 on 9/15 (SRP $14.97).

And while we're talking Warner, we wanted to bring your attention to an interesting Amazon-exclusive: The forthcoming Watchmen Blu-ray packed in a replica of the Owl Ship from the film. SRP is $119.99, but Amazon has it for just $83.99. Pretty cool. Here's what it looks like...




Also, Home Media has a story today about Reprise Records' new Neil Young Archives: Volume 1 (1963-1972) box sets, which street TODAY. Available are a 10-disc DVD set ($249.99), a 10-disc Blu-ray set ($349.99) and an 8-disc CD set ($99.98). (Note that these links will take you to the Amazon.com order page for each version, which offers discounted prices.) This release, which has been in the works for a LONG time and is specifically designed to take advantage of Blu-ray's capabilities, includes a whopping 128 songs (including 60 previously unreleased versions). The DVD and Blu-ray also include 20 video tracks and a 200-page hardback book. The Blu-ray additionally includes the Journey Through the Past documentary. It isn't cheap, but I'm betting that Blu-ray box set is just a spectacular music release. But don't take my word for it: Neil feels the same way. You can read his own comments on the matter, and learn a LOT more about the contents of these amazing sets, here at his official website. (Scroll down the page and click on "A Message from Neil Young" for his take.)

Finally, Home Media is also reporting that the Boston-based Yankee Group media research firm expects some 30 million Blu-ray players with BD Live functionality to be installed in homes by 2013. You can read more here.

Stay tuned!

(EARLY UPDATE - 6/2/09 - 11:45 AM PDT)

We'll be back with more later this afternoon, but first I wanted to direct your attention to some nifty stuff. As The Dude might say, some cool "new s--t has come to light!" from the E3 gaming conference in Los Angeles this week...

First up, Microsoft's Xbox 360 presentation featured a pretty damn good A.I. character, a boy called Milo, that gamers will be able to interact with one day in the not too distant future. He can see you (via a camera mounted on your display), recognize your face, your movements... even your emotions. What's more, you can talk to Milo and interact with his world simply by hand and body movements, that again the system will recognize via camera. It's pretty interesting stuff. You can read about it here at Live Science, and watch a video of the demo via Kotaku. Absolutely fascinating.

And here's something EXTREMELY cool for anyone who's ever been a Star Wars fan. My old friend Guido Henkel (of DVD Review) e-mailed this over this morning, and I'm as blown away by it as he was: It's the trailer for LucasArts' new Star Wars: The Old Republic videogame. If your geek heart isn't pounding by the time this baby's done, seek medical attention. Holy crap, folks! To hell with Episodes I-III... I think I speak for MANY fans this morning when I say that THIS IS THE STAR WARS MOVIE we wanted to see!

Here at the site this morning, Dr. Jahnke's checked in again today with a new update of his Electric Theatre column, featuring a review of Sam Raimi's fine return to horror form, with the new Drag Me to Hell. It's worth your time. Also, he spins the classic 1963 Japanese film Matango on DVD. Check it out!

Finally this morning, our own Russell Hammond has posted his usual weekly update of the Release Dates & Cover Artwork section, with TONS of new DVD and Blu-ray cover images and Amazon.com preorder links. As always, a portion of ANYTHING you order from Amazon after clicking to them through our links will go to help support our work here at The Bits, and we really appreciate it.

Back later this afternoon with more! Stay tuned...

6/1/09

Afternoon, folks! We've got some new announcements to report today, as you'd expect. But first...

Our own Dr. Adam Jahnke has turned in a new installment of The Bottom Shelf, featuring a review of MDV Visual's Llik Your Idols on standard DVD. Enjoy!

Now then... some announcement news...

Sony has revealed some new catalog Blu-ray Disc releases due on 8/11, including About Last Night, Starman, Blue Thunder and St. Elmo's Fire. Also coming that day are The Class (DVD and Blu-ray) and a DVD-only release... The Art of War III: Retribution. Due on 8/4 on DVD only is Fragments.

Also, Warner Home Video has announced a pair of new DVD and Blu-ray Disc releases, both for the BBC and both due on 7/28... Doctor Who: Planet of the Dead (2009) and Torchwood: Children of Earth (note that Torchwood: Season Two is set to arrive on Blu-ray on 7/28).

Here's some more new DVD/Blu-ray cover art... both of the BBC titles just mentioned, along with a couple of the Sony titles and Warner's Terminator: The Sarah Connor Chronicles - The Complete Second Season on DVD and Blu-ray (TBA for 9/15)...




By the way, just a reminder: The Bits now has new Facebook and Twitter pages, and we invite all those of you who "social network" online to sign up, join us and follow us there. I've also got a personal Facebook page where I occasionally post pictures, make comments and post a lot of movie quotes. I occasionally talk about stuff completely unrelated to DVD/Blu-ray on my personal page (news, science, events, politics, etc) but as long as the comments/discussion are all kept respectful, I'm happy to have you all as friends there. So feel free to check out the links and join us!

Stay tuned...

5/29/09

Our last update for the week is a quickie, folks, but it's a good one nonetheless...

I think you'll enjoy checking out my in-depth reviews of Sony's new Blu-ray upgrades of Ghostbusters and Dr. Strangelove, both of which are due to arrive in stores on 6/16. The discs offer nicely improved A/V quality and some good new extras, making them worth the upgrade price (on sale). Sadly though, Sony's also left a few of the previous DVD extras off, so they aren't quite the slam-dunk upgrades you'd wish. Read the reviews and you'll see what I mean.

Announcement-wise, we only have a couple things to report today...

Warner has announced a new Star Wars: The Clone Wars DVD release... Clone Commandos, which streets on 9/15 (SRP $14.98) and includes the episodes Rookies, Storm over Ryloth, Innocents of Ryloth and Liberty of Ryloth. Keep in mind that a complete Season One box set of this series is still coming to both DVD and Blu-ray later this year.

And Disney is releasing a new Pete's Dragon: High-Flying Edition on DVD on 8/18 with several new bonus features, though no Blu-ray is currently planned. The studio is also using its Walt Disney Treasures line to deliver Zorro: The Complete First Season and Zorro: The Complete Second Season on DVD on 11/3 (SRP $59.99 each).

Finally today, we have more cool new cover art to show you. Here's a look at Warner's Fringe: The Complete First Season, due on 9/8. The first two are both images of the same DVD's lenticular cover and the third is obviously the Blu-ray (it also has a lenticuar cover). You'll also find shots of Universal's Heroes: Season 3 on DVD and Blu-ray (due 9/1), and Lionsgate's Mad Men: Season Two Blu-ray (7/14). Click on the covers to pre-order them now at Amazon.com...




Have a great weekend, folks! See you Monday...

5/28/09

Afternoon, folks!

As promised today, we've got a new column for you from one of our staffers. It's Barrie's latest edition of High-Definition Matters, featuring 10 full new Blu-ray Disc reviews and 7 additional BD quick reviews (that's 17 reviews in all!), including Criterion's The Curious Case of Benjamin Button, The 400 Blows and The Last Metro, Fox's Slumdog Millionaire and Australia, Paramount's Primal Fear and Major League, Sony's Ghosts of Mars and Rachel Getting Married, Universal's Frost/Nixon, MGM's Valkyrie, Paramount's Defiance and A Mighty Heart, Warner's Body of Lies, Fox's The Day the Earth Stood Still (2008) and Taken, and Sony's The Thirteenth Floor. Enjoy!

In terms of announcement news today, Warner Home Video has officially set Fringe: The Complete First Season for DVD and Blu-ray Disc release on 9/8 (SRP $59.98 and $79.98). Extras on each will include 4 featurettes (Evolution: The Genesis of Fringe, Behind the Real Science of Fringe, The Casting of Fringe and Fringe Visual Effects), additional A Massive Undertaking: The Making of Fringe featurettes on select episodes, deleted scenes (a.k.a. Dissected Files: Unaired Scenes), a gag reel (a.k.a. Unusual Side Effects), something called Deciphering the Scene, a Roberto Orci Production Diary, a Gene the Cow montage and 3 full-length episode audio commentaries with the writers/producers (including J.J. Abrams, Roberto Orci, Alex Kurtman, J.R. Orci, David Goodman, Bryan Burk, Akiva Goldsman and Jeff Pinkner). To all this, the Blu-ray version will add the Fringe Pattern Analysis option (allowing you to take a closer look at 6 select scenes from Season One with experts who dissect each scene with notes, photos and diagrams) and BD-Live enabled features (including a Media Center, My Commentary and commentary on the season finale).

Also today, we have a look at the cover artwork for Universal's Coraline (all three versions) due in stores on 7/21...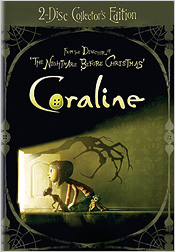 Back tomorrow with more. Stay tuned...

5/27/09

We've got some more interesting announcements and artwork for you today...

In announcement news, Universal has revealed that the stop-motion animated film Coraline will street on DVD (single-disc and 2-disc versions) and Blu-ray Disc on 7/21 (SRP $29.98, $34.98 and $39.98 respectively). The 2-disc DVD and Blu-ray will include the film in both 2-D and 3-D and will include four pairs of 3-D glasses. The 2-disc DVD will include deleted scenes, 2 featurettes (The Making of Coraline and Voicing the Characters) as well as a Digital Copy version. The Blu-ray will include all that along with U-Control (on the 2-D version), 2 additional featurettes (Creepy Coraline and The World According to Henry) and BD-Live.

Meanwhile, Universal has also set Monk: Season Seven and Psych: The Complete Third Season for release on DVD on 7/21, followed by An American Affair and Knight Rider: Season 1 (2008) on 7/28, Nature's Grave on 8/4, House: Season Five and Life: Season Two on 8/25, Heroes: Season Three (presumably on DVD and Blu-ray) on 9/1 and The Office: Season Five on 9/8.

Fox has set the Dragonball Evolution: Z Edition for release on DVD and Blu-ray Disc formats on 7/28.

Also newly announced for Blu-ray release by Fox/MGM are Lie to Me: Season 1 on 8/25, The Girl Next Door: Unrated and High Crimes on 9/1, and Misery (BD/DVD Combo), Child's Play (BD/DVD Combo) and the Hannibal Lecter Blu-ray Anthology (includes Manhunter, The Silence of the Lambs and Hannibal) on 9/15.

Lionsgate's July DVD and Blu-ray slate is set to include Five Fingers, Dead Wood, Ruby: A Journey to Lose the First 100 Lbs. and A Day in the Life on 7/7, The Haunting in Connecticut (DVD and Blu-ray), Mad Men: Season Two (DVD and Blu-ray), Horsemen, HIT Favorites: School Days, Barney: Book Fair, Thomas & Friends: Percy and the Bandstand, Bob the Builder: Built for Fun, Barney DVD Lunch Box Gift Set, Bob the Builder DVD Lunch Box Gift Set, Care Bears DVD Lunch Box Gift Set and Thomas & Friends DVD Lunch Box Gift Set on 7/14, Retribution Road, Super Capers and Wolverine and the X-Men: Deadly Enemies on 7/21, and The Bad Lieutenant: Special Edition and Necessary Evil on 7/28.

And Warner has announced the DVD release of Gossip Girl: The Complete Second Season on 8/18, One Tree Hill: The Complete Sixth Season on 8/25, and The Big Bang Theory: The Complete Second Season and Wagon Master on 9/15.

By the way, Disney's Adventureland (which we mentioned yesterday is due on DVD on 8/25) is also being released on Blu-ray. Just FYI.

In other news this afternoon, Sony has officially launched the official website to promote its forthcoming Blu-ray release of Ghostbusters. You can check it out at GhostbustersIsHiring.com.

Also today, there are a couple of cool New York City and L.A.-area events those of you in the neighborhood might want to check out...

First, there's going to be rare screening of Hayao Miyazaki's animated Castle in the Sky and Kiki's Delivery Service at the upcoming New York International Children's Film Festival in June. Click here for screening times, details and to obtain tickets.

More immediately, and on the opposite coast, there's going to be an AMAZING composer/score CD signing event at the Dark Delicacies book store in Burbank on THIS SUNDAY AFTERNOON (May 31st, 2009 at 2 PM). The event is sponsored by our friends at La-La Land Records. ON hand signing copies of their score CDs will be Bear McCreary (Battlestar Galactica, Caprica, Terminator: The Sarah Connor Chronicles), Michael Giacchino (Speed Racer, Star Trek, Lost), Mark Isham (Point Break, Crash), Wendy Melvoin and Lisa Coleman a.k.a. "Wendy & Lisa" (Heroes, Crossing Jordan), John Murphy (28 Days Later, Sunshine), Geoff Zanelli (Hitman, Ghost Town), our old friend John Harrison (who did the scores for Creepshow and Effects), Christopher Young (Drag Me to Hell, Hellraiser), Richard Band (Re-Animator), Stu Phillips (Buck Rogers), Arthur B. Rubinstein (Wargames), Ron Jones and Ken Thorne (the Superman box set), Harry Manfredini (Friday the 13th, Swamp Thing) and even director Nicholas Meyer (Time After Time)! If you're a fan of film and TV scores, this promised to be an extraordinary afternoon. Dark Delicacies is located at 4213 W. Burbank Blvd. in Burbank, CA. You can learn more here at La-La Land Records and here at Dark Delicacies.

We'll leave you today with the just-released final cover artwork for Universal's Battlestar Galactica: Season 4.5 on DVD and Blu-ray (7/28), as well as MGM's This is Spinal Tap (also 7/28). We've also included a new expanded shot of the Battlestar Galactica: The Complete Series box set (DVD/Blu-ray - also due 7/28) featuring that awesome Cylon Warrior figurine...




Back tomorrow with new columns from our staffers. Stay tuned...

(LATE UPDATE - 5/26/09 - 3 PM PDT)

Afternoon, folks. Let's have a release news update today, shall we?

First though, we've reached a bit of a milestone in the last month in the home video industry. According to Ralph Tribbey's excellent DVD Release Report (an industry release publication) the combined number of DVD titles either announced or released in the U.S. has crossed the 100,000 mark! The actual milestone was reached a couple weeks ago, but we've been a little preoccupied here at The Bits talking film grain and DNR in recent days. In any case, the exact number is 100,313 titles, some 12 years after the debut of the format back in 1997. We've updated that and all the other DVD and Blu-ray stats we track (above).

Also here at the site today, the good Dr. Jahnke has posted a new update of his Jahnke's Electric Theatre featuring his take on Pixar's UP and McG's new Terminator: Salvation (which is unlikely to be the salvation of ANYTHING), both now in theatres, and Bottle Shock on DVD. Matt and I saw T4 on Saturday morning, by the way. It's utterly forgettable, though more (I think) due to a predictable and paint-by-numbers script than McG's directing. Anyway, enjoy Jahnke's take. As always, it's a good read.

Our own Russell Hammond has also updated the Release Dates & Artwork section with all the latest DVD and Blu-ray cover art and Amazon.com pre-order links. As always, a portion of anything you order from Amazon after clicking them through our links will go to help support our work here at The Bits, and we surely appreciate it!

Speaking of Amazon, we wanted to alert you all to a great new Blu-ray deal they have going: If you buy either the Samsung P1600 ($248) or P3600 ($349) Blu-ray players and 4 Warner Blu-ray titles (some priced as low as $12.99) you can take $125 off the total price when you check out (use the code: "SAMSDISC"). The code is good until 11:59 PM (Pacific) on May 30th.

Now then... let's get to that release update. Paramount has set Leverage: The 1st Season for DVD release on 7/14.

Sony has announced a number of DVD only releases due on 7/28, including a single-disc McG's Charlie's Angels, The Spectacular Spider-Man: The Complete First Season, The Fifth Commandment and Angel of Death (2009). Following on 8/4 are Fragments, Icons of Screwball Comedy: Volume 1 (includes If You Could Only Cook, Too Many Husbands, My Sister Eileen and She Wouldn't Say Yes) and Icons of Screwball Comedy: Volume 2 (includes Theodora Goes Wild, Together Again, The Doctor Takes a Wife and A Night to Remember).

Also, The Cinema Guild and Project X Distribution have set the German film The State I Am In for DVD release on 7/28.

Disney has set Adventureland for DVD release on 8/25.

Cinema Libre Studio has the World War II romantic film Waiting for Dublin due on DVD on 7/14.

Cinema Epoch will release the action/noir thriller Break on DVD on 7/14.

Anchor Bay will release Sunshine Cleaning on both DVD and Blu-ray on 8/25. The company also has Streets of Blood for DVD only release on 7/28.

Fox's Saving Grace: Season 2 arrives on DVD on 6/16.

Warner Home Video has set the BBC's Wild Pacific for release on both DVD and Blu-ray Disc on 7/14.

And Genius Products and RHI Entertainment will release Sea Beast on DVD on 6/30.

In news from around the Net, Home Media is reporting that Sony is getting ready to release a pair of new DVD/Blu-ray "mega-changers" in the next few months, capable of storing and playing (jukebox-style) 200 and 400 discs each respectively. The units are the BDP-CX960 and BDP-CX7000ES, and SRPs are expected to be in excess of $2,000 each. No official release date has been announced yet.

Home Media also has a good new interview with my friend Eisuke Tsuyuzaki (VP of Corporate Development and General Manager of the Blu-ray Disc Group at Panasonic) about the effort to bring 3-D capability to the Blu-ray format. Do check it out.

And in something completely unrelated, Doogan wanted to point out a cool artist he's discovered: Sam Shearon (alias Mister-Sam). His work includes some pretty cool stuff. You can check out his website here.

Finally today, we'll leave you with more new Blu-ray Disc cover art. Here's a look at Sony's Midnight Express (due 7/21) and the Wire-Fu Trilogy (Crouching Tiger, Hidden Dragon, House of Flying Daggers and Curse of the Golden Flower - 7/14), Criterion's Kagemusha (8/19), Warner's Creepshow (9/8) and Natural Born Killers: Unrated Director's Cut (8/25) and New Line's The New World: The Extended Cut (9/8)...




Stay tuned!

(EARLY UPDATE - 5/26/09 - 9 AM PDT)

Morning, everyone! Hope all of you here in the States had a great long Memorial Day weekend, and our best to all the rest of you around the world (including those of you serving in uniform).

Sorry we disappeared there for a few days. It wasn't expected, but a number of things happened in "real life" all in a row, that we figured we'd take the weekend to deal with. Nothing particularly bad, just a bunch of inconvenient stuff. For example, my wheels (a 1997 Saturn SL2) finally decided to cross the line from reliable to unreliable. Sarah and I drive our cars until they simply stop working - it's a Midwestern thing I guess. So anyway, we were forced to take advantage of Memorial Day sales to secure a new ride. Sarah wanted the added room and storage of an SUV, but there was no way I was going to buy a vehicle ten years older than our last one that got WAY less fuel economy. I mean, this IS the 21st century. So we compromised and got a great deal on a Ford Escape Hybrid. The sticker said the mileage was 30 city/34 highway, but here's the thing the car companies don't tell you about hybrids: With even a modest amount of attention paid to how you drive, you can get way better economy than the sticker. Almost right off the lot, in combined city/freeway driving, I've been getting 40 MPG without breaking a sweat. In an SUV! Now THAT'S technology for you.

Anyway, I just wanted to let you all know that we'll be back this afternoon with our usual daily posts. And to say thanks for your patience while we were away.

So... back later. Stay tuned...

5/20/09

Okay... I've got one last comment today on Lionsgate's T2 Blu-ray, which I'll get to in a minute. Yeah, I know... I'm groaning at the thought too. Hang with me. First though, some release news...

20th Century Fox has set Beach Kings for DVD release on 7/14.

Paramount will release 90210: The First Season (for CBS) and Californication: The Second Season (for Showtime) on DVD on 8/11. Dexter: The Complete Third Season (also Showtime) will also arrive on DVD and Blu-ray on 8/18. Everybody Hates Chris: The Fourth Season will street on DVD on 8/18 as well.

Lionsgate has set Mad Men: Season Two and The Haunting in Connecticut: Unrated for release on both DVD and Blu-ray Disc on 7/14. And newly revealed for August release on Blu are Chaos (DVD and Blu-ray), Cutthroat Island, The Ninth Gate, Replicant and See No Evil, all due on 8/11.

Finally, Warner Home Video has announced National Geographic's The Human Family Tree and the BBC's People Like Us: The Complete Series for release on DVD on 9/1, with the BBC's The Mighty Boosh: The Complete Season 2 and The Mighty Boosh: The Complete Season 3 following on 7/21. NFL History of the San Diego Chargers also hits DVD on 9/15.

In other news today, those of you interested in the nearly-completed NASA shuttle mission to repair the Hubble Space Telescope are in for a treat - the whole thing was documented in IMAX 3-D for the forthcoming Warner documentary Hubble 3-D. You can read more here at Space.com.

And speaking of 3-D films, since the topic has come up a lot lately... a reader sent in this image and we got a kick out of it here. It's a shot of President Obama, the First Lady and various friends and staffers (and invited guests) watching part of the Super Bowl broadcast in 3-D in the White House theatre. There's no political message intended here, I just think the photo is pretty cute and it speaks to the changing times (and media technology). On a related note, we hear the President saw the new Star Trek film (in the room pictured below) recently and thought it was pretty good. This would make a cool magazine article... a tour of the First Theatre. Talk about the ultimate home theatre!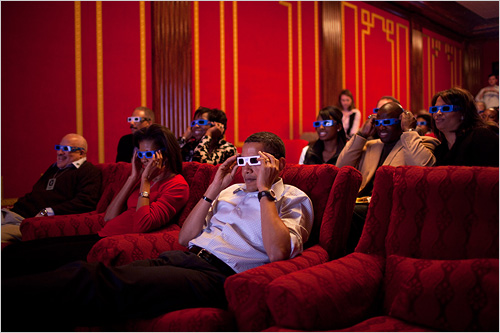 Finally, today... yes, some last comments on Lionsgate's T2: Skynet Edition Blu-ray. I edited the text from yesterday slightly to add some additional comments about the differences between the Japanese Geneon version of T2 and the new Lionsgate edition. It's become my belief, and it's shared by a few others I've spoken with on this in the industry, that the differences between the two are due in large part to the differences in encoding formats (VC-1 vs AVC) and the data rate (the Geneon disc has a higher data rate due to the lack of BD-Java overlays and seamless branching). Some of you might also recall that I was beginning to suspect that VC-1 might do a little noise reduction or filtering prior to encoding. I've heard today from a reader (Matt G.) who works for an authoring and compression house in London (that does a lot of DVD and Blu-ray work), and here's what he had to say on the subject:

"Long time reader of your website. You've probably put this issue to bed now, but the other contributing factor is that both AVC and VC-1 have inloop deblocking filters to reduce compression artifacts. Unlike DVD, if the bitrate is lower, instead of seeing compression artifacts, the macroblocks that make up the image have their edges 'feathered' which will obviously soften the image. I've done a number of inhouse tests with both Sonic's Cinevison and the Cinemacraft H.264 Encoder at bitrates ranging from 34Mbps down to 4-6Mbps and all that happens is that the image becomes 'softer'.

All the best from the UK."

Thank you, Matt. We're checking with other sources as well on this, but this seems to confirm our suspicions. I'm willing to bet right now that the major difference in fine image detail between the new Lionsgate and Geneon discs is due to the different the data rates (which I'm told is something on the order of 25Mbps vs 35Mbps - I'll try to confirm the rates specifically). So there you go. I haven't personally seen the Geneon disc but I'm told it's quite good looking. However, I can tell you that I believe the new Skynet edition is excellent as well. It may not have quite as much fine image detail as the Geneon, but the new extras and audio mix (combined with the video improvements over the previous Lionsgate release) make the disc well worth your time and money. Enough said.

Hey... I know some of you guys are really passionate about this stuff, and I agree to a point, but as I've said a few times in the last couple weeks, I do think there's a degree of perspective that needs to be kept here. "Dear sir: I would like to bring an outrage to your attention. I'm seeing 2.4 more hairs-per-square-inch on this Blu-ray than that one, as you can clearly see by these screenshots! The transfer has obviously been smoothied all to sh-t! I demand a recall and a personal apology from the studio! If you do not agree, you are clearly a shill for the studios or are being lied to by studio personnel!" I'm exaggerating a bit (though not as much as you might think) but that's the kind of e-mail I occasionally get on such issues. As for the rest of you, I know that topics like this make your ears bleed. (I sympathize.)

You know... we care about this stuff too, very much. But the idea that you can make a snap judgment about an entire 120+ minute film transfer based on a couple of frame grabs (representing 1/24 of a second of image data) would seem to be... well, at least a case of overlooking the forest for the trees a bit. (Or the individual leaves.) You need to look at the discs, take the features and improvements that the discs offer into consideration (not just one thing), and remember that there are many factors involved in delivering you a final product. And no, the studio isn't always out to screw you. I'm sure this subject will continue to be argued endlessly on the various forums, and to all participating such debates (even those of you who have routinely been burning me in effigy since the start of the last format war), I raise a beer in your honor. Have at it.

In the meantime, there will be NO MORE TALK of grain, encoding and bitrates here at The Bits for at least the next week. I am all grained out. I swear! (I think...)

Stay tuned...

(LATE UPDATE - 5/19/09 - 6:30 PM PDT)

Okay... I wanted to do a little bit of a follow up this afternoon on the grain reduction editorial I posted the other day, because we've gotten a lot of interesting responses to it. I also wanted to follow-up specifically on the subject of Lionsgate's new T2: Skynet Edition Blu-ray (due in stores today), but more on that in a minute. So...

More Thoughts on Grain Reduction and T2

By and large, most people agreed with my comments about grain reduction, though a couple people did make an interesting point: That, in their opinion, reducing grain whenever possible amounts to the same thing as creating new 7.1 audio mixes or, for example, removing the matte lines in effects shots on films like Star Wars. These are obvious quality improvements made possible by improvements in technology, and they should be done whenever possible for Blu-ray. That's a valid argument to a degree, and I certainly take the point into consideration.

I also had a number of people argue that they hated, for example, when grain is "added" into CG-heavy productions like Zack Snyder's 300. I had one reader essentially say (I'm paraphrasing here): "The film looked amazing in IMAX, but my Blu-ray copy is swimming with all this noise and I hate it." In that case, however, the grain was added as an artistic choice by Snyder and his cinematographer. This is, after all, a stylized war film. Live action footage was shot on film and then heavily manipulated in digital post, where the director wanted to add more of a gritty look to the image. [Editor's Note: A reader who's also a filmmaker e-mailed today to comment on this, noting that adding grain to a CG/greenscreen-enhanced image helps the CG and live action footage to blend better - another valid reason why it's often used in such films.] The same thing is true of a TV show like the recent Battlestar Galactica. The entire series was shot using high-definition cameras, but to achieve a more gritty, cinema vérité look, digital grain was applied in-camera right on set to get precisely the look desired by the director and producers. In cases like these, who are we as fans to complain or second-guess the deliberate creative choices of the filmmakers?

A couple of additional readers wondered how much a person's individual display factored into the perceived quality of a Blu-ray image, and I think the answer is that it plays a HUGE role. What quality level of display are people using? What size are they viewing at? Have they ever properly calibrated their display? Do they still have the sharpness too high when watching Blu-ray material? Have they left the display's noise reduction filter turned on? (A good question, as many new DTVs offer the option to apply additional noise reduction electronically.)

In general, my feeling is that the studios need to try to achieve a better balance between the need to improve HD image quality for Blu-ray, the need to retain fine detail (the whole point of HD video after all) and to still leave just enough grain in the image (at least for photochemically shot films) to ensure that it still looks like film. This can be a difficult balance to achieve, because each film presents its own unique problems of film stock, filmmaker intent, condition of negatives, budget allowances, work timelines, production deadlines and even fan expectations. I do believe, however, that it's exceedingly rare that the studios and technicians involved make these decisions arbitrarily. Trust me, I've spoken with a lot of people who do mastering work: They really do sweat these decisions and work hard to deliver the best quality they can under sometimes enormously complicated and difficult circumstances.

By way of illustration as to just how tricky these issues can be, let's go back to Lionsgate's new T2: Skynet Edition Blu-ray Disc. The other day I made the comment that the new transfer looks much softer than the original, and seemed to have had excessive grain reduction applied to it. A friend of mine who works in the industry called me up after reading the comments and said he'd thought the same thing too at first glance, but that after really taking the time to analyze things more carefully, he thought that what was going on between the two discs was actually much more complicated. He suggested I take a closer look to see if I saw the same things too.

So I've spent the last couple of hours going back and forth between the two Blu-rays and, sure enough, what I'm seeing IS more complicated. There's no doubt that the new BD image is softer looking, but I do see very, very light film grain in the image. It's subtle in places, but it's there. What's also there is good fine detail. A example is the shot about 23 minutes in, where Sarah Connor is watching herself on the TV monitor in Pescadero. In the new image, there's light grain visible on the wall behind her, but she's also got nice facial detailing - skin texture and imperfections, etc. Now, you look at the same shot on the original Blu-ray, and you see much more grain on the wall... but you start to realize that it's not just grain you're seeing, but also video noise and compression artifacting. Doing a little research, I've confirmed that all of these BD presentations (including the international releases) are sourced from the same digital master - the same original film transfer. [Editor's Note: In fact, ALL of the recent HD presentations of T2 - including the HD-DVD and the European and Japanese (Geneon) releases - come from the exact same HD master owner by StudioCanal.] What seems to be different between them is the encoding format used, the resulting data rate, and whatever other tweaks individual home video departments may be doing prior to that point (different color timing, contrast, sharpening, etc). The original Lionsgate T2 Blu-ray was an early MPEG-2 encode presented on a BD-25, while the new one is VC-1 on a BD-50. So the data rate is much higher on the new presentation. I've been told by people I've known a very long time and trust that no grain reduction was done (or requested) by Liongate on the new presentation, and I have no reason to doubt them. What I think is going on, is that some of the difference between the two has to do with the different encoding and data rates. I also think, after looking more closely, that on the original Blu-ray presentation some sharpening was done to enhance detail a bit, resulting in the appearance of video noise. None of that is visible on the new Blu-ray image. Yet I'm still seeing a little less grain in the new image. As I noted, Lionsgate tells me no grain reduction was done, but my friend speculated that maybe the VC-1 encoder does a little bit of grain reduction automatically prior to actual encoding to make the process easier. What I have noticed on the new Blu-ray is very, very light grain and good fine detail, but also significant improvements in contrast and color timing. Indeed, the more closely I've looked at it, the more I've come to appreciate it over the original Blu-ray image. And none of that was obvious to me at first glance, upon a quick and casual comparison. [FYI, the Geneon release is an AVC encode on a BD-50 at a data rate of 35Mbps (higher than the SkyNet, as there's no in-stream BD-Java overlays), which I think could easily account for the slight image quality differences between it and the new Skynet edition.]

By the way, I've also confirmed that Lightstorm (and presumably director James Cameron himself, or someone he trusts to speak for him on such matters) evaluated and approved the new Blu-ray presentation.

The point of all this is, these issues are far more complex than they may seem at first, even to experienced observers. This is why I argued the other day, and believe more strongly than ever today, that Blu-ray enthusiasts need to be more careful in making snap judgments about such issues. Fans need to keep things in the proper perspective, and realize that they can be more complicated than they first appear - certainly more complicated than can be judged based solely upon looking at still frames in an Internet forum. I'm just saying.

All right, enough about noise reduction. For the record, I think the new T2 Blu-ray is well worth your time and money. I've only talked about image quality - hardly anyone is mentioning the new DTS-HD MA 6.1 lossless audio mix on this disc, which is spectacular. (The original Blu-ray had only 5.1 DTS-ES and Dolby Surround EX options.) And producer Van Ling's new interactive options and bonus material are pretty terrific too. So you get all that plus all three versions of the film (you access the longest version with the Judgment Day date code "82997", as on the previous DVD edition) for only $19.49 on Amazon? Pretty tough to complain. Now that's what you call a bit of perspective.

Back tomorrow. Stay tuned...

(EARLY UPDATE - 5/19/09 - 6 AM PDT)

Let's get an early start on things today, shall we?

First up today, we've have a trio of new Blu-ray Disc reviews from myself and Jeff... Sony's Air Force One (due in stores on 6/2), DreamWorks' The Uninvited (now available) and Paramount's Enemy at the Gates (in stores today). Enjoy!

Also this morning, the good Dr. Jahnke has delivered yet another fine installment of his Jahnke's Electric Theatre, featuring his review of Sony's new Angels & Demons (now in theatres), as well as Wendy and Lucy on DVD in Tales from the Queue.

Finally, our own Russell Hammond has once again updated the Release Dates and Cover Art section with all the latest DVD and Blu-ray cover scans and Amazon.com preorder links. As always a small portion of anything you buy from Amazon after clicking to them through our links goes to help support our work here at The Bits, and we truly appreciate it!

Back with more news later. Stay tuned...

5/18/09

Afternoon, folks!

First of all today, as you may have noticed last week, we joined a number of other websites in a sort of "silent" campaign to help encourage NBC to renew Chuck. The good news is that the network has just officially announced that the show has been given a 13-episode 3rd season. The bad news is that the show's budget has been cut, and those 13 episodes may be ALL we get. But hey... it's something at least. That along with Dollhouse and Fringe both coming back has genre fans fairly pleased this weekend. Though sadly, Fox's Terminator: The Sarah Connor Chronicles is officially no more. Hey, 3 out of 4 ain't bad, right?

Anyway, in title announcement news today, Fox has set the 12 Rounds: Extreme Cut for release on DVD and Blu-ray on 6/30. Navy Seals is due on Blu-ray on 6/2. Also the Stargate: Atlantis Fans' Choice Blu-ray arrives on 8/4, which will include extended versions of two fan-favorite episodes from the series: the pilot episode, Rising, as well as the 5th season's Enemy at the Gate. With luck, maybe strong sales will encourage Fox to release the full series on Blu-ray.

Meanwhile, Sony has added A River Runs Through It to its Blu-ray slate. The title, already available on DVD, streets on 7/28 (SRP $38.96) and includes a booklet. By booklet, I believe this means that the title will come packaged in Digibook packaging like many of Warner's recent titles.

Also today, Warner Home Video has set a Natural Born Killers: Director's Cut for release on both DVD and Blu-ray Disc on 8/25 (SRP $20.97 and $28.99).

And here's something exciting... while Criterion was forced to delay indefinitely their planned Blu-ray release of Akira Kurosawa's Ran due to a rights dispute with The Weinstein Company, they've just announced a nice replacement... Kurosawa's Kagemusha (cat# 267 - SRP $39.95) due on 8/18. FYI, the company has also announced the DVD release of Chantal Akerman's Jeanne Dielman, 23, quai du Commerce, 1080 Bruxelles (cat# 484) and Whit Stillman's The Last Days of Disco (#485).

One other interesting bit of news today: The Blu-ray Disc Association has just formed an industry task force to more easily promote the addition of 3-D into the Blu-ray Disc spec. The idea is to set a standard that allows affordable 3-D compatible Blu-ray hardware and software to arrive in stores in 2010 and 2011, driven by Hollywood's theatrical push for 3-D films and exhibition. I'm still not sold on the need for 3-D, but hey... we'll certainly give it a look when it's ready.

Finally today, I wanted to say a few things about the whole grain reduction issue. There's been a lot of talk on the subject lately here at The Bits and on various forums around the Net. And certainly, since the whole Patton/Longest Day controversy last year, it's been a real issue of concern for some Blu-ray fans. So I thought it might be a good time to try and introduce a little common sense on the subject. Let's give it the old college try, shall we? Here goes...

A Few Words (of Common Sense) About Grain Reduction on Blu-ray

First of all, I've heard from some in the home video industry that the issue of grain reduction is really just "a matter of taste" - that some consumers want grain while others want none of it. And I'm hear to tell you that, no..., it's NOT a matter of taste. The physical, photochemical film process, which has dominated filmmaking for close to a century now, has certain characteristics that define its look. One of those is the presence of grain in the image. Now, the amount of grain visible in the image depends on many factors: the type of film stock used, various camera settings, the age of the negatives and surviving prints, etc. But the bottom line is that a certain amount of grain in the image is one of the very things that make film LOOK LIKE FILM. Saying that it's a matter of taste is like saying that whether or not to colorize a black and white film image is a matter of taste. Sure, there might be some consumers who don't care or even like colorized film, but I think most film enthusiasts would agree, it's just not appropriate. The whole goal of a Blu-ray presentation should be to recreate, as well as possible, the best original theatrical experience of a film in the home. If that film was a digital presentation, shot natively on HD video, then you wouldn't expect there to be grain. If it's a CG-animated production, you likewise don't expect grain. But when it's a vintage catalog title, shot on photochemical film, you expect it to LOOK like photochemical film. In other words, you EXPECT SOME GRAIN. People who say that film grain is "a matter of taste" tend to fall into two camps: studio marketing folk who don't really understand film and younger consumers (generally under the age of 30), most of whom have NEVER seen their favorite films in a theatre, but rather grew up watching them on DVD. To both groups I say: You need to go out and educate yourselves. That grain isn't "noise". Some of it is supposed to be there.

Now as a friend who works in mastering recently told me, some grain/noise reduction is ALWAYS done on digital, high-definition masters. That's just the nature of the process. Some films need grain reduction due to serious age issues or the fact that occasionally individual reels or shots have more grain than the rest of the film, and there's a need to make the presentation more uniform looking so those shots/reels don't stand out. Grain reduction is a legitimate tool of digital mastering. The issue is not grain reduction per se, but the EXCESSIVE use of it. Here's the problem when grain reduction is excessive: Very often, you're not just stripping out film grain... you're stripping out ALL KINDS of fine image detail. Like fabric textures, facial pores, rain drops, the leaves on trees, etc. That goes against the whole point of the added resolution of high-definition. The result is that backgrounds start looking static and character's faces start looking like they're molded out of clay. That's a problem, and it should be a problem for any serious fan of film. You want to see examples of really serious grain reduction offenders on catalog Blu-ray films? Go look at Fox's aforementioned Patton and The Longest Day. Now compare them to examples of great, exceptionally film-like catalog transfers, like Fox's South Pacific or MGM's The Battle of Britain, and Criterion's Chunking Express - or almost ANY title from Criterion for that matter. There is a REAL difference, and those of you who dismiss this issue owe it to yourselves to investigate and educate yourselves.

One of the things I do when evaluating the quality of a Blu-ray image of an older film, is to look specifically at the grain structure. I usually search for a scene with a bright background - sky, a blank wall, etc. I pause the image, and then move forward a frame at a time. You SHOULD be able to see the grain structure very slightly changing from frame to frame as you step forward. If I can see this, I next look at the overall level of image detail - it's almost always exceptional. On the other hand, if I can't see any grain at all, when I start looking for image detail, I almost always find that it's been substantially reduced, such that the image looks unnaturally soft. And that's a problem.

ON THE OTHER HAND... those of us who are Blu-ray and high-definition enthusiasts DO have to be a little more understanding of some of the difficulties faced by the studios as they work to deliver the best possible image quality on the format. Here's what I mean by that...

I'd ask you enthusiasts to think back to the early days of DVD. You might remember that when the studios started doing a lot of anamorphic transfers, a lot of mastering techs were still using too much edge-enhancement - something they'd been doing with analog video (and rightly so) for years. But when DVD started really exploding, it took some of them a little time to realize they had to dial the use of edge-enhancement back. The same is true today of DNR. I'm guessing excessive grain reduction was the norm with DVD transfers (even in HD) for years, but it just wasn't an issue then because DVD didn't have the resolution to really show that. Now that Blu-ray DOES, these mastering guys are having to adjust, and that's a slow and uneven process. This is one of the big reasons that the studios are discovering that HD transfers done even just a couple years ago aren't up to the standards of Blu-ray release, and have to be redone. I'd bet in a year or so, this will be a non-issue - except in cases where studios make difficult financial decision to just reuse older "off-the-shelf" HD transfers. But my feeling is that for MOST of the new transfers done today, these guys have learned to be more careful about the excessive use of DNR.

We enthusiasts all want "perfect" every time, but looking back, some of those early DVD transfers were terrible by the standards of quality even just a few years later. What is state of the art in terms of quality changes and improves over time with each new format. That's just how things work. The Blu-ray transfers we see in a few years will make many of today's discs look paltry by comparison. But we shouldn't let that prevent us from enjoying the improvements we already see. We should still hold the industry's feet to the fire on these issues, but we should also try keep things in perspective and not let some of these issues become the ONLY thing we talk about or care about or take into consideration.

So yes, excessive grain reduction is a real issue here with high-definition. And the industry needs to be aware of it, and try to improve - which (by and large) I think they are. But you Blu-ray fans need to keep all this in perspective too. Just because a little too much grain reduction has been used on a particular title, that ALONE shouldn't be reason enough for most of you to dismiss the title completely. Consider the extras, the audio improvements, the degree to which the image - even with too much DNR - is improved over the previous DVD release.

Bottom line: Everyone need to educate themselves, to keep things in perspective and to apply a little more common sense to the issue of grain reduction on Blu-ray. Cool? Okay. Enough said.

Back tomorrow with reviews. Stay tuned...

5/15/09

There's not a lot of news to report today, but we've got a trio of new Blu-ray Disc reviews for you. Jeff's given a spin to Paramount's Mean Girls and Wayne's World and Wayne's World 2. Enjoy!

Also, around the Net today, Video Business has an interesting report on how videogame sales have dropped recently in response to the economic recession.

This follows in the wake of a story yesterday at Home Media on a drop in online movie disc sales this year over last year.

Speaking of Home Media, they also have word of a pretty exciting deal at Best Buy on either of the new Star Trek movie Blu-ray sets if you also pick up a new Samsung Blu-ray player - essentially, if you buy the player at Best Buy, the sets are discounted VERY heavily. The deal lasts until tomorrow.

Have a great weekend, folks!

5/14/09

Here you go: Here's my in-depth take on Paramount's new Star Trek: Original Motion Picture Collection box set on Blu-ray Disc. Picture issues aside, there's a lot that's good about this set, so you fans would do well not to dismiss the set out of hand.

At the risk of becoming the grain reduction police, I happened to look at Lionsgate's new Terminator 2: Skynet Edition Blu-ray Disc release last night. The disc itself has a lot of cool interactive features, in addition to containing all three versions of the film. But those of you who already have the older Blu-ray release would do well not to get rid of it - the new 1080p video presentation is much softer looking than the original... and yes, film grain (and fine image detail) appears to have been digitally scrubbed from the image. I definitely prefer the original Blu-ray image. These are simply the perils of life in the new high-definition age it seems.

We'll have more new DVD and Blu-ray reviews starting tomorrow morning, so be sure to check back. In the meantime, Home Media editor T.K. Arnold has an interesting column up that you Blu-ray fans might want to check out. Readers have also sent over a couple other interesting editorials on the format that I missed when they were first published, including one from Richard Corliss at Time and more recently Liane Cassavoy at NewTeeVee. As Spock might say, "Fascinating."

Stay tuned...

5/13/09

Okay... I'm working on the Star Trek movie Blu-ray box review, but let me tell you... there is a LOT of new bonus material in this box. You see it listed on the press release, and you think it's a lot, but then you start going through it and you have no idea - it's a TON. So much that it's taken me all day to go through it, including new commentaries on each of the films, 2-3 new HD featurettes per film, the BonusView Library Computer viewing mode and the BD-Live quizzes. Virtually all of this material is of high-quality (hats off to producer Tim King for his efforts here) and worth having. I'll obviously have more detail in the review, but I can tell you now that overall, in spite of the fact that some of the films look less than optimal in HD, this is still a very, very nice Blu-ray box set. The image quality is STILL significantly superior to the previous DVDs, the lossless audio mixes are terrific, nearly all of the older bonus material is included, plus you get hours of great new material on top of that. Hell, the Captain's Summit bonus disc itself would be worth buying as a stand-alone release. Plus, you get SIX films and all of the above for around $80 on Amazon. That's nothing to shake a phaser at. Some higher-end A/V enthusiasts are going to decide not to buy this set on principle because of the video issues, but I'll tell you... if you're a fan and you enjoy Blu-ray, this set is still well worth the price I think. Is it perfect? No, but it is very good overall, and a lot of great material has been created just for this release. It's absolutely still worth checking out. Anyway, watch for the full review possibly later tonight, or (more likely) tomorrow.

Also, a quick note: There have been reports of delays from some retailers in getting the Star Trek movie Blu-ray set on shelves, or shipped to those who may have pre-ordered it. We're told that it's a manufacturing issue - they're just struggling to replicate, package and ship enough copies to meet demand. So if you have trouble finding a copy of the set, or if there's a delay in getting yours shipped, it should be cleared up in the next few days. For example, we just finally received our final product review copy this morning, and we normally get them a week or two ahead of street, so everyone seems to be affected across the board. Just FYI.

A couple other quick things today: For some reason, I listed the Watchmen street date as 7/28 in yesterday's post. It's actually 7/21, the same day as the new 300 Blu-ray. (We fixed it below.) Also, Knowing is due on 7/7, the same day as Push. Call it a brain fart, what can I say? It happens. I (almost) envy sites that only have to cover Blu-ray releases. When you cover Blu-ray AND standard DVD, believe me when I say that there are a LOT of dates to keep track of and it isn't easy!

One major piece of news today: Warner has just announced a whole bunch more catalog Blu-rays from Warner and New Line, as follows: All due on 9/8 are Sphere, Catwoman, Creepshow, Dead Calm, Over the Top and The Postman. Also due that day from Warner (for New Line) are Marcus Nispel's Texas Chainsaw Massacre, Freddy vs. Jason, The New World: Extended Cut and Snakes on a Plane. SRP is $28.99 each. It appears that all of the previous DVD special features will carry over to Blu-ray.

Here's a little more new Blu-ray cover art... Summit's Knowing and Push (both due 7/7), and Fox's M*A*S*H (9/1)...




Back to work for me. Stay tuned...
More Archived Posts
Back to Current Posts