-Newsletter est. 4/15/97-
-Website est. 12/15/97-



page updated: 10/2/06
My Two Cents
(Archived Posts 9/20/06 - 9/6/06)
Back to Previous Archives
Back to Current Posts
9/20/06

Afternoon, folks! Today's post is going to be a quick one, pending any other major breaking news. However, I wanted to jump in here this afternoon with a look at the tentative cover art for Warner's upcoming (and still TBA) Superman Returns DVDs. Here's what the 2-disc special edition and single-disc DVDs are expected to look like when they reach store shelves later this year. Note that this art leaked out of Warner in Europe, and comes to us from the fine DVD Active (all region) website. Warner here in the U.S. hasn't released it (or even officially announced the title) yet, so it should be considered unofficial. Regardless, we're reasonably confident that it's the real deal. We also have the OFFICIALLY released cover art for Superman II: The Richard Donner Cut DVD (due 11/28). Here you go...




Rest assured we'll have all the official specs and details on Superman Returns (and any other Superman-related titles) when they're announced by Warner.

In the meantime today, Universal has officially announced the DVD release of Law & Order: Criminal Intent - The Second Year as a 5-disc set on 12/12 (SRP $59.98). Look for video in full frame with Dolby Digital 2.0 audio.

We also have a number of street dates for major upcoming titles in The Rumor Mill today, along with a bit of information on upcoming 50GB Blu-ray Disc releases.

Stay tuned...

(LATE UPDATE - 9/19/06 - 2 PM PDT)

Wow... what was I saying about this being a busy day? Talk about understatement.

We're checking back in here this afternoon, because we now have the exact details and cover art for Buena Vista's just announced Pirates of the Caribbean: Dead Man's Chest (12/5). As we mentioned earlier, the single-disc edition (SRP $29.99) will include audio commentary with screenwriters Ted Elliott and Terry Rossio, plus the Bloopers of the Caribbean gag reel. The 2-disc special edition (SRP $34.99) will include all that with "limited availability holographic packaging", plus the Charting the Return and According to Plan: The Harrowing and True Story of Dead Man's Chest documentaries, 6 featurettes (Captain Jack: From Head to Toe, Mastering the Blade: Orlando Bloom, Keira Knightley, Jack Davenport, Meet Davy Jones: Anatomy of a Legend, Creating the Kraken, Dead Men Tell New Tales: Re-Imagineering the Attraction and Fly on the Set: The Bond Cage), Jerry Bruckheimer's photo diary and video of the film's premiere. Video on both versions will be anamorphic widescreen with audio in Dolby Digital 5.1. Here's a look at the cover artwork for both versions...




As you can see, we've also included art for Sony's Seinfeld: Season 7, due on 11/21.

Also today, we've got still MORE high-def news for you: Buena Vista Home Entertainment has just confirmed with us the line-up for their third wave of Blu-ray Disc titles. Due on 11/21 are Annapolis, Casanova, Flightplan, Goal!, Sky High and the CG animated The Wild. We've updated the High-Def Release List accordingly. We should have additional details in the next couple of days.

Stay tuned...

(LATE UPDATE - 9/19/06 - 12:15 PM PDT)

Okay... just a little follow-up on the Warner high-def announcements from this morning. As we already mentioned in our first post today, all of the Warner HD-DVDs and Blu-ray Discs due on 10/10 will include all of the special features that were on the standard DVD versions, and we've already told you about the IME features on the Batman Begins and Charlie and the Chocolate Factory HD-DVDs. On the audio side of things, Willy Wonka and the Chocolate Factory, Charlie and the Chocolate Factory and The Polar Express will feature Dolby Digital Plus 5.1. Charlie and the Chocolate Factory will also feature a music-only track in Dolby TrueHD 5.1. Batman Begins will feature in both Dolby TrueHD 5.1 and Dolby Digital Plus 5.1. Finally, The Corpse Bride will feature audio in Dolby Digital Plus 5.1 EX, along with a music-only track in Dolby Digital Plus 5.1. On the Blu-ray Disc side, Syriana and 16 Blocks will both feature audio in Dolby Digital 5.1.

Here's cover art for all 6 Warner HD-DVD titles, along with Paramount's DVD release of An Inconvenient Truth (due 11/21 - in packaging made from recycled materials)...




Stay tuned...

(LATE UPDATE - 9/19/06 - 10:15 AM PDT)

Boy... it's shaping up to be a busy day here at The Bits. Hot on the heels of Warner's big HD-DVD and Blu-ray Disc announcement this morning comes word that Universal has announced 4 more HD-DVDs for release in November. Due on 11/28 are An American Werewolf in London (as a DVD/HD-DVD Combo - SRP $34.98), David Lynch's Dune, Meet the Parents and Stephen Sommers' The Mummy (all HD-DVD only - SRP $29.98 each). FYI, Dune will contain the 137-minute version of the film. All will include Dolby Digital Plus 5.1 audio.

I have to say, I'm pretty impressed by how aggressively the HD-DVD supporting studios are working to get some of their major, eye-candy films out. King Kong, The Mummy, Batman Begins... those are the kind of titles that motivate people to buy new hardware and try out a new format. I've said it before, but it's worth mentioning again... the Blu-ray Disc supporting studios REALLY need to start announcing some better titles and soon if they want to stay competitive in this format war. Fox's recent announcements were a good start, but the rest of that camp needs to step up to the plate with a more early-adopter friendly slate of releases. I get the distinct sense that there are a lot of people in the Blu-ray camp who figure that they've got the advantage over the long haul in terms of hardware and computer industry support, and that they're counting on the PS3 to really tip the balance in their favor. But without the kind of dazzling, eye-candy movie discs that are going to get early adopters (read: high-end movie buffs) excited, none of that is going to matter. The PS3 is awfully expensive, and there's no guarantee that anyone who buys a PS3 is going to do so to watch Blu-ray Disc films. Appealing to the HOME THEATER early adopters, in terms of both A/V quality and eye candy title selection, is the key here just as it was with DVD almost 10 years ago. The HD-DVD group is definitely doing a better job in that regard at the moment. Know you audience, folks.

On the standard DVD front, Universal will release Airwolf: Season Two on 12/26 as a 5-disc set (SRP $39.98).

Also today, Paramount has set the animated Barnyard for release on 12/12.

Stay tuned...

(LATE UPDATE - 9/19/06 - 9:30 AM PDT)

More standard DVD news this morning: Disney is expected to announce today that Pirates of the Caribbean: Dead Man's Chest will arrive on 12/5 in two versions... a single-disc edition (SRP $29.99) and a 2-disc collector's edition (SRP $34.99). Extras on both will include audio commentary by screenwriters Ted Elliott and Terry Rossio, and a gag reel. According to Home Media Retailing, the collector's edition will add "10 featurettes, including a profile on star Johnny Depp, an inside look at the movie's theatrical premiere on Disneyland's Main Street, a photo diary from producer Jerry Bruckheimer, a feature on "re-imagineering" the Disneyland theme park's popular Pirates of the Caribbean attraction into a movie, and an extensive making-of documentary." Meanwhile, work on the final film in the trilogy, Pirates of the Caribbean: At World's End, is already underway. Expect a box set of all three films on DVD in time for the holidays next year.

By the way... a lot of you have been e-mailing us about word that's leaked out of Australia in the last few days about a 13-disc Superman: The Ultimate Collector's Edition set that's due to be released there on 12/6. The set contains the 4-disc Superman DVD, a 3-disc Superman II DVD (the 2-disc DVD that's already announced here, plus The Donner Cut DVD), the single-disc Superman III and Superman IV discs, a 2-disc Superman Returns DVD, the Look, Up in the Sky!: The Amazing Story of Superman documentary DVD and a brand new bonus documentary DVD entitled You Will Believe: The Making of a Saga, along with other cool swag in tin case packaging. As you might expect, we're hearing all kinds of reader freak-outs via e-mail about this:

"Hey, man... are we getting that awesome tin here in the States?"

"What's up with this Australian box set anyway?"

"Is the 8-disc Chris Reeve box set the best we're getting in Region 1?!"

"OH MY GOD, WE'RE ALL GONNA DIE WITHOUT THE AUSTRALIAN SUPERMAN BOX!!!"

Okay... remember how a couple months ago I told you that Warner Home Video had suggested that their previously-announced 14-disc box set might still happen? Well, that's still true. Keep in mind that the DVD release of Superman Returns hasn't even been officially announced yet, so the revelation of any kind of box set that might include it would logically have to wait for that to happen first. Bottom line... just keep yer stretchy red and blue pants on a little bit longer if you can, folks. Rest assured, we'll follow up with any official details as soon as they're available.

Stay tuned...

(EARLY UPDATE - 9/19/06 - 12:01 AM PDT)

Morning, folks! We've got very cool high-def news for you this morning! Remember how we told you yesterday that Warner had announced the HD-DVD release of Batman Begins and The Polar Express for 10/10 at CEDIA last week? Yeah... well it turns out that wasn't the whole story. HERE'S the whole story: On 10/10, Warner will release Charlie and the Chocolate Factory (with In Movie Experience), Tim Burton's The Corpse Bride, the original Willy Wonka and the Chocolate Factory, the aforementioned Batman Begins (also with In Movie Experience) and The Polar Express on HD-DVD format (SRP $28.99 each), along with Syriana and 16 Blocks on Blu-ray Disc format (SRP $34.99 each). From Warner's press release:

"The IME for Batman Begins gives viewers a window into director Christopher Nolan's personal journey bringing a new look and new direction to Batman, illustrated with comics, cast comments and behind the scenes footage that gives each scene new meaning. The IME for Charlie and the Chocolate Factory offers rare glimpses into director Tim Burton's creative process, scene by scene, that is at once insightful and turned on its head with comic Oompa Loompa interjections, unexpected chocolate fun facts and pop-ups."

Note that all of the standard-definition DVD features will be included on these high-def releases. Additional details as to audio formats and other specs will follow in the next few days. As you can imagine, we've updated the High-Def Release List accordingly. By the way, with this latest set of announcements on each format, Warner Home Video will officially pass the 50 titles released on high-def disc mark (we count 56 released or announced titles through the end of 2006).

And while we're talking high-def again this morning, here's an interesting idea: A trio of engineers, including two who work for Warner Bros, have updated a 2005 patent application for a hybrid optical disc that would include both an HD-DVD layer and a Blu-ray Disc layer on the same side of a disc. The other side of the disc could also include a standard DVD layer. Manufacturing would cost more, but then studios like Warner would save money ultimately because they wouldn't have to release three separate versions of titles (like The Lake House, for example, which is being released on all three formats individually on 9/26). Just as importantly, retailers already pressed for shelf space wouldn't have to stock three versions. You can read more on this here at Home Media Retailing. Fascinating...

In other news today, we've got a closer look for you at Time Life's awesome new 25-disc Get Smart: The Complete Series DVD box set, which will be available exclusively through Time Life until late next year, when individual seasons will be available at normal video retailers. The box set begins shipping on 11/15 ($199.96). You'll find more about the set's contents in this post (slide down a paragraph or two for the details).




Also this morning, here's the cover artwork for MGM's James Bond: Ultimate Edition - Volume 3 and James Bond: Ultimate Edition - Volume 4 box sets (both due 12/12 from Fox), as well as Paramount's Mission: Impossible - Ultimate Missions Collection box set (10/30)...




Stay tuned....

(LATE UPDATE - 9/18/06 - 12:15 PM PDT)

Okay... we've got a few more new standard DVD announcements to report today. First up, 20th Century Fox will release Family Guy: Volume 4 on 11/14. A Miracle on 34th Street: Special Edition follows on 11/21, and St. Elsewhere: Season 1 rounds out the month on 11/28. Charlie Chan: Volume 2 kicks off the month of December on 12/5 (including Charlie Chan at the Olympics, Charlie Chan at the Opera, Charlie Chan at the Race Track and Charlie Chan at the Circus). A Garfield: Behind the Scenes DVD release streets that same day. Finally, The Simple Life: Season 4 - 'Til Death Do Us Part has also been announced for release on 12/26.

Meanwhile, Criterion has set William Greaves's Symbiopsychotaxiplasm Take One documentary for release in December (Cat #360), along with Albert Maysles' The Beales of Grey Gardens (#361) and a new 2-disc edition of the original Grey Gardens (#123).

Moving on today... a lot of you have asked for my impressions about the new CG remastered Star Trek: The Original Series, which debuted in broadcast syndication around the country this weekend. I have to say, I have really mixed feelings. On one hand, the transfers of the original episodes look absolutely gorgeous. The vibrant color, the fine detail, the light texture of the print grain... it's just exceptional. The new HD transfers offer really a great looking image. On the other hand, the new CG effects aren't nearly what I'd hoped they'd be. The producers have gone to such great lengths to replicate the original shots, that they've left in all the strange camera moves and overly-bright lighting. Rather than keeping the spirit of the original shots, but making them look more realistic... more atmospheric, they've simply taken the cheesy original effects shots... and made them look just as cheesy, only cleaner and more detailed. It just doesn't look or feel right to me. The ships still move in that awkward, sometimes flying sideways way they always did - a limitation of how effects artists could move the camera in relation to the models back in the 1960s. And the new CG models are VERY brightly and generically lit - way more than would be natural in actual deep space - so much so that they actually look drab. The original models back in the 60s had to be brightly lit to allow the optical printing process to work properly, but that's not necessary with CG ships. And because the new CG models are SO detailed, with this same lighting they actually look more like cheesy models than the originals did. At least, in the original shots, the lack of detail helped sell the scale of the ships. I guess I was really hoping that the new effects would be more realistically lit, and that the ships would move more accurately, like big lumbering ships really would - more like they do in the more recent series. I really loved how the original Constitution class looked in the 2-part Enterprise episode In a Mirror, Darkly. But these new effects are... well, somehow disappointing to me. If you're going to replace all the original effects with new effects... do it right. I find myself wishing that CBS had gone with EdenFX or Daren Dochterman after all, instead of trying to do this in-house themselves. All you have to do is click on that link to Daren's website and look at any of his test footage to see how this project SHOULD be done: respectful, but realistic.

Here's an illustration to better make my point. This is a screen shot of the new CBS Digital effort:




And here's the Enterprise as test-rendered by Dochterman:




Not to toot Dochterman's horn, but this is what I'm talking about. You tell me which one looks more real, more dimensional and is lit more naturally? (FYI, click on the bottom image for a wallpaper sized version). I actually think the producers involved in this new effort at CBS Digital are being TOO respectful, believe it or not. So faithful to the original, that they're actually missing the point, if that makes sense. Ah well. I really hope the new effects get better and soon, because this is otherwise a MAJOR missed opportunity. I really wanted WOW factor... and other than the stunning quality of the HD transfers, I'm sorely wanting for the 'wow' at the moment. You can see before and after shots of the new CG effects at Trek Movie.com (along with other comments, news and reviews related to the project).

Stay tuned...

(EARLY UPDATE - 9/18/06 - 12:01 AM PDT)

Hope you all had a fine weekend. We'll have another update later today, but we wanted to check in early this morning with news that Warner Home Video, at the CEDIA Expo in Denver on Friday, officially announced that they'll be releasing Batman Begins and The Polar Express on HD-DVD format on 10/10. Batman Begins will feature Warner's In Movie Experience (IME) picture-in-picture commentary, among other extras. We'll have more details on both titles later today.

Also announced for HD-DVD release at CEDIA were The Eagles: Live in Melbourne, Cream: Live at the Royal Albert Hall and James Taylor: A MusiCares Person of the Year Tribute on 11/14 from Rhino.

DVD International has added a trio of new DVD/HD-DVD Combo format titles to its 10/31 slate, including Antarctica Dreaming: Wildlife on Ice, Fireplace: Visions of Tranquility and Visions of the Sea.

And in a surprise bit of additional high-def news this morning, Paramount has revealed that its Reds: 25th Anniversary Edition, which has already been announced for DVD release on 11/7, will be available on both HD-DVD and Blu-ray Disc formats that day as well.

We've updated the High-Def Release List accordingly.

On the standard DVD front today, Buena Vista and Disney have announced the 11/28 release of the Robin Hood: Most Wanted Edition (the 1973 animated feature film). And on 12/19, look for 4 new Walt Disney Treasures releases, including Your Host, Walt Disney, More Silly Symphonies, The Complete Pluto: Volume 2 and The Mickey Mouse Club Featuring The Hardy Boys.

Here's a little new cover art for you as well this morning... Warner's The Christopher Reeve Superman Collection on DVD (11/28), Universal's Dr. Seuss' How the Grinch Stole Christmas on HD-DVD (11/21) and Fox's The Omen (2006) on Blu-ray Disc (11/14)...




We've also kicked off a pair of new Contests today, giving you each the chance to take home copies of Warner's Smallville: The Complete Fifth Season, Gilmore Girls: The Complete Sixth Season and The Ellen Degeneres Show: Ellen - DVD-licious! These contests will run until Noon (Pacific) on Sunday, September 24th. Click on the links to get started and good luck!

Stay tuned...

9/15/06

Wow... can you believe another week's in the can? Time sure does fly when you're busy covering a format war. Speaking of which, there's an interesting development in the HD front today, plus some new DVD release news too.

First though, we follow up my DVD reviews from yesterday with a review of another much-loved trilogy that's recently been re-released on DVD... New Line's The Lord of the Rings Trilogy: Limited Editions. Are they worth picking up if you already have the previous DVDs? Read the review and find out.

By the way, speaking of Lord of the Rings, the film industry trade Variety recently reported that MGM (which owns the theatrical release rights) and New Line (which owns the production rights) are tentatively planning to team up on a big-screen version of The Hobbit and they're hoping Peter Jackson will direct. VERY interesting and fantastic news if true. However, our sources tell us that the studios had better hurry up and ASK Jackson to do it, because the director's production schedule is getting pretty full. If they're going to do The Hobbit, it would also be great if they'd do it soon enough so that Ian Holm, Ian McKellen and Christopher Lee can participate somehow.

Right... now for that HD news. At the CEDIA (Custom Electronic Design & Installation Association) convention going on this week in Denver, Toshiba officially unveiled its second-generation of HD-DVD players... the HD-A2 ($499) and HD-XA2 ($999). Both of these units will boast faster disc load times, better remote controls, increased bandwidth and improved color enhancement. The XA2 will also feature an HDMI 1.3 output, will pass true 1080p video signals, will handle virtually all of the latest audio codecs and will allow you to adjust a variety of picture settings for better calibration of your system. Sounds like a videophile's dream. You can read more on this here at Ultimate AV.

We've also updated our High-Def Release List with the latest information from Lionsgate as to their Blu-ray Disc release plans for the rest of 2006 and early 2007. The main thing to know is that their Wave 3 titles, which had been slated to street next month (on 10/17 and 10/26 respectively) have been delayed until January and February of 2007. We also have tentative Blu-ray release dates for titles like The Descent and Saw III. Do check it out.

Okay... moving on to standard DVD, we have updated details for you on Time Life's Get Smart DVD release. Get Smart: The Complete Series arrives on DVD on 11/15, in a box set that's only available direct from Time Life for $199.96. You won't be able to buy these discs in stores until Fall 2007 (individual seasons will be available later). The episodes are uncut, remastered and feature new introductions by series star Barbara Feldon. Video is the original full frame, with audio in English (and English closed captions). The set comes packaged in a replica phone booth, and features 9 hours worth of extras including audio commentary on 8 episodes (various participants include Mel Brooks, Buck Henry, Barbara Feldon, Leonard Stern, Bernie Kopell, Don Rickles, James Caan and Bill Dana), new video interviews with Buck Henry, Barbara Feldon, Leonard Stern, Bruce Bilson and Bernie Kopell, bloopers, an excerpt from the legendary Museum of Television & Radio's Get Smart seminar in 2003, Barbara's Top Brass Hair Care commercial, 2 1965 NBC promos for Get Smart, Get Smart's Emmy Award Wins, Don's 75th Birthday Party and Roast at the Playboy Mansion, a syndication promo, Don and Barbara as Rose Bowl Parade Grand Marshalls, Don Adams' memorial service, a clip reel, 5 production featurettes (including The Secret History of Get Smart, Barbara Feldon: Real Model to Role Model, Spooks, Spies, Gadgets and Gizmos, Code Words and Catchphrases and Fans, Fans, Fans), a schematic of The Chief's office, blueprints for Max's apartment, a guide to What's in 99's Purse?, plans of Max's Sunbeam, original scripts, NBC standards memos about Get Smart and other TV appearances by the cast including Don as Byron Glick on The Bill Dana Show, a trio of appearances by Don on The Andy Williams Show, the 1965 NBC Season Preview hosted by Maxwell Smart, and Milton Berle's Wild, Wild World of Comedy. Would you believe how cool THAT sounds? DAMN! I can't WAIT to get my hands on that baby. Next to Star Trek, Get Smart is my all-time favorite classic TV series, and I know I'm not alone. You can read more about the DVDs here at the fan site Would You Believe.com. Thanks to Bits reader Kenneth P. for the heads-up.

In other news today, Universal has just announced the DVD release of Woody Allen's Scoop on 11/21 (SRP $29.98).

Also, Genius Products will release Feast on 10/17, with a Cinema Paradiso: Limited Collector's Box Set following on 11/7.

In more general news, Nintendo has announced that their new Wii videogame system will debut on 11/19 for $250, bundled with the game title Wii Sports.

Also, Home Media Retailing is reporting that Ben Feingold has stepped down as president of Sony Pictures Home Entertainment after serving in that position for 12 years. Taking over the reigns from Feingold is David Bishop, the former MGM Home Entertainment chief.

Finally today, this weekend will see the debut of the newly-remastered, CG-enhanced Star Trek: The Original Series. The first two episodes, Balance of Terror and Miri, will start airing on broadcast stations around the country tomorrow. On Star Trek.com today you'll find a list of the episodes and airdates, as well as a list of stations around the country that will be carrying the new episodes (you'll need to consult your local listings for specific showtimes - for example, here in the L.A. area it looks as if KNBC will play Balance of Terror at 12:05 AM on Monday morning). You'll also find an awesome new trailer for the remastered debut of the series. Gotta tell you, I'm looking forward to checking this out.

We'll leave you today with a little HD artwork... specifically cover scans for some of Fox's recently announced Blu-ray Disc titles, including the Kingdom of Heaven: Director's Cut, Speed, Ice Age: The Meltdown, The League of Extraordinary Gentlemen, Fantastic Four and The Transporter (all due 11/14 except Ice Age, which is due 11/21). All are now available for preorder at Amazon.com at the links below...




Have a great weekend! Stay tuned...

(LATE UPDATE - 9/14/06 - 5:30 PM PDT)

Just a quick update to let you know that I've just posted my reviews of the new Star Wars Trilogy: Limited Edition DVDs from Fox and Lucasfilm, along with a look at Warner's new Blade Runner: The Director's Cut - Remastered Limited Edition. And be sure to check back tomorrow for reviews of ANOTHER much loved trilogy that's recently been given a new spin on DVD (plus more news and whatnot too). Enjoy and stay tuned!

(EARLY UPDATE - 9/14/06 - 12:30 PM PDT)

Afternoon, folks! We've got a couple interesting DVD release announcements for you today.

To start, First Run Features has just announced that they're going to be releasing director Michael Apted's latest installment in the acclaimed UP documentary series, 49 UP, on DVD on 11/14 (SRP $29.95). The 134-minute film opens theatrically in 50 cities around the country on 10/6. DVD extras will include a video interview of Apted by film critic Roger Ebert, a director biography and a photo gallery. Keep in mind that all of the previous films in the series, from Seven Up through 42 UP, are currently available in a DVD box set from First Run.

Meanwhile, BCI has officially announced the DVD release of another great animated series. Groovie Goolies: The Saturday "Mourning" Collection streets on 10/24 (SRP $29.98). All 16 classic episodes will be included, along with the brand new 45-minute Goolians "docu-comedy," audio commentary on 2 episodes hosted by Wally Wingert (and featuring producer Lou Scheimer, head writer Jack Mendelsohn, Filmation historian Darrell McNeil and our favorite Hollywood monster expert Bob Burns), an image gallery (featuring original model sheets, animation cels, storyboards, backgrounds and PSAs), a Goolie-Get-Together sing-a-long, a candid story from Scheimer on The Creation of Filmation, series trivia, an episode guide, and DVD-ROM extras (including scripts and the original series bible for The Kookie Spookies). Nice.

BCI will also release the Spooky House live action feature film on 10/24 (SRP $14.98), featuring the voice talents of Sir Ben Kingsley and Mercedes Ruehl. Video will be anamorphic widescreen with Dolby Digital 5.1 EX audio.

While we're talking BCI, the company tells me that they've delayed their first HD-DVD releases, That's the Way of the World, Galaxina and Golgo 13, which had been expected to street yesterday. We'll let you know when they advise us as to a new, firm street date. We've updated the High-Def Release List accordingly.

In other news today, Video Business has followed up on that Samsung firmware info we posted yesterday. According to their report, the update is now set for LATE October, but will address the Genesis (noise reduction filter) chip issue and will add compatibility with new BD-Java features that are expected on Blu-ray Disc releases later in 2006. You'll be able to download it online, or have an update disc sent to you via mail. Make sure you sign up with Samsung and they'll e-mail you when the update is available. To do so, just click to this page on the Samsung website, and then click on the "Blu-ray Software Upgrades" button on the right-hand side.

Finally, Home Media Retailing has posted an interesting story on The Weinstein Company's planned DVD release slate for 2007, which is expected to see a whopping 250-300 titles! Among the few specific titles mentioned, it notes that Kevin Smith's Clerks II is now expected to street on 11/28.

We'll be back with our reviews of the new Star Wars DVDs (and maybe one or two other titles) later this afternoon. Stay tuned...

(LATE UPDATE - 9/13/06 - 4 PM PDT)

Okay... obviously, the BIG news from yesterday is Apple's announcement that they're going to be launching a broadband movie download service via their iTunes software (starting with Disney/BVHE titles). More importantly, the company is working on a new set-top device (the $200 iTV, available by 2nd Qtr 2007), that will allow you to download movies and other video programming right to your TV. This is a big deal, folks. You can bet that Apple isn't the only company that's going to be doing this, and it signals potential trouble for Blu-ray Disc and HD-DVD. There are few details so far on the iTV, but eventually it's reasonable to expect that high-definition programming will be available for downloading on this and other services. It'll have a hard time competing with either high-def disc format in terms of sheer quality, but it might be seen by the wider consumer audience - who isn't as concerned with the very highest quality, but rather wants convenience and portability - as the more attractive choice for getting HD programming. We've been expecting just such a development for a while now, and what it could mean is that the window for Blu-ray Disc and HD-DVD to catch on and gain traction in the market with consumers is going to be short indeed. Which is why it's all the more important for both camps to start showing their stuff, particularly by offering more desirable titles now (rather than holding them for later to allow for more advanced features). Universal and Fox deserve credit for their recent announcements of Peter Jackson's King Kong and Ridley Scott's Kingdom of Heaven (on HD-DVD and Blu-ray Disc, respectively). Those are EXACTLY the kinds of titles that are going to sell hardware, so we hope lots more such announcements are in the offing and soon.

Speaking of HD-DVD and Universal, the studio has just announced the release of Dr. Seuss' How the Grinch Stole Christmas on 11/21 as an HD-DVD/DVD combo title (SRP $34.98).

Also today, Sony has announced the Blu-ray Disc release of Monster House (10/24) and Little Man (11/7). We've updated the High-Def Release List accordingly.

By the way, as a follow up on a story we've reported on previously, I can tell you with confidence now that 50GB BD-ROM discs DO work on the Samsung BD-P1000. I visited one of the Hollywood studios yesterday before the taping of Attack of the Show, and got the chance to see a production movie title (can't say what it was unfortunately, but you'll know soon enough) on the dual-layered Blu-ray Disc media. I held it in my hands and watched it play successfully with my own eyes. I even watched the seamless switch between layers occur without a glitch. Apparently the problem we reported on previously was related to BD-R media only - check discs that were being used to test authoring, that the player was having difficulty with. Just know that the final product 50GB BD-ROMs SHOULD work on your players without problems.

On a related note, I'm being told that Samsung's first public firmware upgrade for the BD-P1000 is tentatively expected sometime later this month or early in October. We'll let you know when it's available and how to get it.

And on the HD-DVD end of things, Toshiba has just announced the development of a single-sided, triple-layered DVD/HD-DVD combo disc configuration, that allows for 30GB of data storage on the HD layers and 4.7GB on the standard DVD layer. You can read more here at Gizmodo.

Moving on to standard DVD, Sony has revealed a 7-disc Seinfeld: The Complete Seventh Season for release on 11/21. Extras will include 11 deleted scenes, a blooper reel, audio commentary on 10 episodes with members of the cast and crew, factoid tracks on all 24 episodes, 15 Inside Look featurettes on the making of various episodes, as well as 5-more production featurettes (including Larry David's Farewell, Queen of the Castle: The Elaine Benes Story, Dr. Cosmo on Marriage & Family, Sein-Imation: George & the Whale and Where's Larry?: Seinfeld's Secret Guest Star).

Meanwhile, Fox has set Boston Legal: Season Two for release on 11/21 (SRP $59.98). Extras on the 7-disc set will include the Legal Pad: The Words of Boston Legal and The Look of Boston Legal featurettes.

Fox is also releasing both M*A*S*H: Season Eleven (the final season - $39.98) and a 36-disc M*A*S*H: Martinis & Medicine Collection box set containing the complete series on DVD along with the 2-disc original feature film release (SRP $199.98) on 11/7.

And Warner will release The Ant Bully on DVD on 11/28 in separate full frame and anamorphic widescreen editions (SRP $28.98 each), along with Supergirl.

Here's a look at cover art for Boston Legal: Season Two, Supergirl, Monster House, final art for BCI's forthcoming Ark II: The Complete Series (TBA), The Ant Bully and, for those of you wondering what HD-DVD TV series packaging will look like, HBO's The Sopranos: Season 6, Part 1 (11/7)...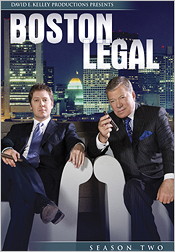 Stay tuned...

(EARLY UPDATE - 9/13/06 - 2 PM PDT)

Afternoon, folks. First of all, thanks to all those of you who watched my appearance on Attack of the Show's The Loop segment yesterday. I've gotten a lot of nice e-mails today from readers who tuned in. I have to admit, it was a lot of fun - not just the appearance itself, but talking DVD and Star Wars with Film Threat's Chris Gore and The Force.net's Josh Griffin in the green room. Chris even brought his copy of Star Wars on Super-8 film for show and tell. The boy's probably funded a wing at the Skywalker Ranch with all his Star Wars purchases. Anyway, for those of you who didn't see the segment, you can watch it below, via G4's The Pile. Thanks to everyone at Attack of the Show for the invitation.


More Archived Posts
Back to Current Posts