-Newsletter est. 4/15/97-
-Website est. 12/15/97-



page updated: 6/29/06
My Two Cents
(Archived Posts 6/21/06 - 6/9/06)
Back to Previous Archives
Back to Current Posts
(LATE UPDATE - 6/21/06 - 6 PM PDT)

Just wanted to check in here with a quick standard DVD update. New Line is gearing up to release a trio of new Lord of the Rings DVDs on 8/29. Each of these new 2-disc Limited Edition releases will carry an SRP of $28.98. They'll include both the theatrical and extended versions of each film on the first disc (via seamless branching). However, don't expect these discs to look as good as the films on the 4-disc set - that's a LOT of video material to cram on a single disc (I'd expect them to look about as good as the 2-disc versions). Audio will be Dolby Digital 5.1 only, with no audio commentaries. The second disc on each set will include a completely new documentary on the complexities involved in the making of the film, running 300 minutes in all over the three titles.

For those wondering about a possible HD-DVD or Blu-ray release, don't expect one to happen until next year at the earliest. Dual-layered Blu-ray Discs are still in the testing phase (that is to say, a title hasn't yet been released on dual-layered BD media), although many HD-DVD titles released thus far have been dual-layered. However, neither format is capable of doing seamless branching yet (those portions of the specs have yet to be tested and worked out).

Anyway, we'll be back with more DVD news tomorrow. Stay tuned...

(EARLY UPDATE - 6/21/06 - 3 AM PDT)

Well... I've had my first experience with Blu-ray Disc, and Samsung's BD-P1000 Blu-ray Disc player. For the record, I have four titles on hand... The Fifth Element and The Terminator (from Sony and MGM) and Lord of War and Crash (from Lionsgate).

You know how I keep saying that these formats are being rushed to market about a year before they're ready? And you recall how hard I was on the HD-DVD camp for their klutzy launch and buggy hardware? And you know how I said that Blu-ray Disc looked like the superior format, at least on paper? Well... unfortunately, the Blu-ray camp has dropped a dud with their big launch too. Every bit as klutzy as HD-DVD. Think Clark Kent klutzy, or Gerald Ford klutzy, or Chevy Chase playing Gerald Ford klutzy.

Let's start with the Samsung player. Nice box, nice packaging. You pull the BD-P1000 out of said packaging and it looks pretty badass. Love the lines. It's a much nicer looking player than Toshiba's HD-A1, though it's lighter and feels a little less solid. The BD-P1000's remote is nicer too... not backlit unfortunately, but it feels better in your hand and the buttons are laid out more conveniently.

Connection via HDMI is pretty easy. You fire the BD-P1000 up and the first thing you notice is a sexy blue glow from the various openings on the player. Nice... except I have yet to find a dimmer. And it's just a little too bright, you know? Anyway... the player fires up very quickly. You get a welcome screen within about 5 seconds of power-on. BIG improvement over the Tosh HD-DVD player. You can load a disc after less then 30 seconds, also an improvement over the Tosh. I also like that when it's loading or thinking, you get a little onscreen icon to let you know, rather than just nothing. At least you feel like the thing is doing something. For whatever reason, the player defaults to 720p output via HDMI... you have to go into the setup menu to select 1080i. Okay, so that's what I did.

Now it's time to look at my first Blu-ray Disc. Naturally, my hand swerved towards The Fifth Element. The title was an amazing bit of reference work on standard DVD, and that Superbit version was awesome. Obvious choice, right? Should look amazing in HD. Yeah... it should. But it doesn't. In fact... I'm not going to come out and say it looks like crap, but it is easily the worst looking high-definition title I've seen yet, and I've seen 30+ titles now. The image is muddy looking, lacking in crisp, clean detail. The colors don't quite pop off the screen like they should. Just a mess. Okay... I will say it. It looks like crap. Sony should never have released this title like this. In fact, they should be embarrassed about this disc. Seriously, if you compare the upscaled Superbit standard-definition DVD to this, the Blu-ray Disc looks only marginally better. This should have been a reference title in high-def and it's not even in the ball park. My brow furrowed in troubled surprise at this point. Wow... and not the good kind.

Next, I tried The Terminator. A big improvement. This is easily the best quality I've ever seen The Terminator looking before. Still... it's a little bit soft and gritty looking, but then it's an older film and that's the nature of the film stock used. The disc is very good looking, but not blow-you-away good. In any case, this is probably not the best title to test the video quality of Blu-ray Disc, so let's move on.

Now these two Lionsgate titles... they're much better looking. Crash and Lord of War have significantly improved clarity, crisp yet clean detail, vibrant color... they're much more like what I expected Blu-ray Disc would look like. Both have a more film-like image. And yet...

There are some problems I'm seeing right away with all of the Blu-ray Disc titles on the BD-P1000. First, when I switch to 1080i, I'm noticing some very obvious scaling issues that I don't see when the player is set to 720p. I also don't see anything like this on the Toshiba HD-A1 at any resolution, so this is specific to THIS player, which may be why Samsung ships it with 720p set by default. Second, I'm noticing a very slight "studdering" problem. About once a second, or maybe once every few seconds, the video seems to hesitate for just a instant - a tiny fraction of a second. You notice it most when the images on screen are moving quickly, or when the camera is panning. It may be that this issue is related to the first. Still trying to figure out what I'm seeing here. Lionsgate's Lord of War was the title where I noticed it first, and I'll have to check them all before knowing whether it's just this title or all of the discs. Again, it's not something I've seen on any HD-DVD titles thus far.

By the way, I haven't tested the Samsung's standard DVD upconversion capability to any real degree yet. Just FYI.

If I had to compare my initial impressions of Blu-ray Disc to those of HD-DVD... well, I certainly need to see more Blu-ray titles and spend more time with the player. I'm really just giving you my initial, off-the-cuff comments, based on less than 10 hours of viewing time with the Samsung. It's worth noting that we've only seen one player for each format, so it's hard to say what issues are specifically related to the players, and what are format related. But right now... I think I may end up giving Round One of this format war to HD-DVD, and that surprises the hell out of me. Sure, that Tosh HD-DVD player was a lemon until the firmware upgrade, but it's worked like a charm since. And the first 25 or so HD-DVD discs I've viewed just look better overall than the first 4 Blu-ray Discs I've seen. The HD-DVDs also have a LOT more extra features than the Blu-ray Discs (even if you consider that most of the extras are recycled from standard DVD). For the record, Terminator on Blu-ray has 7 deleted scenes and 2 featurettes, recycled from standard DVD. Fifth Element has a pop-up trivia track, again from the standard DVD. The Lionsgate titles have nothing. I keep hearing these comments (both official and unofficial) from Blu-ray execs saying that they're leaving off the extras so they can give all the extra disc space over to the best video quality possible. Which tells me that Blu-ray is having major disc space problems. I've heard from more than a few industry sources that Blu-ray is having trouble getting the dual-layered BD media to work, which means that discs with lots of extras and good video quality aren't an option now. It also means that longer movies aren't an option now either. Both are problems for this format that don't seem to be troubling HD-DVD at the moment - at least not at first glance, based on the initial title offering.

What all of this goes to prove, of course, is just what I've been saying all along: These formats are being rushed to market before they're ready. And it also proves that the best option for the vast majority of you out there is just to save your money. Don't even bother with Blu-ray Disc and HD-DVD for at least a year, because there are significant bugs to be worked out yet. Wait until better hardware and software is available at a better price, and the early adopter types have dealt with the problems and getting the manufacturers and studios to fix them. Anyway, I'll have more to say about Blu-ray Disc and the Samsung player in the next few days, as I spend a little more time with it. But so far, I'm less than impressed.

Changing gears for a moment, elsewhere around the site today we've updated both the High-Def Release List and the UMD Release List with new release announcements.

Also, Matt over at TAP has posted a review of Tears for Fears: Songs from the Big Chair on DVD.

Okay, it's pretty late (or early) and my eyes are burning, so enough for now.

Stay tuned...

(LATE UPDATE - 6/20/06 - 11:15 AM PDT)

We've got some DVD news that's going to make a lot of you happy. Universal has just officially announced the release of Battlestar Galactica: Season 2.5 for 9/19 (SRP $49.98). The 3-disc set will include all 10 of the remaining episodes from the season in anamorphic widescreen video with Dolby Digital 5.1 audio, along with an extended version of the Season 2.0 cliff-hanger episode Pegasus. Additional extras will include all of producer Ron Moore's podcast commentaries, deleted scenes and producer David Eick's video journals. There's no word yet as to whether Season 2.0 and 2.5 will be sold together as a 2-pack, or as a single release at a later date.

Universal has also announced NBC's The Office: Season Two for release on 9/12 (SRP also $49.98). This will be a 22-episode, 4-disc set, with video in anamorphic widescreen and audio in Dolby Digital 5.1. Extras are due to include extended and deleted scenes, outtakes and more.

Universal has announced a bunch more HD-DVD releases today as well, including Red Dragon, Seabiscuit and Traffic on 9/12, and End of Days and Fear and Loathing in Las Vegas on 9/19 (SRP for all is $29.98 each). Also on 9/19, the studio will release a pair of DVD/HD-DVD Combo titles, including Dazed and Confused and George A. Romero's Land of the Dead (SRP $34.98 each).

Meanwhile, Sony has set RV for DVD, UMD and Blu-ray Disc release on 8/15, with Silent Hill following on DVD, UMD and Blu-ray Disc on 8/22. The DVDs will be available in both full frame and anamorphic widescreen. Other newly announced standard DVD releases from Sony include The Hard Corps, a White Nights: Special Edition, a Tap: Special Edition, Mountain Patrol: Kekelixi and The Chuck Norris Collection (which includes Delta Force 1 & 2, Missing in Action 1 and the Missing in Action 2 & 3 Double Feature), all on 8/29.

We'll update our High-Def Release List and UMD Release List later this afternoon to reflect the new announcements.

Meanwhile, back on the standard DVD front, BCI has announced that they're creating a new Ink & Paint label, under which they plan to release lots of classic TV and feature animated titles from the 70s, 80s and 90s on DVD. These will include the first three volumes of He-Man and the Masters of the Universe, along with such forthcoming titles as She-Ra, Princess of Power, Flash Gordon, Prince Valiant, The Groovy Goolies, Blackstar, Space Sentinels and Freedom Force. Look for lots of extras to be included on each release.

Stay tuned...

(EARLY UPDATE - 6/20/06 - 12:01 AM PDT)

Well... it's Day One for Sony's Blu-ray Disc at last. The discs are here, the players should be here, and we've finally got something to compare Toshiba's HD-DVD image quality to. How will the two formats stack up against one another? We've gotten our hands on Samsung's BD-P1000, and we'll be looking at our first discs over the next few days, so we'll start to let you know soon.

In the meantime, as Warner revs up its hype machine to begin promoting the release of Superman Returns in theaters next week, I thought it would be a good time to review their new Look, Up in the Sky! documentary DVD, which arrives in stores today. I also thought it might be timely to take a look at a trio of DVD releases of the classic Fleischer-animated Superman serial, including Image's The Superman Cartoons of Max & Dave Fleischer (released in 1998), Image and Bosko's later The Complete Superman Collection: Diamond Anniversary Edition (released in 2000), and VCI's new Superman: The Ultimate Max Fleischer Cartoon Collection (released just last month).

Speaking of Superman Returns, is anyone else out there as excited to see the film as we are? The mainstream press reviews have started to go up around the Net today, and they're almost all glowing in their praise of the film (although we caution you that many of the reviews feature MAJOR spoilers). I know we've been talking about the film since Comic-Con last year, but there's one bit of footage I've seen recently from the film that really speaks volumes to me. In the Look, Up in the Sky! documentary, there's a shot of Brandon Routh as Clark Kent where he's holding a picture of himself as a child with his adopted parents... and one of the faces we see in the B&W photo is that of Glenn Ford as Jonathan Kent (from Richard Donner's original 1978 Superman). It's just little details like that - the fact that director Bryan Singer has preserved details like that in his reimagining of the Man of Steel mythos - that have me really truly excited. In fact, I don't think I've been this excited since I stood in line with Matt (Mr. MusicTAP himself) a couple years ago to take in a 12-hour marathon of Peter Jackson's Rings movies, culminating in the premiere of Return of the King. I just so want this movie to be the home run it could and should be. Fingers crossed. You can bet Matt and I will be taking in a Midnight screening next Tuesday night, along with legions of other Superman fans. It promises to be the biggest and most entertaining film geek event of the Summer. How can you possibly pass up on that? ;-)

Anyway, we'll be back with more DVD news later, so stay tuned!

6/19/06

Hey... what do you know? Here's a nice bit of news to help start the new week off on the right foot: Entertainment Weekly has just named The Digital Bits one of their 25 Favorite Online Entertainment Sites for 2006! The publication has just posted their picks online, and you'll find them in the June 23rd print issue as well (pictured below - see pages 38-40), which is arriving on newsstands now. By lucky chance, it's the Superman Returns issue, so lots of folks are sure to read it.





We're certainly honored and, of course, pleased as punch. It's nice to know that after nearly TEN years of covering movies on disc, we're still managing to hold on to our relevance and some measure of street cred. Other sites chosen by EW this year include our friends at Ain't It Cool News, the Internet Movie Database and The Onion, so we're in fine company! The editors of each site were also asked to pick three of their own favorites for a total listing of 100 in all (for the record, our picks included Adult Swim, Comics.com and Areas of My Expertise, the eclectic home of writer and regular Daily Show contributor John Hodgman - you may also know him as "PC" in those new Mac ads).

This honor is certainly shared with all of our dedicated staffers here at The Bits (past and present), along with everyone at our MusicTAP.net and DVD Fanboy partner sites, DocDVD and everyone involved with our new Digital Forum too - people whose hard work and dedication over the years have helped to make The Digital Bits what it is today. Special thanks also to the editors of EW for the recognition, and to you, our readers (both those inside the Hollywood filmmaking community and you DVD fans the world over), for all of your unwavering support from Day One back in 1997. You guys are the best!


All right, before we go and have an embarrassing Sally Field Oscar speech moment, we've got some new DVD reviews for you today, and well as some release news to report.

First up, Adam Jahnke has just checked in with a new edition of The Bottom Shelf, in which he looks at a trio of interesting war-related films, including Universal's Jarhead, Magnolia's The War Within and Sony Classics' Why We Fight documentary. All are interesting and well worth your time (the first two are already available - Why We Fight streets on 6/27).

Now for that DVD news... Goldhil Entertainment and Liberation Entertainment have announced the DVD release of the classic Daniel Boone TV series starring Fess Parker. Seasons One and Two of the series will arrive on disc on 9/26 (SRP $49.98 each), with extras set to include audio commentary from Parker, a photo gallery, video interviews with Parker and a guide to his winery and resort (hhhmmm...). You can read more here at Home Media Retailing.

Meanwhile, 20th Century Fox has revealed that they'll release the first season of NBC's My Name Is Earl on DVD as a 4-disc set on 9/26 (SRP $49.98), complete with a new, unaired episode created exclusively for this DVD release. Again, you'll find more here.

Universal has set Focus Films' On a Clear Day for release on 7/11 (SRP $29.98), with video in anamorphic widescreen and audio in Dolby Digital 5.1. Extras, if any, are TBA.

Buena Vista has set Disney's The Wild for release on 9/12, along with The Miracle Match. A Twitches: Bewitched Edition is also due on 9/5.

Billy Zane fans will be pleased to learn that Paramount has set Survival Island for release on 8/15 (and yet still we await the studio's first HD-DVD announcements... go figure).

Also, Warner will bow Cartoon Network's Ed, Edd 'n Eddy: The Complete First Season on 10/10.

Okay... that's all the news for now on this Day Before Blu-ray Day. The high-def battle is about to be joined as the very first Blu-ray Disc titles finally arrive in stores tomorrow. The Samsung player is now in stock at many retailers (it's officially due on 6/25). Later this week, we'll get our first hands-on look at Sony's half of the high-definition disc war here at The Bits, and you can be sure that we'll let you know exactly what we think about it. We've got more standard DVD and HD-DVD reviews on the way this week as well, so don't touch that dial. Or mouse. Button. Thingie.

Finally, one last note today... and it has nothing to do with movies or DVD, so bear with me. Do we have any animal lovers in the house today? Sarah and I do volunteer work with an organization called Happy Cats, that operates out of the local PetSmart here in Irvine, California. Happy Cats is a non-profit foundation that's helped save literally hundreds of homeless and abandoned cats in the last few years, and find them great homes. I bring this up for two reasons. First, it's kitten season here in The OC, so if you're interested, there are LOTS of sweet, cuddly little felines in need of new families (and plenty of adorable adult cats too). Second, because it's kitten season - and because Happy Cats doesn't shy away from taking on even hard-to-place cats that have been abused or injured - they're always in need of donations to help pay for food and supplies, routine shots, spaying and neutering, and sometimes more extensive medical bills. If any of you out there love animals as much as we do, and you're looking for a good place to make a tax-deductible donation, the folks at Happy Cats would sure appreciate your support. You can visit their website to donate via credit card or PayPal. While you're there, you might want to take a few minutes to check out all the amazing cats available for adoption as well. (Sarah runs the website and takes all the kitty pictures too - there are some real cute ones in there!)

Anyway, just wanted to throw that out there in case you're interested. Thanks for your patience.

Back with more DVD news tomorrow. Stay tuned!

(LATE UPDATE - 6/15/06 - 8:30 PM PDT)

Alright... THIS is the last update until Monday. Seriously. But this news was just WAY too hot to sit on. This ought to make you happy, DVD fans... Criterion has just announced an AWESOME new slate of DVD releases for September, including anamorphic widescreen, 2-disc upgradings of Federico Fellini's Amarcord (Cat #4) and Jacques Tati's Playtime (#112), along with new editions of Víctor Erice's The Spirit of the Beehive (#352) and Nobuo Nakagawa's Japanese horror classic Jigoku (#353). And HERE'S the best news... also on the way for September is a new anamorphic widescreen upgrading of Terry Gilliam's Brazil (#51) available in both the original 3-disc edition and a new single-disc edition too, PLUS the badass new 3-disc special edition of Akira Kurosawa's landmark Seven Samurai (#2) that we've been expecting! All of these titles are currently expected on 9/5.

Okay... be honest now. How many of you just soiled your boxers? Yeah, us too.

DAMN! Finally, we've got a super-über Blade Runner DVD coming, and now we get upgrades of the already über Brazil set AND 3 discs of Seven Samurai too?! Wow! We likey THEM apples just fine!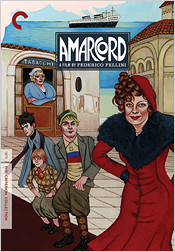 And on that happy note... we leave you until Monday. Peace out!

(LATE UPDATE - 6/15/06 - 1 PM PDT)

One last update before we get this server move rolling. We've been following up on that Lancelot Link issue we talked about earlier this morning, so the DVD reviews will come on Monday.

So here's the deal on Lancelot, direct from Image Entertainment. Their 2-disc release is not the complete series, but the company is careful not to market it as such. It seems that of the 15 episodes of the show that were made, only 12 of them were offered to Image for home video release. And of those 12 available episodes, the audio on half of one of them was missing entirely (which accounts for the missing half-episode on the DVD). Also, the masters offered to Image were apparently not in the best shape, so the studio went to a lot of effort to clean them up and make them look as good as was possible. Just know that the 2-disc DVD released yesterday is the best product they can deliver... which, as I said earlier, isn't bad given that it's only $24.99. There was a DVD release of the complete series a few years ago from another company, but it was released on 6 separate volumes for some $20 each, and it's now long out of print. So again, 2 DVDs for $25 versus 6 DVDs for $120... even with three episodes missing, that's still a helluva good deal. Anyway, that's the deal, just so you know.

Okay... one last thing. A lot of people have been asking us about the Twin Peaks DVD information we posted this morning in The Rumor Mill. Specifically, they want to know if Paramount's release is going to include the pilot episode. Our understanding is that it will, but that's not official. We'll post more information when it's available.

Now then, have a great weekend and we'll see you back here on Monday after the server move. Best to all of you and stay tuned!

(EARLY UPDATE - 6/15/06 - 12:01 AM PDT)

Okay... first up, a heads-up. It looks like our big server move is going to finally start happening later today and, with luck, should be complete by Sunday. That means we'll be away through the weekend and, again with luck, we should be back on Monday. If we can still access the server later this morning, we'll get that DVD review posted today. If not, we'll have a lot of them for you on Monday. Just FYI.

Now... on to some news. In the high-def realm, Samsung has issued a press release today officially confirming that they've shipped their BD-P1000 Blu-ray Disc player to retailers here in the States, with the units expected to be available for sale in stores around the country on 6/25. On the other hand, it seems that Sony has now pushed back the debut of their first Blu-ray Disc player until mid-August (8/15 to be exact - it had been expected in July, but no longer).

On the standard DVD front today, we're hearing from a TON of readers that Image Entertainment's new Lancelot Link: Secret Chimp release that we mentioned yesterday DOESN'T hold the complete series. Out of at least 15 total episodes (with 2 adventures and an "Evolution Revolution" musical number per episode), this 2-disc set seems to have 11½ episodes (6 per disc, except one of the episodes is missing its second adventure). To the best of our knowledge, the complete list of series episodes are as follows. Again, note that each episode has 2 adventures, plus a musical number (unlisted). Those adventures in WHITE are included on the Image set - those in ORANGE are apparently missing:

001 - There's No Business Like Show Business, Part 1 / Part 2
002 - The Great Brain Drain / The Great Double Double Cross
003 - Lance of Arabia / The Doctor Goes A.P.E.
004 - The Surfin' Spy / The Missing Link
005 - Bonana / The Greatest Chase in the World
006 - The Reluctant Robot / The Royal Foil
007 - The Great Great Race / The Great Plane Plot
008 - Landlubber Lance / The Temporary Thanksgiving Turkey Truce
009 - The Dreaded Hong Kong Sneeze / The Great Bank Robbery
010 - The Sour Taste of Success / The Baron's Birthday Ball
011 - The Golden Swwword / The Chilling Chump Chase
012 - The Chump Code Caper / Weather or Not
013 - The Evolution Revolution / The Great Water Robbery
014 - The Spy Who Went Out in the Cold / Too Many Chumps
015 - The Lone A.P.E. / Missile Beach Party

The series has gone through various owners and syndication runs over the years, so that might explain the missing eps. Hopefully, Image will release a more complete set in the future. In any case, the episodes you DO get in Image's set are still pretty nice to have, considering they're only $24.99 out the door.

All right, in other DVD news today, Sony will be releasing the comedy pirate movie Yellowbeard on 6/27. Also streeting that day are Private Resort and a pair of MGM Midnite Movies titles, Crystalstone/The Boy and the Pirates and Fortunes of Captain Blood/Captain Pirate. Ironically, those will probably be the last two MGM Midnite Movies titles Sony releases. Hopefully, Fox will be more on the ball with MGM's back catalog titles in the months ahead (like finally releasing those MIA Sergio Leone SEs... hint, hint!).

Around the site today, we've just posted the latest installment of Jahnke's Electric Theatre, which features Adam's thoughts on the recently released (to theaters) A Prairie Home Companion, Cars, An Inconvenient Truth and The Omen. I'll tell you, as a former St. Paul, Minnesota native, and as someone who admires Garrison Keillor (and has met him on a couple occasions), I REALLY want to like Robert Altman's A Prairie Home Companion. But every time I think of Altman now, I think of the personal hell I endured while watching his Dr. T and the Women and I just want to claw my eyeballs out. Ugh. Still, even a good director has his misfires. And if there's a little Bebop-a-rebop Rhubarb Pie involved, I'll take that action. If any of you see the film in the next couple days, do let me know what y'all think.

Also this morning, we've got a new update of The Rumor Mill available for your reading pleasure, and it includes words of confirmation about a MAJOR and long-awaited upcoming David Lynch DVD release. Yes... it's the one you think (and hope) it is. There's more in there too, so don't miss it.

Finally, a heads-up to you UMD fans. Fox is going to be releasing Independence Day on 6/27, and they've announced Family Guy: Volume 2 for release on 9/19.

Okay... again, don't forget, the server move means we'll either see you back here once more later today... or not until Monday. Either way, thanks again for your patience and have a great weekend. We recommend going to see Jack Black in Nacho Libre, which opens at your local Googleplex on Friday. We sure plan to. Nachoooooooooooooo!

Stay tuned...

(LATE UPDATE - 6/14/06 - 1:15 PM PDT)

Okay... quite a lot of new standard DVD release news just came in, so let's run it all down for you.

First up, Universal has announced the "value pack" DVD release of 2-packs of a number of Halloween-themed titles on 8/22. They include Evil Remains/Blood Angels and Satan's Little Helper/Phil the Alien (SRP $9.99 each), along with Fear of the Dark/Hell's Gate 11:11 and Shallow Ground/Vampires: Out for Blood (SRP $14.99 each).

While we're talking thrillers, New Line is preparing a new Infinifilm edition of their classic A Nightmare on Elm Street. Due on 9/26, the new edition will include new audio essays with director Wes Craven and star Robert Englund, documentaries on the franchise's origins and legacy, a trivia challenge and a behind-the-scenes featurette. You can read more here at Home Media Retailing.

Warner and the BBC are about to make Doctor Who fans and Sony PSP owners really happy. They've set the UMD release of the new Doctor Who: The Complete First Season - Volumes 1-4 for 7/4 (SRP $19.98 each). They're also releasing The Office: The Complete First Series on UMD format on 7/4, as well as Little Britain: The Complete First Series and Little Britain: The Complete Second Series (SRP $27.95 each). Coming to DVD from the pair are The Old Grey Whistle Test: Volume 3 and The Old Grey Whistle Test Collection (containing Volumes 1-3) on 8/29. Volume 3 features performances by such artists as Jackson Browne, Roger Daltrey, Joe Jackson, King Crimson, Supertramp, B.B. King, Simple Minds, Humble Pie and others. Warner has also set a Leading Ladies of the Studio Era Collection for DVD release on 8/29 (SRP $49.92), containing Dial M for Murder, Father of the Bride, For Me and My Gal, Mildred Pierce and Now, Voyager. Father of the Bride and For Me and My Gal will also be available separately on that date (SRP $14.97 each - the other titles already are).

Meanwhile, Paramount has set the animated The Adventures of Chico & Guapo: The Complete First Season for release on 9/5. MTV's 8th & Ocean: The Complete First Season follows on 9/12, along with Wildboyz: The Complete Seasons 3 & 4 - Uncensored.

Anchor Bay Entertainment has set Astro Boy: Greatest Astro Adventures and The Garden for DVD release on 7/11, along with Karas: Volume One in UMD format for Sony's PSP. Their Halloween 4: The Return of Michael Myers - Divimax Special Edition, Halloween 5: The Revenge of Michael Myers - Divimax Special Edition and Halloween: 25 Years of Terror documentary follows on 7/25. Also due 7/25 is the animated Ghost in the Shell: Stand Alone Complex: 2nd GIG - Volume 6 (in both standard and 2-disc limited editions).

Indie distributor Image Entertainment has Afro-Punk, Chaplin Mutual Comedies: Restored Edition, The Damned, The Femme Fatale Collection, Forbidden Adventure/Forbidden Women, Goodnight, Joseph Parker, Hollywood After Dark/The Rotten Apple, Patlabor 2: The Movie and a Patlabor 2: The Movie - Limited Collector's Edition all due on 7/11, 7 Mummies, The Amazing Mr. X, Bloody Brothers, Hard Justice/Outside the Law, Laffapalooza! 8, Latin Palooza, Meth & Red: How to Throw a Party at the Playboy Mansion, Mystique: Sexiest Women in the World, Peaches, The Pee-Wee Herman Show: Live from the Sunset Strip's Roxy Theatre and Playboy: Naked Sins due on 7/18, Ridin' on a Rainbow, Sunset in Wyoming, Second Chorus, Super Chiller Blood-o-Rama, War Gods of Babylon/War Goddess and Where Eskimos Live rounding out the month of July on 7/25.

For August, Image has set 25 Years of Improv Comedy, Ding Dong/Merry Maids of the Gay Way, Dracula, Prisoner of Frankenstein, Girasoles Para Lucia, Putney Swope, The Sex Thief, a Sexy South Box Set and Wilbur and the Baby Factory/Tanya for 8/1, Anita & Me, Bullet Boy, Canto a Mi Tierra, Clone, The Community Project (UMD), The DC Video (UMD), Ferias de Mexico, Ghost in a Teeny Bikini, Playboy: X Mates, Revenge of the Living Dead Girls, Shinbone Alley and Salome for 8/8, Calypso, Crimes (Gunaah), The LA Riot Spectacular, Playboy: Kinky Pleasures, Playboy: Wet & wild - The Complete Collection, Steppenwolf and Terminal Impact/Cyborg Soldier for 8/15, Angel of Vengeance, John Entwistle: An Ox's Tale, Mystique: Naked Island Race, Playboy at the Beach, The Real and The Viking Sagas for 8/22, and Christie Malry's Own Double-Entry, Her Majesty and Tokyo Rampage (Poruno Suta) for 8/29.

And man, I don't know HOW the heck this managed to slip past me, but Image just yesterday released the complete Lancelot Link: Secret Chimp on DVD - all 22 banana-lovin' episodes of it on 2 discs - for just $24.99. Count me in on THAT!

Finally this afternoon, Synapse Films has announced the release of Small Gauge Trauma for 7/25 (SRP $24.95), which includes 13 award-winning horror/fantasy shorts from around the world (including Abuelitos, Chambre Juane, Flat-N-Fluffy, Gorgonas, I'll See You in My Dreams, Infini, L'Ilya, Love from Mother Only, Miss Greeny, Ruta Destroy!, The Separation, Sister Lulu and Tea Break), along with filmmaker commentaries, the Moonspell music video for I'll See You in My Dreams, a deleted scene from the Separation, a special video introduction by José Mojica Marins (Coffin Joe) and more.

Naturally, we've updated our UMD Release List with all of today's new UMD title announcements.

Whew! That's a lot of titles for one day!

By the way, we've also updated the CEA DVD Player Sales numbers to include shipments for the complete month of May. All charts, including those above, have been updated accordingly.

With so much DVD release news to post today, we'll be back with those DVD reviews tomorrow morning. Stay tuned...

(EARLY UPDATE - 6/14/06 - 12:01 AM PDT)

Well... we're about a week away from the big debut of Sony's Blu-ray Disc format (sort of), so we thought it might be a good idea to give you a little status report of where things stand as far as the hardware and software that's expected to be available.

The first seven Blu-ray movie titles from Sony and MGM are due on 6/20 (more on that in a minute). One Blu-ray Disc player is expected in stores this month (tentatively on 6/25)... Samsung's BD-P1000 ($999). And one computer equipped with a Blu-ray ROM drive will be available this month as well (on 6/21)... Sony's VAIO VGN-AR190G laptop ($3,499, shipped with a free Blu-ray copy of House of Flying Daggers). Sony's first set-top Blu-ray Disc player, the BDP-S1 ($999) has been delayed until July, while Pioneer's BDP-HD1 (recently lowered to $1,500 from $1,800) is now set for a September debut.

You'd think that the Blu-ray Disc camp would have learned a lesson from HD-DVD's clunky format launch in April, and would be trying to really make a big splash with their debut. However, reports we're hearing from insiders... and our own first-hand experience thus far... would seem to suggest that such is not the case. Only Sony, MGM and Lionsgate have as yet announced Blu-ray Disc titles, and future announcements from MGM are likely to be impacted by the studio's move to Fox for home video distribution. Meanwhile, Fox, Disney, Paramount and Warner are all officially mum about their release plans on the format at the moment (though we expect at least Fox and Warner to announce their initial releases by the time Sony and Pioneer's players hit store shelves).

What we do know for sure is that Sony and MGM have just done a last-minute re-shuffling off their initial Blu-ray Disc launch titles. We've updated our High-Def Release List naturally, but here are the updated specifics (confirmed with the studios as of last night):

50 First Dates, The Fifth Element, Hitch, House of Flying Daggers, xXx and Underworld: Evolution are all now expected on 6/20, along with The Terminator, which has been moved up from 6/27. Ultraviolet and Basic Instinct 2: Risk Addiction are day and date releases on 6/27 and 7/11, respectively. 7/25 will now see the day and date release of The Benchwarmers, along with The Last Waltz, A Knight's Tale and Resident Evil: Apocalypse (all delayed from 6/20), as well as Species, Kung Fu Hustle, Legends of the Fall, Stealth and S.W.A.T. (all delayed from 6/27). Memento and Into the Blue (newly announced) are now due on 8/15, along with Robocop (delayed from 6/27). Finally, Sense and Sensibility, Black Hawk Down and The Big Hit, which had been previously announced for 8/15, have been temporarily pulled from the schedule and have yet to be assigned a new street date (though we do expect them to be re-announced in the near future).

Lionsgate's initial release slate, at least, remains unchanged. Look for Crash, Lord of War, The Punisher, Saw and Terminator 2: Judgment Day on 6/27. The Devil's Rejects, Reservoir Dogs, Total Recall, Stargate and Frank Herbert's Dune, which had originally been set for release yesterday (6/13) have obviously been delayed and have yet to be re-announced.

Confused yet? Well, don't feel too bad about it. So are we, and pretty much everyone else out there who's following all this high-def stuff. I can't even imagine what some of you retail guys must be going through, trying to keep DVD, UMD, HD-DVD and now Blu-ray Disc straight! In any case, you can likely expect some of the titles we've just mentioned to move around a little more before all is said and done.

No one ever said sorting all this out would be easy, did they?

We'll be back later with some regular DVD news (if there's any to report), as well as a new DVD review. And don't forget to check out the reviews we posted late yesterday, including a trio of new Zatoichi DVD reviews from our very own (some might say "long lost") Todd Doogan!

Stay tuned...

(LATE UPDATE - 6/13/06 - 5 PM PDT)

We've got a surprise for you today: Doogan's back with a trio of new DVD reviews! No kidding! Todd's had a lot on his plate recently, but he checks in today to plug up a few holes in our Zatoichi DVD review coverage, turning in his two cents on Home Vision's Zatoichi Challenged, Zatoichi and the Fugitives and Samaritan Zatoichi. He'll be back again soon with more reviews, so be sure to watch for 'em.

Also today, we've added some new reviews from Matt and the boys over at our MusicTAP site, including a look at Rhino's DVD release of the Faith No More: Double Feature (which contains both We Care a Lot: The Videos and Live at Brixton Academy: You Fat B**tards), as well as new SACD reviews of Mobile Fidelity's The Byrds: The Notorious Byrd Brothers and Universal Music's recent Moody Blues high-resolution reissues, including Days of Future Passed, In Search of the Lost Chord, On the Threshold of a Dream, To Our Children's Children's Children and A Question of Balance.

Enjoy those, and we'll see you back here tomorrow with more. Stay tuned...

(EARLY UPDATE - 6/13/06 - 11:45 AM PDT)

There's not a lot of standard DVD news to report this morning, other than a few new announcements.

Specifically, Warner has set Neil's Party for release on 8/22, the Cartoon Network Christmas: Volume 3 for 10/3, and Harry & His Bucketful of Dinosaurs: Volume 1 for 10/10.

Also, Paramount has set the DVD release of a new Beavis and Butt-Head Do America DVD for 9/12. In addition, the studio has Spongebob Squarepants: Season 4, Volume 1 due on 9/12, and a Save the Last Dance: Special Collector's Edition due on 9/26. Also due on 9/26 is a Stephen King Collection containing The Dead Zone, Pet Sematary, Graveyard Shift and Silver Bullet.

On the high-def front today, there's word from Universal that National Lampoon's Animal House and Unleashed are expected to be released on 8/8 as DVD/HD-DVD Combo format discs (SRP $34.98 each). We've updated the High-Def Release List accordingly. The studio has also announced that it's dropping the price of all its other HD-DVD titles (released prior to 8/8) from $34.98 to $29.98. Just FYI.

Don't forget to check out Barrie Maxwell's latest Classic Coming Attractions, which we posted late yesterday.

Back with more later this afternoon, so stay tuned...

(LATE UPDATE - 6/12/06 - 5:45 PM PDT)

We've just posted Barrie Maxwell's latest Classic Coming Attractions, featuring reviews of some 17 new and forthcoming classic films on DVD. They include The Passenger and The Young Riders: The Complete First Season from Sony, I Love Lucy: The Complete Sixth Season from Paramount, The Best of Sid Caesar from New Video, Winter Soldier from Milestone, Patton, Tora! Tora! Tora!, Yellow Sky, The Last Wagon, These Thousand Hills and The Proud Ones from Fox, The Dirty Dozen: Two-Disc Special Edition from Warner Bros, and Flaming Frontiers, The Oregon Trail, The Master Key, Tim Tyler's Luck and Forgotten Noir: Volume One from VCI. As always, Barrie runs down all the latest classic film DVD release news as well. Enjoy!

By the way, Warner has just informed us that the release date for Humphrey Bogart: The Signature Collection - Volume 2 has been changed from 9/12 to 10/3. We've updated the earlier post.

Stay tuned!

(EARLY UPDATE - 6/12/06 - 12:30 PM PDT)

Wow... I have to say, I'm REALLY happy with this firmware update for Toshiba's HD-XA1, HD-A1 and HD-D1 HD-DVD players so far. More than a few of you have wondered why we haven't reviewed more HD-DVD releases here at The Bits, and the sad fact is, I've been having such a hard time getting our HD-A1 to work properly, that it's just been sucking all the joy out of watching high-definition movies for me. Seriously, only about once out of every five tries could I watch an HD-DVD all the way through without some kind of skipping, freezing or audio synch problem, and it was enough to just really sour me on the format. But all that was before I downloaded this firmware update on Friday night. It's actually pretty easy. You simply connect your player to the Net via the Ethernet port (you need to have it connected to a TV or monitor too, so you can read the on-screen display) and enter the Setup menu. There, you switch on the Ethernet connection, and then you enter the Setup menu's "Maintenance" area, which gives you the option to "Update" the player. When you select "Update", the player connects to Toshiba's servers via the Net to see if there's new firmware available. If there is, you get one of those legal disclaimers in small text (that's virtually unreadable) and you're given the choice of "OK"-ing the update or cancelling. Once you throw caution to the wind and select "OK," the player begins downloading the new software. It took about 20 minutes, during which time you get a simple on-screen graphic saying something to the effect of: "Updating... Do not turn off the player." Basically, you just wait until the download is done, at which point the player installs the firmware update and turns itself off. I waited about 5 minutes before turning it back on again, just to make sure it was done. Then I disconnected the Ethernet cable, took the player back to our home theater and hooked it back into the system. The good news is, it seems to work like a charm now... FINALLY!!! I've watched a couple of films in their entirety and sampled several more, all without a single glitch. If you have one of these players, I can't recommend more strongly enough that you update the firmware. If you follow the instructions properly, you shouldn't have any problems. You can call Toshiba's customer service hotline (800-319-6684) if you have any questions.

You have to wonder what Toshiba was thinking, releasing hardware that was this buggy in the first place, but at least they seem to have fixed the worst of the problems. In any case, now that we've got an actual working player, you can expect those HD-DVD reviews to start flowing around here later this week.

By the way, we've gotten a few e-mails in recent weeks from Bits readers who are concerned about how much we're focusing on the new high-definition formats. They typically read like: "I don't care about Blu-ray and HD-DVD, so please stop talking about them all the time!" Rest assured, we have no intention of discontinuing our standard DVD coverage. It's where we started here at The Bits, and we intend to continue covering the format until the last disc is pressed many years from now. However, these new high-def formats represent the cutting edge of home video technology, and they could have a dramatic impact on DVD as we know it. We'd be irresponsible if we didn't add high-definition coverage to our reporting here at The Bits. So we're definitely going to cover both standard DVD and the new HD-DVD and Blu-ray Disc formats, but we'll try to keep a good balance to our news and review mix. Rest assured, standard DVD isn't going away any time soon, and neither will we abandon it around here. 'Nuff said.

On the standard DVD news front today, Sony's announced the release of Berenstain Bears: Discover School!, Dragon Tales: Experience New Things!, The Wubbulous World of Dr. Seuss: The Cat's Colorful World, Blue Thunder: The Complete Series and a re-issue of the Dances with Wolves: Extended Cut, all for 8/22.

Meanwhile, Warner and HBO have confirmed the 9/26 street date we reported last week for The Notorious Bettie Page. Look for anamorphic widescreen video and Dolby Digital 5.1 audio. Extras, if any, are still TBA.

Warner has also announced Humphrey Bogart: The Signature Collection - Volume 2 for release on 10/3 (SRP $59.92), which will include the DVD debuts of Across the Pacific, Action in the North Atlantic, All Through the Night and Passage to Marseille (all of which are exclusive to this box set), as well as The Maltese Falcon: 3-Disc Special Edition (which will also be available separately for SRP $29.92). The Maltese Falcon will include a new digital transfer of the film from restored elements, audio commentary by Bogart biographer Eric Lax, a Warner Night at the Movies 1941 short subjects gallery, 2 previous movie versions of the story (including the 1931 The Maltese Falcon with Bebe Daniels and Ricardo Cortez and the 1936 Satan Met a Lady with Bette Davis and Warren William), the new The Maltese Falcon: One Magnificent Bird documentary, the Robert Osborne hosted Becoming Attractions: The Trailers of Humphrey Bogart, the Breakdowns of 1941 blooper reel, a trio of radio adaptations (audio-only) and theatrical trailers. All in all, it sounds pretty fantastic.

Speaking of Warner, those of you who are eagerly awaiting the 6/20 DVD release of the Look, Up in the Sky! The Amazing Story of Superman documentary will be pleased to learn that you've got the chance to get a nifty bonus. Available exclusively at Best Buy is a 2-disc limited edition version, complete with different cover art and a slipcase (SRP $19.99 - the regular version is $14.99). The 2-disc version contains the same documentary disc, but also includes a second disc with some of Superman Returns director Bryan Singer's weblogs from BlueTights.net (27 have been released in all so far, and you get 12 of them on this bonus disc - all of them should be on the November DVD release of Superman Returns). You also get a set of 5 post cards featuring poster artwork from all of the live-action Superman feature films, including the new one. It's a pretty nifty little set, so do check it out if you're a fan. Watch for a review later this week.

Those of you who are into space travel will be pleased to learn that Spacecraft Films has just released Challenger, a 3-disc look at the ill-fated STS-51L Space Shuttle flight (SRP $44.99 - see details here). They also have the 5-disc Apollo 14: To Frau Mauro set nearing completion, so watch for that to be released soon.

We have word today that Dark Sky Films will release The Texas Chain Saw Massacre: Ultimate Edition on 9/26, which will include all-new commentaries with director Tobe Hooper and members of the cast and crew, as well as new behind-the-scenes documentaries.

Also today, we have word that Magnolia Pictures' DVD release of The World's Fastest Indian features the film in an anamorphic widescreen video transfer cropped for 1.78:1 presentation, rather than the 2.35:1 aspect ratio at which it was shown theatrically. We're not sure why this was done yet, but we wanted to make you aware of it.

Around the site today, we've kicked off FIVE new Contests, giving each of you the chance to take home copies of Warner's F-Troop: The Complete First Season, Cheyenne: The Complete First Season, the 5-film John Ford Film Collection and Green Street Hooligans, Magnolia's The World's Fastest Indian, Universal's Fried Green Tomatoes: Extended Anniversary Edition and (we're very excited about this) Media Blasters' Zatoichi: The Blind Swordsman - The TV Series, Volumes 1-3! All of the contests will run until Noon (Pacific) on Sunday, June 25th. Click on the links to get started and good luck!

And on a personal note, I'd like to offer a big Happy Birthday shout-out today to my wife Sarah, a.k.a. Mrs. Digital Bits, who handles all our contests (and does so much more around here too). The Bits definitely wouldn't be possible without her!

We'll be back this afternoon... and yes, we'll be back with Barrie Maxwell's new Classic Coming Attractions column for you.

Stay tuned!

(LATE UPDATE - 6/9/06 - 4 PM PDT)

In a new interview over at The Hollywood Reporter, Superman Returns director Brian Singer talks in-depth about how he came to be involved in bringing the Man of Steel back to the big screen, and reveals a little bit about what you might expect to find on the November DVD & HD-DVD release of the film. According to Singer, all of the online "weblogs" that have been posted on BlueTights.net will be included. Though he's yet to decide for sure, Singer may also include a major deleted sequence from the film. He's also preparing something called the In-Movie Experience (this would be for the HD-DVD version - watch for a similar feature on the yet-to-be-announced Batman Begins HD-DVD) where you can watch behind-the-scenes video on the making of the film in a windowbox while you're watching the film itself. In any case, it's a good interview, so do check it out.

Meanwhile, here at The Bits, we've just posted Adam Jahnke's latest edition of The Electric Theatre, in which he reviews The Da Vinci Code and X-Men: The Last Stand (now in theaters), as well as Enron: The Smartest Guys in the Room and Z Channel: A Magnificent Obsession on DVD.

We also wanted to let you all know that The Digital Bits is going to be hosting another great panel discussion at ComicCon in San Diego next month. This year's event (currently labeled DVD 2006) will offer previews of great upcoming projects, TONS of Q&A with DVD producers and we hope to give you a first-hand look at HD-DVD and Blu-ray Disc as well. The panel is tentatively set for Friday, July 21st from 2 to 3:30 PM (Pacific) in Room 6B at the San Diego Convention Center. We'll talk more about the event in the weeks ahead, and confirm all of the details as we lock them down, but we wanted to mention it today so that those of you who may be interested in attending can work it into your plans. It should be a lot of fun, so we hope to see you there!

Now then... not to keep teasing you, but I've decided to hold Barrie's Classic Coming Attractions column until Monday morning, just to make sure it doesn't get missed by anyone. It's another great piece, so I'd hate for it to slip past anyone who might be interested in it.

In the meantime, we'll leave you this week with a look at the cover art for a trio of Warner's newly announced HD-DVDs. Here's 16 Blocks (street date 6/13), along with Syriana (due on 6/20) and Lethal Weapon (6/27)...




Have a great weekend and we'll see you Monday! Peace out.

(LATE UPDATE - 6/9/06 - 1:45 PM PDT)

Some breaking HD-DVD news just came in... Warner has just announced the release of three new titles on the format. Syriana and Kiss Kiss Bang Bang will both arrive on HD-DVD on 6/20. The HD-DVD release of Syriana (SRP $34.99) is day-and-date with the standard DVD version. Kiss Kiss Bang Bang - which just so happens to be one of our favorite films from 2005 - will be a DVD/HD-DVD combo format release (SRP $39.99), arriving just a week after it's 6/13 standard DVD street date. Then, following a week later on 6/27, you'll see the HD-DVD release of Richard Donner's Lethal Weapon (SRP $28.99). Extras on all of these new high-def discs will be identical to those on the standard DVD releases. Note that we've updated the High-Def Release List accordingly.

Stay tuned...

(EARLY UPDATE - 6/9/06 - 1:15 PM PDT)

Okay... we're wrapping up our DVD news roundup with today's first post, and then we'll be back later this afternoon with Barrie and Adam's latest columns.

In the meantime, you animation fans will be pleased to know that Warner has officially announced the DVD release of Animaniacs: Volume 1 and Pinky and The Brain: Volume 1 for 7/25 (SRP $44.98 each). Animaniacs: Volume 1 will include 25 episodes on 5 discs, plus the Animaniacs Live! retrospective interview. Pinky and The Brain: Volume 1 will include 22 episodes on 4 discs, plus the Pinky and The Brain: The Start of All Things Wacky featurette.

Warner's Tales from the Crypt: The Complete Fourth Season streets on 7/25 as well (SRP $39.98), including 14 episodes on 3 discs, with audio commentaries and additional extras.

Also available on that day from Warner will be La Femme Nikita: The Complete Fourth Season (SRP $99.98) including 22 episodes on 6 discs, with additional deleted scenes, episode audio commentaries, a gag reel and more.

Warner has also announced the release of Kisses and Caroms (Lightyear) for 8/22, Baghdad ER, Epitafios: The Complete First Season and Happily Ever After: Robinita Hood (all HBO) for 8/29, Gang Wars and Oz: The Complete Sixth Season (both HBO) for 9/5, Gloomy Sunday, the International Cinema Collection (5-pack, SRP $79.92, includes The Damned, Day for Night, Death in Venice, Gloomy Sunday and A Very Long Engagement), the Agatha Christie Collection featuring Helen Hayes (3-pack, SRP $39.92, includes A Caribbean Mystery, Murder Is Easy and Murder with Mirrors), the Agatha Christie Collection featuring Peter Ustinov (3-pack, SRP $39.92, includes Dead Man's Folly, Murder in Three Acts and Thirteen at Dinner) and an Agatha Christie Classic Mystery Collection (8-pack, SRP $99.92) which includes the 6 titles already mentioned along with The Man in the Brown Suit and Sparkling Cyanide, all for 9/12. On 9/26, look for Chris Rock Show: The Complete First & Second Seasons (HBO). Tom and Jerry Tales, Volume 1 (12 shorts, SRP $14.97) follows on 10/3. Finally, My Family: Seasons 1 & 2 (BBC) round out the list on 10/10.

On a Rumor Mill-worthy note, sources are telling us to expect Buena Vista and Miramax to release Kinky Boots on 9/5. We're also hearing that HBO's The Notorious Bettie Page will hit DVD on 9/26, with audio commentary by star Gretchen Mol, director/writer Mary Harron and writer Guinevere Turner.

Don't forget that Anchor Bay is releasing Cemetery Man on DVD this coming Tuesday (6/13). This is the European version of the film, which stars Rupert Everett.

And Echo Bridge is debuting The Big White on DVD on 6/13 as well. The black comedy features the likes of Robin Williams, Holly Hunter, Woody Harrelson, Tim Blake Nelson and Giovanni Ribisi. It actually looks pretty good... I'm looking forward to checking it out.

In other news around the Net, our friends over at From Script to DVD.com have just posted a list of U.S. and Canadian theaters that are showing Pixar's Cars in DLP digital format, for those who might be interested in seeing the film that way. The early reviews of the film are pretty great. It sounds like a good film for the whole family to enjoy, which is pretty rare these days.

Also today, it seems that Sony is gearing up for a big Blu-ray Disc advertising blitz which has apparently already begun (click here for more from Video Business). You'll probably be seeing the TV ads this weekend, despite the fact that actual Blu-ray Disc players are still more than a month away.

Back with those columns in a while. Stay tuned...
More Archived Posts
Back to Current Posts