Site created 12/15/97.



page added: 9/21/05
Doogan's Views - Main Page
Heeeeeeeeeey! What's up my Digital Bit-ches?

Long time no read, huh? Well... I have good reasons this time, I swear. Most are quite personal and, as such, aren't airable online. But the parts that involve youze guys are still good. And the biggest reason amongst them: I've been thoroughly immersed in Ghost in the Shell: Stand Alone Complex for months on end.

Long time readers know I love anime. I really, really do. But I do so hate reviewing the ones with multiple episodes spread over multiple volumes. I love watching them, don't get me wrong. But I hate "reviewing" them. The biggest problem is it can take months and months of waiting just to get all of the show and, in most cases, these titles are really just one really long movie, like Lost or 24. It's not fair to just look at three or four episodes at a time. Two titles that epitomize that I think are GitS: SAC and one of my all-time favorite long form titles... Cowboy Bebop.


Ghost in the Shell: Stand Alone Complex (Volumes 01-07)
Standard and Special Editions - 2002-04 (2004-05) - Production I.G./Bandai Visual (Manga/Bandai Entertainment)




That chunk of cyberpunk brilliance known as Ghost in the Shell is back as a TV show, and while it's less vague than the film, it's just as badass.

Section 9, the anti-terrorist government office headed up by Chief Aramaki and his trusted right-hand "man" Major Motoko Kusanagi, is charged with keeping Japan safe. In a futuristic world of cybernetic body parts and computer-enhanced brains, that's a hard job. All the hackers, AI'ed viruses and big-ass guns don't make the task any easier. But the Section 9 team does well, especially with Batou, Togusa and company on the job.

[Reviewer's Note: Of the DVDs pictured in this review, both versions feature anamorphic widescreen video. The single-disc Standard Editions (always on the left) include Dolby Digital 5.1 audio. The dual-disc Special Editions (always on the right) include both the Standard Edition disc and a second disc featuring the episodes with DTS 5.1 audio (along with additional items like soundtrack CDs, T-shirts and Section 9 ID cards) at an additional cost.]

Volume 01

Episode 1: Section 9 - Section 9 attempts to save a group of government officials from a gang of android geishas that have gone a bit nutter.

Episode 2: Testation - A dangerous prototype Tachikoma tank is hijacked and heads off into the suburbs on a secret mission. The hijacker is using the ID of the designer of the tank, but he's dead... so who or what is inside? Only the Section 9 team and their own army of mini-Tachikomas have any chance of finding the answers and stopping it in time.

Episode 3: Android and I - Androids of the "Jeri" model become infected by a mystery virus that causes them all to commit "suicide." But why? Section 9 is brought in to find out.

Episode 4: Intercepter - This episode and the next two (from Volume 02) are the first three "main story thread" mythology episodes, and although in the end we'll see that pretty much all but a few episodes tie in directly with the "Laughing Man" storyline, these are the first to cement that. Episode 4 sets up the mystery, as Togusa receives a call from an old friend who fills him in on a very hot political conspiracy.

On DVD, the Standard Edition includes an interview with director Kenji Kamaiyama, an interview with Atsuko Tanaka (who voices Motoko in Japanese), the "textless" opening and ending, and trailers. The Special Edition adds a second DVD of the episodes with DTS audio (no extras), a booklet with liner notes and an 18-track Stand Alone Complex soundtrack CD.




Volume 02

Episode 5: Decoy 9 / Episode 6: Meme - Episode 5 drops more story nuggets that lead right into Episode 6, where the first mythology plotline reaches an explosive climax... for now.

Episode 7: Idolater - Section 9 takes a break from the Laughing Man and tails a revolutionary leader who was supposedly assassinated, but turns up in Japan. As it happens, this isn't the first time he's been thought dead and has reappeared. It's possible that he's using doubles but, based on everything they know, Section 9 is sure this is the real guy. Or is it?

Episode 8: Missing Hearts - The Major is brought in to investigate a stolen heart that just found its way into a little girl. The owners of the heart want it back and, because of this, the little girl will have to be given a fully cybernetic body, a prospect that Kusanagi identifies with on a very personal level.

On DVD, the Standard Edition includes an interview with Osamu Sake (the voice of Aramaki), an interview with composer Yoko Kanno, and trailers. This is also the first volume with the Tachikomatic Days shorts at the end of the individual episodes (these will appear on all the rest of the volumes). The Special Edition adds a second DVD of the episodes with DTS audio (no extras), a booklet with liner notes and a 22-track Stand Alone Complex: Be Human soundtrack CD.




Volume 03

Episode 9: Chat! Chat! Chat! - A group of conspiracy theorists debate the Laughing Man situation inside a chat room.

Episode 10: Jungle Cruise - Batou has a personal connection to a serial killer who is being protected by the American Government.

Episode 11: Portraitz - Togusa is the focus this time, as he's sent undercover into a facility that treats Cyberbrain Closed Shell Syndrome (a.k.a. Cyberbrain Sclerosis), in which the human brain has trouble synching with cybernetic interfaces in the artificial parts. It turns out there was a hack perpetrated from the facility into the Ministry of Health, Labor and Welfare, and before the episode is over, we might have a bit more than a "Catcher in the Rye" quote to lend meaning to the Laughing Man's mantra: "I thought what I'd do was, I'd pretend I was one of those deaf-mutes."

Episode 12: Escape From - Batou's personal Tachikoma wakes up one day and decides to go on a little adventure, which leads it to discover an errant cyberbrain, as well as a little girl looking for her lost dog.

On DVD, the Standard Edition includes an interview with Akio Oysuka (the voice of Batou), an interview with sound director Kazuhiro Wakabayashi, and a trailer for the Ghost in the Shell videogame. The Special Edition adds a second DVD of the episodes with DTS audio (no extras), a booklet with liner notes and a T-shirt featuring the DVD cover art.




Volume 04

Episode 13: Not Equal - In a bit of an ode to Patty Hearst, an heiress who was kidnapped 16 years earlier by a group of anti-cyberbrain terrorists turns up... except it doesn't look like she's aged a day. It's up to The Major and the rest of Section 9 to find out how.

Episode 14: ¥E$ - Section 9 breaks up a conspiracy to put a serious hurt on a number of Japanese corporations, only to learn of a planned assassination on a reclusive billionaire by a Chinese anti-capitalist. Can Section 9 stop her, or is the target already a dead man?

Episode 15: Machines Desiranes - The Tachikomas become aware that The Major has concerns over their emerging personality traits, and hatch a plan to get on her good side.

Episode 16: AG²0 - Batou goes undercover to investigate an old hero of his, who is under suspicion of selling government secrets.

On DVD, the Standard Edition includes an interview with Koichi Yamadera (the voice of Togusa), an interview with Akiko Tamagawa (the voice of Tachikomo), and trailers. The Special Edition adds a second DVD of the episodes with DTS audio (no extras), a booklet with liner notes and a plastic Section 9 ID card for The Major. Neat, but it's not a CD or a T-shirt, is it?




Volume 05

Episode 17: Angel's Share - When in London for the International Anti-Terrorist Conference, Aramaki has a meeting with an old friend and gets drawn into the tail end of a money laundering plot and a heist gone wrong.

Episode 18: Lost Heritage - Aramaki once again comes face-to-face with his past, as he and the Section 9 team investigates the planned assassination of a Korean diplomat.

Episode 19: Captivated - Section 9 investigates the kidnapping of the Prime Minister's daughter and its connection to an organ harvesting network.

Episode 20: Re-View - The Laughing Man is back in an unofficial three-part story arc (from here on out, it's all about the Laughing Man). Togusa, reeling from the events in Episode 11, follows a hunch that proves valid after he learns that a list of cyberbrain sclerosis victims has gone missing from the Ministry of Health, Labor and Welfare.

On DVD, the Standard Edition includes an interview with mechanical designers Kenzi Teraoka and Shinobu Tsuneki, an interview with director of photography Koji Tanaka and 3-D director Makoto Endo, and trailers. The Special Edition adds a second DVD of the episodes with DTS audio (no extras), a booklet with liner notes and a plastic Section 9 ID card for Batou.




Volume 06

Episode 21: Eraser - In a direct follow-up to Episode 20, Section 9 investigates the information uncovered by Togusa and learns that the rabbit hole is quite deep and leads right inside the government.

Episode 22: Scandal - The Major deals with the severe body damage she sustained in the climatic battle at the end of Episode 21. Meanwhile, Batou is playing clean-up and Aramaki has just learned that his estranged brother is in trouble.

Episode 23: Equinox - We learn just about everything we need to know about the Laughing Man's first kidnapping of Serano, after he kidnaps Serano again to get him to follow through on a promise made six years ago.

On DVD, the Standard Edition includes an interview with writers Junichi Fujisaki, Yoshiki Sakurai and Nobuyasu Terato, an interview with writers Dai Sato and Shotaro Suga, and trailers. The Special Edition adds a second DVD of the episodes with DTS audio (no extras), a booklet with liner notes, a plastic Section 9 ID card for Togusa and a T-shirt featuring artwork of Batou.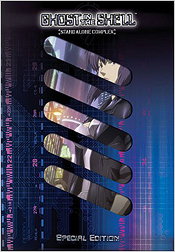 Volume 07

Episode 24: Annihilation - Now that we know who was truly behind the Laughing Man scheme, Aramaki makes a move... and realizes that he's moved too soon.

Episode 25: Barrage - Like it or not, Section 9 is being disbanded. Some will die, others will go to jail. The Major and Batou are the last men standing, and nothing short of a Tachikoma could possibly save them when a troupe of armored suit soldiers arrive at their safe house.

Episode 26: Stand Alone Complex - Togusa gives us insight into the broken pieces of Section 9, as he tries to put them all back together before personally assassinating the man responsible for the whole twisted ordeal.

On DVD, the Standard Edition includes a follow-up interview with director Kenji Kamiyama, and trailers. The Special Edition adds a second DVD of the episodes with DTS audio (no extras), a booklet with liner notes and a plastic Section 9 ID card for a Tachikoma. It also comes in a tin case that holds the entire series.




All of the episodes in this series shine. Some are better than others obviously but, as a whole, Ghost in the Shell: Stand Alone Complex comes out as one of the better anime titles you can have in your collection.

It helps that Shirow Masamune (creator of the original Ghost in the Shell manga and film) pitches in, and gives Stand Alone Complex his seal of approval. It also helps that the on-his-way-to-being-legendary director Kenji Kamiyama (who breathed life into Blood and Jin-Roh, both of which echo SAC in design and action) shows that he loves the subject matter and knows how to run this show.

The episodes on DVD all look and sound incredible. No matter what version you choose, the series is presented in very well mastered anamorphic widescreen video. The Standard Editions' Dolby Digital 5.1 audio is active and plenty satisfying, and the Special Editions' second-disc DTS 5.1 audio is ever better. This is a show that deserves to be heard in enveloping surround sound (there are a lot of flourishes that pay off in the mix), so if you have the means, you should definitely pick up the Special Editions. Plus (as already covered above), each of the Special Editions come with additional extras, making them that much more worthy of purchase.

Ghost in the Shell: Stand Alone Complex (Complete Series Box)

By the way, you can also buy a box set of the complete series - all 26 episodes - that comes in the same tin case packaging that was available with the Volume 07: Special Edition. However, while the tin is the same, the discs it contains are the Standard Edition versions only - they do not include the second DTS discs, nor do they include any of the additional bonus items that are available with the individual Special Editions. It's just something to be aware of if you're looking to buy the whole series in one shot.




I wholeheartedly recommend that you guys take some time away from your busy schedules to plop down in front of your theater screens and give Ghost in the Shell: Stand Alone Complex a go. The good news is, Bandai has just started releasing the second season of this series (called 2nd Gig) on DVD, and the show will also air on [adult swim] soon, so now is a great chance to catch up. I've already seen the first episode of the second season, and so far it's just as cool as the first. This show's producers haven't missed a step - there are some really great re-introductions to fan favorite characters coming up. GitS: SAC is not to be missed.








Cowboy Bebop: Remix 1
1998 (2005) - Bandai Visual/Sunrise (Bandai Entertainment)

The year: 2071. The place: deep space. Spike and Jet are two down-on-their-luck bounty hunters, or "cowboys" as they like to call themselves. Together they pilot the Bebop, a former fishing trawler turned badass space transport, as they try to scrape together enough bounty money to make a living... or at least keep their ship running.

Okay, so ultimately I feel like I can talk about Cowboy Bebop because the series has already been released on DVD as a whole... only now it's available in a newer, better and even more badass version. It's such a good show and the new DVD hitting shelves is so good that I, nay, we (Bill and I) must advise you to replace your pre-existing versions with it... just like we are.

The first volume, Cowboy Bebop: Remix 1, contains the following episodes:

Session 1: Asteroid Blues - This first episode finds Spike and Jet in serious need of funds, when a new bounty comes up: Asimov Solenson, a former member of The Syndicate (you'll learn more of them as the show plays out), who stole from them a large cache of "Bloody Eye," a form of speed that you spray in your eye and which causes you to enter a sort of "Bullet Time" like state of hyper-violence. Solenson boosted the drug so that he and his girlfriend could sell it for a huge profit and make a run to Mars, where the good life is lived.


Session 2: Stray Dog Strut - Enter Abdul Hakim, a new high-priced bounty on the run, who carries an attaché filled with a very valuable cargo: a corgi named Einstein (Ein for short). Naturally, Hakim's got runners on his tail... including Spike and Jet.

Session 3: Honky Tonk Woman - Ah, Faye Valentine. To know her is to love her. To love her is... well, that's your problem. She's also a bounty hunter, but she's a bad egg and has a huge gambling problem. In order to pay off a debt, Faye agrees to separate a man from a very special casino chip. But there's a catch: Spike and Jet just so happen to be on vacation in the very casino she's working her grift. That can't be good, can it?

Session 4: Gateway Shuffle - As it turns out, Faye doesn't just owe people money, she owes karma big time. So it's not surprising that she's stranded without gas in the middle of outer space. It's out there that Faye bumps into a broken-up spaceship and its dying pilot, who asks her for a huge favor. Meanwhile, Spike and Jet are hunting a new bounty that gets offed by an even bigger bounty... sending them head-first into a new adventure. And this time, Faye's along for the ride. Our team is just about complete: Spike, Jet, Faye, Ein and... well, you'll have to wait until Session 9 for our last Bebop team member to arrive.

Session 5: Ballad of Fallen Angels - This is probably the best episode of the entire series. Here, most of the set-up we've seen in the first four episodes is left out and we get right into show's mythology. You will learn that Spike has a dangerous past, a dark future and there's a lot more to this show than meets the eye. It's this episode that will make you realize Bebop is one of the best anime titles of all-time.

The previous DVD releases of this series featured full frame video (the original aspect ratio), Dolby Digital 2.0 Surround audio, confusingly laid out menus and only a handful of extras (music video clips, character intro videos and the like).

Bandai's new Remix editions are also presented in full frame video, and the quality is pretty comparable to the previous versions. It's not going to blow you away or anything, but it's plenty good enough to get the job done. On the other hand, the episode audio has been remixed in full Dolby Digital 5.1 for the new editions (in both English and the original Japanese). The difference is pretty major. You'll hear lots of atmosphere and effects panning from the rear channels. The episodes have never sounded better. The menus are better too, with stylish animation and the show's theme music.

The other nice thing about these new versions, is that they've got a lot more extras on board. Remix 1 includes a collection of trailers for the series, Cartoon Network promo spots, an interview with the woman who voices Faye in English, audio commentary on two episodes with members of the voice cast and the producer, a "textless" ending and a trailer for Cowboy Bebop: The Movie. Not bad at all.

With its great storytelling, improved audio quality and better extras, the Cowboy Bebop: Remix editions are a must-own for every film fan. There should be six in all. The first one is now available, and the rest will all be out by mid next year. If you buy no other anime DVDs in your life, buy Cowboy Bebop. You won't regret it.


Well... that's all for now kids. I've got more reviews cooking as we speak (yeah, I know... you'll believe it when you see it). Coming soon will be a look at TV shows that I've gotten on DVD recently, a look at Oldboy and some Synapse titles Don May, Jr. said he'd kill me if I don't review for you.

So don't hate me 'cause I'm beautiful. Hate me because I keep disappearing.

Hugs and love,

Todd Doogan
todddoogan@thedigitalbits.com

Oh... and keep spinnin' those discs. It makes the world a better place.
Doogan's Views - Main Page