5/25/04 Weekly Release Roundup

We're gearing up for a long Memorial Week off, so we're going to give you a look at the next two weeks of DVD releases here instead of just one. This'll be more overview than review, but you'll definitely get an idea of what's coming out. There's a lot of good stuff.

Let's start with today's (May 25th) DVD releases...


The Lord of the Rings: The Return of the King

The big one for the week is, of course, 2003's Best Picture winner. Take a look at what Bill thought of the two-disc theatrical release here.
The Lord of the Rings: The Motion Picture Trilogy

In case you were waiting for all three to come out on disc to pick 'em up, New Line gives you a nice box set of all the Rings films in their theatrical releases. Nothing new on board, but you'll get a shiny cardboard box for handy dandy carrying. And isn't that worth waiting for?
Stray Dog

Akira Kurosawa's long awaited film masterpiece is finally on DVD and we Bits-ers couldn't be happier. We're going to have to get on the ball and do our Kurosawa overview sooner than later. In the meantime, Stray Dog follows a young detective whose police gun is stolen from him by a criminal, who then takes it on a killing spree. The detective has to go deep into the darkest parts of Tokyo to get it back and redeem his name, and he slowly learns that there're not too many differences between himself and the criminal; except maybe honor. Toshiro Mifune stars and, of course, rocks the house as the young detective. This DVD, coming from Criterion, looks and sounds incredible (full frame and mono). Extras include commentary by Stephen Prince (gotta have that guy over to my house someday), a short documentary about the film (pulled from the Akira Kurosawa: It's Wonderful to Create series) and a booklet with liner notes by Kurosawa and critic Terrence Rafferty. Not a bad disc to add to your library. Not bad by a long shot.


Smiles of a Summer Night

Also out from Criterion is Ingmar Bergman's look at love in Sweden's bourgeois society, Smiles of a Summer Night. It's another great entry to their Bergman collection, featuring an incredible full frame transfer with solid mono sound. Extras include an introduction by Bergman, a video conversation between critic Peter Cowie and writer Jorn Donnert, a trailer and a nice liner notes booklet with essays by John Simon and Pauline Kael.

Full Metal Yakuza

Takashi Miike seems to gravitate towards reinterpreting Hollywood cult films. Full Metal Yakuza definitely harkens back to Robocop, with a little bit of Inspector Gadget thrown in (believe me, it works). Made as a direct to video feature, Full Metal Yakuza follows the exploits of Kensuke, a lowly yakuza gang member who tries hard to please his boss but fails at everything he does. His boss is eventually sent to prison. Seven years later, on his day of release, a rival kills him and Kensuke is sent with him for good measure. The two men are then cut up and the parts are sold on the black market, only to be rebuilt as one bad-ass cyborg by a mad scientist. Of course, the cyborg wants revenge and goes to get it quite successfully. Showing its lower budget, shot on video roots, Yakuza has an overly soft picture quality. It's not horrible, but it's not perfect either. Still, it looks pretty good for an anamorphic transfer. Sound is a standard Dolby Digital 2.0 track. Extras include an informative commentary by Tom Mes (author of the Miike book Agitator), video interviews with Takashi Miike and editor Yasushi Shimamura (with subtitles), bio/filmographies for Miike, Tsuyoshi Ujiki, Tomorowo Taguchi, Shoko Nakahara and Ren Osugi and trailers for Malice@Doll and A.LI.CE..

Underworld: Unrated Director's Cut

That huuuuge cult film that everyone wanted more of is finally released to DVD as an Unrated Director's Cut. Yes, Underworld that hit film about the ancient war between vampires and werewolves makes another appearance on disc, and I have to say... I couldn't care less. I didn't see the point of the film in its theatrical cut and I still don't. Underworld is an empty experience and wholly derivative. Anyone who cares about the vampire mythos has read about, watched or even played (in role-play form) these characters. This Director's Cut does nothing to add anything to the film (I didn't notice much difference actually, aside from a sex scene between two scheming vampires). Maybe fans of the film will be interested, but I'm not one of them. The DVD is presented in the same outstanding quality the original disc is: anamorphic widescreen and Dolby Digital 5.1 sound. Extras are spread over two discs in a very nice packaging. Along with a comic book (inside the case) is a commentary track with director Len Wiseman and stars Kate Beckinsale and Scott Speedman. It's a fun track with lots of technical talk, character motivations and added scene notations. You will learn (to your hope and/or horror) that a sequel is in the works. There are also some outtakes (Beckinsale's hypnotic ass is a high point), trailers (including this film, Spider-Man 2 and Hellboy), storyboard comparisons, a very lame AMC documentary entitled Fangs vs. Fiction (that holds its tongue outside the cheek), and a whole bunch of featurettes on make-up, special effects, art design and cinematography. Oh... and there's a music video. If you're a fan of the film, here ya go.

The Weather Underground

This Academy Award nominated documentary is released on disc and it's as disturbing as you'd expect. The idea of American-based terrorists has always been a "worst fear," and even though these people had a distorted greater good mentality, they still killed innocent people in the name of selfishness. This documentary paints a picture than many of us haven't really seen before, but may be seeing more of in the years to come. This film is presented in a competent full frame transfer, which serves the film fine. Extras include a commentary track from former Weathermen Bernadine Dohrn and Bill Ayres, a filmmaker commentary by co-director Sam Green, original Weathermen audio communiqués, a short film on former Weatherman, David Gilbert: A Lifetime of Struggle (who is currently serving a life sentence for non-Weatherman related crimes), an excerpt from Emilie de Antonio's film Underground and a filmmaker's statement in text form. The Weather Underground is a documentary worth checking out.


There's some TV titles worth checking out on DVD this week too...




These include Buffy the Vampire Slayer: Complete Sixth Season, Cheers: The Complete Third Season, Northern Exposure: The Complete First Season and The Winds of War.

Also available this week...




Bruce Campbell stars as Elvis in Don Coscarelli's Bubba Ho-Tep. Steven Spielberg's Saving Private Ryan gets a more deluxe re-release. All of these fine MGM Western Classics are now available: Shalako, The Magnificent Seven Ride, Guns of the Magnificent Seven, Junior Bonner, Duel in the Sun, Custer of the West and A Minute to Pray, a Second to Die. A buncha buncha Fox War Classics are available too: Crash Dive, The Hunters, Mortituri and What Price Glory. We get Universal's Hell in the Pacific re-release. Finally, Fox brings us Welcome to Mooseport and Ralph Bakshi's animation classic Wizards.

That's this week in a nutshell. Now here's an early preview of next week's releases. Weeeeeeeeeeee!


6/1/04 Weekly Release Roundup (Preview)

The big deal this week is that there's a huge selection of quality re-release special editions coming out. There's lots and lots of great stuff for you to squander your hard earned cash on. Too much, in fact, to take more than a cursory look them all.


Ali: The Director's Cut

This is Michael Mann's cut of the film (six or so minutes longer), with rare commentary (Hey Mike? How about a Heat revisit?) and a short making of documentary. Looks and sounds damn good on DVD. But then again, so did the original theatrical cut.
Das Boot: The Original Uncut Version

Finally, the original German mini-series version of Das Boot is on DVD. Bill reviews all three DVD versions of this classic WWII film here.


Other re-releases (of titles previously available on DVD) coming on 6/1 include...




Cop Land: Special Edition, Flirting with Disaster Collector's Edition, The Chronicles of Riddick: Pitch Black, Spider-Man: Widescreen Deluxe Edition and the long-awaited Trainspotting Collector's Edition.

Now let's look at some first-time DVD releases...



Monster

Take a first time filmmaker (Patty Jenkins) and a beautiful, fluffy actress (Charlize Theron), and throw them together in the story of Aileen Wuornos - one of America's only female serial killers (I refuse to acknowledge her as the first, because I think that honor goes to Belle Gunness. Look her up.) - and you're bound to get something worth watching. Monster is not a super great film. And I still don't know if I agree that Theron's portrayal was Oscar worthy. But she certainly does play the part well (there's no sign of Theron in this role). Monster flips and flops, it makes us sympathize with Wuornos and then makes us feel bad for doing so when see the monster inside of her. She's a broken woman and she makes people pay for her pain. Christina Ricci also turns in another great performance and deserved more notice. This DVD presents the film in a very nice anamorphic widescreen transfer. Audio is in both Dolby Digital 5.1 and DTS 5.1 and sounds great. Short featurettes showing the emotional toll the film took on the director and star, a conversation with Jenkins and her composer and a DTS mixing suite are also included. Check the film out - it's not super cool, but it's certainly interesting.
Aileen: The Life & Death of a Serial Killer

To go along with Monster, you'll also find this documentary in stores today as well. Directed by provocative documentary filmmaker Nick Broomfield, it takes you inside the killer's mind - at least as far inside as she wants us in - as well as looking at the situation she was in while in prison. It's a little more sensationalistic than you'd like, with a little bit too much focus on Broomfield himself, but I already said it was a Broomfield documentary, didn't I? The transfer is a nice clear full frame (ignore the 1.85:1 on the back of the box) and the sound is mono. There are no extras aside from trailers for Monster, Trapped, In the Cut and The Secret Window that play automatically.
The Company

Robert Altman and Neve Campbell's insider look into the world of ballet - the dedication, loss of social interaction and beautiful dance - falls a bit flat, even if it looks good while doing it. This was a passion for Campbell, a former ballet dancer from Canada who made it big here in the States as an actress. There's bot a whole lot going on with the film, but it tries and it IS an Altman film, so fans of his will want to check it out. The DVD is pretty good video and sound wise. No complaints there. Extras include a fun commentary with Altman and Campbell discussing the film and how it came to be, two short featurettes, an extended dance sequence and a gaggle of trailers. It's worth taking a look at as a rental at least.


Eurotrip: Unrated

First you take an American kid named Scotty, who has been e-mailing another kid in Germany named "Mike." Then you take Scotty and show him getting broken up by his girlfriend because he's so predictable and she likes to sleep with exciting guys (like a punk rock Matt Damon making a fun cameo). Then you show Scotty thinking that his pen pal from Germany is a guy, because he's been misreading the name Mieke as Mike, only to find out he's a she and she's a babe. What does all that give you - a Eurotrip of course. It's on the road time, so that Scotty and three of his friends can find Mieke and fall in love. The film is slightly lame, slightly entertaining. There are some funny moments and some really awful moments. This unrated version gives more titty and penis shots than the theatrical version, and therefore is much better.

The video and sound quality are all top-notch. The extras include two commentaries, both with the co-writers/directors. The first is a "technical" commentary and the other is where they drink every time someone in the film drinks or gets naked. If the film were better, these commentaries would be more fun. As it stands, they're just cute - much like the film. You'll also find deleted scenes with optional commentary, a gag reel (most of these play out during the end credits), an alternate ending with optional commentary, a featurette about the nude beach sequence, special access to both the unrated footage and shots with nudity, the filmmakers reviewing a bootleg DVD (this is funny actually), a bit on how the writer's chose who would get the director's credit (they all three directed the film, but DGA rules forbid them all getting credit), access to the script itself, a video and sing-a-long for Scotty Doesn't Know, production notes and bios of cast and crew. It's a lot of stuff, but it's only interesting if you liked the film.


Of course, we have more TV on DVD as well...




Punky Brewster: The Complete First Season

I remember watching Punky Brewster as a kid. Didn't like it much. Still don't. But there are SO many of you who have asked for it, so Shout! Factory heard your whining and caved in. The first season arrives with nice full frame transfers and a cursory selection of interviews, including two cast members, a writer and the show's creator/producer. No Soleil Moon Frye though. I have no idea why, but her lack of participation is noticeable. There's also a nice selection of episodes from the animated cartoon show It's Punky Brewster. It's not a very huge set, but it works for me considering I didn't want it in the first place. As I said, you that asked for it, so here ya go.
Spider-Man: The New Animated Series, Vol. 1-3

MTV's version of Spider-Man is pretty cool, I have to admit. I wasn't looking forward to watching it, but now I regret not picking up the complete season one set that came out a few months back. Columbia TriStar gives us three volumes: Face-Off, High Voltage and The Mutant Menace with three episodes each. The three volumes collectively only have nine episodes on them, so they're four episodes short. These discs don't have the extras on them that the complete set DVD has, so I don't really see the point in having these three discs. If you just wanted a few episodes, these volumes are neat enough. But fans or people interested in the fact that I think it's a neat show will definitely want to get the complete season one DVD.


You'll also find the funny British comedy Coupling: The Complete Third Season on DVD, and The Dukes of Hazzard: The Complete First Season too... now that we know that Jessica Simpson is going to be Daisy in the movie.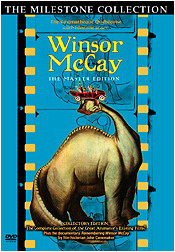 Also available: A favorite cult classic Back to the Beach. More Cary Grant than you can shake a stick at with the The Signature Collection. Spy Kids 4? No, it's Catch That Kid. Cocoon and Cocoon: The Return come to DVD. Hey! I'm not a liar... oh, wait, that's a 'C', never mind. Look for Coogan's Bluff. Chucking Coke bottles at you, it's The Gods Must Be Crazy and The Gods Must Be Crazy II. The Disney cult flick Flight of the Navigator zooms to DVD. The original Freaky Friday and the Herbie the Love Bug Boxed Set spring to DVD as well. A great film about mental illness finally gets released as a Studio Classic from Fox: The Snake Pit. Starship Troopers 2: Hero of the Federation is here. Why? "Tension breaker. Had to be done." - Summer School. And of course, there's a must own animation treat in the Winsor McCay: Master Edition.

Well, there you go. Two weeks' worth of releases in one column. Have a great Memorial Day weekend and we'll see you back here on June 8th with our next Roundup!

Todd Doogan
todddoogan@thedigitalbits.com