Site created 12/15/97.



page created: 12/22/05
Barrie Maxwell - Main Page
The Christmas Column

As this will be the last Classic Coming Attractions column for 2005, I offer reviews of a few holiday discs that have recently been released as well as some recent classic genre title releases that are worthy gifts for yourself, friends, or loved ones. In an effort to clear the decks for 2006, I've also included comments on a number of other discs sitting on my shelves, organized by the releasing studio. Some 54 releases are covered here in one form or another, providing plenty to chew on during the holiday period. As usual, I've also included the latest classic release announcements at the end.

Before we get started, let me thank you all for reading my columns throughout the year and for your always-welcome comments and questions. I wish all of you a very Merry Christmas and good health and good classics for 2006. Now, on with the show.


Christmas Discs

There have not been many significant new additions this year to the list of Christmas-themed classic films available on DVD. Two often-requested titles - the 1938 version of A Christmas Carol and 1945's Christmas in Connecticut - did, however, appear courtesy of Warner Bros. and those highlight the short section of Christmas reviews that follows. Previously reviewed positively (in my October 4th column) was Fox's latest disc version of the Shirley Temple Heidi film. Please take a look at both of my last two Christmas columns for further information on what was available then. The 2003 column provides comments on a wide number of Christmas titles while the 2004 column focuses on the various versions of A Christmas Carol.








A Christmas Carol (1938)
(released on DVD by Warner Bros. on November 8th, 2005)

Film Rating: B
Disc Ratings (Video/Audio/Extras): A-/B+/B+

Made by MGM, this second sound version of the venerable Dickens classic was intended to star Lionel Barrymore as Ebenezer Scrooge. Barrymore had performed the role on radio at Christmas-time for several years, but when it came time to make the film, Barrymore was forced to withdraw due to ill-health. He apparently suggested Reginald Owen as his replacement and even refrained from doing his normal radio version in 1938 so as not to interfere with the film's possible success. Owen, who was a busy member of the MGM stock company, was 51 at the time of filming and required considerable make-up to look the part of Scrooge.

Unfortunately, the efforts were not entirely convincing and one is frequently distracted enough by them that the Scrooge portrayal, despite Owen's best efforts to give it a bit of an edge, is adequate at best and never memorable. The film's other major failing is its brevity. At 69 minutes, too many of the scenes that one expects to see in any version of the story are truncated or omitted entirely. This is especially true of the sequences involving the Ghost of Christmas Past. On the plus side of the ledger, Bob Cratchit is well portrayed by Gene Lockhart and Leo Carroll is a good Bob Marley ghost. The film's overall production values are high, as one might expect from MGM.

I should note that Warner Bros. has made this film available as a separate disc or as part of the three-disc Classic Holiday Collection box set.


The full frame presentation is very nice, offering a crisp image with good shadow detail. There are a few speckles and some grain in evidence, but I can't imagine this looking much better. The mono sound is clean and clear, and is supplemented by English, French, and Spanish subtitles. The disc ports over most of the laserdisc version supplements including Jackie Cooper's Christmas Party (a short which allows us brief glimpses of a number of MGM stars, including Clark Gable, Jimmy Durante, and Norma Shearer), a rendition of "Silent Night" by a young Judy Garland, and the impressive cartoon Peace on Earth in which the squirrels have inherited the Earth after man kills himself off in one too many wars. The theatrical trailer is also included. Regardless of how one may view this particular version of the classic tale, the disc has a nice Christmas feel to it and is a worthy addition to one's collection for that alone.








Boys Town/Men of Boys Town (1938/1941)
(released on DVD by Warner Bros. on November 8th, 2005)

Film Rating (Boys Town): A
Film Rating (Men of Boys Town): B
Disc Ratings (Video/Audio/Extras): A-/B+/A

Boys Town is not a Christmas film despite a brief Christmas scene in it, but is reviewed here because of its inclusion in the Classic Holiday Collection box set. Sometimes criticized for its sentimentality by people who seemingly are unable to deal with such an emotion in films, the film is a well-known one and brought Spencer Tracy his second Academy Award for Best Actor in a row (after 1937's Captains Courageous, forthcoming on DVD from Warners early in 2006). He portrays Father Edward Flanagan who despairs of the cycle that leads from youthful lawlessness and reform schools to adult criminality and frequently death row. He conceives of a boys' home that will teach decency and leadership to boys at risk, and despite seemingly insurmountable financial hurdles, manages to bring his dream to reality. Much of the story is told through Flanagan's efforts to help young troublemaker Whitey Marsh (Mickey Rooney) who at first resists strongly. The two principal characters returned three years later in the 1941 sequel Men of Boys Town, in which Whitey is now Boys Town's chief booster and becomes entangled with another hard-case boy while trying to ensure the success of Father Flanagan's plans for further expansion to meet the rising demand for what Boys Town offers.

Boys Town is the better film. Although the story is now well known, it is very well acted and presented with conviction. Both Tracy and Rooney are excellent in their roles. Tracy particularly, however, brought both compassion and forcefulness to a part that would become synonymous with his career.


As one might expect, the film glosses over the financial aspects that must have been substantial to overcome in actually bringing the Boys Town dream to fruition. But the reality of the real-life Boys Town shows that they were largely overcome despite how lightly the film treats them and that makes the latter palatable. (Ironically, the rather positive spin that the film put on Boys Town's financial situation resulted in a drop-off in donations to the real Boys Town in the year after the film's release.) Henry Hull (as Dave Thomas, the character instrumental in the financing aspect of Boys Town) and Bobs Watson (despite a few trying scenes as the character Pee Wee) provide good support among a strong cast featuring a large contingent of juvenile actors that was initially to include Freddie Bartholomew and Jackie Cooper although neither were cast in the end. Parts of the film were shot at the real Boys Town near Omaha, Nebraska. Men of Boys Town is a more by-the-numbers film that focuses the spotlight mainly on the Mickey Rooney character. Rooney is fine in it, although if one closes one's eyes, his work could just as easily be an effort in the latest Andy Hardy film of the time. Darryl Hickman makes an early appearance as the young hard-case that Rooney's character has to contend with, but Hickman's performance is rather overblown. The Dave Thomas character now has Lee J. Cobb replacing Henry Hull. The story is all rather predictable and the resulting film actually could be viewed as just taking advantage of the Boys Town name to put across a generic plot (although there is said to be some historical accuracy to the Hickman character), but mounted with the usual MGM polish, it results in generally diverting entertainment regardless.

Warners' full frame presentation of Boys Town is very good. The image is sharp and exhibits excellent contrast. There is a fair amount of grain evident, but that in no way detracts from one's enjoyment. Speckling is minimal. Men of Boys Town's image quality is in many ways similar to that of Boys Town except that speckling and scratches are more in evidence. (Note that Men of Boys Town is presented on the flip side of the disc.) The mono sound on both films is in good shape in terms of both clarity and lack of distortion. Boys Town offers English, French, and Spanish subtitles. The supplements include a vintage featurette (about 10 minutes long) - The City of Little Men - that shows what life at the real Boys Town looks like and introduces the real father Flanagan to us; a brief promotional featurette on today's Girls and Boys Town; an audio excerpt from the "Good News of 1939" radio program that features Tracy and Rooney recreating a scene from Boys Town, and the theatrical trailers for both films. Recommended.








Christmas in Connecticut (1945)
(released on DVD by Warner Bros. on November 8th, 2005)

Film Rating: A
Disc Ratings (Video/Audio/Extras): A-/B+/B+

Here's one of the perennial Christmas favorites finally made available on DVD as a separate release and as part of Warners' Classic Holiday Collection. In the mid-to-late 1940s, Warner Bros. was good at the sort of frothy confection that Christmas in Connecticut was a prime example of. They frequently trotted out the likes of Dennis Morgan and S.Z. (Cuddles) Sakall to appear in such films, but in this instance adding the likes of Barbara Stanwyck and Sydney Greenstreet was inspired. Stanwyck plays Elizabeth Lane who writes a regular column for "Smart Housekeeping", a magazine put out by publisher Greenstreet. Lane's column suggests she's a great cook, perfect homemaker, and possessed of an idyllic Connecticut farm. In reality, she's none of the above, relying for example upon local restauranteur Sakall for the recipes that appear in her column. Unaware of this subterfuge, her publisher wants to come to her farm for Christmas and bring a young war hero (Dennis Morgan) along with him, meaning that Elizabeth Lane is going to have to think of something rather quickly or end up out of a job.

While Morgan, Greenstreet, Sakall and several others in Warners' stock company are all very winning in their roles, the picture belongs to Stanwyck. Stanwyck was capable of projecting with absolute perfection just about any emotion necessary to whatever film she was in and Christmas in Connecticut was no exception. Confidence, disbelief, disappointment, infatuation, amusement, anger - all are grist for the mill here, and all are conveyed so simply yet believably with a movement of the eyes, a flick of the head, or a certain positioning of the body. One sometimes looks to the likes of Ball of Fire or The Lady Eve to see Stanwyck at her finest in a comedy, but her work in Christmas in Connecticut can bear equal scrutiny.


The film itself is a mere nothing in terms of plot - completely unbelievable and unlikely; yet, the players enjoy themselves so much and the whole thing is presented with such impeccable production values that one can't help but overlook the absurdities. This is old-fashioned entertainment perfectly in tune with the Christmas season.

Warners' full frame presentation is in great shape, offering a crisp image with excellent contrast and shadow detail. Source material damage is minimal. The mono sound is also clean and clear, and supplemented by English, French, and Spanish subtitles. The tremendous 1945 Oscar-winning short Star in the Night (starring J. Carrol Naish and Donald Woods) is a welcome and very appropriate extra. The theatrical trailer is included. Recommended.






A Bing Crosby Christmas (1979)
(released on DVD by Questar on November 8th, 2005)

Film Rating: B
Disc Ratings (Video/Audio/Extras): B/B/B

This 50-minute compilation program was produced in 1979 and hosted by Kathryn Crosby and Gene Kelly. It presents musical highlights from 15 Bing Crosby Christmas TV specials beginning with his first one aired in 1962. Among the personalities that guest-starred in those specials and are featured in the compilation are the likes of Fred Astaire, Jackie Gleason, Carol Burnett, John Byner, Mary Martin, Roy Clark, David Bowie, Michael landon, and Connie Stevens. Christmas songs included are: "White Christmas", "Silent Night", "Little Drummer Boy", "Have Yourself a Merry Little Christmas", "Do You Hear What I Hear?", "Silver Bells", "Sleigh Ride", "The Christmas Song", "There's No Place Like Home for the Holidays", "Ho, Ho, Ho Merry Christmas", "Peace on Earth", "One Winter's Night", "O Holy Night", "The First Noel", and "The King of Angels".


As was traditional on the specials, some segments feature members of the Crosby family. Done correctly, as it is here, it's hard to go wrong with this sort of program. Narration is kept to a minimum and the focus is on the music and production numbers. Some of the latter are rather bland, but if you're a Bing Crosby fan or a Christmas music adherent, you'll get lots of joy out of this program.

The program is presented full frame as originally broadcast and the image quality of the various segments ranges from good (variations in sharpness, excessive grain) to very good (crisp, high colour fidelity). The mono sound is clear and mainly free of hiss. The disc offers a nice array of supplements. The best is a 32-minute program of excerpts from a 1957 Bing Crosby TV show sponsored by Edsel. Bing's guests are Frank Sinatra, Louis Arnstrong, Bob Hope, and Rosemary Clooney. Unfortunately the image is plagued by mediocre contrast and lack of sharpness. The sound tone is pretty decent, however. Next up is a nice 1933 short starring Bing as himself - Blue of the Night, in which he also sings the title song. It's workable although characterized by mediocre contrast, plenty of scratches, and noticeable hiss and crackle. Also included is an 11-minute video biography of Bing and a discography of Bing's Christmas songs (over 60 of them). Recommended for Crosby fans, otherwise a good Christmas rental.






The Best of Andy Williams Christmas Shows (2001)
(released on DVD by Questar on November 8th, 2005)

Film Rating: B
Disc Ratings (Video/Audio/Extras): B/A-/B-

Drawing upon interview footage with Andy Williams dating from 2001, this disc has four segments. The main program runs for 58 minutes, is introduced by Williams and features his favorite moments from his annual Christmas shows that began in the 1960s and continued for 12 years. The other segments are classed as extra features on the disc menu, but are very similar in nature to the main presentation in that they rely on Williams' comments and various clips from the shows too. One runs about 42 minutes (Up Close and Personal) and presents parts of the 2001 interview interspersed among numerous clips from the Andy Williams Christmas shows. The clips highlight the Williams extended family as gathered together for the annual shows and particularly the four Williams brothers.


The second segment runs five minutes and focuses on Andy Williams' signature Christmas song, "The Most Wonderful Time of the Year". Finally, a 14-minute segment focuses on the Osmond Brothers who were regulars on the Christmas shows and shows them growing up during the course of the 12 years. In addition to the Williams signature tune, other Christmas songs featured on the various segments and main program include: "Happy Holidays", "You Meet the Nicest People at Christmas", "What Are You Doing New Year's Eve?", "Ave Maria", "Mary's Little Boy Child", "Silver Bells", "I'll Be Home for Christmas", "Jingle Bells", "The Christmas Song", and "O Holy Night". The disc is a nice retrospective on the Williams Christmas shows although given the length of time since they went off the air and the focus on family, it would have been nice to know what became of everyone subsequently.

Questar's full frame presentation preserves the original broadcast ratio and offers good colour fidelity and an image that is in general very crisp although excessive grain intrudes at times. The stereo sound is quite good, offering a rich, warm experience that gives an enveloping feeling at times. Recommended for Andy Williams fans, otherwise a good Christmas rental.


Worthy Gifts, Recommended... for Film Noir Fans


The Dark Corner (1946)
Kiss of Death (1947)
Where the Sidewalk Ends (1950)
(all released by Fox on December 6th, 2005)

Film Rating (The Dark Corner): A
Film Rating (Kiss of Death): A
Film Rating (Where the Sidewalk Ends): A-
Disc Ratings (Video/Audio/Extras): A-/B+/A-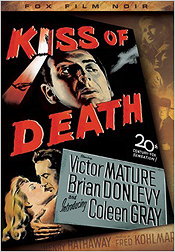 Fox wraps up its first year of offerings in its admirable Film Noir series with three more winners. The Dark Corner, directed with quiet restraint by studio workhorse Henry Hathaway, is a welcome dramatic outing for Lucille Ball who helps her private detective boss Mark Stevens unravel a frame-up from out of the past. There's good work from William Bendix as a stranger dressed in white and especially from Clifton Webb in a typically self-centred and acerbic role. Kiss of Death has one of the great noir villains, the psychotic Tommy Udo played by Richard Widmark. Small time hood Victor Mature runs afoul of Udo when he tries to go straight in this suspenseful film, another fine directorial effort from Henry Hathaway. Otto Preminger's Where the Sidewalk Ends features troubled cop Dana Andrews, far removed from his smooth cop portrayal in Laura, who seems unable to control his temper. When he kills a suspect by accident and tries to cover it up, he finds himself entangled in the lives of the dead man's widow (Gene Tierney) and her father who is eventually charged with the killing. Andrews virtually always provides value for money with his performances and this is no exception. All three discs provide fine transfers characterized by sharp images, very good shadow detail, modest grain, and only minor speckling. The mono tracks on each are in good shape and are supplemented by stereo mixes (which add little) and English and Spanish subtitles. All feature typically thorough audio commentaries (by Eddie Muller on Where the Sidewalk Ends, and by Alain Silver and James Ursini on the other two titles). Theatrical trailers and still galleries are also included. All three discs are highly recommended.
On to Part Two
Barrie Maxwell - Main Page