Site created 12/15/97.



page created: 7/19/06
It's a Sunshine Disc!
A Bunch More Cult TV on DVD
Adam Jahnke - Main Page
When the old Bottom Shelf begins to get swaybacked from all the weight it's supporting, it can only mean one thing. Time to clear off some of those heavy TV show packages and make way for another semi-regular TVD spectacular


The Brady Bunch: The Complete First Season
1969-70 (2005) - Paramount

The Brady Bunch: The Complete Final Season
1973-74 (2006) - Paramount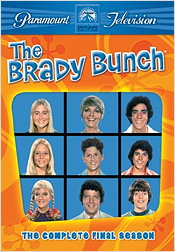 When I was in high school, an English teacher assigned our class a project researching the day you were born. I believe the purpose of this was to teach us how to utilize library resources. It was one of those rare class projects I actually enjoyed doing. But of all the things I learned about my birth date, one fact stood out and thrilled me beyond measure. I discovered that I share a birthday with The Brady Bunch. On September 26, 1969, mere hours after I entered the world, Mike Brady and Carol Ann Tyler Martin exchanged vows on ABC and have been raising three boys and three very lovely girls on television ever since. As far as I was concerned, this link between myself and the Bradys totally justified all the hours I'd spent watching their beyond cornball antics. The rest of you will have to come up with your own excuse but for me, it was destiny.

If you have somehow managed to live your entire life without seeing a single episode of The Brady Bunch, I can only assume you were raised in one of those strict anti-TV homes that refuse to allow a set into the house for any reason. And if you never saw the show as a kid, you probably won't understand the fondness many of us have for it. It's one of those programs that lie outside of conventional definitions of good or bad. It just is. It's what was on in the afternoon and therefore, it was what we watched. Over and over and over.

Thanks to the Bradys' eternal life in syndication (and creator/producer Sherwood Schwartz's strict adherence to a formula that is established in episode 1), it's easy to recall memorable Brady moments. But beyond memories of the decorative horse in the living room and the Astroturf lawn, it's also often easy to overlook the fact that this was originally a series about stepparents raising stepchildren. It's interesting to see how many episodes in the first season were devoted to this theme. In The Honeymoon (the pilot episode), Mike (Robert Reed) tells Bobby (Mike Lookinland) that it's OK for him to keep the picture of his late mother on display (the lecture apparently didn't take... it's the last we'll ever see or hear of this mystery woman). Episode two, Dear Libby, has Marcia (Maureen McCormick) worried that a letter in a newspaper advice column about an unhappily merged family is written by one of her folks. Even devoted housekeeper Alice (Ann B. Davis) thinks she's about to get the old heave-ho in Alice Doesn't Live Here Anymore.

For the most part though, these episodes establish the pattern that the series would follow for the next five years with a crisis arising from sibling rivalry, half-heard conversations, the battle of the sexes and typical family problems multiplied by six. Marcia and Greg (Barry Williams) compete for the title of class president. The kids run the phone bill up, so Mike installs a pay phone in the family room. Jan (Eve Plumb) develops an allergy to Tiger, the family dog. The Brady kids all come down with the measles. The Bradys go camping. And so it goes in Bradyville. The stories are as predictable as the sunrise, the gags even more so. But because it's all so impossibly wholesome and cheerful, there's something comforting and oddly enjoyable about it.

Fast forward to season five. Tiger has mysteriously vanished without a trace. (Rumors of an unaired episode where Tiger and Bobby get hit by a semi, only to be resurrected when Mike buries them in the local pet cemetery, have so far proven to be unfounded.) Greg has moved out of the boys' room and into the attic, after a pitched battle with Marcia. Marcia's concerns about her looks (established in the season one episode Brace Yourself) have only gotten worse ("Oh, my nose!"). Peter (Christopher Knight) has struggled with being cast as Benedict Arnold in the school play and built a gi-normous model volcano. Jan has had even more problems with Marcia, Marcia, Marcia and a torrid imaginary romance with George Glass. Bobby has gone on a power trip as hall monitor and together with Cindy, almost ruined vacations to both Hawaii and the Grand Canyon. And the Peppermint Trolley Company's rendition of the theme song has been replaced with the Brady Kids themselves. Yep, it's been a jam-packed few years.

Unfortunately, all that comes to a screeching halt with season five. Virtually every reason usually given for a show jumping the shark is on display in the first five or six episodes of this season. When Fonzie tried to make his fateful shark jump on Happy Days a few years later, I wouldn't be at all surprised if the Brady writers slapped their foreheads and said, "Why didn't we think of that? Greg could have done that easily!"

In retrospect, this final season may be most memorable for laying the seeds that would later sprout The Brady Bunch Variety Hour, a misbegotten series so surreally awful it would redefine bad television for years to come. (Needless to say, a DVD set of all nine episodes of this train wreck is number one with a bullet on my list of most wanted discs.) The writers took any excuse to get the Bradys singing, dancing or in costumes even more outlandish than the 70s clothes they usually wore. The kids sing two songs in the opener, in which a sexy talent agent (played by Claudia Jennings of all people!) tries to break up the Brady Kids amateur singing group and recruit Greg to go solo as Johnny Bravo. Two episodes later, Cindy commits the family to staging a production of Snow White and the Seven Dwarfs in the backyard. In the next episode, Bobby's first kiss might give him the mumps... which could naturally ruin the family's plans for a big "Roaring 20s" party.

The season's best episodes are those that stay true to the series' classic template. Greg and Marcia make a bet over which one is the better driver. Jan's manic depression kicks in again when she convinces herself that she has no talent. Greg's girlfriend won't go out with him unless he can find a date for her cousin, so Greg slaps a fake mustache on Pete, dubs him "Phil Packer" and brings him along. The Bradys take yet another vacation, this time to King's Island amusement park where Mike's architectural plans are lost. After awhile, the season seems to find its footing with a return to typical Brady hi-jinx. But then, just as things are looking up... enter Cousin Oliver.

Yes, Cousin Oliver. Carol's heretofore unmentioned nephew, a blond mop-top in glasses thrown in to ratchet up the Bradys' cute factor now that Bobby and Cindy were growing up. Sure, there are other terrible episodes in this season that have nothing to do with this hellspawn. There's Kelly's Kids, a virtually Brady-free (and worse yet, laugh-free) attempt at a spin-off about a couple who adopt a rainbow coalition of orphans. But Cousin Oliver was a pint-size angel of death, a clear sign that the show's writers had run out of ideas. The final episode, in which Bobby's hair tonic turns Greg's hair orange the day before graduation, was so lame that Robert Reed, who had put up with a lot of crap over the years, refused to have anything to do with it. Which means that "Father of the Year" Mike Brady didn't even attend his eldest son's high school graduation. For shame.

Paramount now has the entire run of The Brady Bunch on disc, decked out in complimentary packages with cool lenticular covers. The video quality of the episodes varies quite a bit, especially in the first season and sometimes from shot to shot. More often than not, the episodes look quite good. I suppose this is the best The Brady Bunch has ever looked but when I was watching them originally, I wasn't exactly paying attention to their relative merits as visual art.

Season one carries along a few nice extras, including a brief but enjoyable featurette called Coming Together Under One Roof. There are also commentary tracks on three of the episodes. Sherwood Schwartz tackles the pilot while Barry Williams (Greg), Christopher Knight (Peter), and Susan Olsen (Cindy) do the honors on A-Camping We Will Go and The Hero (wherein Pete saves a girl at Driscoll's toy store and turns into an egotistical bastard). Unfortunately, none of the other seasons have anything similar for extras.

I'm glad that whenever I go to Target, I see The Brady Bunch shelved in their kids' section. It was, after all, a family show and I hope it still holds up as one today. In its prime, The Brady Bunch was silly, harmless fun. Will today's kids still dig their groovy adventures? Well, that's up for debate. But if you're a Gen-X hipster who grew up on the stuff, you'll be glad to have the Bradys on your shelf. Watch it in the family room while you're playing checkers.

The Brady Bunch: The Complete First Season
Program Rating: B+
Disc Ratings (Video/Audio/Extras): B-/B+/C+

The Brady Bunch: The Complete Final Season
Program Rating: C-
Disc Ratings (Video/Audio/Extras): B/B+/F







Tales from the Crypt: The Complete Third Season
1991 (2006) - Warner Home Video

Warner Home Video continues to exhume HBO's Tales from the Crypt, the ghoulish and gory series based on the classic EC Comics stories. After an abbreviated first season run, HBO upped their order to 14 episodes per season. To the surprise of nobody, the quality of the show became considerably more hit-or-miss after that. But the batting average on season three is high enough to make it one of the series' most memorable years.

That might not be readily apparent based on the first episode, Loved to Death, a shrill and predictable (even by Crypt standards) entry with Andrew McCarthy as a screenwriter in lust with his actress neighbor, Mariel Hemingway. But things get kicked into high gear with episode two, Carrion Death. Kyle MacLachlan stars as an escaped convict fleeing to Mexico through the desert. On foot. Handcuffed to a dead cop. Grim and very, very bloody, Carrion Death is one of Crypt's most enjoyable episodes.


Other highlights in this set include The Trap, a dark romantic comedy of sorts that marked the directorial debut of Michael J. Fox (who also cameos as a prosecuting attorney); Abra Cadaver with Beau Bridges as a doctor out for revenge after his brother (Tony Goldwyn) ruins his career with a practical joke; Top Billing, about which all you really need to know is that it has Jon Lovitz auditioning for Hamlet; and Mournin' Mess starring Steven Weber as a reporter investigating a cemetery for homeless people. Crypt also continued to attract plenty of A-list talent this year including Whoopi Goldberg in a voodoo-themed episode directed by Tobe Hooper, Malcolm McDowell and Tim Roth. Perhaps the series' biggest casting coup was in the season finale, Robert Zemeckis' Yellow, with Kirk Douglas as a World War I general saddled with a cowardly son (played by Eric Douglas). The episode itself is more suited for The Twilight Zone than the Crypt but its scope and ambition amply demonstrated the high level of original programming HBO would eventually come to be synonymous with.

Warner's continuing presentation of Tales from the Crypt on disc has many of the same pluses and minuses as season one. Video quality is still kind of muddy, though some episodes seem to be in better condition than others. Unlike season one, each episode plays the original opening with the memorable Danny Elfman theme music (and wisely, these are given their own chapter stop so you can skip past 'em once you get sick of it). Oddly enough, the season three package is not the exact same size as the first season thanks to the switch from a fold-out digipak to individual slim DVD cases. It's a minor annoyance but rest assured there are those who will be annoyed. Even more bizarre is the small collection of bonus material on disc three. The Tall Tales panel combines footage from a Crypt panel at the San Diego Comic-Con with new in-studio interviews of the panelists (including Crypt president and raconteur Jack Wohl, filmmaker Chip Selby whose excellent Crypt documentary was included as a bonus on season one, makeup effects designer Todd Masters, writer/producer Alan Katz, Crypt historian Digby Diehl and the man behind the Cryptkeeper's distinctive voice, John Kassir). The Tales from the Crypt Reunion panel is the same Comic-Con panel that was excerpted in the previous featurette, here presented in a longer, uninterrupted form. These aren't without interest but they're basically the same. In fact for the first couple of minutes, they're identical. When I selected the reunion panel, I had to stop and go back to the menu because I figured I'd hit the wrong option by mistake. Also, the reunion panel is weirdly censored with words like "crap" and "shit" bleeped out. Something tells me that Crypt fans have heard much worse. Rounding out the extras is the Crypt Jam music video, a truly dreadful song that reminds us all what a terrible promotional idea music videos were.

Season three of Tales from the Crypt was one of the most consistently enjoyable from the series' seven-year run. I'd still love to see the executive producer team of Richard Donner, David Giler, Walter Hill, Joel Silver and Robert Zemeckis contribute an interview or two to one of these sets, though I'm not holding my breath. Even without them, it's always fun to take a return trip down into the crypt.

Program Rating: B
Disc Ratings (Video/Audio/Extras): B-/B/C-






Profit: The Complete Series
1996 (2005) - Anchor Bay Entertainment

There are two things TV on DVD is good for. The first obviously is reliving favorite shows of the past without having to rely on network repeats or syndication. The other is allowing you to catch up with shows you missed out on the first time. The danger here, however, is becoming interested in a series that has been off the air for ages and has no chance of coming back. Such is the case with Profit.

Profit premiered on Fox back in 1996 to rave reviews and an audience you could probably count on your fingers and toes. Adrian Pasdar starred as Jim Profit, a smooth, scheming sociopath pursuing a ruthless agenda to place himself in a position of power behind the corporate scenes of Gracen and Gracen. But while there had been similarly ambitious villains on television before, primetime had not yet seen anyone quite like Jim Profit back in '96. Profit wasn't merely manipulative. He was shrewd, cunning and not at all afraid to get his hands dirty. Blackmail? No problem. Murder? If necessary.


Oh, and one other thing set Profit apart from other TV villains and antiheroes before and since. As a child, Jim Profit was forced by his abusive father to live naked in a cardboard box, with only a television as a window to the outside world. And while his public persona was rigorously maintained, at the end of each day he still curls up in a box. Toss in his semi-incestuous relationship with his drug-addicted stepmother (Lisa Blount) and perhaps you'll begin to understand why network television wasn't ready for Profit. The show was yanked from the schedule after just four episodes had aired.

Today, Profit would probably be right at home on FX, Showtime or HBO. So, like with many groundbreaking shows, Profit's edge no longer seems quite so sharp. Sure, Profit was several years ahead of its time. But its setting in the corporate world dates it, especially whenever Profit logs onto G&G's "virtual reality"-style computer system. This was back when the word "modem" was still used as a verb, like "fax". But once you get past the novelty of the no-longer-cutting-edge technology, you'll find a show characterized by terrific performances and incredibly smart writing. Pasdar is magnetic, manipulating his coworkers like a master chess player. When a plan doesn't quite work out, he doesn't panic but a look of total exasperation briefly clouds his face as if this new complication isn't almost disastrous but just incredibly annoying. He's well-matched against Lisa Zane as security chief Joanne Meltzer, one of the few people to see through Profit, and Lisa Blount as his loose cannon stepmother. Refreshingly, few of Profit's plans are predictably devious. They're far subtler and more sinister, often having no apparent benefit other than planting doubt in people's minds about Profit's motives. The series has a keen grasp of corporate psychology, realizing that suspicion carefully planted can be far more helpful than facts.

Anchor Bay brings the entire series to disc, including four episodes that were never aired on Fox (they'd remain unaired in the US entirely until Trio included Profit as part of their Brilliant But Cancelled series). Video quality can be somewhat fuzzy but it's far from unwatchable. Considering the fate of most shows cancelled so quickly, it's a wonder these tapes weren't fished out of a dumpster on the Fox lot. Adrian Pasdar and creators David Greenwalt and John McNamara come together for audio commentaries on four of the episodes. The episodes, Pilot, Healing, Chinese Box and Forgiveness, were well chosen, representing the series at its best. The commentaries are lively, informative and sometimes frustrating when Greenwalt and McNamara discuss some of their unrealized plans for future seasons of the show. The third disc also includes a 66-minute documentary called Greed Kills. Pasdar, Greenwalt and McNamara are interviewed here as well, as are executive producer Stephen J. Cannell and co-stars Lisa Blount and Lisa Zane. It's an above-average making-of, unavoidably covering some of the same ground as the commentaries but including plenty of fresh material to make it worth your while.

Given the popularity of shows like The Sopranos and The Shield, the time is ripe for Profit to be rediscovered. I can't say whether or not Profit had a direct influence on those series. I'm not sure that enough people saw it when it was on for it to influence anybody. Regardless, there's no denying that television has finally caught up to Profit. You should catch up with it yourself.

Program Rating: A-
Disc Ratings (Video/Audio/Extras): C+/B/B+








Errol Morris' First Person: The Complete Series
2000 (2005) - MGM Home Entertainment

If you've never seen an Errol Morris documentary, stop reading this right now and go watch some. I recommend starting with The Fog of War, The Thin Blue Line and Gates of Heaven. Then once you're hooked, come on back and find out why you'll love Morris' foray into television, First Person. It's OK. I'll wait.

Welcome back. So, good stuff, right? Yeah, you're welcome. As you've just discovered, Morris is fascinated with people who are themselves fascinated. You're not going to see an Errol Morris movie about some dilettante. Morris' subjects know what they're talking about, whether it's Stephen Hawking discussing the nature of the universe in A Brief History of Time or the topiary gardener, robot scientist, lion tamer and mole-rat expert spotlighted in Fast, Cheap & Out of Control. It's this last film that bears the most resemblance to First Person. Utilizing a uniquely mounted camera dubbed the "Interrotron", Morris gazes unflinchingly at a wide array of people in this series, from consumer advocate lawyer Andrew Capoccia to Chris Langan, a bouncer who may very well be the smartest man on Earth.


Each of these people has a story to tell and Morris allows them to do just that, asking questions only when absolutely necessary and trying to keep his personal involvement with the subject to a minimum. All of these episodes are interesting but some are particular standouts. I Dismember Mama focuses on Saul Kent, director of the Alcor Life Extension Foundation, the leading cryonics organization in the country. Kent became a controversial figure in 1994 when he hid his mother's frozen head during a coroner's investigation into her death. In The Stalker, we hear from Bill Kinsley, a former postmaster who became a scapegoat after an employee he'd fired, Thomas McIlvane, killed three people in a Michigan post office. Antonio Mendez is The Little Gray Man, a retired CIA operative who reveals startling secrets about how not to be seen.

Perhaps First Person's finest hour is Leaving the Earth, the incredibly moving story of Denny Fitch. Fitch is a pilot who was a passenger on board a Denver-to-Chicago flight in 1989 when the impossible happened. The airplane's hydraulics failed, leaving the craft virtually impossible to control. Fitch's story is gripping from start to finish and Morris gives him the space to tell it. When Morris ultimately cuts to news footage of the plane coming in for a landing, you feel like you're on board. I think I actually gasped out loud watching this one.

MGM has put all seventeen episodes of the show's two seasons onto three discs. They're presented in anamorphic widescreen and look generally quite good. Audio is a little on the uneven side but not dramatically so. Unfortunately, no extras are included at all.

First Person was an ambitious experiment in bringing Morris' documentary style to the small screen that mostly works. At their best, these episodes make you forget you're watching television. These are 17 mini-movies, often just as compelling as Morris' big-screen work.

Program Rating: A-
Disc Ratings (Video/Audio/Extras): B+/B-/F






The Andy Milonakis Show: The Complete First Season
2005 (2006) - Paramount Home Video

In my day, there was a cable network called MTV that played music videos. We thought it was pretty cool back then. Eventually, MTV decided to drop the videos in favor of such quality original programming as The Real World. The music video baton was passed to MTV2. Now it seems that the lowly music video is getting phased out once again as MTV2 has become home to original programs like Wonder Showzen and The Andy Milonakis Show.

Andy Milonakis looks like he's about 15 or 16 (potential spoiler alert: he's not... this isn't a plot point but knowing that he's actually 30 definitely colors how you view the show) and his show presents him and his neighbors in his Lower East Side neighborhood performing various sketches, pranks and freestyle raps. To say that the sketches are surreal would be to give them too much credit. They're absurd, sure, but extremely random and pointless.


The Andy Milonakis Show is one of those programs that's probably a lot funnier if you just stumble across it in the middle of the night, preferably drunk. There's nothing wrong with a show like that. Hell, I wrote one myself (Troma's Edge TV, which you can now also watch while sober on DVD and realize it's not as funny as it was when you were drunk). But shows like this rarely hold up on disc and this one is no exception.

Some of Andy's stuff is genuinely funny. I enjoyed the sketch with him giving out smiley-face balloons to strangers on the street while saying things like "It's always raining in my mind!" There's a recurring bit with Andy's doppelganger, a guy who shows up at random holding a big fish and smoking a cigarette, that made me laugh every time. But for a show that's supposedly so freeform, it's shocking how quickly it settles into repetition. Every episode has Andy freaking out a delivery guy with random stunts like asking him to smear peanut butter on his face while he's tied to a chair. Virtually every episode has a celebrity guest like John Stamos stuck in a tree or the Black Eyed Peas emerging from a can of actual black eyed peas (and subsequently being eaten). You may laugh at some of this the first time. It's doubtful you'll still be laughing quite as hard the tenth.

Paramount's two-disc season one set presents all eight episodes in their original low-tech glory. They look and sound better than public access programming but don't go into this expecting state-of-the-art production values. The extras are plentiful but a mixed bag when you have to actually sit and watch them. Episode one has a commentary by Richard Huff, a New York Daily News reporter who wrote the first review of the show and despised it. This track is a missed opportunity, mainly for Huff. He could have pointed out specifically what was wrong with the show but instead makes some sweeping generalizations, none of which are necessarily wrong but still won't convince anybody who likes the show that he's right and they're not. The other seven episodes feature commentaries by Andy and his neighbors-cum-costars, Ralphie, Larry and Rivka. If you think the show's annoying on its own, try to watch it with these playing over it. On one episode, Andy and Ralphie attempt to do the entire commentary as a freeform rap. If you make it through this whole thing without aspirin, you have a head of steel. Another episode has Ralphie attempting to eat an entire large pizza in 20 minutes, the length of the episode. This one comes as an alternate-angle video option, so we can actually watch him scarf the pie down. Lucky us.

The rest of the extras include outtakes of Ralphie flubbing a line repeatedly, a collection of sketches "too stupid" to make it to broadcast (quite a claim), a faux featurette called Andy Goes to Hollywood where Ralphie, Larry and Rivka are dismayed to see their old friend has let success go to his head, and a collection of on-camera interviews with the cast. None of this provides much insight into the making of the show, although the outtakes do suggest that this must be the most patient crew on television, and precious little of it is particularly funny. Oh, and if there's a DVD out there with more grating menus than this one, please lord let me avoid it.

The Andy Milonakis Show has a devoted audience, primarily among junior high kids as near as I can tell, and I'm sure they'll be tickled rosy with this set. But if you've had just a small taste of Andy, either through this show, his appearances on Jimmy Kimmel Live or on the net, make sure you're really a fan before plunking down your cash for the DVD. You might just be in for a rude awakening.

Program Rating: C-
Disc Ratings (Video/Audio/Extras): B/B/A (for quantity and effort) - D+ (for execution)

Adam Jahnke
ajahnke@thedigitalbits.com
Adam Jahnke - Main Page