Classic Reviews Round-Up #50 and New Announcements (continued)
Quite a few of Gregory Peck's many films have made their way to DVD. Now Universal has released
The Gregory Peck Film Collection
, a 7-disc set which packages two titles already out on DVD (
To Kill a Mockingbird
,
Cape Fear
) with four titles new to DVD and only available in this set (
The World in His Arms
,
Captain Newman M.D.
,
Mirage
,
Arabesque
).
Each title gets its own thin-case and all are housed in a very sturdy slipcase. Let's deal with the two titles previously available first. The 2-disc version of
To Kill a Mockingbird
is identical to the previous impressive Legacy Series release of the title - same transfer, same content.
Cape Fear
has received a new transfer, but the previous one was quite good and this new version looks slightly brighter at most. All the best supplements have been retained. The best of the four new-to-DVD titles are
The World in His Arms
and
Mirage
.
The World in His Arms
is a 1952 adventure film in which Peck plays a sea captain who poaches seal pelts off the coast of Russian-owned Alaska. After a return to San Francisco where he falls for a countess (Ann Blyth) trying to avoid engagement to a Russian prince, the film comes down to a race between competing schooners helmed by Peck and long-time nemesis Anthony Quinn. Filmed in Technicolor and directed by action reliable Raoul Walsh, this film is a pleasurable entertainment throughout. Peck and Quinn both play larger-than-life characters, sometimes to excess, but they take the material seriously and that draws us in to the well-staged action effectively. The DVD transfer (full frame as originally shot) is very good, offering a sharp image and quite vibrant colour. The mono sound is clear. The original trailer is included.
Mirage
is a super 1965 thriller in which Peck plays a man who doesn't seem to remember much of his past. The plot is set in motion when the building he works in suffers a power blackout and a well-known peace advocate plunges soon thereafter to his death from his office in the building. Peck finds himself on the run when he is accosted by various individuals working for a man called the Major and apparently seeking something that Peck is supposed to have. The material is effectively filmed in black and white adding to the air of mystery surrounding Peck's situation. Director Edward Dmytryk doles out the plot revelations in an effectively suspenseful manner. The supporting cast is particularly good, and familiar - Diane Baker, Kevin McCarthy, Leif Erickson, Jack Weston, George kennedy, Walter Matthau, and Walter Abel. The 1.85:1 anamorphic image is a little shaky to start with some edge effects and so-so shadow detail characterizing the black-out scenes, but it picks up with detail improving and contrast quite decent for the rest of the film. The mono sound is fine. There are no supplements.
Arabesque
(1966) is one of those romantic, international thrillers so popular in the late 1950s and 1960s - the sort of thing you expect to see the likes of Cary Grant and Audrey Hepburn appearing in. Here we have Peck paired with Sophia Loren in a tale of secret messages, oil, and assassination that has a vague air of familiarity. It's the sort of light film that requires the viewer to be in the right mood of non-critical acceptance. If you are, the film works very well; if not, it all soon becomes tedious. The 2.35:1 anamorphic image is quite strong. Colours are bright and accurate for the most part and the image is noticeable free of artifacts. Once again the mono sound does the job; there are no supplements. In
Captain Newman, M.D.
, we have Peck playing a psychiatric doctor at a stateside military hospital ward during World War II. Peck's character is an affable one that often runs afoul of military regulations and protocol as he attempts to treat patients whose minds have been affected by their wartime experiences. The film offers a mixture of drama and humour, and co-stars Tony Curtis, Angie Dickinson, Eddie Albert, Larry Storch, and Bobby Darin. Unfortunately, the subject matter now seems dated in light of other similarly-themed films and the film doesn't seem to know what it wants to accomplish as it varies from the serious to the silly. I found myself soon becoming impatient with the material and some of the performances, Curtis's and Darin's particularly. At least the 1.85:1 anamorphic transfer is a sharp, nicely detailed, and accurately colourful effort. The mono sound is clear and there are no supplements. This Peck set is recommended even if you have the two films already available on DVD.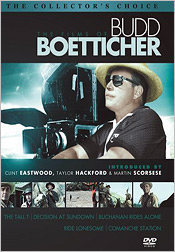 The Films of Budd Boetticher
is a curiously titled box set from Sony. Certainly the five films it contains were all directed by Boetticher, but when they were originally released in the late 1950s, they were all sold on the basis of their star, Randolph Scott. He barely rates a mention on the exterior packaging beyond appearing unidentified in several stills from the films. It's a serious oversight and slight to one of the best western film stars of the genre's hey-day, especially when he was also executive producer of the films in conjunction with producer Harry Joe Brown. That aside, this is a much-anticipated and well-executed Sony release of five fine Columbia westerns, the first of several releases at least that Sony will be doing in conjunction with The Film Foundation. The five films are
The Tall T
(1957, a kidnapping gone awry finds Scott engaged in a battle of wits with the kidnapping gang),
Decision at Sundown
(1957, in the town of Sundown, Scott plans to kill the man he believes responsible for his wife's death),
Buchanan Rides Alone
(1958, a corrupt border town disrupts easy-going Scott's plans to go home),
Ride Lonesome
(1959, Scott as a bounty hunter bringing a killer to justice faces opposition from several sources), and
Comanche Station
(1960, Scott attempts to return a woman kidnapped by Indians to her home). All are briskly told tales 70-80 minutes in length with thoughtfully-written scripts (either by Burt Kennedy or Charles Lang), effective use of the varied Lone Pine terrain for most of them, and excellent supporting casts. While Boetticher marshals his resources well and stages the action sequences with obvious originality, it is at least equally due to the naturalness, quiet authority, and character authenticity of Randolph Scott that these stories are compelling and ultimately western entertainment of a superior nature. Well-known character actors are effectively used (Richard Boone, Noah Beery, Arthur Hunnicutt, Pernell Roberts, Skip Homeier, Claude Akins, Lee Van Cleef, Andrew Duggan) in support of co-stars such as Maureen O'Sullivan, John Carroll, Karen Steele, and Nancy Gates. I can't say that I would rate any of the films substantially above or below the others. I've enjoyed them all before and did so again. Each film merits a separate disc and all the transfers are very presentable. The first three are 1.85:1 anamorphic with the last two being in CinemaScope at 2.35:1 anamorphic. All are bright and quite crisp, characterized by modest to moderate grain (
The Tall T
is most noticeable in this regard), but this only enhances the flinty nature of the stories. There are some instances of dirt and debris, but nothing to interfere with one's enjoyment. The mono sound in all cases is clear and virtually devoid of any hiss or distortion. The package offers an engaging set of supplements including an introduction to each film by one of Martin Scorsese, Clint Eastwood, or Taylor Hackford; a very informative audio commentary by film historian Jeanine Basinger on
The Tall T
, and original trailers. Best of all, we get a comprehensive documentary on Boetticher -
Budd Boetticher: A Man Can Do That
. Highly recommended.
One of the world's best-loved entertainers, Victor Borge, died eight years ago this month at the age of 91. He was actively appearing on stage even in his later years and television programs showing those appearances or compilations of his earlier television work were popular PBS shows. Courtesy of Questar (questarentertainment.com), we now have a six-disc box set of much of that material entitled
Victor Borge's Classic Collection
. Borge developed a unique blend of comedy routines and piano musicianship that transcends generations and I suspect that a younger audience until now un-introduced to his work would find itself as entertained as past generations have been. There's almost 7 hours of material included in this set although one should be aware that some of routines appear more than once or even twice. That's partly because Borge had several bits of material of a classic nature that audiences demanded he do at virtually every show (routines such as "Phonetic Punctuation" and "Inflationary Language"). The discs in this set are as follows: The Legendary Victor Borge (a program hosted by Itzhak Perlman that features encores of many of Borge's most-requested routines), Victor Borge's Funniest Moments (twelve of Borge's most beloved routines from more than a half-century on stage), Lost Episodes of Victor Borge, Volumes One and Two (memorable moments from Borge's "Comedy and Music" TV specials of five decades ago), Victor Borge: Then and Now (a latter-day concert during which Borge shares favourite moments from his past movie and television appearances), and The Best of Victor Borge: Acts One & Two (a reprise of the most celebrated routines). The image transfers on these discs (full frame as originally broadcast) are nothing to write home about. They are not particularly sharp and are even a little fuzzy at times, but it hardly seems to matter after a while. You get so caught up in Borge's world that the material eventually almost transcends the image. The mono sound is decent at least, with minimal distracting hiss or distortion. There are no supplements. This release is a must for Borge fans. I strongly recommend a rental for others, many of whom I suspect will want their own copies afterwards.
To end this review section, I want to add a few words about three British TV drama series that I've been slowly viewing over the past month and a half, each a distinctly pleasurable viewing experience at least from the content point of view. The best of the three was
Edward the King
, originally broadcast in the U.K. in 1975 as a 13-part series called
Edward the Seventh
. It is an engrossing portrait of Edward, the Prince of Wales and eldest son of Queen Victoria, who had to wait for almost 60 years before becoming king. A richly detailed portrait of an era, it brings the history and family interconnections of the various European monarchies of the last half of the 19th century to life. A large cast is highlighted by Annette Crosbie as the Queen, Timothy West as Edward, and Robert Hardy as Prince Albert (Victoria's husband). The series is delivered on four discs by Acorn Media (full frame as originally presented) and looks surprisingly good for British TV fare of three decades ago. Colours are particularly bright and sharpness is quite good though not completely consistently so. Modest grain is evident at times. The mono sound is clear with the series' theme music nicely conveyed. We also get some good supplements, the best of them being entertaining audio commentaries for three episodes by Crosbie, West, and director John Gorrie, and an extended interview with Robert Hardy. Highly recommended. A completely different sort of entertainment was
First Among Equals
, a 10-part 1986 adaptation of Jeffrey Archer's melodramatic and very popular novel of four British members of Parliament who eventually find themselves vying to become Prime Minister. The timeline is from 1964 to the early 1990s and the series brings the intrigue of British political life vividly to life while equally maintaining our interest through an engrossing account of the personal trials and interactions of the four men in question. The series is typically well acted by the British cast with Tom Wilkinson being the most well-known player though several other faces will be quite familiar also (including Jeremy Child, Clive Swift, and James Faulkner). The DVD release is from Acorn Media and comes on three discs (full frame as originally presented. Unfortunately the transfers are very spotty. There is an inordinate amount of video noise overlaying much of the image and colour fidelity and brightness is very inconsistent. In many ways the effort is little better than VHS. At least the sound is in decent shape. Supplements are inconsequential. The program is very much worth seeing; unfortunately the presentation merits a rental at best. Finally, we have
The Jewel in the Crown: The 25th Anniversary Edition
. This is a 14-part adaptation of Paul Scott's "The Raj Quartet", a saga of the waning days of British rule in India. The story begins with a focus on an ill-fated love affair between a young Indian journalist and an innocent young British woman, and then switches to a the human and cultural inter-relations in a British garrison family. Linking both is a British police superintendent about whom the series' main thrust eventually revolves. The series requires some perseverance to get really caught up in the story, but once beyond the first couple of episodes, the hook is deeply set and one finds oneself in an engrossing history lesson as well as a richly mounted and emotionally satisfying narrative. As usual, the acting is superior and features Tim Pigott-Smith in the key role of the police superintendent and an important supporting role for Dame Peggy Ashcroft. The series' sense of history is nicely bolstered by location shooting in India. The DVD release is a 4-disc box set from A&E, and is actually the second time A&E has made the series available on DVD. I've not had the opportunity to view the original, but this new release is apparently not an upgrade as it uses the same video files as the 2001 release This anniversary release looks marginally worse than
First Among Equals
- plenty of video noise, colour frequently faded and inaccurate, and a myriad of dirt and debris. The sound is workable, but there are no supplements.
The Jewel in the Crown
deserves much better and A&E deserves our disdain for a double dip that seems to show no evidence of upgrade over the original.
New Announcements
Please note that I've updated the
Classic Announcements database
to reflect all the following release news. I've also taken this opportunity to update the
Upcoming Western Release database
too. There's not a lot new regarding westerns at this point, but hopefully that will change over the next few months as we start to hear about the studios' plans for spring, traditionally the time when we see the most DVD western releases.
All Day Entertainment, after its recent
American Slapstick
volumes, gets back in harness on January 27th with its release of
Becoming Charlie Chase
. It will be a four-disc set containing 42 shorts from the 1915-1925 period. Bonus features will include
The Parrott Chase
- a 45-minute retrospective on Chase's career,
The Sounds of Silence
- a featurette with the Snark Ensemble on the making of the music for the set, and an archival interview with Chase's daughter.
Alpha Video's latest announced set of releases is scheduled for December 30th. Included are
The Adventures of Robin Hood: Vol. 18
(4 episodes);
The Adventures of Ozzie and Harriet: Vol. 8
(4 episodes); a Harry Carey double feature of
The Night Rider
and
Without Honor
(both 1932); a Bill Cody double feature of
Mason of the Mounted
and
Law of the North
(both 1932);
Girls in Chains
(1943, directed by Edgar Ulmer);
Guns for Hire
(1932, with Lane Chandler); a William S. Hart silent double feature of
The Silent Man
(1917) and
Blue Blazes Rawden
(1918);
Here's Flash Casey
(1938, with Eric Linden);
It Happened Out West
(1937, with Paul Kelly); a Tom Keene double feature of
Louisiana Girl
(1937) and
Battle of Greed
(1938);
Mercy Plane
(1939, with James Dunn);
The Milton Berle Show: Volumes 1&2
(4 shows from 1953 and 1956 on 2 discs);
Pardon My Gun
(1930, with Tom Keene);
Public Defender: Vol. 4
(4 episodes);
Racket Squad: Vol. 4
(4 episodes); a Tex Ritter double feature of
Rhythm of the Rio Grande
and
Rainbow over the Range
(both 1940);
Roy Rogers with Dale Evans: Vol. 10
(4 episodes of
The Roy Rogers Show
); a Texas Rangers double feature of
Pinto Bandit
(1944) and
Boss of Rawhide
(1943);
Thunder Over Texas
(1934, directed by Edgar Ulmer and starring Guinn Williams);
Unholy Love
(1932, with Joyce Compton); a vintage serials 5-disc collection of
The Black Coin
,
The Clutching Hand
,
The Mystery Squadron
,
The Galloping Ghost
, and
The Vanishing Legion
; and a vintage western serials 5-disc collection of
The Miracle Rider
,
Mystery Mountain
,
Phantom of the West
,
Fighting with Kit Carson
, and
Flaming Frontiers
.
Hobson's Choice
(1954) will be coming from Criterion on February 17th. It will include audio commentary by Alain Silver and James Ursini, along with
The Hollywood Greats: Charles Laughton
- a 1978 BBC documentary about the actor's life and career, featuring interviews with his friends and colleagues. On the same date, also expect John Cassavetes' directorial debut of
Shadows
(1960) and his 1968 film
Faces
. The latter will be a two-disc edition highlighted by an alternate 17-minute opening sequence and a 2004 making-of documentary. Both of the Cassavetes films will be U.S.-only releases (i.e., not available for release in Canada). Coming on February 10th are two Luis Bunuel films -
The Exterminating Angel
(1962) and
Simon of the Desert
(1965) as well as
Essential Art House: Volume 2
. The latter will contain six films available as a box set or also individually. The films are:
Black Orpheus
(1959),
The 400 Blows
(1959),
Ikiru
(1952),
The Life and Death of Colonel Blimp
(1943),
Pygmalion
(1938), and
La Strada
(1954). Criterion has also delayed its planned Blu-ray launch from this month until next. Thus,
The Third Man
(1949) is now scheduled to appear on December 16th. Meanwhile, the latest Criterion newsletter appears to identify
The Friends of Eddie Coyle
(1973, with Robert Mitchum) as a forthcoming release. This would be courtesy of Criterion's arrangement with Paramount. Speaking of Criterion hints, those of you who regularly frequent the Criterion forum (criterionforum.org) will be aware that a list of titles expected to be forthcoming from the company is maintained there. This list is based on "various forms of communication through announcements, including newsletters, emails, blogs, websites, and non-official sources with valuable creditability". Classic titles included on the list are:
The Crime of Monsieur Lange
(1936, Jean Renoir),
Cul-de-sac
(1966, Roman Polanski),
A Day in the Country
(1936, Jean Renoir),
Dillinger Is Dead
(1969, Marco Ferreri),
Dodes'ka-Den
(1970, Akira Kurosawa),
The Four Feathers
(1939, Zoltan Korda),
The Human Condition
(1959-61, Masaki Kobayashi),
Jour de Fete
(1949, Jacques Tati),
A Man Escaped
(1956, Robert Bresson),
Naked Kiss/Shock Corridor
(1964/1963, Samuel Fuller) re-release,
Odd Man Out
(1947, Carol Reed),
People on Sunday
(1930, Curt & Robert Siodmak, Edgar G. Ulmer, Fred Zinnemann),
Red Desert
(1964, Michelangelo Antonioni),
Shanghai Express
(1932, Josef von Sternberg),
Things to Come
(1936, William Cameron Menzies),
Vivre Sa Vie
(1962, Jean-Luc Godard),
The Wedding March
(1928, Erich von Stroheim) and some silents by Josef von Sternberg. Some of these titles are targeted for 2009 (including
Dodes'ka-Den
,
Jour de Fete
,
Shanghai Express
, and the von Sternberg silents), while most of the others have no timeframe yet indicated. The direct link for further information is
here
.
Disney has set January 27th as the release date for the 2-disc
Mary Poppins: 45th Anniversary Edition
. There's no information on content as yet, but surely here's another title that should be coming out in Blu-ray rather than as another DVD when there was already quite a satisfactory version released.
Fox has a been a little quiet regarding classic plans for early in 2009, but we do have news that the Lowry restoration of
The Robe
that the studio commissioned will make its way to DVD and Blu-ray for Easter. Both CinemaScope and flat versions will be provided as well as a good array of supplements. March 31st will see the release of
Voyage to the Bottom of the Sea: Season Four, Volume 1
.
Set for December 9th from Kino is
Great Directors: Volume 1
. This will be a 5-disc set containing
Dersu Uzala
(1975, Akira Kurosawa),
The Mirror
(1976, Andrei Tarkovsky),
Les Bonnes Femmes
(1960, Claude Chabrol),
Il Grido
(1957, Michelangelo Antonioni), and
Circle of Deceit
(1981, Volker Schlondorff). Coming on March 17th is a new F.W. Murnau box set simply titled
Murnau
. It will contain six titles:
The Haunted Castle
,
The Finances of the Grand Duke
,
Tartuffe
,
Faust
,
The Last Laugh
, and
Nosferatu
. Only
The Finances of the Grand Duke
is new to DVD. All titles in the set appear to be single-disc editions even though
Nosferatu
and
The Last Laugh
are already available as two-disc special editions, and a new
Faust
two-disc deluxe restored edition is being announced at the same time (to include U.S. and original German editions).
After its recent release of the
Studio One Anthology
, Koch Vision has several other upcoming releases of interest. November 25th will bring
Sounder
(1972, with Cicely Tyson). The 1959 television drama originally seen on "NBC Sunday Showcase",
What Makes Sammy Run
(with Larry Blyden, John Forsythe, Barbara Rush and Dina Merrill), will be released on February 10th and will include audio commentary by Rush and Merrill and an interview with writer Budd Schulberg. The Max Fleischer version of
Gulliver's Travels
(1939) will see a DVD and Blu-ray release on March 10th.
Legend Films will offer colourized and the original black and white versions of
Abbott and Costello: The Christmas Show
(1952) for release on November 18th. Similar presentations also coming on the same date will be
Framed
(1975, with Joe Don Baker),
House on Haunted Hill
(1959),
The Little Shop of Horrors
(1960),
Night of the Living Dead
(1968),
Phase IV
(1974),
Plan 9 from Outer Space
(1959),
Reefer Madness
(1938), and
The Three Stooges in Color
.
Lionsgate will have two five-disc comedy box sets available on February 3rd - one featuring Alec Guinness and the other Peter Sellers - both being part of the company's "Celebrity Series" compilations of films headlining world-renowned stars. Unfortunately both appear to be merely repackagings of sets previously released by Anchor Bay.
The Alec Guinness 5-Film Collection
includes
The Lavender Hill Mob
,
Kind Hearts and Coronets
,
The Man in the White Suit
,
The Captain's Paradise
, and
The Ladykillers
.
The Peter Sellers 5-Film Collection
contains
I'm All Right Jack!
,
The Smallest Show on Earth
,
Carleton-Browne of the F.O.
,
Two-Way Stretch
, and
Heavens Above!
.
MGM continues with the sort of moves that infuriate classic collectors with its newly announced release of four titles just recently made available as part of October's
Alfred Hitchcock Premiere Collection
. The four titles are
The Lodger
(1927),
Sabotage
(1936),
Young and Innocent
(1937), and
The Paradine Case
(1947), and they will appear on February 10th. This follows immediately upon a similar approach on some of the material included in the forthcoming
Pink Panther Ultimate Collection
.
More feedback from the
Home Theater Forum
Hollywood Meet indicates that Paramount/CBS remain committed to getting out the rest of the
Have Gun, Will Travel
seasons. It appears that the studio and CBS have been finding resistance to the cost of entire season sets when they require the number of discs necessary for 39-episode seasons. The approach on the rest of the seasons may be to split them into two releases each. Regardless though, there was no indication of when we may actually see such releases. Apparently Paramount is also working on getting several classic titles out on Blu-ray in 2009, including
The Ten Commandments
,
Sunset Boulevard
,
Breakfast at Tiffany's
(the latter two possibilities are further reason to take a pass on the new DVD Centennial editions of the titles), and
Chinatown
(1974). The studio's current work on restoring
Wings
and
The African Queen
may yield 2009/2010 Blu-ray versions as well. Meanwhile Paramount has announced a February 17th release date for
The Beverly Hillbillies: The Official Third Season
(34 episodes on 5 discs).
Questar (questarhomevideo.com) will release the
Victor Borge Classic Collection
on November 18th. It will include six discs containing
The Best of Victor Borge Act One & Two
;
The Legendary Victor Borge
;
Victor Borge's Funniest Moments
;
Victor Borge: Then & Now
;
Lost Episodes of Victor Borge, Volume One
; and
Lost Episodes of Victor Borge, Volume Two
.
Restored Serials has provided some updated information on its future release plans. The company hopes to have the 1933 John Wayne serial
The Three Musketeers
available in a few months, so presumably in early 2009. The 1931 Mascot Rin-Tin-Tin serial
The Lightning Warrior
and the 1920 silent serial
Son of Tarzan
are both at least six months away from release.
Sony will release
Bewitched: The Complete Seventh Season
and
The Partridge Family: The Complete Fourth Season
on February 3rd. Another four classic releases in Sony's mystifying Martini Movies line are also set for the same date:
Five
(1951),
Our Man in Havana
(1959),
Getting Straight
(1970), and
Gumshoe
(1971).
Timeless Media Group plans to release
The Ultimate Red Skelton Collection
on November 25th. It will be an 8-disc set, authorized by the Skelton estate, and will contain 35 complete TV shows. Supplements include trailers from Red Skelton's movies. The company will also issue
Laredo: Season 2, Part 2
on January 6th. The 3-disc set will contain 13 episodes.
In a very belated announcement, on December 9th Turner Classic Movies (TCM) is introducing their new Vault Line with
The Lost and Found RKO Collection
. This comprises six films from the 1930s that will be available exclusively on DVD from TCM in special editions for a limited time, with each disc containing a selection of rare background information, still and publicity galleries, video interviews, and original trailers. The titles are:
Double Harness
(1933, with Ann Harding and William Powell),
Rafter Romance
(1933, with Ginger Rogers),
One Man's Journey
(1933, with Lionel Barrymore),
Stingaree
(1934, with Irene Dunne and Richard Dix),
Living on Love
(1937, with James Dunn), and
A Man to Remember
(1938, with Anne Shirley). Note that the version of the latter title is an English language one with Dutch sub-titles included - the only known surviving version.
Warner Bros. will give a December 9th general release to two double bills that were previously Best Buy exclusives. They are
The Shuttered Room
combined with It! (both 1967) and
World Without End
combined with Satellite in the Sky (both 1956). February 17th will see Warner Bros. pay tribute to Paul Newman with the release of five of his films, all as separate single-disc editions. Included will be the Newman-directed
Rachel, Rachel
(1968, starring his wife, Joanne Woodward),
The Silver Chalice
(1954, Newman's first film),
The Helen Morgan Story
(1957, directed by Michael Curtiz and starring Ann Blyth),
The Outrage
(1964, western directed by Martin Ritt), and
When Time Ran Out
(1980, one of the last of the 1970s disaster-film cycle). In one of the more disappointing announcements for true classic enthusiasts, Warners has now announced the details for a previously-rumoured partnership with Turner Classic Movies to produce the
TCM Greatest Classic Films Collection
, starting in early 2009. The partners will release a collection of 60 top films in 15 themed groups. The films will be available on DVD and promoted on TCM, starting February 3 with the first of four waves. Each release will box four titles together for a suggested retail price of $28. Unfortunately, every single one of the 60 titles has previously been released on DVD and there is no suggestion that new transfers are involved for any of the titles. One hopes that this initiative will not severely compromise Warners' capability of bringing unreleased titles to DVD in 2009. Certainly other early 2009 announcements from the company do not suggest so, but one wonders what might really be possible if some resources were not being diverted to this duplication of effort. For those who care, the planned releases are as follows. Note that the dates and titles of Waves 2 to 4 are subject to change.
WAVE ONE (Release Date: February 3, 2009)

TCM Greatest Classics: Romantic Dramas
(
Cat on a Hot Tin Roof
,
A Streetcar Named Desire
,
Rebel Without a Cause
,
East of Eden
)
TCM Greatest Classics: Best Picture Winners
(
Casablanca
,
An American in Paris
,
Gigi
,
Mrs. Miniver
)
TCM Greatest Classics: Romantic Comedies
(
A Philadelphia Story
,
Bringing Up Baby
,
Adam's Rib
,
Woman of the Year
)
WAVE TWO (Release Date: May 5, 2009)
TCM Greatest Classics: Musicals 1
(
Singin' in the Rain
,
Easter Parade
,
The Band Wagon
,
Meet Me in St. Louis
)
TCM Greatest Classics: Musicals 2
(
Seven Brides for Seven Brothers
,
Annie Get Your Gun
,
Show Boat
,
Kiss Me Kate
)
TCM Greatest Classics: Westerns 1
(
Jeremiah Johnson
,
Train Robbers
,
The Wild Bunch
,
McCabe & Mrs. Miller
)
TCM Greatest Classics: Westerns 2
(
The Searchers
,
Stagecoach
,
Rio Bravo
,
Cowboys
)
TCM Greatest Classics: War 1
(
Kelly's Heroes
,
The Dirty Dozen
,
Where Eagles Dare
,
Battleground
)
TCM Greatest Classics: War 2
(
The Green Berets
,
Destination Tokyo
,
Bataan
,
Back to Bataan
)
WAVE THREE (Release Date: September 1, 2009)
TCM Greatest Classics: Mystery
(
The Big Sleep
,
Dial M For Murder
,
The Maltese Falcon
,
The Postman Always Rings Twice
)
TCM Greatest Classics: Horror
(
Freaks
,
House of Wax
,
The Haunting
,
Dr. Jekyll & Mr. Hyde
)
TCM Greatest Classics: Sci-Fi
(
2001: Space Odyssey
,
Forbidden Planet
,
Soylent Green
,
The Time Machine
)
WAVE FOUR (Release Date: November 3, 2009)
TCM Greatest Classics: Holiday
(
A Christmas Story
,
A Christmas Carol
,
Christmas in Connecticut
,
Shop Around the Corner
)
TCM Greatest Classics: Comedy
(
Arsenic and Old Lace
,
A Night at the Opera
,
The Long, Long Trailer
,
Father of the Bride
)
TCM Greatest Classics: Family
(
National Velvet
,
Lassie Come Home
,
Flipper
,
Incredible Mr. Limpet
)
Warners has also confirmed the Blu-ray release of
Quo Vadis
for March 17th.
Well, once again, that's it for now. I'll return again before December 25th with a combined
Classic Coming Attractions
and
High Definition Matters Christmas
column.
Barrie Maxwell
barriemaxwell@thedigitalbits.com